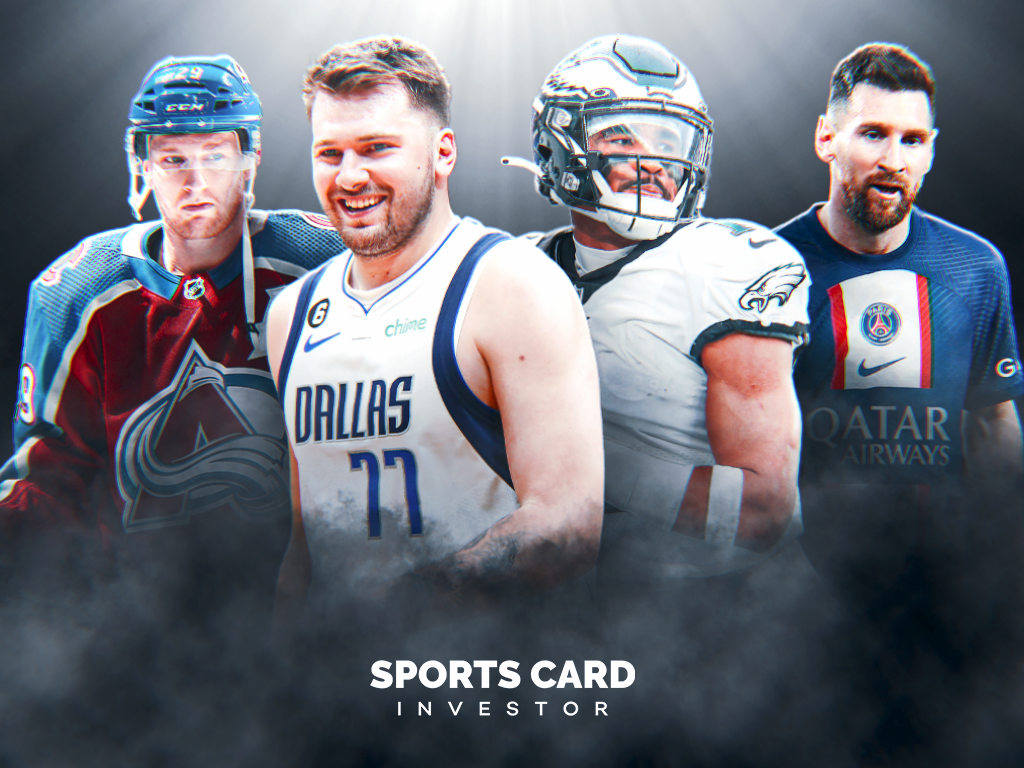 Sports Card Release Calendar: May 2023
This May we'll see a slightly earlier release of familiar Panini football brands like Select and Donruss Optic than compared to recent years, accompanied by some new names like Topps Chrome Tennis, Bowman University Inception, and much-anticipated hobby favorites like 2022-23 Donruss Optic Basketball, Crown Royale Basketball and 2023 Topps Chrome UEFA Champions League Soccer. 
High-end releases from the previous season hitting the market include 2021-22 Panini Flawless Basketball and the fun-but-risky 2022 Encased Football.
From the low-end but on-time 2023 Panini Chronicles Draft Picks Football, to the high-end 2022-23 Panini Immaculate Collection Soccer, May is shaping up to be as interesting a month for sports card releases as it is for watching the sports themselves.
Official release dates are subject to change on short notice at the discretion of the manufacturer.
May 3, 2023: 2022-23 Bowman University Chrome Basketball
Much like the Bowman University 2022 Football Release, 2022-23 Bowman University Basketball features official team licensing, meaning that players are featured in non-airbrushed photos with real uniforms, university names and mascots mentioned. On top of that, the release features the now-iconic 1st Bowman Chrome parallels, short prints and autos of top prospects — many of whom have a solid chance at an NBA career. 
May 3, 2023: 2023 Panini Stars & Stripes USA Baseball
I know what you're thinking, Panini baseball again, right? But this isn't like a typical MLB or prospect non-licensed release with no team names or logos. This is quite different, as it features players from Team USA's 18U squad. Packed with seven hits in 40 total cards per box, it could be a fun rip at $90 per hobby box.
May 3, 2023: 2021 Topps Chrome Tennis (TBA)
Word on the street is that 2021 Topps Chrome Tennis could be released this month, featuring rookie cards of Coco Gauff and Emma Raducanu. Up until now, Gauff has been featured in Upper Deck releases, and has Exquisite autos. Topps hasn't released any official information on it, so we're unsure of an actual release date and who is on the checklist, but it's something we'll monitor. It could have high upside if they include top names with solid autos within the Topps Chrome brand.
May 3, 2023: 2022-23 Panini Select Premier League Soccer
Panini has been making the rounds this year with the Select brand and soccer, releasing La Liga, and now EPL under the brand most known for NFL and NBA cards. Hobby boxes will feature three hits while the checklist spans 20 clubs in the 250-card base set, split between the Terrace, Mezzanine and Field Level subsets. Look for Erling Haaland autos as the biggest chase.
May 3, 2023: 2023 Upper Deck PFL Professional Fighters League Box Set MMA
If you're not familiar with the PFL like the UFC and Bellator, the PFL abides by the Unified Rules of MMA. One of the biggest differences is that the PFL uses a seasonal format. There is no year-long event calendar or a ranking system. Now that we've got that out of the way, Upper Deck hits the market with a box set, which will look almost identical to last year's debut, featuring a 25-card base set, five parallels, and a unique blue parallel numbered /899 this year. Instead of base autographs, there are Red Autographs (SPs) and the 1-of-1 Black is a new chase autograph option.
May 10, 2023: 2023 Donruss Baseball
Known for the iconic Rated Rookie brand, Panini's Donruss Baseball features inserts like "Rated Prospect," "Bomb Squad" and "Marvels," but remember that it's non-licensed. Your hobby box purchase should have three hits inside, a mix of autos and relics, and will feature prospects like Jackson Holliday and legends like Ken Griffey, Jr. more so than it does current MLB stars.
May 10, 2023: 2022 Donruss Optic Football
Optic 2022 Football mirrors the Donruss paper designs but is optichrome (thicker, shinier cards) with updated photos and a slightly different checklist featuring parallels for collectors to chase the rainbow with the new Jazz, and Electricity /65. Hobby boxes have one auto, 20 Rated Rookies, eight serial numbered parallels, two additional parallels and four inserts. 2022 Donruss Optic Football is pre-releasing for between $600 and $650 per hobby box.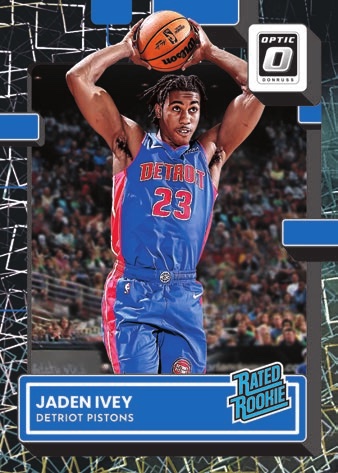 May 10, 2023: 2022-23 Donruss Optic Basketball
Opening around $389 per hobby box (1 auto and 20 inserts/parallels per) is Donruss Optic Basketball, featuring the rookie class of Paolo Banchero, Chet Holmgren, Jaden Ivey and Bennedict Mathurin. Hobby parallels include Photon, Basketball, Orange /199, Lime Green /149, Red /99, Pink Velocity /79, Blue /49, Black Velocity /39, Gold /10, Green /5 and Gold Vinyl 1/1. Inserts include All-Stars, Elite Dominators, Lights Out, Star Gazing, Raining 3s, and The Rookies.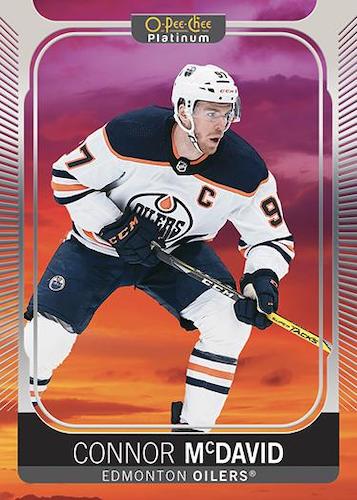 May 10, 2023: 2021-22 O-Pee-Chee Platinum Hockey
For the hockey card collector, or hobbyist that remembers the nostalgic O-Pee-Chee sets from the 80s and 90s, Upper Deck brings us the chromium O-Pee-Chee Platinum Hockey. This is a 21-22 set, featuring 12 packs of 12 cards (144 cards total), likely including one autograph. 
May 12, 2023: 2023 Donruss Racing NASCAR
For you racing fanatics that either don't want anything to do with F1, or are obsessed with racing due to F1, Panini brings us Donruss Racing NASCAR, featuring Hailie Deegan, Joey Logano, Rated Rookies like Takuma Koga, and legends like Dale Earnhardt Jr., Jeff Gordon, Tony Stewart and even Richard Petty. It's a paper release, but hobby boxes contain one autograph, two memorabilia cards, 24 Silver or #'d Parallels and 24 Optic Cards.
May 12, 2023: 2022-23 Panini Select Serie A Soccer
As mentioned above, the Select brand tours the globe this year, bringing soccer releases from the top leagues in Spain, UK and now Italy, with the 2022-23 Panini Select Serie A Soccer. I don't see much investable here, but if you're an Italy soccer fan, this is for you. Hobby boxes will include three autographs or relics, five #'d Base Parallels and nine unnumbered Base Parallels, seven Inserts/Insert Parallels.
May 17, 2023: 2023 Bowman University Inception (TBA)
For those of you familiar with Inception Soccer releases from Topps, they're extremely high-end and investable. Given that Topps is releasing a Bowman University version, with a TBA release date and checklist, there could be some investability here and definite collectability of the top collegiate prospects and stars — especially given the licensing. The full odds sheet for short prints, inserts and parallels is here.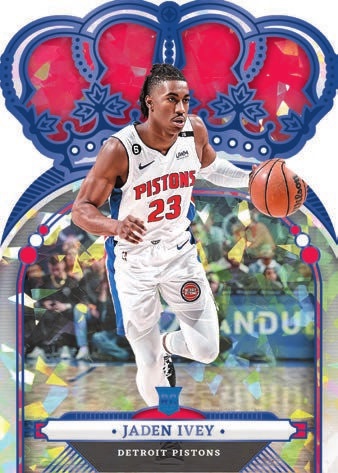 May 17, 2023: 2022-23 Panini Crown Royale Basketball
At $349 per hobby box, collectors get the die-cut base cards and inserts that Crown Royale is known for, along with a chance at Blue Crystal /99 and Red Crystal /49, with one insert and one relic. Inserts may include Rookie Royalty, Sno Globe, Test of Time, Hand Crafted, Pillars of the Game and the chase of all chases, the popular Kaboom!
May 17, 2023: 2022-23 Panini Select FIFA Soccer
The Select brand is back again for more soccer, but this time in international kits, with the release of 2022-23 Select FIFA. It features 20 international teams, with three autos per hobby box. Like the other select releases, it has a 250-card base set that is split into Terrace, Mezzanine and Field Level subsets — with slight design variations for each. The average hobby box features three Autographs or Relics, five #'d Base Parallels, nine unnumbered Base Parallels and seven Inserts/Insert Parallels.
May 17, 2023: 2023 Panini Revolution WWE Wrestling
Basically mirroring the 2022 release, this year's hobby boxes also average eight parallels and four inserts, with a chance for limited autographs. Featuring tons of short prints and parallels, this looks like a fun rip for wrestling fanatics, as you have a chance to pull a Rock Kaboom! or an Undertaker auto.
May 24, 2023: 2022 Panini Encased Football
Encased used to have one BGS slabbed and graded auto per box, along with an additional auto and two relics, but this year there will be no slab — instead a Panini encased auto in a one-touch, along with a second auto and two relics. Look for last year's rookies like Kenny Pickett, Garrett Wilson, Sauce Gardner, Kenneth Walker III and more.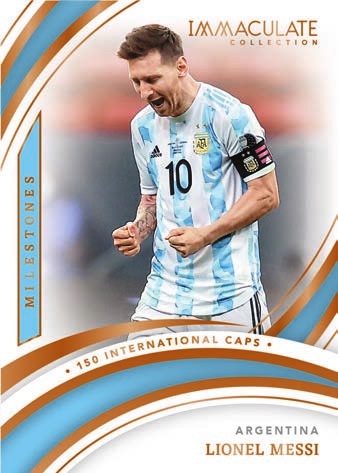 May 24, 2023: 2022-23 Panini Immaculate Collection Soccer
This high-end soccer release features seven cards per hobby box, five of them being hits, which will be a combination of relics, autos and auto relics, and two base cards from the 200-card set. Players are featured in either international or club kits.
May 24, 2023: 2022-23 Panini Recon Basketball
In its third year, Recon is gaining some recognition in the hobby as a fun low-end product. In the hobby configuration, there are two autos numbered to /149 or less that have some value along with 20 different inserts (like All Systems Go, Future Legends, Rock the Rim, Rookie Recon, Rookie Review, Sky's the Limit, and Top of the Charts) or parallels.
May 24, 2023: 2022-23 Topps Finest OTE Overtime Elite Basketball
Following up on Topps Chrome Overtime Elite and Topps Inception Overtime Elite, Finest features some young stars and NBA hopefuls in a refractor-fest and insert showdown hobby box that also features two Chrome autos.
May 24, 2023: 2022-23 Topps NBL National Basketball League
Young talent is spread across many leagues these years, which lends itself to having multiple releases across college sports, Overtime Elite League, McDonald's All-American game and even the NBL — the official professional basketball league of Australia and New Zealand. Hobby boxes include two #'d Parallels, three Blue Parallels and eight Inserts.
May 26, 2023: 2023 Panini Chronicles Draft Picks Football
Hitting the market at the right time, just following the 2023 NFL Draft, Panini Chronicles Draft Picks will feature a mix of brands like Donruss Optic, Optic Contenders College Ticket Autos, Plates and Patches, and Spectra rookies of top picks in their college uniforms and branding. Hobby boxes will contain three Autographs, one Relic, six Holo, 12 Optic (1 Silver per box) and two Spectra Inserts.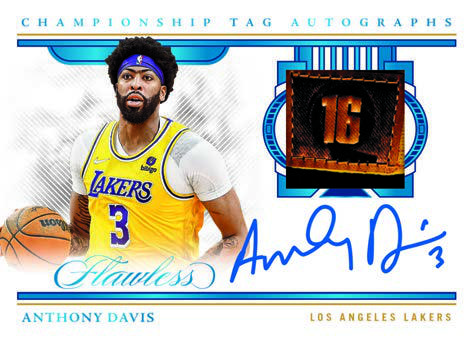 May 26, 2023: 2021-22 Panini Flawless Basketball
This marks the 10th year of this super premium, high-end NBA card brand. Hobby boxes have nine hits and one gemstone card, and generally wraps up releases from Cade Cunningham and Jalen Green's rookie year. This is also the release that the now super-famous Championship Tag Autographs, Laundry Tag Autographs and Logoman Autographs reside.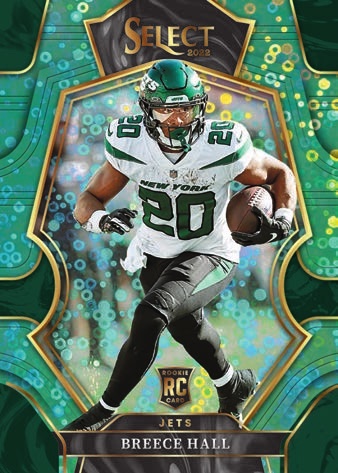 May 31, 2023: 2022 Panini Select Football
A much-anticipated release for football collectors, hobby boxes again average two autographs and one relic along with a selection of Prizms. The base set is tiered per usual, into Base Concourse, Premier Level, Club Level, the inaugural Suite Level, and Field Level. Each grouping has an assortment of Prizm parallels to chase, including the case-hit Zebra Prizms, disco Prizms and more. And for those excited to get the first glimpse of the 2023 rookie class in pro uniforms, the Hobby-only XRC Mystery Redemption cards will highlight stars from the 2023 NFL Draft class.
May 31, 2023: 2023 Panini Three and Two Baseball
The second year of the product features hobby boxes that average one slabbed autograph and one slabbed relic. Like other Panini baseball releases, this one features only prospects and legends, since Panini no longer holds the MLBPA license. Even though it has day one patch autos from prospects like Jordan Walker and Tyler Soderstrom, this one really is only for collectors, and won't really hold any investment value.
May 31, 2023: 2023 Topps Heritage Baseball
Known for rebooting old classic designs from Topps, this year's release features the 1974 layout. Hobby boxes feature one auto or relic and feature current stars as well as All-Stars, League Leaders and MLB Postseason Highlights in the 500-card base set. Averaging 1:3 packs, base short prints fill in the final 100 cards (#401-500).
May 31, 2023: 2023 Topps Chrome UEFA Champions League (TBA)
We're not sure when this will come out, and there have been no details released yet from Topps, but last year's hobby boxes go for just more than $200 and feature one Chrome autograph along with many exclusive base parallels. It is the top soccer release of the year, as it features all of the top club teams in Europe and their best stars.
May 31, 2023: 2023 Topps Star Wars Obi Wan
For Star Wars fanatics, this release features cards from the Disney Plus show. Blaster boxes have one manufactured patch card, but no further details have been announced.
With the Sports Card Investor app, you can profit from the hobby you love by keeping up with trending cards, tracking real-time prices with Market Movers and buying items on eBay. 
Download the industry-leading app here for Apple or Android
Note to readers: If you purchase something through one of our affiliates, we may earn a commission.
Paul Hickey is a regular contributor to Sports Card Investor, the creator of the Sports Card Investment Report at NoOffseason.com, and the host of the Sports Card Strategy Show on Apple Podcasts, Spotify and YouTube. He can be found on Instagram at @sportscardstrategy and on Twitter @nooffseasoncard.