The 2023 Sports Card Release Calendar is heating up big time in March, even if the weather isn't. This month will not only feature top notch pro uniform releases for 2022 NFL rookies, but also the same for 2022-23 NBA rookies, but also some classic brands and high-end releases for sports like hockey, F1, baseball and even Pokemon. In addition, there is a super interesting release featuring high school basketball players that could be legit. Let's get into it.
Official release dates are subject to change on short notice at the discretion of the manufacturer.
March 1, 2023: Topps Allen & Ginter Chrome Baseball
Many new to the hobby are used to Allen & Ginter featuring random personalities and athletes from around the world, and see it as an opportunity to pick up some culture cards, and even tennis and golf. However, this is no ordinary Allen & Ginter release, it's baseball only, it's all Chrome, it's licensed, and there's even autos. Selling for $120 per hobby box, there's 18 mini base cards (one per pack), six base refractors, seven inserts and a chance at an auto or X-fractor parallel.
The top chases include Julio Rodriguez rookie autos and Juan Soto autos. Base refractors come one in every three packs, magenta refractors /199 are new this year, joining blue /150, green /99, gold /50, orange /25, red /5 and SuperFractor 1/1. Mini parallels include green /99, gold /50, orange /25, red /5 and SuperFractor 1/1.
March 1, 2023: Topps Dynasty Formula 1 Racing
We've written quite a bit about the long-term potential of this brand of F1 card being a solid investment. The 2020 debut release technically features rookie patch on-card autos of all of the top drivers. The 2021 release is solid as well, with more driver relics including pieces of driver-worn jackets and gloves.
The 2022 release continues with dynasty patch autos numbered to 10 or less, and specific swatches like autograph flags /2, gloves /10, suit nameplates /2, suit zippers /10 and one-of-one jumbo editions. At one card per hobby box – always an encased auto patch card – this is a high-end, high-risk purchase for any collector/investor, with top drivers being the best case pulls, but team principals are something you could get stuck with on the low end.
March 1, 2023: Panini Donruss Elite Basketball
Hoops fans, get hype for the first higher-end pro release for the 2022-23 rookie class of Paolo Banchero, Bennedict Mathurin, Jaden Ivey, Jabari Smith, Jr. and let's not forget about Chet Holmgren. For traditional Donruss fans, don't let the name fool you – this is a completely different design, with an "Elite" logo in the top right corner. The second-year hobby release opens at $325 per box, with the chance of pulling a rookie Pen Pal auto, veteran GenreGraph auto, limited gold parallel and Aspirations and Status die-cuts. Hobby boxes seem fun, with two autos, 16 inserts/parallels and two base rookies.
March 1, 2023: 2022-23 O-Pee-Chee Hockey
The long and storied tradition of the O-Pee-Chee hockey brand continues with the 2022-23 release. Made by Upper Deck, the hobby box is packed full of parallels, inserts and relics. In addition to blue and red border short prints, there are neon pink /75, red border blank backs 1/1, printing plates 1/1 and yellow border (blaster only) base parallels. In addition to several cool inserts, there's actually a bounty program. Collect the hobby box-only Top Rookie Puzzle Bounty pieces, finish the entire puzzle and claim an auto /25 or a black border /100. Opening at $70 per, the hobby box features: 1 Rare Chase Card, 3 #'d Base/Retro Parallels, 1 Base Red Border Parallel, 6 Base Blue Border Parallels, 18 Base Retro Cards, 4 OPC Playing Cards Inserts and 4 OPC Premier Inserts.
March 1, 2023: 2022 Panini Phoenix Football
Phoenix Football is back with two autos and one relic per hobby box, which open at $300. Chase rookies like Garrett Wilson, Chris Olave Breece Hall, as Phoenix has unique parallels like Sprinkles (SP), Lava /175, Teal /150, Fire & Ice /50 and special H2 parallels as well (H2 releases March 10, but in a modified hobby box format). Inserts include the new Contours, as well as Hot Routes and Rookie Rising. Rookie Patch Autos of Kenny Pickett, and veteran autos of guys like Josh Allen and Jonathan Taylor highlight the checklist.

March 3, 2023: 2022 Leaf Metal Baseball
Supposedly Leaf has cut this print run in half to limit supply. Boxes have six autos per hobby box and 10 autos per jumbo hobby, and all cards are serial numbered to 10 or less. Without full checklist info, we do know that Leaf plans to include veteran autos in with this typically prospect-focused product.
March 8, 2023: 2020-21 Upper Deck SP Signature Edition Legends Hockey
This is a rare mix of high-end on-card autos of legends on low serial numbered cards – with each hobby box averaging at least two autos. The release includes 300 common cards, 50 short prints and several parallels – with the most exclusive being the Gold Foil. The auto checklist includes legends like Bobby Hull, Wayne Gretzky, Mike Madano, Joe Sakic and more.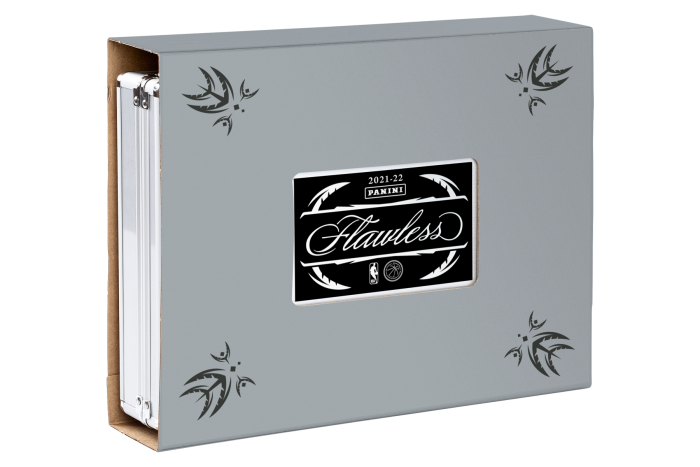 March 8, 2023: 2021-22 Panini Flawless Basketball
For the 10th anniversary of one of Panini's highest-end releases, there will be one gem card per box – in one of several diamond variations. Flawless 10th Anniversary, NBA 75th Team and Flawless Picks (dual-player, dual-gem) cards to name a few. On-card auto relics feature top names like Luka Doncic, Jayson Tatum, Steph Curry and more. And of course, the signature logoman returns, with one-of-a-kind Triple Logoman cards, including one of top 2021-22 rookies Cade Cunningham, Scottie Barnes and Evan Mobley. Sounds great, huh? Well, most of us will need to enter breaks, as hobby boxes are $10K apiece.
March 8, 2023: 2021-22 Upper Deck Allure Hockey Hobby
Allure has a 150-card checklist broken down into 100 veterans and 50 rookies. It's also very parallel-focused, and each hobby box has one auto, 8 base rookies, 3 base black rainbow parallels, 3 base red rainbow and/or orange slide die-cut parallels, 1 base/insert parallel /99 or higher, five inserts, 2 rainbow red-orange inserts and one rainbow insert parallel. This year features two new parallels "Number" /199 and "Pink Leopard" that join low numbered die cut parallels spanning the entire checklist. Rookie autos include Quinton Byfield and Cole Caufield.
March 8, 2023: 2022 Bowman's Best Baseball
This is a late release, featuring rookie cards of Julio Rodriguez and Wander Franco. While it's weird to see a rookie card release of Franco as he heads into his third season, it's also cool to see autos from guys like Marcelo Mayer, Shohei Ohtani and a ton of parallels and inserts in this fun $310 hobby box.
March 8, 2023: 2022 Panini Immaculate Football
The clean, high-end hobby release starts at $1,100 per box, each of which has five hits – which can be either autos or relics. The appeal here is that the base set is all serial numbered to 75 or less, and there are some Rookie Patch Autos of guys like Malik Willis, Aidan Hutchinson and Kenny Pickett, and veteran autos like Cooper Kupp and legend patch autos of guys like Dan Marino.
March 8, 2023: 2022 Panini National Treasures Racing
The well-known NT brand brings racing cards back for another season, but this is NASCAR, not F1. Still, the checklist is super auto-focused, as each eight-card box has seven hits with likely one booklet and four autos.
March 8, 2023 – 2022-23 Panini Donruss Basketball Hobby
The reasonably-priced yet investable Donruss Basketball starts at $280 per hobby box, and includes one auto, with the possibility of several sweet parallels and inserts, including the classic Net Marvels. The iconic Rated Rookie logo highlights the base set, featuring top picks Paolo Banchero, Chet Holmgren, Jabari Smith Jr., Keegan Murray, Jaden Ivey and Bennedict Mathurin. Look for sticker rookie autos and on-card Next Day Autos.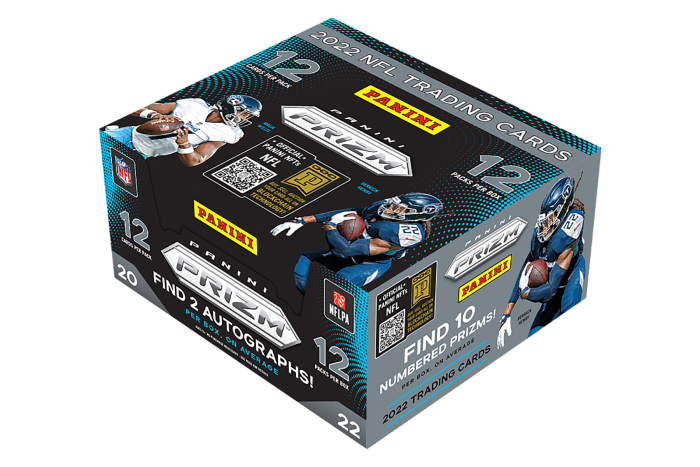 March 15, 2023: 2022 Panini Prizm Football Hobby
Usually the number one release of the year, Prizm Football will feature the rookie class of Kenny Pickett, Garrett Wilson, Chris Olave, Desmond Ridder and Sauce Gardner. Perhaps even more popular than the rookie autos are Prizm's large parallel rainbow, including the hobby-only Blue Ice /99, Snakeskin Prizms, No Huddle Prizms and more, with of course the Gold /10 and Gold Vinyl /5 being some of the top chases. Let's not forget about the Color Blast inserts, and Manga and Stained Glass short prints. Avoid fights in retail parking lots this year and pony up $800 for the hobby release. The 2022 Panini Prizm Football No Huddle version should release about 10 days later.
March 15, 2023: 2022-23 Panini Origins Basketball
If you're as captivated by rookies like Bennedict Mathurin as we are, Origins gives you a solid shot at getting some 2022-23 rookie autos, as the hobby boxes feature one auto and one additional hit per box. Look for the debut of a beautiful new SSP this year called Tiger Eyes, available only in hobby configurations. Big Bang and Snake Eyes are the H2-exclusive equivalents and look pretty slick also.
March 22, 2023: 2022 Donruss Football Complete Factory Set
When you buy this 2022 Donruss Football Complete Factory set you also get some extra Optic Rated Rookie Preview Holos to spice up your life. Give yourself a chance to snag a Desmond Ridder, Kenny Pickett or Garrett Wilson Rated Rookie, for example.
March 22, 2023: 2022 Panini Obsidian Football
Obsidian might be one of the most underrated releases, because when we all see these singles at card shows, we go "Oh yeah, I love Obsidian." The hobby format features four autos or relics among seven total cards, with a 50/50 chance of getting rookies, as 100 base cards are vets and 100 are rookies. Top parallels include the Electric Etch Gold Flood /10, and the debut of the Electric Etch Neon Mojo /5. Let's not forget the super drippy Obsidian Color Blast Black insert, making this an almost must-buy hobby box.
March 22, 2023: 2021-22 SPx Hockey
These hobby boxes feature 2-3 hits per box, a mix of autos, relics or auto-relics. Shadow Box Rookies and Shadow Box Veterans inserts, and Rookie Auto Jerseys highlight the checklist, as the memorabilia is player-worn. But perhaps the biggest chases are rookie Super Script insert autos numbered /25, and Black Lustrous Rookies numbered /15 of guys like Cole Caufield and Quinton Byfield.

March 22, 2023: 2022 Topps Chrome Platinum Anniversary 1953 Baseball
Paying tribute to the 1953 design, this all-Chromium hobby release starts at $130/box. The rainbow includes new colors like Platinum Toile White/Blue Refractor /199, Platinum Toile Cream/Fuchsia Atomic Refractor /199, Platinum Toile White/Green Refractor /99, Platinum Toile Cream/Rose Gold Refractor /75, Platinum Toile Cream/Gold Refractor /50 Platinum Toile White/Orange Refractor /50, Platinum Toile Cream/Black Refractor /10 and Platinum Toile Cream/Red Refractor /5. The auto checklist includes veterans like Vladimir Guerrero Jr., and the rookie auto checklist includes – you guessed it – even more Wander Franco rookie autos. The 2022 Topps Chrome Platinum Anniversary Baseball Lite is expected to release around the same time.
March 22, 2023: 2022 Topps Gold Label Baseball
Opening at less than $100 per hobby box, Topps Gold Label features a checklist of 100 players, with three different subsets per player, referred to as "classes." The auto checklist is highlighted by the "Framed Autograph" insert, which is hand-signed. There are also the Auric Framed Autographs inserts numbered to /25 or less, with signatures from guys like Shohei Ohtani. Another unique pull is the Framed Gold Prospect Autograph Relic numbered /10 or less which features a real gold nugget next to an on-card signature.
March 22, 2023: 2022-23 Upper Deck NHL Star Rookies Box Set Hockey
The rookie box set features 25 rookies. All base versions come in each box. In addition, four base parallels come in each box and one autographed card is included in each case.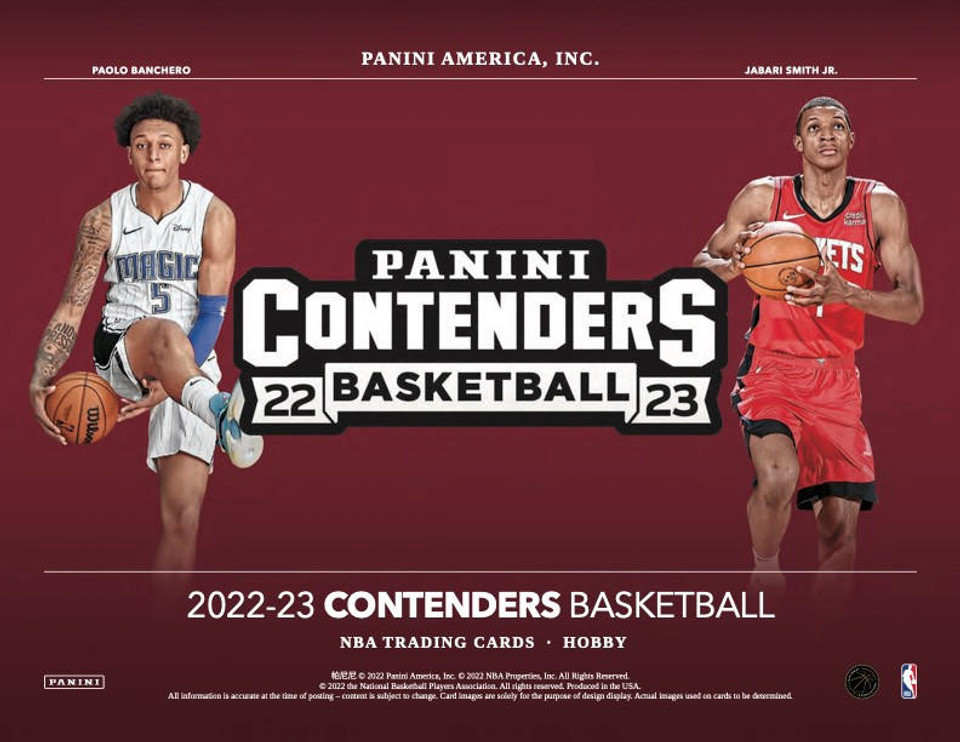 March 22, 2023: 2022-23 Panini Contenders Basketball
Hobby boxes are expected to average two autos per box, but may contain less overall cards this year, being reduced to eight cards per pack and four packs per box (24 total cards) down from 120 total cards last year. The now-iconic Rookie Ticket Autos and variations feature a completely new design. Rookie Ticket Autos of guys like Paolo Banchero, Chet Holmgren, Jaden Ivey and Bennedict Mathurin will be the top chases.
March 24, 2023: 2022-23 Panini Prizm Premier League Soccer Breakaway
The fourth season of EPL Prizm is here, and hobby boxes have one auto and tons of parallels. Erling Haaland makes his Prizm debut as a member of Manchester City. Look for the Prizm classic Color Blast Insert, as well as Hobby Signatures, Breakaway Signatures, Choice Signatures all with parallels in Gold /10 and Black 1/1s. Silver /99, Purple /25 are Hobby Signatures only.
March 29, 2023: 2021-22 Panini Eminence Basketball
This is a late release, from the rookie class of Cade Cunningham, Jalen Green, Evan Mobley and Scottie Barnes. Each 10-card, high-end case has nine autos and one additional card. The release has tons of solid on-card autos, beautiful patch autos, NBA 75th Anniversary Diamond Signatures and more.
March 29, 2023: Topps Chrome McDonald's All-American Basketball
Not only have we seen top hoops prospect cards out of releases like Topps Chrome Overtime Elite, but Victor Wembenyama's Sports Illustrated for Kids card is selling like hotcakes on eBay right now. So the timing on this release, which features top high school men's and women's prospects, could not be more interesting. Hobby boxes contain two autos. The McDonald's All-American Game brand has been the most iconic brand in high school basketball in the last several decades, and hitting an auto of a top prospect could yield solid returns.
March 29, 2023: 2022 Topps Stadium Club Chrome Baseball
The Chromium version includes all 300 base cards from the regular Stadium Club set, including another 100 cards to create a new 400-card Chrome base set. Collect the rainbow, including the new Blue Refractor /199 and Green Refractor /99. Base on-card autos of vets like Bryce Harper and rookies like Julio Rodriguez highlight the hobby box possibilities.
With the Sports Card Investor app, you can profit from the hobby you love by keeping up with trending cards, tracking real-time prices with Market Movers and buying items on eBay.
Download the industry-leading app here for Apple or Android
Note to readers: If you purchase something through one of our affiliates, we may earn a commission.
Paul Hickey is a regular contributor to Sports Card Investor, the creator of the Sports Card Investment Report at NoOffseason.com, and the host of the Sports Card Strategy Show on Apple Podcasts, Spotify and YouTube. He can be found on Instagram at @sportscardstrategy and on Twitter @nooffseasoncard.