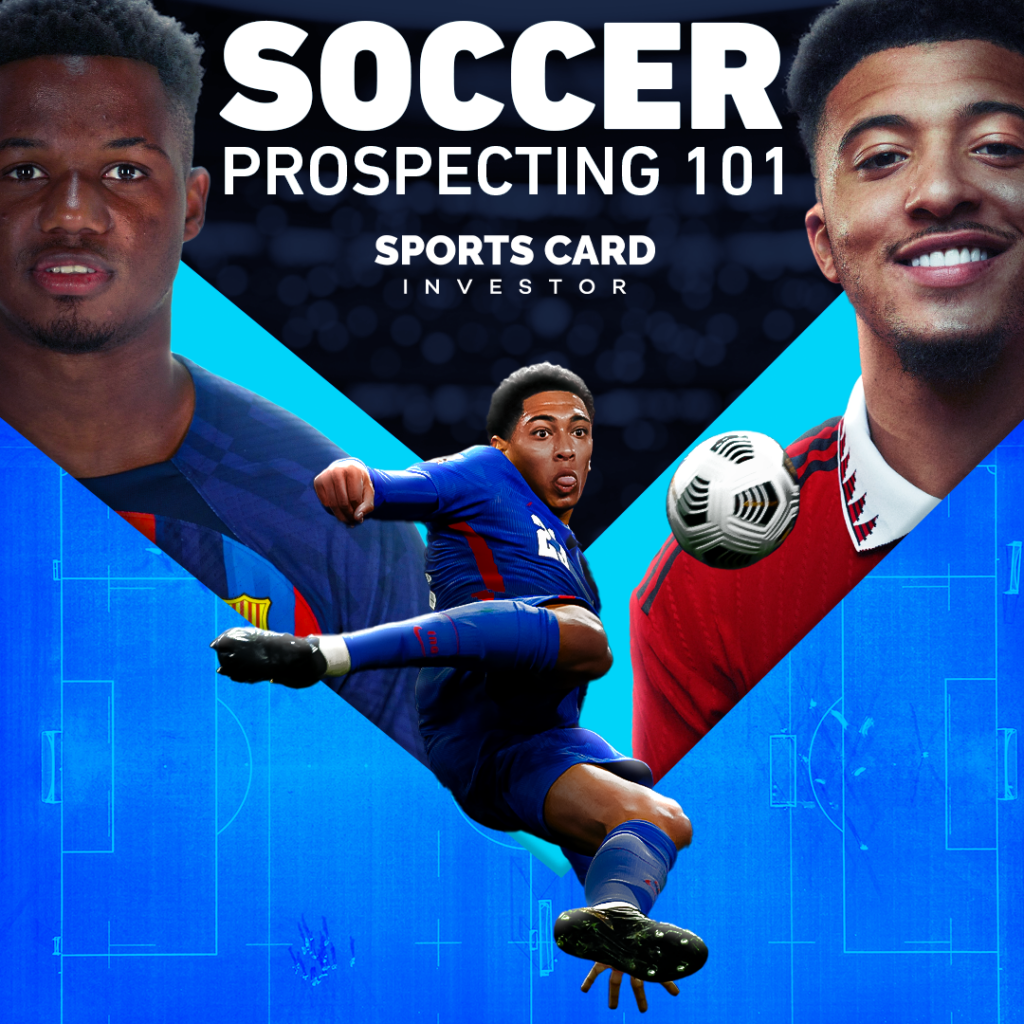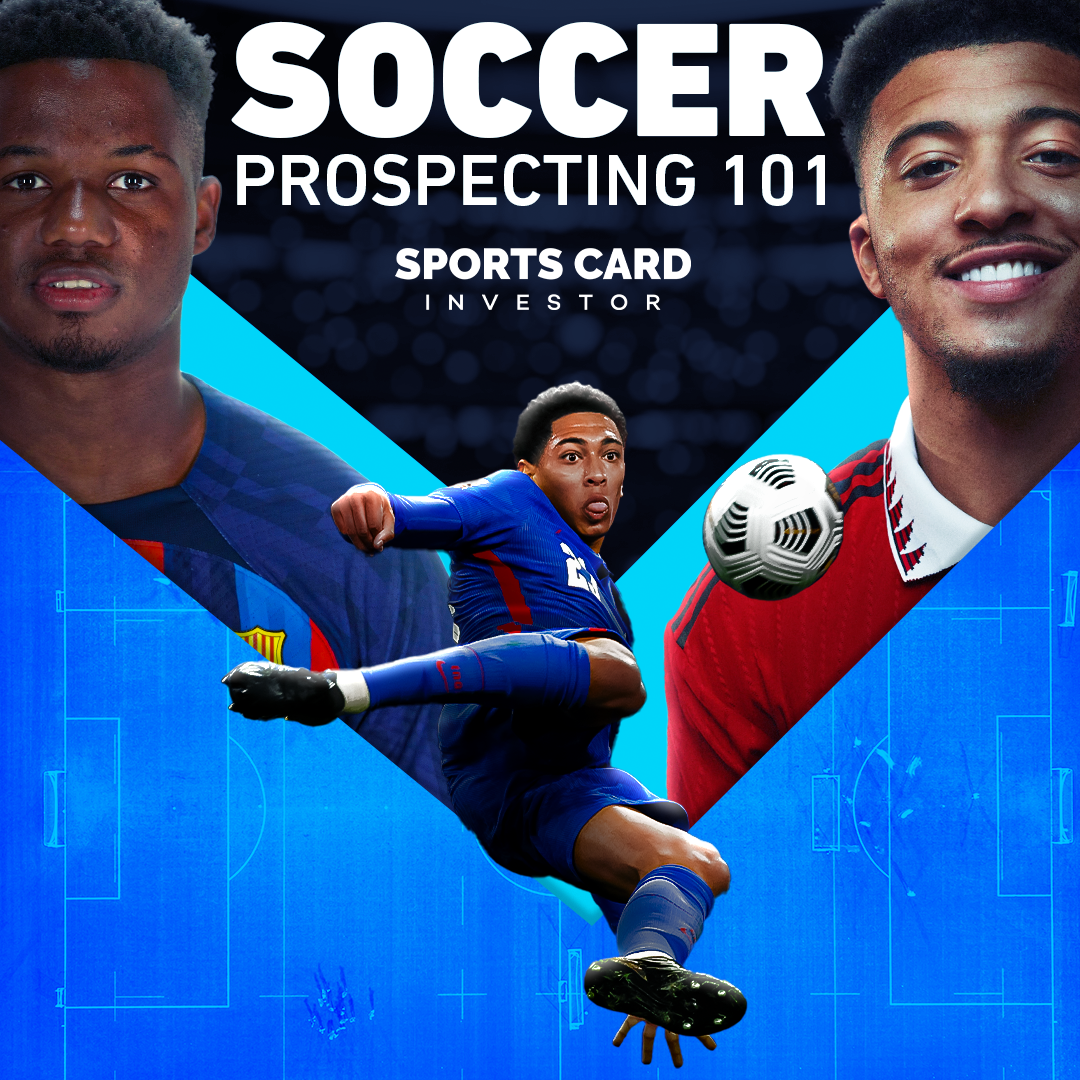 Soccer Prospecting 101: Building A Process and Understanding The Pipeline
Soccer card prospecting can be super intimidating to new collectors and investors. There are plays to be made everywhere, just like in basketball, football, baseball and hockey – but unlike the NBA, NFL, MLB and NHL, there is no "draft" system to track prospects through.
You can't just jump on eBay and start searching for the names of the top recent draft picks across global football because that just doesn't exist.
In fact, there are several steps you should take within soccer card investing before you even approach a marketplace like eBay, MySlabs, PWCC, or anywhere else.
Instead of a real structure, there is a slightly complicated game of "Connect the Dots" in order to understand the multiple facets across global football.
The good news is that the one word that drives the market for soccer prospecting is the same as any other sport: Hype. That hype, along with our tips below, can put you on your way to snagging the next big star before the rest of the hobby.
Research the players way before they hit the top leagues
This is a bit more like following top high school basketball and football recruits during their high school careers rather than waiting until they're draft-eligible. The same way you'd search through websites like Rivals or 247 Sports to find top football and basketball players ages 16 through 18, you can use websites like Goal, Scouted Football and Transfermarkt as great initial resources.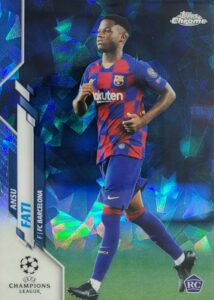 Look at these websites specifically for updated lists that include "Top Players Under 21" or even "Top Players 18 and Under." Yes, this starts that young. Remember, players like Ansu Fati debuted and hattricked for FC Barcelona at age 16. He's still only 19, but he's considered old for a global football prospect at this point. An important award to follow is the NXGN Award. Fati, Jude Bellingham, Jadon Sancho, Rodrygo are recent winners.
Goal's 50 best wonderkids in football is a good example of a resource you should be using to find prospects before they debut in the top leagues. That article goes deep, listing some guys who already have cards, like Bellingham, Jamal Musiala, Gavi, Youssoufa Moukoko and Florian Wirtz, but also many players that are still in academy programs or bouncing around lower-level professional clubs – or have just received call-ups or transfers to top clubs and aren't quite yet in the playing group.
If you've never heard of any of the names mentioned, that's the point. If you're currently buying Pedri, you're likely too late and not truly "prospecting."
Finding guys who are about to transfer to bigger teams and get more playing time is a better strategy than buying guys after they win awards, appear on ESPN lists, and become household names. That is ideally when you want to be selling them.
Look for the words "On Loan From" or "In Academy Program"
Your list will be super long, so you have to start narrowing it down somehow. The best way is to look for guys already signed to a big club, but haven't made their debut yet.
Guys "on loan" are always nice. For example, Caden Clark is only 18, and is signed to a Bundesliga club, but is playing on loan for MLS club NY Red Bulls.
Charlie Patino and Liam Delap are both signed by top Premier League clubs that play on loan in the EPL Championship Division. Ilaix Moriba plays for Valencia CF of La Liga on loan from Budesliga's RB Leipzig, and guys like Alejandro Balde and Bruno Iglesias are essentially part of FC Barcelona and Real Madrid's Academy (or B Squads), respectively.
Narrowing your list down to guys that are essentially one step away from the big stage is important. You don't want to wait too long to be able to flip your prospects. Too much can go wrong in a short period of time. Making money prospecting is about making a call before something substantial happens (like a transfer to a larger club), then selling when it does.
Which national teams do they play for?
This is secondary to their pro career, but plays an important role in overall investability, much more so than in other sports. The World Cup, The Euros, and even CONCACAF, to a lesser extent, can have an impact on hype. The best example is Norway's Erling Haaland. Right or wrong, many soccer card investors stayed away from Haaland over the last couple of years due to the fact that he's unlikely to compete in World Cup competition due to his weak national team.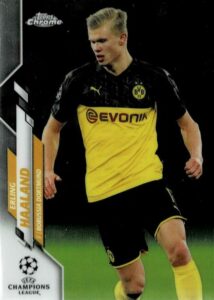 He's become an exception to the rule due to his record-breaking debut season in the Premier League for Manchester City, but in general, it's a good idea to invest in players that have an upcoming potential transfer to a larger club and have a chance to compete for World Cup wins.
This is a reason why a player like Yeremy Pino can be focused on. He is only 19, plays for Villareal of La Liga and the Spanish national team, and is rumored to be transferring to Arsenal soon. He fits the perfect formula, as he's still relatively unknown as a top footballer under 21.
Do They Have Investable Cards?
This is a huge challenge in sports card prospecting overall, let alone soccer card prospecting. Pino is a good example, because for a while he only had Panini Megacracks cards from the Spanish 2020-21 set. While this technically is his first card, it doesn't have a clear rookie card designation, and is not investable. So while many knew about him for a while, collectors were handcuffed by the fact that the card manufacturers hadn't made anything investable yet.
Pino now has Panini Obsidian autos as part of World Cup licenses, and Topps autos as part of Villareal making it into the UEFA Champions League (which made him eligible for Topps Chrome, Merlin Chrome and other higher-end autos due to Topps owning the UEFA licenses). Luckily, he's still relatively inexpensive.
Another prime example of why soccer card prospecting is hard is Gavi. Unlike Pino, Pablo Martín Páez Gavira is not cheap at all. He's only 18 years old and already a bonafide star midfielder for both FC Barcelona and the Spanish national team. Look at any list of top soccer players under the age of 21, and you'll find him climbing closer and closer to No. 1 on all of them.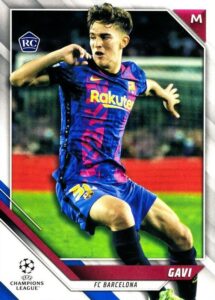 While he's not yet a household name, he's well on his way. Put it this way – thinking about buying his soccer cards would be like a true basketball fan trying to find investable Victor Wembenyama cards right now. The problem with both players is that they're known and hyped, but still don't have any autos out. So you're left sifting through many overpriced Gavi base cards from Topps, Topps Chrome and other 2021-22 sets.
And because he's so hyped up in the soccer community, these mass-produced cards are pretty expensive to buy as singles, and destined to plummet in price after the investable cards are released.
The dilemma is that by the time his autos come out, or the prices of his base cards drop, he'll have to actually live up to all the hype to see an increase in card value.
The lack of investable cards for many of the top prospects until they actually become too well known is a bit of a challenge.
What previous sets have players appeared in and what future sets could they be eligible for?
Keeping an eye on what future sets prospects could be eligible for is necessary. Topps Chrome is a premium brand across sports card investing, followed by Panini Obsidian. Understanding that guys could transfer and appear in different sets based on licenses is important. Another play is to see if they've ever played in the MLS and have Topps Chrome autos from the past. This is the move for guys like Caden Clark and Ricardo Pepi. Topps also owns the Bundesliga license, and while it's considered a top tier league, players who transfer from Bundesliga to the Premier League or even top Spanish clubs typically see a huge bump, which is why understanding the transfer landscape and combining that knowledge with what sets players may have previously appeared in is key.
Ultimately, soccer card investing works the same way as other sports at a high level. Buy the guy before the hype starts, and then sell during the hype cycle. But the trickier part is that more research is required in the process to actually understand why a guy has hype, then actually finding the investable cards to make the plays happen at the right time.
Paul Hickey is a regular contributor to Sports Card Investor, the creator of the Sports Card Investment Report at NoOffseason.com, and the host of the Sports Card Strategy Show on Apple Podcasts, Spotify and YouTube. He can be found on Instagram at @sportscardstrategy and on Twitter @nooffseasoncard.
With the Sports Card Investor app, you can profit from the hobby you love by keeping up with trending cards, tracking real-time prices with Market Movers and buying items on eBay. Download the industry-leading app here for Apple or Android
Note to readers: If you purchase something through one of our affiliates, we may earn a commission.