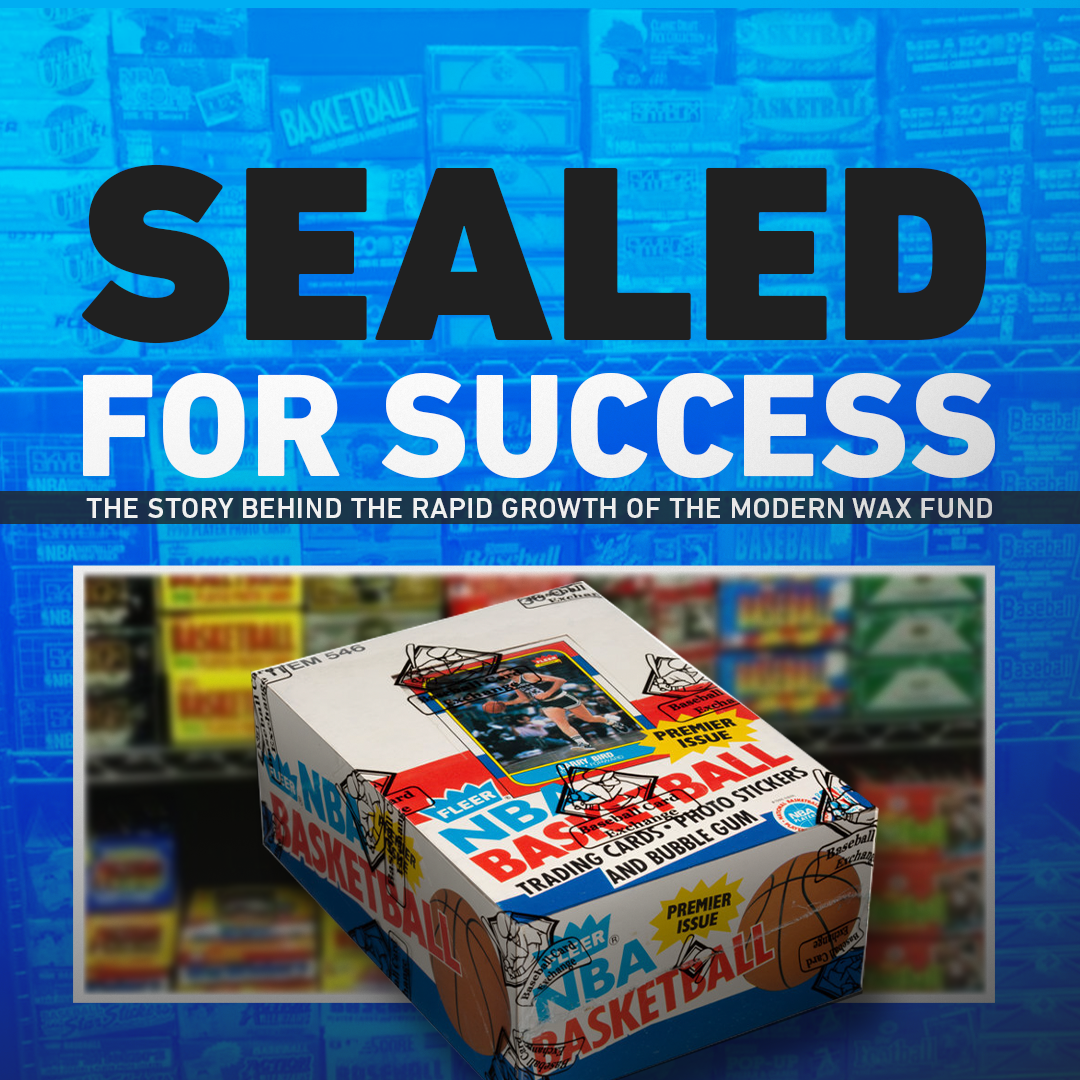 Even though Thomas Fish is the co-owner of Blowout Cards, one of the largest online retailers in the sports card hobby, he's just as unsure as you are about a future with Fanatics at the forefront.
"It's still uncertain," says Fish, just a few hours after Fanatics CEO Michael Rubin went on CNBC and made his first public statements since his company won licensing rights for the MLB, NBA and NFL in the coming years. "We have a very large inventory of stuff from the last 10 years. So, in the short term, we'll be fine. We'll see how the landscape shakes out. I know they have a lot of lofty goals and aspirations. Let's see if they're able to execute them."
While Fish waits with everyone else to see what the industry as a whole will look like in, say, three or four years, the man's got a good idea of where things are heading over the next 12 months—wherever there's sealed wax. As Sports Card Investor founder Geoff Wilson has said consistently over the past six months, the smartest investment play in card collecting right now is not opening the cards you're collecting.
When you look at sealed wax prices over the past 18 months in Market Movers, you might think the tool was experiencing a glitch; the numbers have been just that wild. Take the 2018 Prizm Basketball Hobby box, for example. A year and a half ago, boxes were selling for $300. At press time, they were fetching more than $5,200. That's a whopping 1,633% value increase!
But it's not just Luka and Trae sparking the soaring costs. Look at what 2014 Bowman Baseball (up 347%) and 2017 Origins Football (up 514%) have done. Just about every box from every sport over the past 20 years has gone up 3x, 5x or even 10x.
"I think it's the allure," says Fish, when asked what he thought the reason was for the recent wax wonderment. "We don't know what's inside of [the box]. [Also,] there's a lot more collectors entering the space. If they don't necessarily want to collect a particular player from any year, they'll collect the unopened material."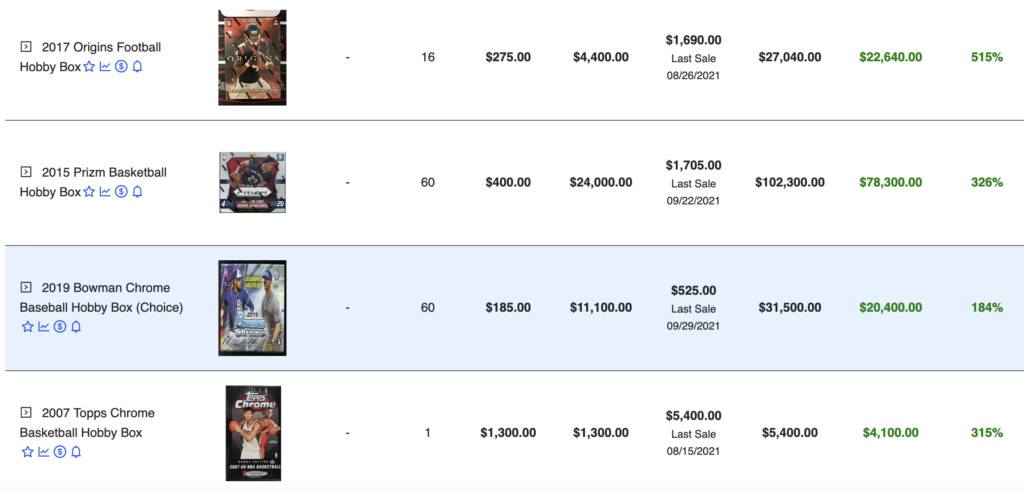 David Arons, founder of Attic Investments, has felt similarly about sealed boxes for a few years now. "It just seemed like a no-brainer for me," says Arons. "And honestly, it was the PWCC Index [that inspired me]. Long before they got in trouble [with eBay shill bidding accusations] and all that stuff. Looking at it, I was thinking, 'Hmmm, I wonder if there's a fund.' I would have happily invested in a fund that replicated that index. I was thinking there's definitely an opportunity here."
Since he didn't see anything else out there, Arons decided the time was right to create one. The concept behind the Modern Wax Fund reads much like any other fund you'd find offered through an investment bank. A group of investors pool their money together to purchase a range of asset types. But in this case, instead of stocks and bonds, the capital is concentrated on boxes like Select and Bowman's Best.
Fish can remember when Aron approached him with the private equity fund idea. "I think it was a little bit over two years ago," says Fish. "I met with David and we were talking about cards and how people were buying cards and there was fractional ownership and things of that nature. I'm in the wax business, so I said, 'Hey, this would be a great thing for people to potentially invest in—unopened sports cards.' We talked about potentially doing fractional ownerships or putting together a fund where people could invest in a broad scope of products rather than just buying one, two or three boxes or cases. [This way you could get] a nice portfolio of wax."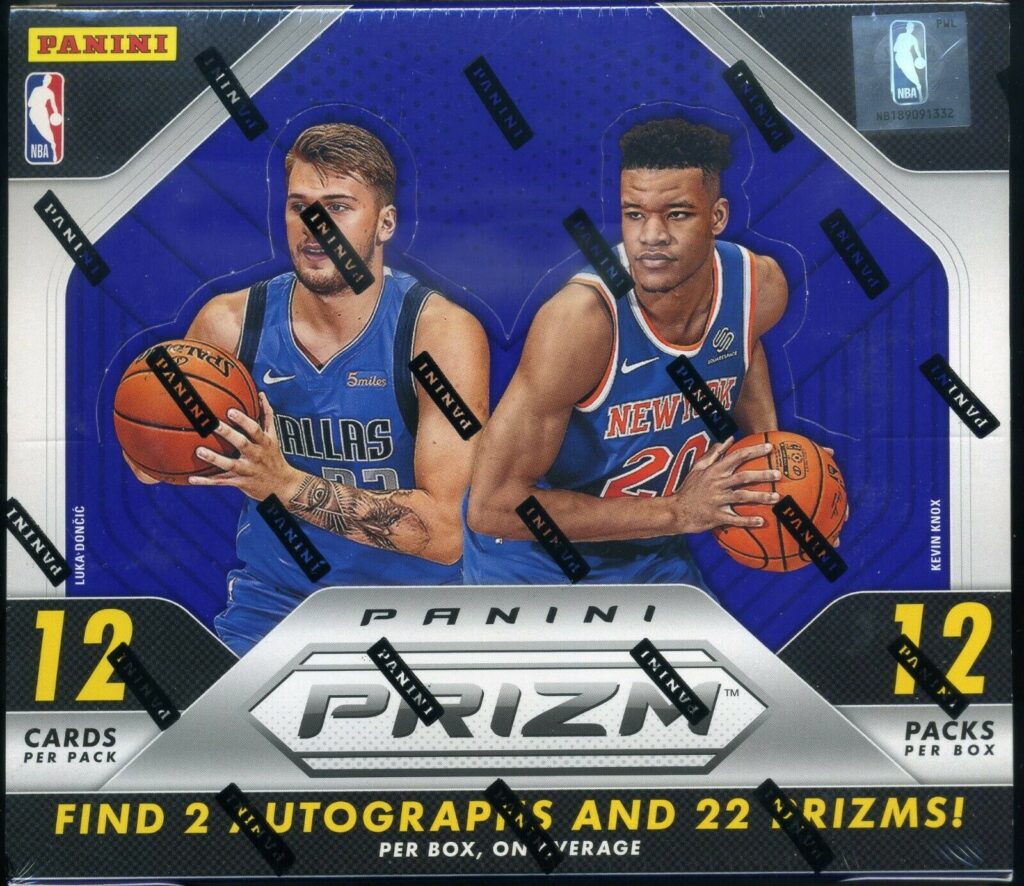 All of this came together in early 2020, a few months before the COVID-sparked industry boom. Back then, not everyone shared Arons' vision about wax. He knocked on doors for investors. He pleaded with friends. He even asked loved ones to chip in.
Fish remembers those first few rocky months of trying to get folks to see into the hobby's future. People didn't fully understand—Wait, you want me to buy a stake in a collection of unopened cards? Why can't I just buy them outright right now? Things were stalling with the project before they could even really get started. Maybe their vision was blurred.
"I fully believe that I never would have asked for my parents' money, my brother's money and [money from] my work colleagues if I didn't fully believe in it," says Arons. "But I don't think anybody could have expected the market to move the way it has. I'm just thankful we got this fund off the ground way before COVID hit. People were looking at me cross-eyed when I was asking for $25,000 to put into sports cards. Then, when COVID hit, everyone who turned me down was like, 'Whew, thank God I said no.'"
But as we all know, a month after the pandemic struck, we began living in a red-hot sports card world. Beyond having impeccable timing, though, the Modern Wax Fund, with its $3 million cost basis, had other factors in its favor. For starters, the portfolio was more diverse than a '90s Benetton clothing ad. Yes, there were the requisite baseball, basketball and football entries, but Arons and Fish insisted on some hockey, soccer and even a bit of Game of Thrones card excitement being packaged in as well. Second, the fund deferred all market management fees until they could be recouped from Year 4 profits. Also, any third-party expenses were covered by Arons until they could be paid from Year 4 profits.
Still, the most obvious bit of foreshadowing the fund's eventual success may have come from the fact that Blowout Cards retained 50% ownership. They weren't letting investors take the financial gamble alone. They were literally putting their money where their belief was.
Of course, that belief has turned into big bucks. Using Market Movers' new sealed wax tracker, you begin to truly see the numbers in all their glory. At the Modern Wax Fund's birth in February 2020, it was valued at a little over $3 million. Roughly 75% of that (or $2,205,365) is presently able to be tracked in the app. As of October 14, 2021, that portion had ballooned to $9,499,966, a nearly inconceivable 331% increase in less than two years.
The other 25% of the fund is made up of boxes that are so rarely sold that there are no recent comps on eBay or Goldin Auctions, so they can't be included in Market Movers. But Arons puts their current value at $2,699,488, bringing the Modern Wax Fund's total value to $12,199,454. Talk about a return on investment!

While Market Movers can't promise those kinds of returns for your personal wax collection, it proves a priceless tool for analyzing product, curating cards and documenting real-time transactions of sealed products.
"Obviously, Sports Card Investor is a phenomenal resource, a phenomenal tool," says Fish. "It's not only about single cards and looking at your Beckett magazine or going on eBay and checking final sales on single cards. The wax market is very, very, very vibrant."
Soon, Market Movers will feature a public display of the price history of every box in the Modern Wax Fund. Investors will be able to see every product in the fund, and how much it has increased since its inception.
If you're an investor contemplating how much you should put into the Modern Wax Fund, we have some unfortunate news: this fund reached its capacity and has long since closed. But take solace in knowing that Arons hasn't completely shot down the idea of doing another fund down the road. Sports Card Investor Founder Geoff Wilson has also raised the possibility of partnering with Arons and Fish on the next one.
"I hope to be doing some more funds in the future," says Arons, a life-long card collector. "I'm sure they'll be with Fish, maybe something a little more narrowly focused or broad again, either way. One thing I'll say—I have my day job. I'm an executive. I make good money and have good opportunities. To me, this is a passion thing. I was able to have the time to put it into it. But I don't need to do the next one and then the next one and then the next one. I only want to do stuff that I believe in."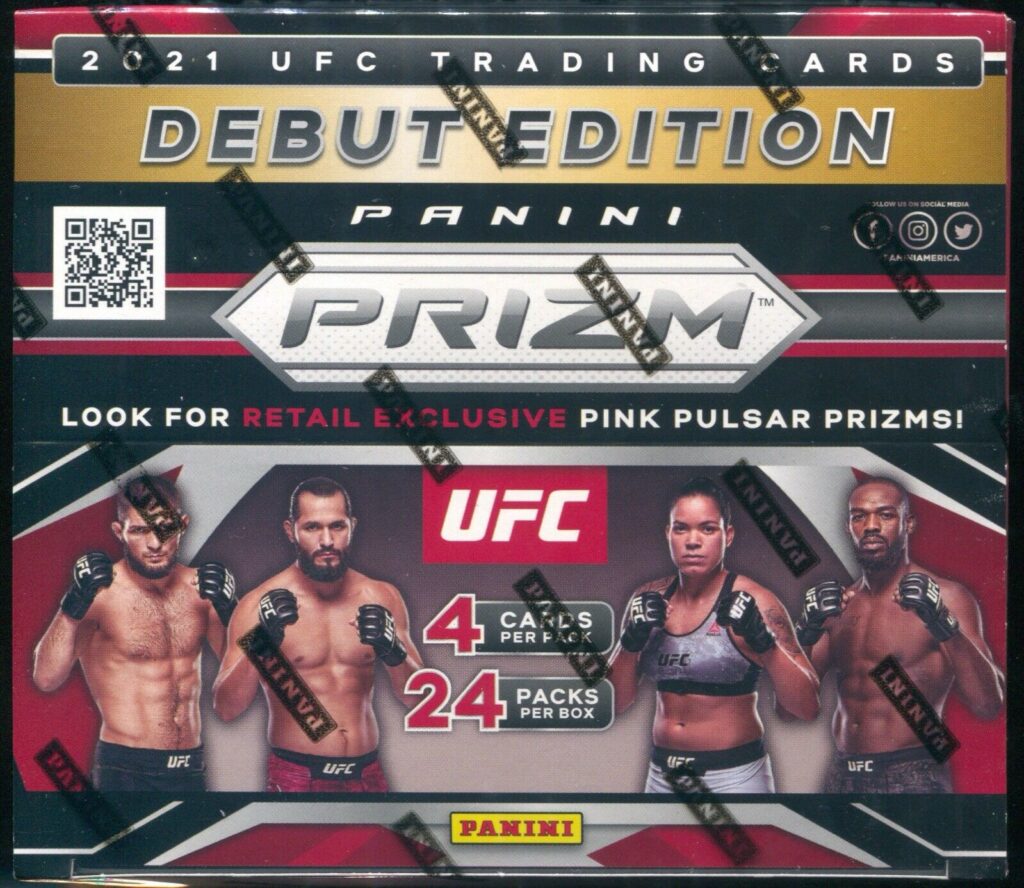 As for Blowout Cards' Fish, he's always thinking about the next move. One product that he suggests collectors get their hands on now before it's too late is sealed UFC wax. "I think that Panini has made some incredible investments into the category and marketing," says Fish. "It's a global sport. One thing that I like more about basketball than, let's say football or baseball, is when you have a global brand (i.e. the NBA, UFC and soccer), you've got collectors from all over the world that enjoy the sport. They're very passionate about their sport. They're very passionate about specific athletes in that sport. And when you have a global appeal like that, it's all about supply and demand."
And if there's anything we've learned by tracking the Modern Wax Fund's performance, it's that Thomas Fish and David Arons know what they're talking about. They may be in the relative dark like everyone else with regards to Fanatics' plans, but when it comes to the tendencies of today's sports card market, their profits prove they're light years ahead of the competition.
Track your collection and maximize your profit with Market Movers, the hobby's most powerful sports card pricing platform! Learn more here.
Note to readers: If you purchase something through one of our affiliates, we may earn a commission.