Saquon Barkley Rookie Cards: Best Sets and Parallels
What an up-and-down career so far for the 25-year-old running back from Penn State. In many ways, Saquon Barkley is the perfect example of why running backs struggle to gain a solid foothold in the hobby among sports card investors.
Specifically, people are hesitant to put too much money, if any, into running backs. Due to high injury probability, and the potential to always be in a time-share, there's always a risk that you may never get out what you put in, let alone make profit.
But after coming back and successfully returning from multiple injuries in 2019-21 to rush for 1,312 yards and 10 TDs on 295 carries and catch 57 balls for 338 yards in 2022, Barkley proved many critics wrong by sandwiching three horrible, injury-plagued seasons between a phenomenal rookie season in 2018, and helping the Giants to an improbable and unexpected run to the playoffs in 2022 — he has rejuvenated the hope of football card investors in the potential of running backs.
Thanks to Saquon's 2022 season, it makes a ton of sense to go back and examine his rookie cards from 2018.
VALUE ROOKIES:
The Value Tier includes cards with high print runs or lower-quality cardstock. A good fit for new collectors or those on a limited budget.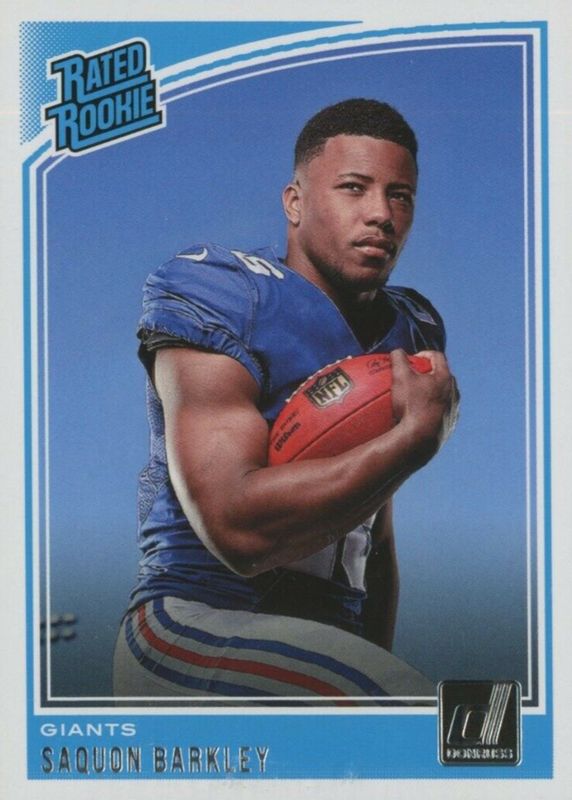 2018 Donruss Base – The fun thing with rookie cards of running backs is that the cards we typically write about as being in the popular rookies category below, are also value rookies. Case in point, the 2018 Donruss Base, classic posed action shot of Barkley helmetless featuring the Rated Rookie icon, has sold 665 times in PSA 10 over the last 365 days, for an average of $36. That's value, and liquidity rolled into one.
2018 Optic Base – Similar in design every year to Donruss, Optic also features the Rated Rookie mark, but has two distinct differences. The posed shot in 2018 features rookies with their helmets on. Also, the chromium material is far nicer and shinier than the Donruss release. So typically it sells for slightly higher in Base PSA 10. Barkley's 2018 Optic Base PSA 10 sold 159 times for an average of $56 over the last 365 days, with a minimum sale of $25.40 – a bargain.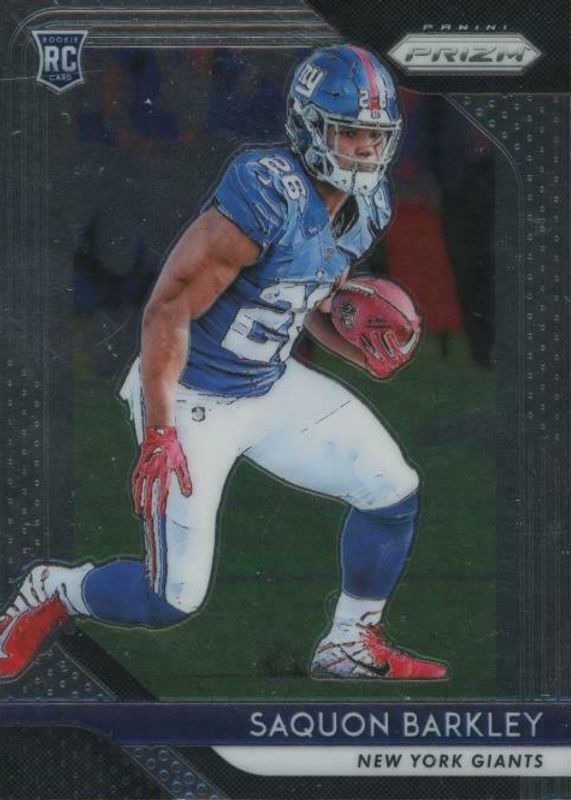 2018 Prizm Base – The Base Prizm PSA 10, that many always consider the "flagship rookie" since 2012, sold 136 times over the last 365 days for an average of $65 and a minimum sale of $27. With that kind of sales volume and low pricing, this card featuring the classic Prizm brand mark, the RC shield and a game action shot of Barkley, deserves to be considered both a value and popular rookie card.
2018 Select Concourse – Next up, traditionally one of the final releases of the football card calendar, Select 2018 features a clean design with the RC shield centered on the bottom slightly above Barkley's name. What makes this a value is that in PSA 10 it sold 36 times over the last 365 days for an average of only $41.95 but only has a pop of 170, vs. the much higher pop counts of the cards above with similar sales figures.
POPULAR ROOKIES:
This tier includes cards from the most popular sets across both retail and hobby formats. Typically easy to buy or sell when needed.
2018 Select Concourse Silver – A short-printed, shinier, more desirable version of the 2018 Select Concourse, the Silver version denoted by the word "Prizm" on the back of the card has a slightly lower PSA 10 pop count than it's base equivalent (101) and sells for an average of $75.33 over 26 sales in the last 365 days.
2018 Select Prizm Silver – Always liquid and easy to sell is the Prizm Silver. Raw, this card has sold nine times in the last 365 days for an average of $85. In PSA 10, at only a pop 27, it sold seven times in the last 365 days for an average of $393.49. Like the Concourse Silver, the Prizm Silver is short-printed and has the word "Prizm" on the back – that is if you can't tell the difference looking at the sweet holographic shine on the front.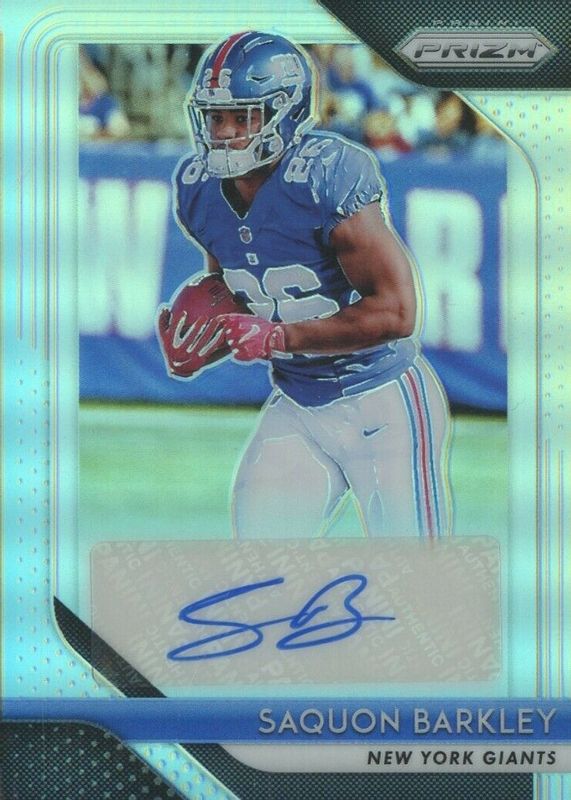 2018 Prizm Autographs – Another cool part about featuring a non-QB in this article is that higher valued autographs can sometimes appear in the "popular" section and not have to only be reserved for the "rarest and most exclusive" section. The 2018 Prizm Autographs is super popular and sells quite frequently. It is a photo variation from Barkley's base and Silver Prizm, features the same material as the Silver Prizm, but features a sticker auto and has sold a few times recently in PSA 10 for between $250-$300.
2018 Contenders Rookie Ticket Auto – Since Tom Brady's 2000 Contenders Rookie Ticket Auto became iconic over the last 10 years, the Contenders Rookie Ticket Auto in general for all players has become pretty popular and widely accepted as a go-to rookie auto. Barkley's Base Contenders Rookie Ticket Auto is clean, with a white background and an on-card auto, having sold a couple times recently for between $215-$250.
MORE UNIQUE ROOKIES:
This tier includes cards with lower print runs, unique designs, or cards from hobby-only products. Usually higher-quality cards than the Value or Popular tiers, though not necessarily more popular or easier to buy or sell.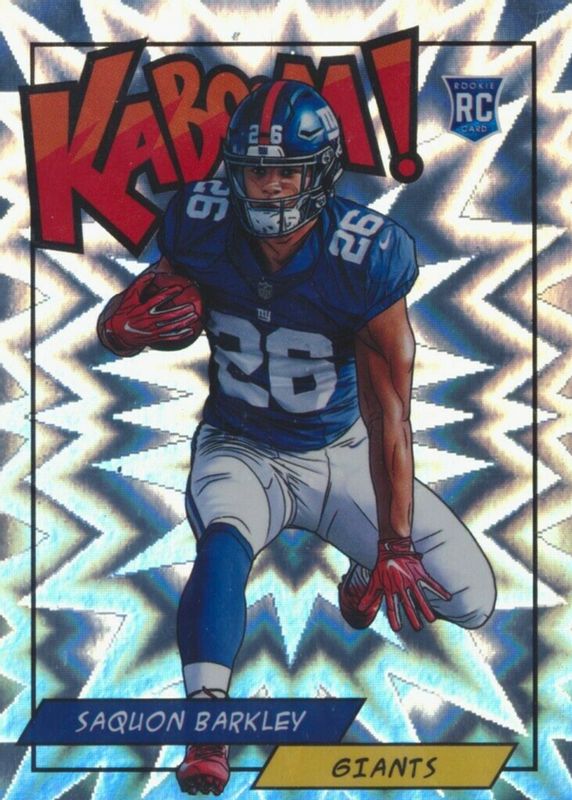 2018 Panini Rewards Kaboom! – Make no mistake about it, this unique rookie is one of the most desirable for not only Barkley, but for most athletes. The graphic-novel style design features Barkley hurdling a defender, and the RC shield in the top right hand corner validates its significance as one of his top rookie card chases.
2018 Optic Downtown – Likely just as short-printed and exclusive as the Kaboom! but maybe not quite as widely popular, the Optic Downtown is designed to represent the athlete's home team's unique city or state attributes. In this case, Barkley, who was drafted second overall in 2018 by the New York Giants, features the New York City skyline, the Statue of Liberty, and a large stalk growing out of a "Big Apple." The fact that Barkley still in fact plays for the Giants and has led them to some recent success helps the value and desirability of a card like this.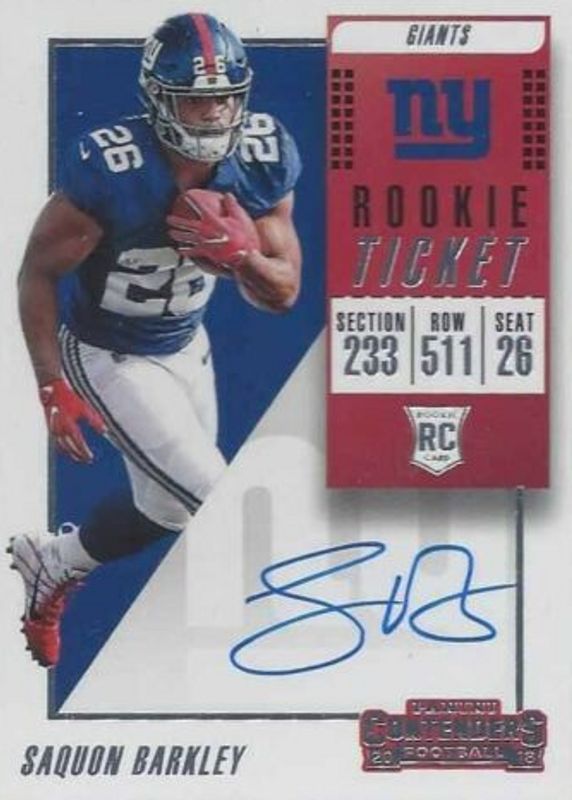 2018 Contenders Rookie Ticket Auto Variation – The photo variation is a short print of the aforementioned Rookie Ticket Auto, and while it's not serial numbered, there is a variation Playoff Ticket out of only 25, that has the same photo as the variation, and is a rookie card with the RC shield, but says "Playoff Ticket" instead of "Rookie Ticket" on the front.
RAREST AND MOST EXCLUSIVE:
This category may be out of reach for most collectors due to price. Don't worry if this tier is too pricey as there's a host of options in other categories that could be perfect for your collection.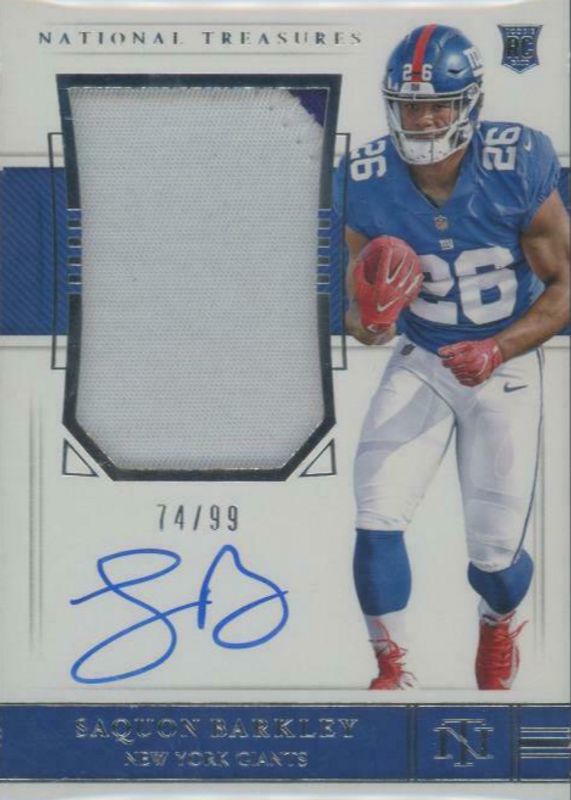 2018 National Treasures Rookie Patch Auto – The super-clean, classic National Treasures Rookie Patch Auto /99 features a unique player-worn patch and an on-card auto. It sold for nearly $1,400 at the beginning of the 2022 NFL Season, one of the most consistently best times to sell your football cards.
2018 Prizm Gold Vinyl – So rare and exclusive that you can't typically find any available for sale on eBay, as the Gold Vinyl are out of only five. It is the same design and action shot as the Prizm Base and Prizm Silver Base, but with a Gold Vinyl sheer and finish.
2018 Panini Rewards Gold Kaboom! – The same design as the aforementioned Kaboom! But with a gold finish. As there are only 10 copies in the world, this is one of the rarest and perhaps the most desirable Barkley rookie card.
With the Sports Card Investor app, you can profit from the hobby you love by keeping up with trending cards, tracking real-time prices with Market Movers and buying items on eBay. Download the industry-leading app here for Apple or Android
Note to readers: If you purchase something through one of our affiliates, we may earn a commission.
Paul Hickey is a regular contributor to Sports Card Investor, the creator of the Sports Card Investment Report at NoOffseason.com, and the host of the Sports Card Strategy Show on Apple Podcasts, Spotify and YouTube. He can be found on Instagram at @sportscardstrategy and on Twitter @nooffseasoncard.