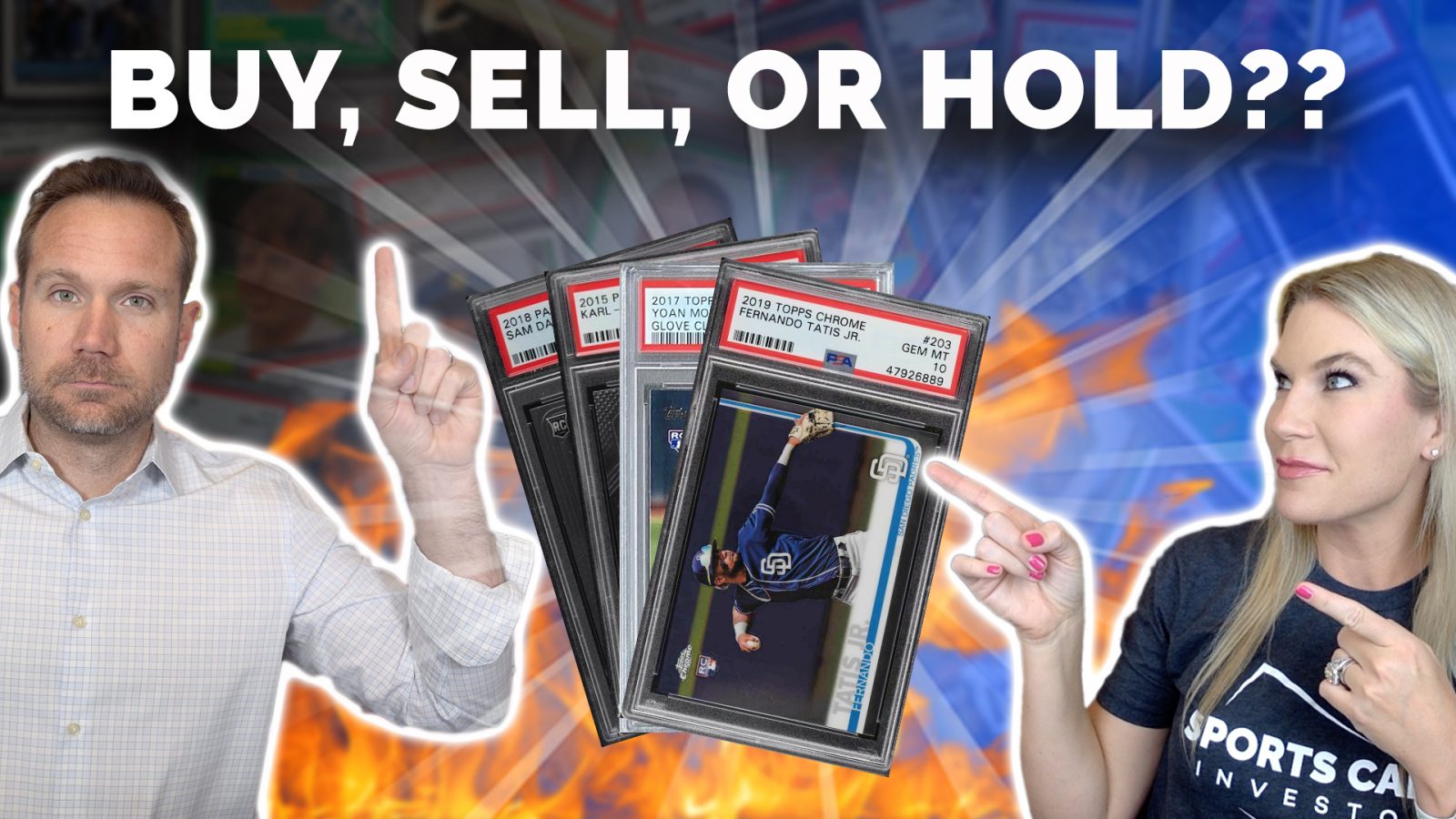 This week's Forecast is led by a brutal injury and a shocking trade.
San Diego Padres star Fernando Tatis Jr. suffered a brutal injury Monday night, resulting in his cards flooding the market as collectors panic over his future.
On the move this week is former New York Jets QB Sam Darnold. Darnold was traded to the Carolina Panthers on Monday and some collectors think he'll be better off far away from the Jets.
Here's a breakdown of this week's Forecast, but be sure to watch us on YouTube for a deeper dive on each card:
Fernando Tatis Jr.
One of MLB's young megastars, Tatis Jr. signed a monster 14-year, $340 million contract this offseason, but an ugly injury already in 2021 has made collectors start to sweat.
Tatis Jr. suffered a shoulder injury on a hard swing Monday night, but the Padres say he won't need surgery and placed him on the 10-day injured list instead.
The injury has resulted in tons of cards flooding the market, which could be a slight overreaction with the severity of the injury still somewhat unclear.
His 2018 Topps Chrome Base PSA 10 is down 14% over the last 30 days.
Geoff's pick: Buy
Yoan Moncada
Moncada hasn't been as hot as Tatis Jr., but he's a common target for collectors looking for some value. After piling up 25 homers and 79 RBI in 2019, Moncada finished with just six homers in 52 games in 2020.
Investors aren't super worried about his down 2020, though Moncada's success in Spring Training hasn't carried to the regular season yet. It might be smart to see where he goes from here before making any moves.
Geoff's pick: Hold
Sam Darnold
Some collectors gave up on Darnold a while ago while others think the former No. 3 overall pick is finally free from an awful situation with the New York Jets.
Darnold was traded to Carolina on Monday and early indications are that they view him as the starting QB moving forward. A better core around Darnold means he's in a better position to win, but it also means he's likely out of excuses if he struggles.
Investors have been betting on him figuring things out with his 2018 Prizm Base PSA 10 up 41% over the last 30 days.
Geoff's pick: Sell
Karl-Anthony Towns
Towns has been one of the best bigs in the NBA since being selected No. 1 overall in 2015, but his card prices really haven't reflected that. Playing for a small market in Minnesota has definitely hurt his hobby trajectory, but he looks like he could be turning the corner anyway.
After battling COVID earlier this season, Towns is back healthy and he's getting some much-needed support from D'Angelo Russell and Rookie-of-the-Year candidate Anthony Edwards.
His 2015 Prizm Base PSA 10 is up 12% over the last 30 days and up 31% over the last two weeks.
Geoff pick: Buy