By the time the 2022 NFL season gets rolling along, quarterback Russell Wilson should find himself on the all-time Top-25 list for passing yards and completions. Those numbers might not surprise you. What is shocking to football fans, however, is the jersey Wilson will be wearing when he reaches those milestones. A Seattle Seahawk since he was drafted in 2012, Wilson was traded to the Denver Broncos in March 2022.
The move rattles the NFL landscape, sure, but superb individual numbers with the Seahawks and the presumption that his stats will continue to sparkle in the Mile High City ensure the future Hall of Famer's place near the top of the league's QB hierarchy is solidified.
Wilson has dozens of rookie cards from 2012, so use this Sports Card Investor guide to see which ones we think you should focus on. Cards are broken down into tiers, ranging from the most affordable and more popular options to the most unique, expensive and rare.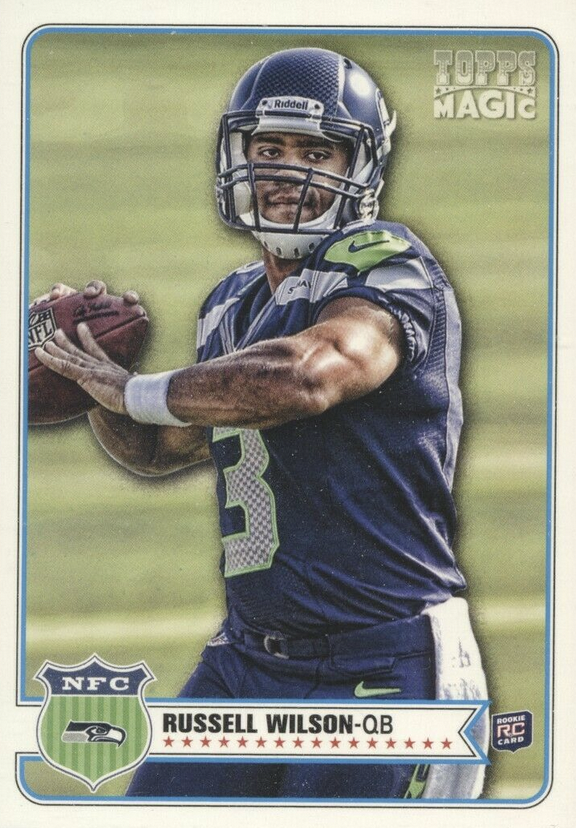 VALUE ROOKIES:
The Value Tier includes cards with high print runs or lower-quality cardstock. A good fit for new collectors or those on a limited budget.
2012 Score #372: If you're finally getting on the Wilson Train, this might be your most economical ticket. Press-time sales in the $70s look really appealing once you consider how the card fetched more than triple that just nine months earlier.
2012 Topps Magic #181: Though you may not be familiar with the old-school Magic label, nearly 700 of these babies exist in a PSA 9 or 10. And with its $70-80 sticker, the card might be worth you getting to know better, too.
2012 Topps #165: Arguably the flagship Wilson RC, this one has more than 2,100 PSA 10s out there. That high count (and a so-so '21 season by Wilson's standards) probably explains why the value dropped about 78% from January '21 to December '21.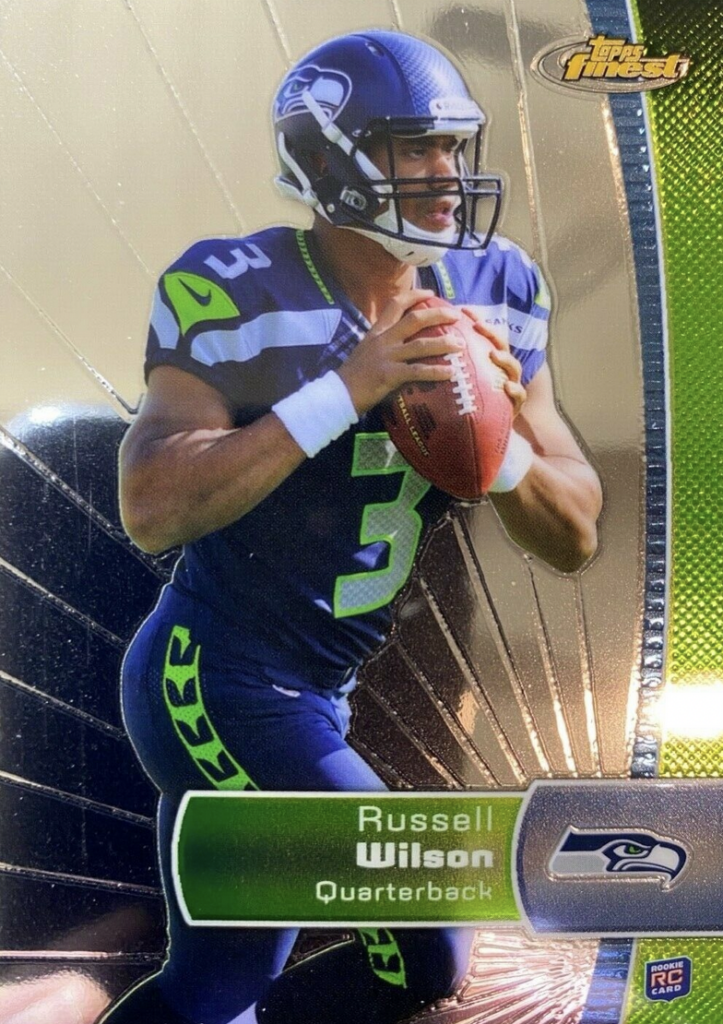 POPULAR ROOKIES:
This tier includes cards from the most popular sets across both retail and hobby formats. Typically easy to buy or sell when needed.
2012 Prizm #230: One of the most well-known Wilson rookie cards, this is the one pull you dream about from a hobby snoozer of a draft class. And with gem mints going around $600 in December '21 (down from January's $1,400), they're a relative steal.
2012 Topps Chrome #40: Naturally, the chrome version of the Topps card is going to score a few extra coins in a PSA 10. Those pesky print lines are just so darn prevalent. Bonus points if you're able to score a ding-free colored refractor or one of the cool 1984 inserts.
2012 Topps Finest #140: With how the card's shiny finish punctuates the Seahawks' neon green, this rookie card proves quite the looker. PSA 9s going for $40-50 make it an even more attractive buy.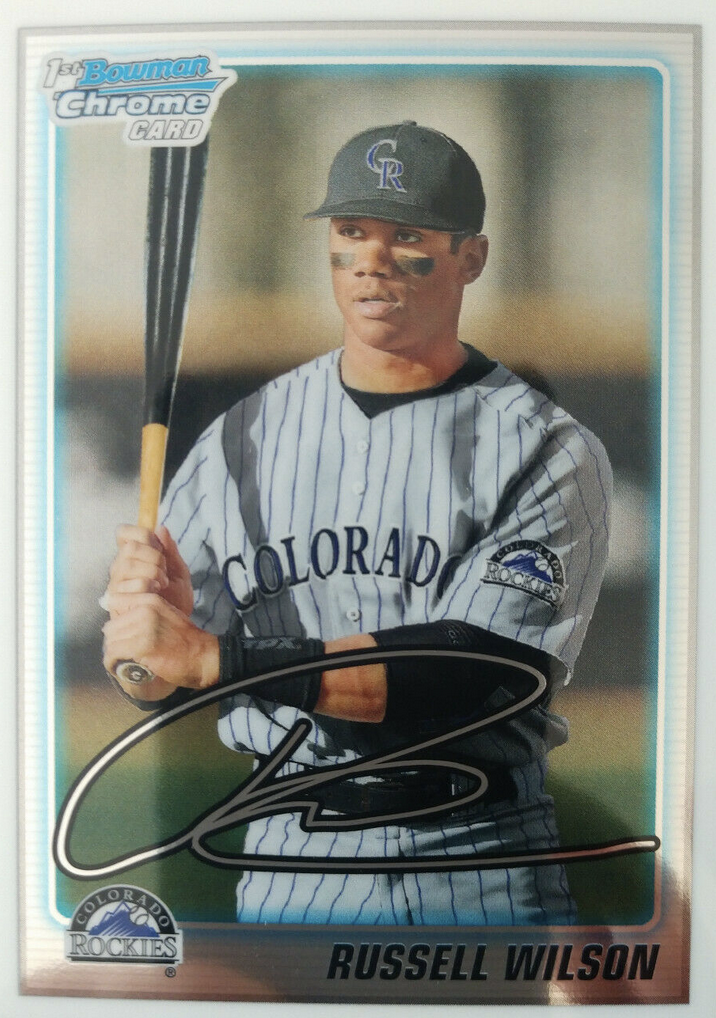 MORE UNIQUE ROOKIES:
This tier includes cards with lower print runs, unique designs, or cards from hobby-only products. Usually higher-quality cards than the Value or Popular tiers, though not necessarily more popular or easier to buy or sell.
2012 Bowman Sterling #5: While this card has a similar look and feel to the Topps Chrome, this one doesn't come with nearly the fanfare (only 92 graded in total with PSA) or fat price (roughly $100 cheaper).
2010 Bowman Draft #BDPP47 Chrome Prospect: You might know that Wilson was a two-sport star coming out of college, but were you aware that the New York Yankees still technically own his MLB rights? In the event he ever takes the Bronx Bombers up on their offer, this quirky baseball card's value should shoot up.
2012 SP Authentic #87: Speaking of college, the best card to own of Wilson in the University of Wisconsin's red-and-white uniform — Russ did lead the Badgers to the 2012 Rose Bowl, after all — is this SP Authentic beauty.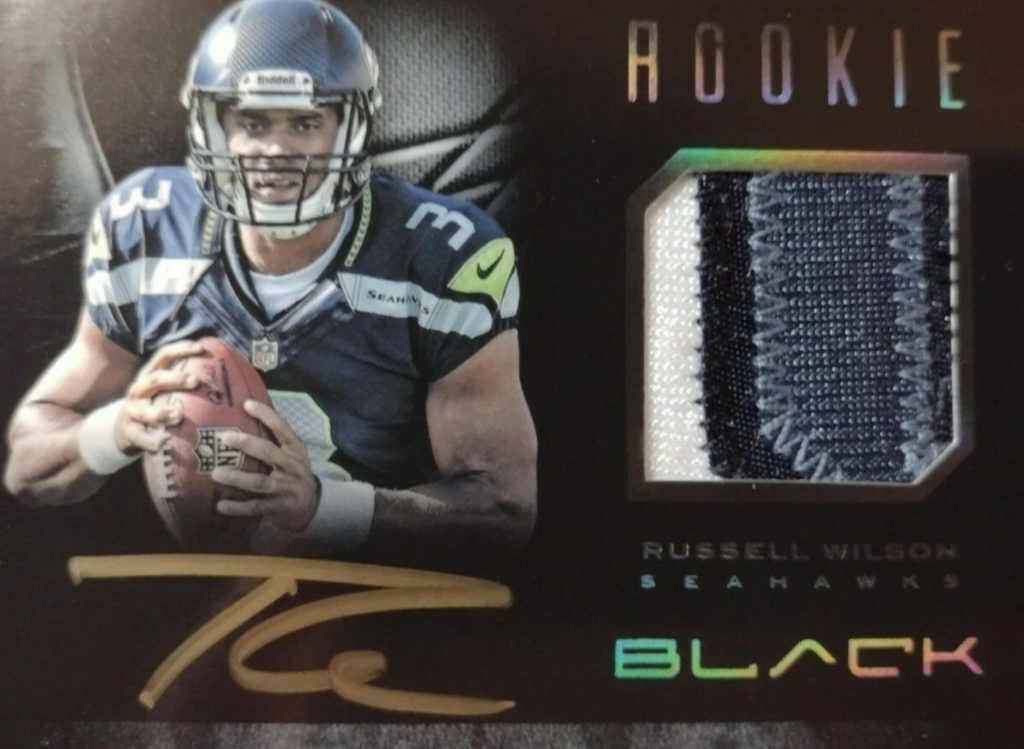 RAREST AND MOST EXCLUSIVE:
We won't spend much time here because this category is likely out of reach for most collectors due to price, but they are still fun to look at.

Sets like Panini Black typically feature visually stunning designs and low-numbered cards.
This is also where you'll find the most impressive patches paired with high-quality, on-card autographs. Don't worry if this tier is too pricey as there's a host of options in other categories that could be perfect for your collection.
Track your collection and maximize your profit with Market Movers, the hobby's most powerful sports card pricing platform! Learn more here.
Note to readers: If you purchase something through one of our affiliates, we may earn a commission.