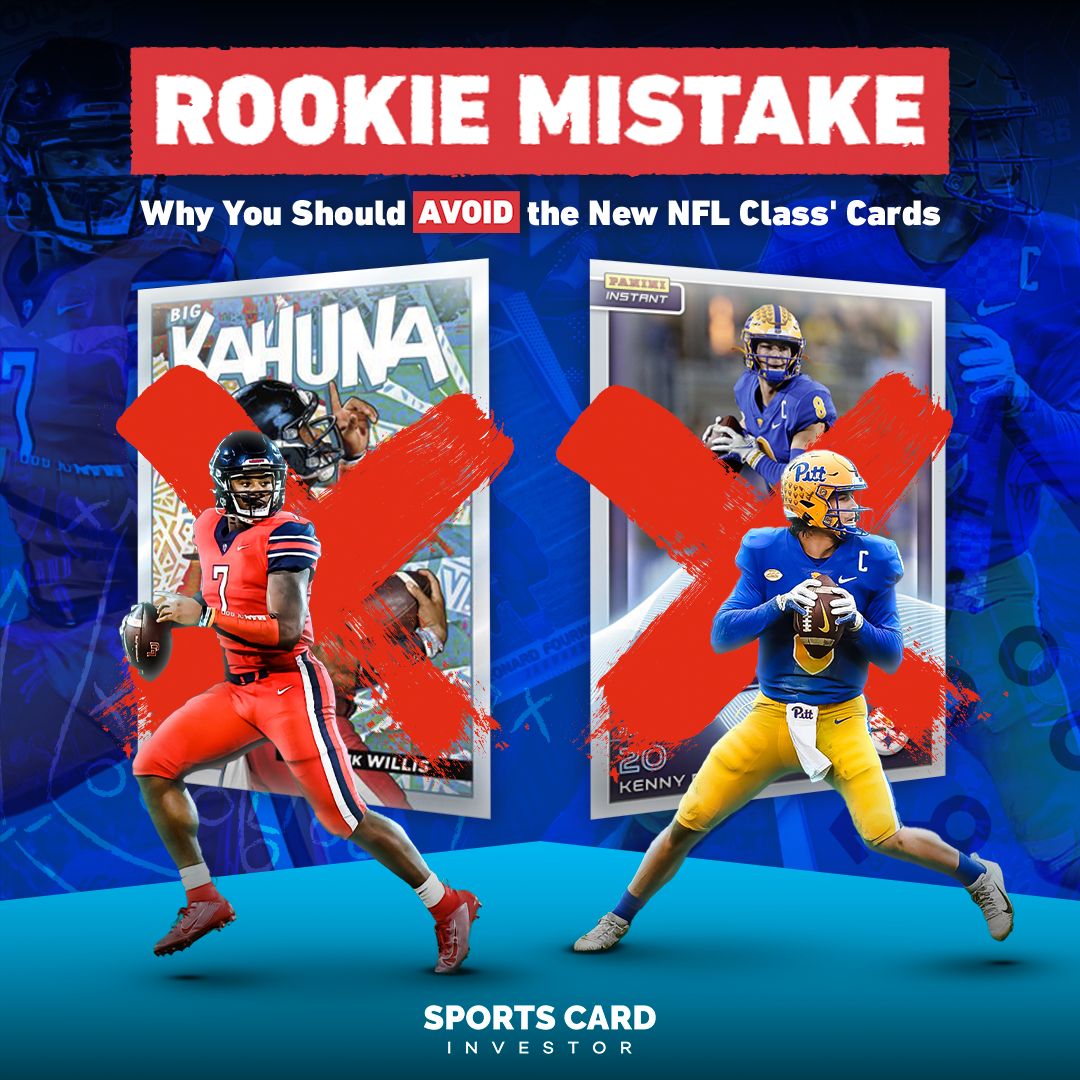 When the 2021 NFL Draft came around, I was just starting to spend some real money as a sports card investor. My mind was churning with ideas as to how I was going to find the next arbitrage. After all, to make money investing in sports cards, I knew you needed an investment thesis that was slightly different from (or at least ahead of) the rest of the market. And then, of course, you had to execute on it.
I don't believe I was wrong about investing in the '21 crop, but I was definitely incorrect with how I did it. Long story short, I made a huge mistake by misspending on Leaf XRCs and Panini Instant rookie cards. That said, I want you to learn from my past mistakes, so you don't have to learn the hard way.
For those of you who don't know, basically what Leaf, Panini and Topps did last year (and are likely to do again this year) was release pre-NFL uniform products (some with team logos and branding, though) around the NFL Draft.
When I saw this happening a year ago, I saw a clear plan to make some easy cash:
Grab the top guys before the draft and on draft weekend.
List them right away on eBay and in Facebook groups.
Make some solid sales when there's a ton of hype around the draft and subsequent news cycles for training camp.
This made sense to me for a few reasons:
Online exclusives with print runs that appeared short or limited. Panini, with its "Instant" brand, for example, has a time limit of just a few days in most cases when these cards are available. Some sell out well before the end date, similarly to Topps NOW.
Leaf's angle was to sell online exclusively with limited print runs. And even though they're not licensed, the cards used classic Pro Set branding.
I knew that the window before Prizm Draft Picks was released was large enough to flip the cards I had purchased online in April. By the time pro uniform releases like Donruss and Prizm came out, there would still be ample opportunity to move the top guys I had invested in, due to the limited supply of the rookies with any kind of licensed pro branding.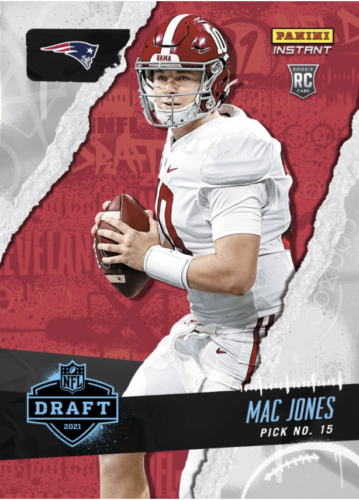 Again, I wasn't wrong on my take on the rookie class. Mac Jones cards sold really well in August, when he was named starter. And I did end up selling all of the cards I purchased. But I only broke even. And as we all know, breaking even isn't the point of these kinds of plays.
But why did I fumble? Well, Panini does a great job using the buzz around the NFL Draft to promote these online exclusives. As a collector/investor, you think, Hmmm, for $19.99, I can get the first Trevor Lawrence Jags-branded rookie or, for $199, the first Najee Harris licensed auto. In theory, that card will be in gem mint condition, coming directly from the manufacturer. So, if I wanted to increase the value even more, I could have it graded for $30 at SGC.
The issue is that the market knows that these cards will only decrease in value over time. College uniform photos (even those with team logos and names on them) simply do not hold value. Everybody knows these cards will eventually get usurped by official pro releases like Donruss, Mosaic, Prizm and Optic.
Whatever you think about No. 1 overall pick Travon Walker, top QB prospect Kenny Pickett and the rest of the 2022 NFL rookie class, you might be tempted to pull the trigger on some of these cards, especially the autographs.
Why? Because being first to the market counts for something… most of the time. Buying first, grading first and listing first can really pay off. Remember those $2,000 Mac Jones Donruss PSA 10 sales from late 2021? Arbitrage is only uncovered by those who take risks like this. But I don't want you blowing your load early on these Panini, Leaf and Topps money grabs like I did.
As good as the cards may look, and as nice of a job as the companies do with some early autos and inserts, you won't win in the ROI game here.
If you're rolling your eyes and thinking this is "Captain Obvious" stuff, I have to tell you that as smart of a sports card investor as you may be, there is always temptation. Fighting temptation over and over again is super hard.
And it's not just a football issue, either. Leading up to March Madness, Gonzaga star Chet Holmgren's Topps NOW unlicensed autos sold out on Day 1 at price levels of $299, $599, $1199 and higher, depending on the serial numbered run.
Duke's Paolo Banchero Panini Instant NIL autos were available for $149, $299, $599 during the NCAA Tournament and I had to talk myself out of buying them several times.
With NIL in place, the opportunities to stumble aren't going away. We will only see more of these tempting opportunities down the line. One culprit, for sure, will be 2021-22 Bowman University Football. The first auots for Alabama QB sensation Bryce Young are in this set. Some appealing cards for Pickett and former Liberty quarterback Malik Willis are in there as well. Inserts look great. Temptation and potential plays are everywhere.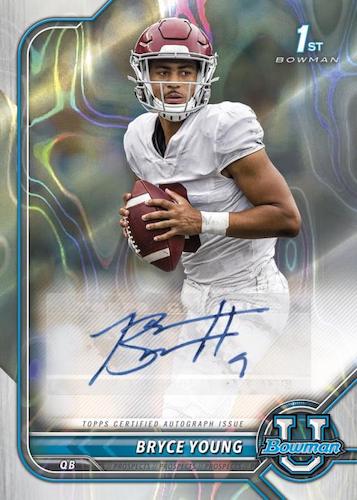 Breathe. Think. Avoid the desire. There will be more investable releases down the road. And I know that it's frustrating to wait –as of this writing, 2021 Prizm Football still hadn't come out yet–but the good news is that, because of the delay, you already have a year's sample size for guys like Jones, Zach Wilson and Trey Lance. If you had gotten Prizm last fall, you wouldn't have any idea if Justin Fields or Ja'Marr Chase was the better buy.
Same principle applies in 2022. Why blow your budget on Pickett, Willis, Garrett Wilson and Chris Olave's Bowman University or Panini Draft Night cards when you can wait for better products to come out and have a sample size of performance data from which to make your decisions?
Paul Hickey is an SCI contributor, the creator of the Sports Card Investment Report at NoOffseason.com and the host of the Sports Card Strategy Show on Apple Podcasts, Spotify and YouTube. He can be found on Instagram at @sportscardstrategy and on Twitter @nooffseasoncard.
Track your collection and maximize your profit with Market Movers, the hobby's most powerful sports card pricing platform! Learn more here.
Note to readers: If you purchase something through one of our affiliates, we may earn a commission.