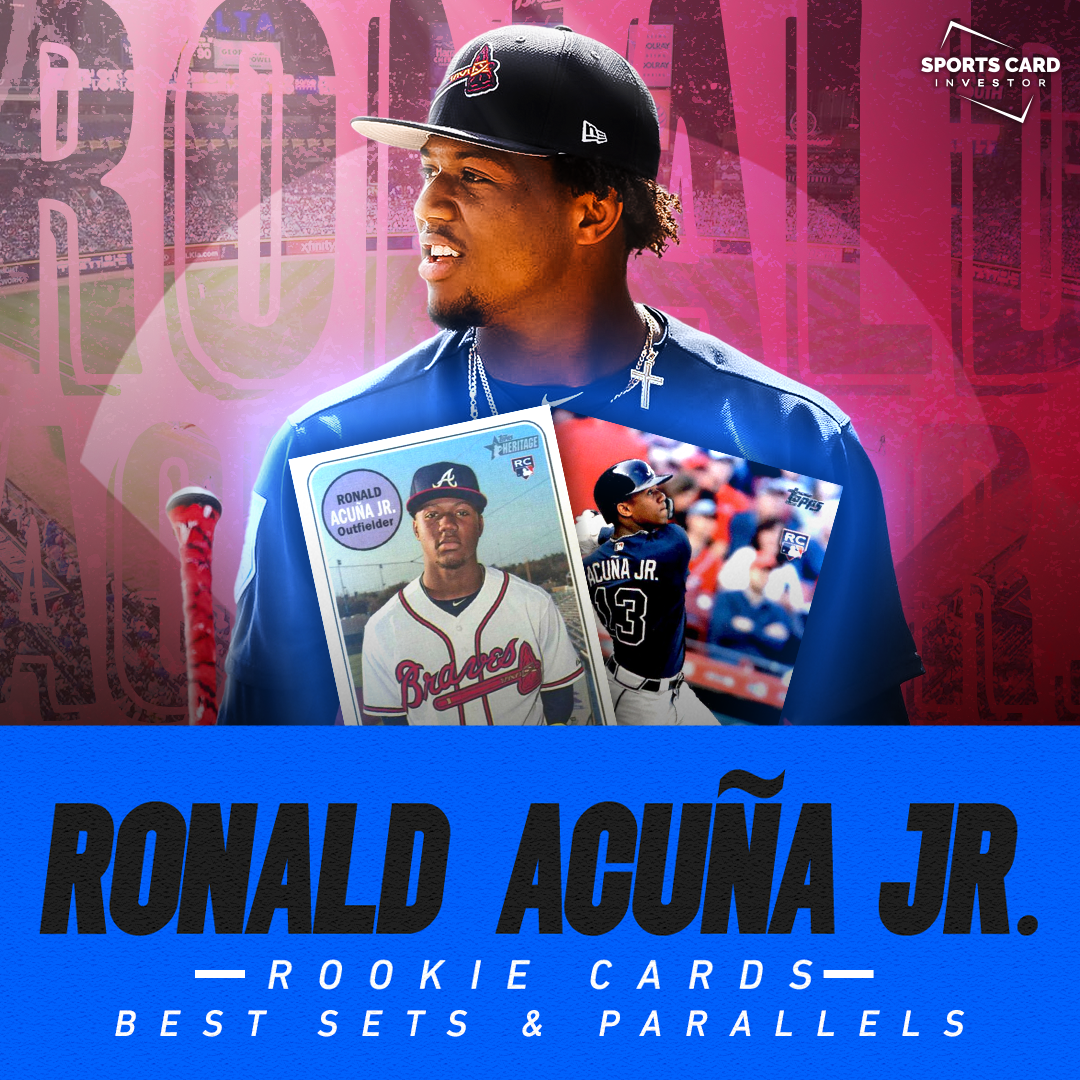 In the 162 games Ronald Acuna Jr. played between September 15, 2019 and June 7, 2022, he had a .280 average, 45 home runs, 100 RBI and 36 stolen bases. If there was a way to calculate smile wattage and dugout influence during that same span, he'd have eye-popping figures in those categories, too. When healthy, the Atlanta Braves outfielder is a 40/40-caliber talent who does everything extremely well. And to prove just how much the Braves believe that statement, they locked in the two-time All-Star with an eight-year/$100-million deal back in '19.
Another place where the 24-year-old has dominated is in the hobby. Sales of Acuna Jr.'s modern classic 2018 Topps "Bat Down" variation rookie card have reached $2,500 in a PSA 10. His RPAs and rare variations command considerable bucks, too. You might find the occasional RC base under $100 today, but with every animated home-run trot, those low sales grow rarer and rarer.
Acuna Jr. has a number of rookie cards from '18, so use this Sports Card Investor guide to see which ones we think you should focus on. Cards are broken down into tiers, ranging from the most affordable and more popular options to the most unique, expensive and rare.
VALUE ROOKIES:
The Value Tier includes cards with high print runs or lower-quality cardstock. A good fit for new collectors or those on a limited budget.
2018 Topps Allen & Ginter #207: As is annually the case with the quirky A & G imprint, this card presents a drawing-like portrait framed in a nostalgia-sparking border. These will likely never price terribly high, but there's something to be said for a card you can get for under $100 that has an "RC" stamp next to Acuna's name.
2018 Topps Heritage #20: Another throwback-y moment. The moderately priced '18 Heritage nods to the classic '69 Topps set with the player's name in a colored circle and the team name boldly placed in the lower third. As for the 2018 NL Rookie of the Year's bland expression, we're not sure what the inspiration for it was.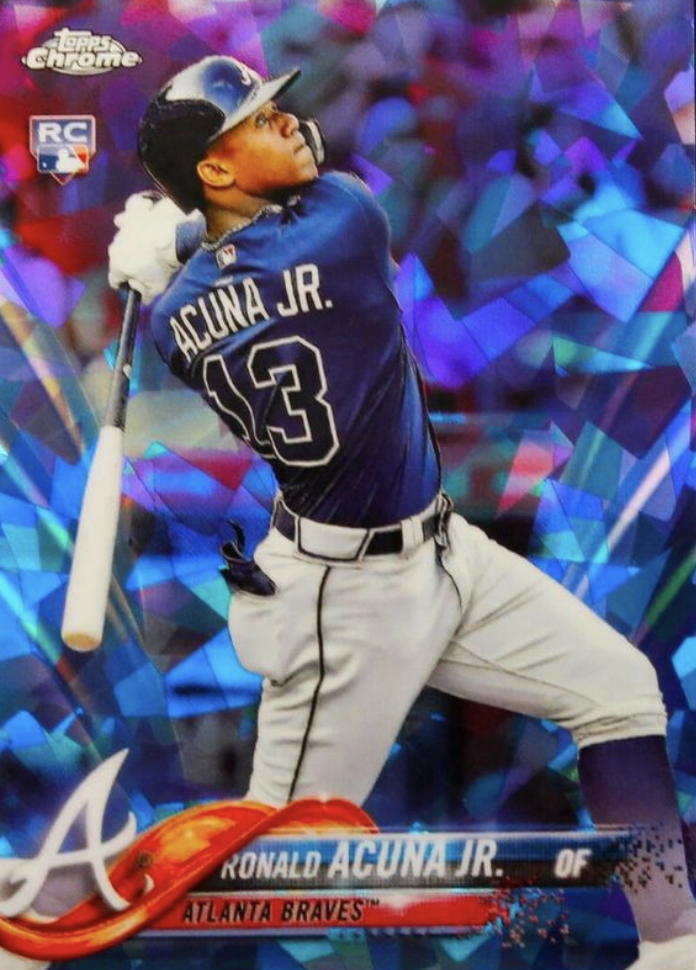 POPULAR ROOKIES:
This tier includes cards from the most popular sets across both retail and hobby formats. Typically easy to buy or sell when needed.
2018 Bowman Chrome #70: While June '22 prices for this card are roughly down nearly 75% from their October '21 highs, we have a feeling they'll inch back up if Acuna can remain an offensive spark through this October.
2018 Topps Chrome #193: Easily one of the most graded PSA 10s on this round-up (just shy of 10,000 at last peek), this Chrome is a must-have first-year Acuna card. The stark white uniform and beautiful swing are only enhanced in Pink, Purple and Prism Refractors.
2018 Topps Update #US250: We'll just call this one the essential Acuna RC. With more than 32,000 of these passing through PSA's doors at one time or another, this is one of the most graded modern cards in existence. Collectors love the exaggerated swing. We love how light bounces off the Rainbow Foil variation.
2018 Topps Chrome Sapphire #698: If you're talking sheer aesthetics, this Chrome Sapphire's navy hues work remarkably well with the Braves' blue uniforms. And if you're talking sales, this Chrome Sapphire's $5,000-$7,000 range makes almost any non-auto on this list look like chump change.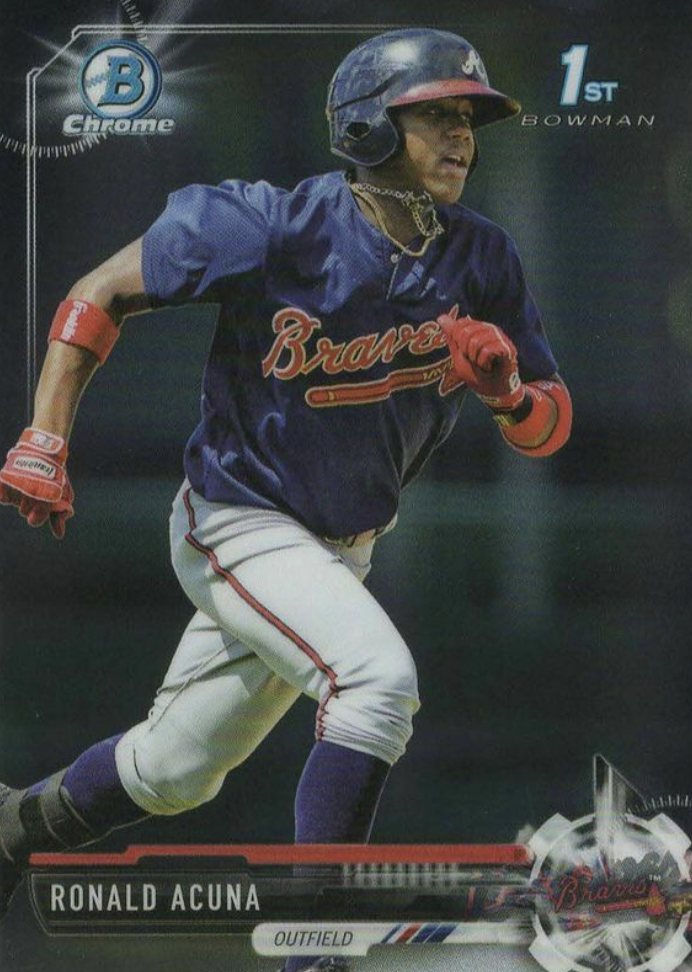 MORE UNIQUE ROOKIES:
This tier includes cards with lower print runs, unique designs, or cards from hobby-only products. Usually higher-quality cards than the Value or Popular tiers, though not necessarily more popular or easier to buy or sell.
2017 Bowman 1st "Chrome Prospect" BCP-127: In this image, a 19-year-old Acuna Jr.'s head is almost swallowed whole by an oversized batting helmet. To the folks who put this debut card aside because they knew the kid hiding under the brim would one day be a star, we salute you.
2018 Topps #698 SP Variation: There are Topps short prints and then there's Ronald's "Bat Down" Topps short print. The now-iconic collectible shows the ATL slugger likely admiring one of his moon shots. Speaking of long looks, if you see one of these under $1,500, consider it a bargain.
2018 Topps Archives #212: Similar to Heritage's sentimental approach, this particular Archives entry tips its fitted cap to '81 Topps. And like Heritage, it's a cost-effective alternative that sees PSA 10s go between $80 and $120.
RAREST AND MOST EXCLUSIVE:
We won't spend much time here because this category is likely out of reach for most collectors due to price, but they are still fun to look at.
Sets like Immaculate typically feature visually stunning designs and low-numbered cards.
This is also where you'll find the most impressive patches paired with high-quality, on-card autographs. Don't worry if this tier is too pricey as there's a host of options in other categories that could be perfect for your collection.
Track your collection and maximize your profit with Market Movers, the hobby's most powerful sports card pricing platform! Learn more here.
Note to readers: If you purchase something through one of our affiliates, we may earn a commission.