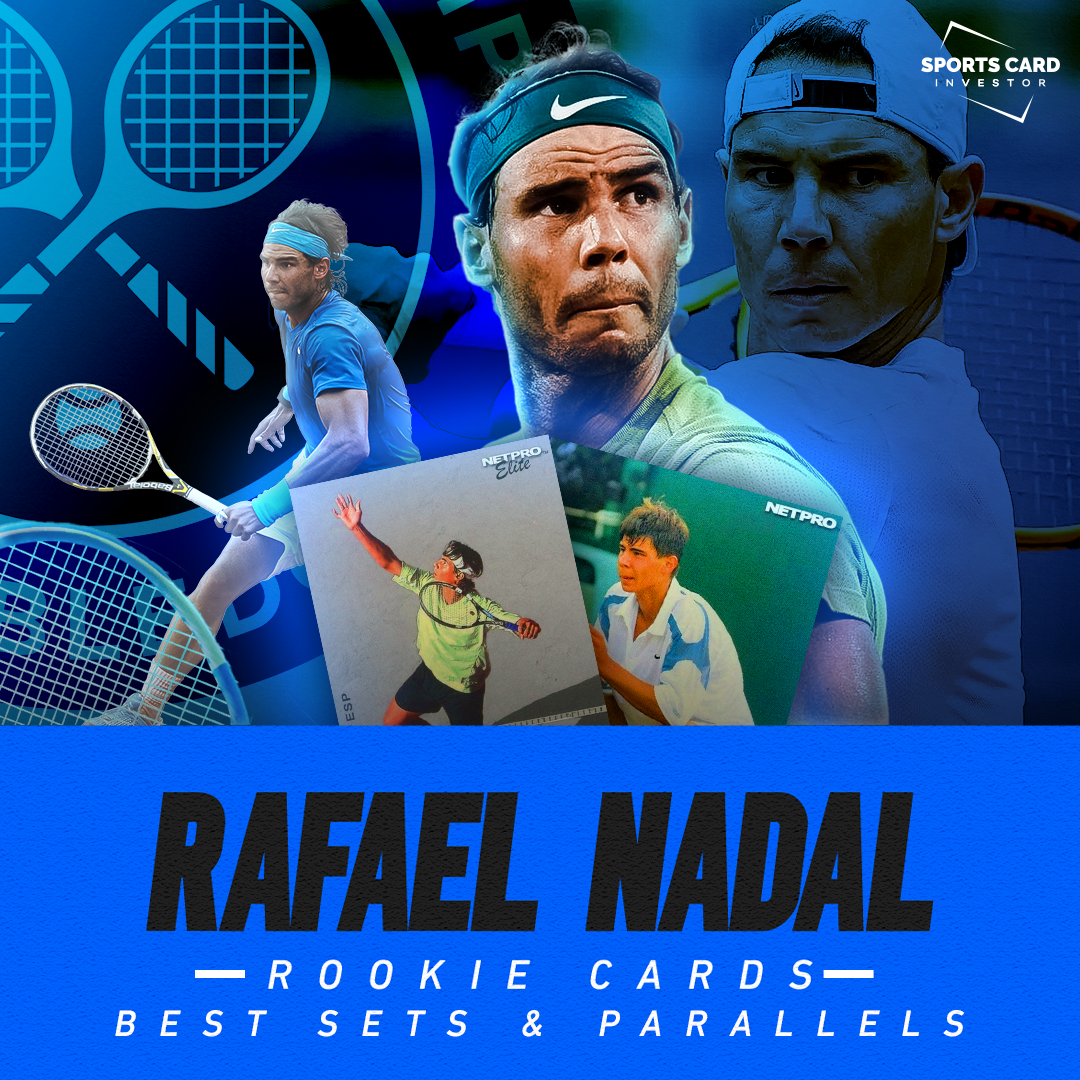 How good is Rafael Nadal at tennis? Even if you took away his record 14 French Open titles, the man would still have eight other major championships to his name. That alone would be good enough for seventh place all-time in the men's game. Two of those crowns came at Wimbledon, an event he'll be trying to win again in Summer 2022. At 36, you'd think the Spaniard's chances might be light in London, but Rafa's motor and forehand are as good as they were a decade ago. The Raging Bull's approaching G.O.A.T. status, so there's no way he's slowing down now.
Tennis cards, however, have had an erratic ride in the hobby. NetPro came onto the scene in the early '90s and peaked in the early '00s. In the years since, there have only been sporadic sets of note and the occasionally cool auto—though players like Nadal, Serena Williams and Novak Djokovic have been explosive talents with massive personalities for years.
Even with the relative scarcity of overall product, Nadal has a number of rookie cards from the early '00s, so use this Sports Card Investor guide to see which ones we think you should focus on. Cards are broken down into tiers, ranging from the most affordable and more popular options to the most unique, expensive and rare.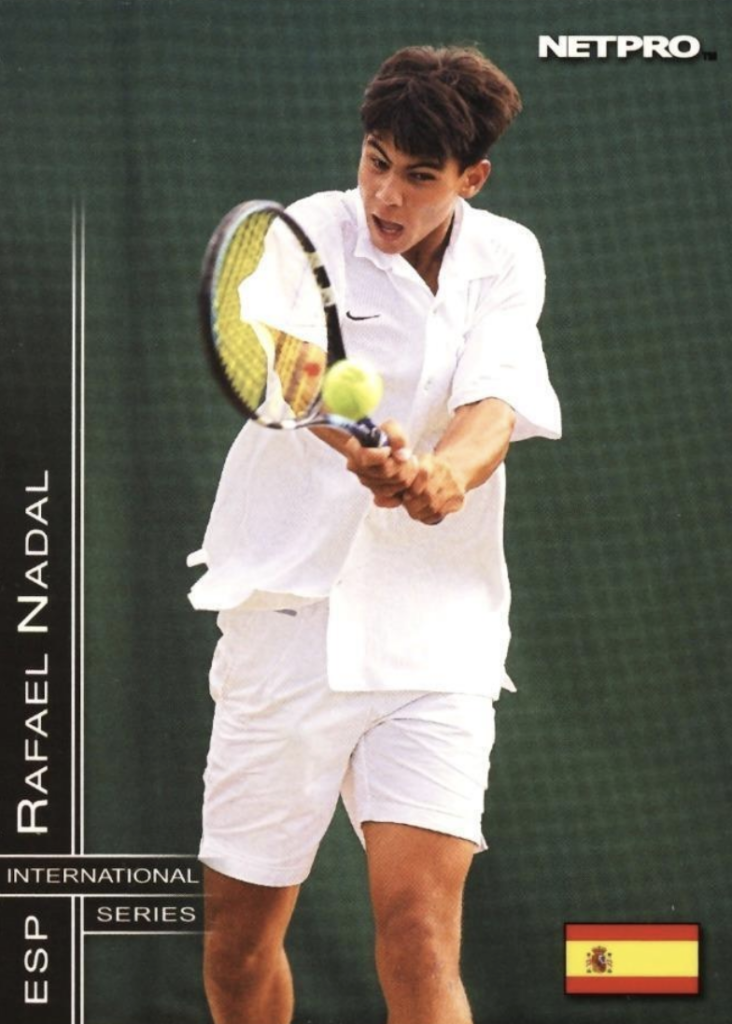 VALUE ROOKIES:
The Value Tier includes cards with high print runs or lower-quality cardstock. A good fit for new collectors or those on a limited budget.
2003 NetPro International Series #77: There were fewer wrinkles and less upper-arm definition in this card. But even 20 years later, the fire in Rafa's eyes and the tenor in his grunt remains the same. A reasonably priced card ($65-85) with a priceless photo.
2005 SI for Kids #520: Though the ridged edges from the magazine cutout can lessen the look, that shouldn't deter you from looking out for the occasional SI for Kids card with flawless lines because they are out there.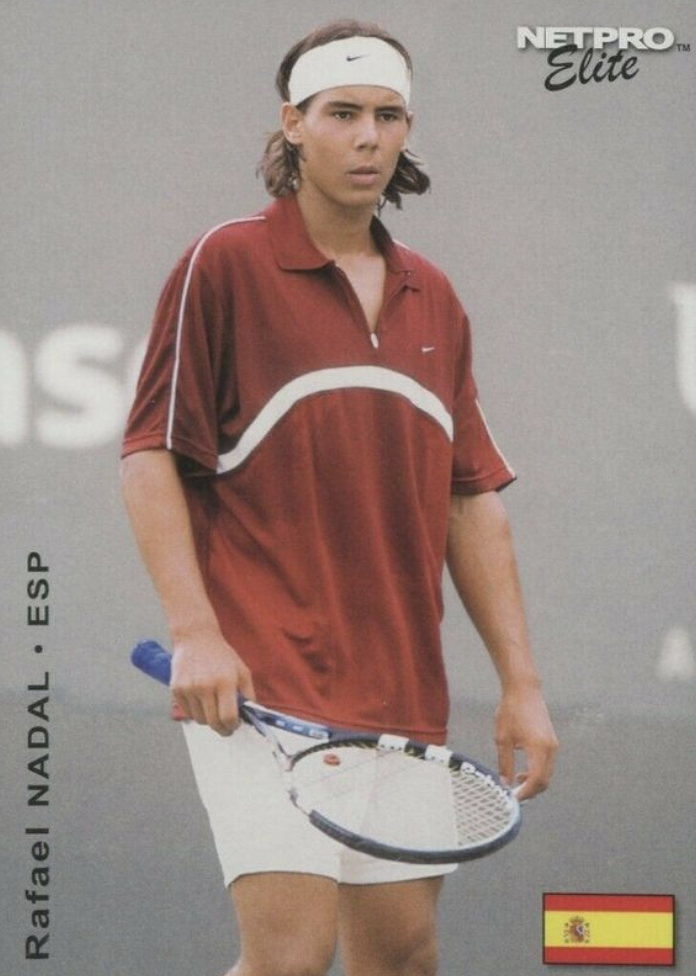 POPULAR ROOKIES:
This tier includes cards from the most popular sets across both retail and hobby formats. Typically easy to buy or sell when needed.
2003 NetPro Elite #E27 Event Edition (Maroon Shirt): The last PSA 10 sale of this card before Nadal's French Open finals win was $109. The first sale after he lifted the trophy was $152, almost a 33% increase. That's the power of a champion.
2003 NetPro Elite #E27 Event Edition (White Shirt): A much rarer card from the same set — Nadal's "White Shirt" card has just 16 PSA 10s while the aforementioned "Maroon Shirt" has 315 — this one went for $250 on April 18 but sold for $610 on June 9.
2003 NetPro #70 Base: Easily the most graded Nadal rookie card (1,029 gem mints at last count), this one of the legendary lefty taking a breather on the court still sells 2-3 times a week.
2003 NetPro Elite #19: An incredible shot of Rafa revving back to unload a serve, this base card commands between $720-$1,250 in gem mint. If you're able to get your racket on one of the 100 exclusive glossy versions, you're looking more at $12,000-$19,000.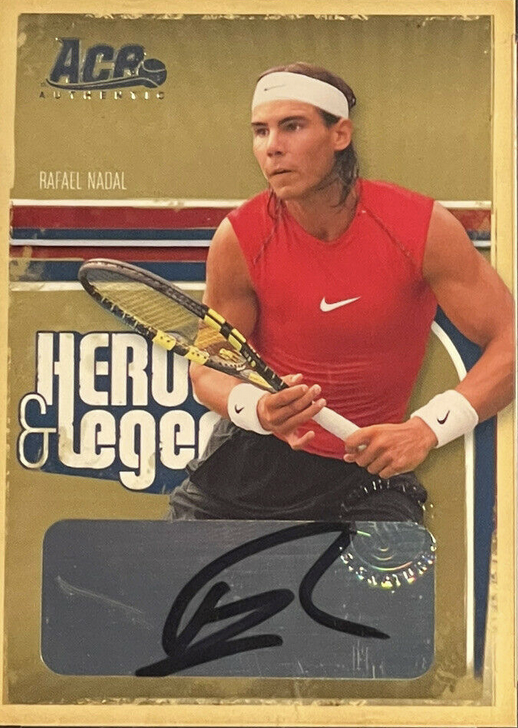 MORE UNIQUE ROOKIES:
This tier includes cards with lower print runs, unique designs, or cards from hobby-only products. Usually higher-quality cards than the Value or Popular tiers, though not necessarily more popular or easier to buy or sell.
2006 Ace Authentic Heroes & Legends Auto (/100): A gorgeous auto with a gold undertone makes all the sense in the world for Rafa, a guy who won a single's Olympic gold in 2008 and a double's title in 2016.
2003 Campioni Di Futuro #50: These odd mini cards were part of a special Italian release. The likes of LeBron James, Landon Donovan and Cristiano Ronaldo had entries in the set. Nadal's in a PSA 10 went for $600 in early June 2022.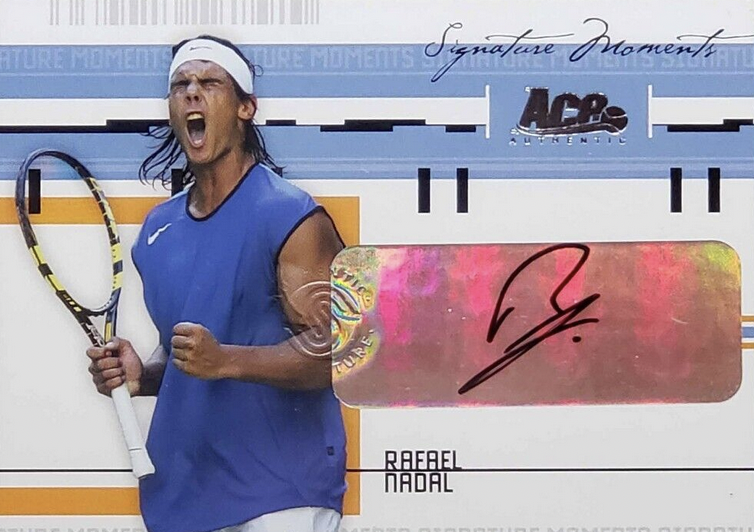 RAREST AND MOST EXCLUSIVE:
We won't spend much time here because this category is likely out of reach for most collectors due to price, but they are still fun to look at.
Sets like Ace Authentic typically feature visually stunning designs and low-numbered cards.
This is also where you'll find the most impressive patches paired with high-quality, on-card autographs. Don't worry if this tier is too pricey as there's a host of options in other categories that could be perfect for your collection.
With the Sports Card Investor app, you can profit from the hobby you love by keeping up with trending cards, tracking real-time prices with Market Movers and buying items on eBay. Download the industry-leading app here for Apple or Android.
Note to readers: If you purchase something through one of our affiliates, we may earn a commission.