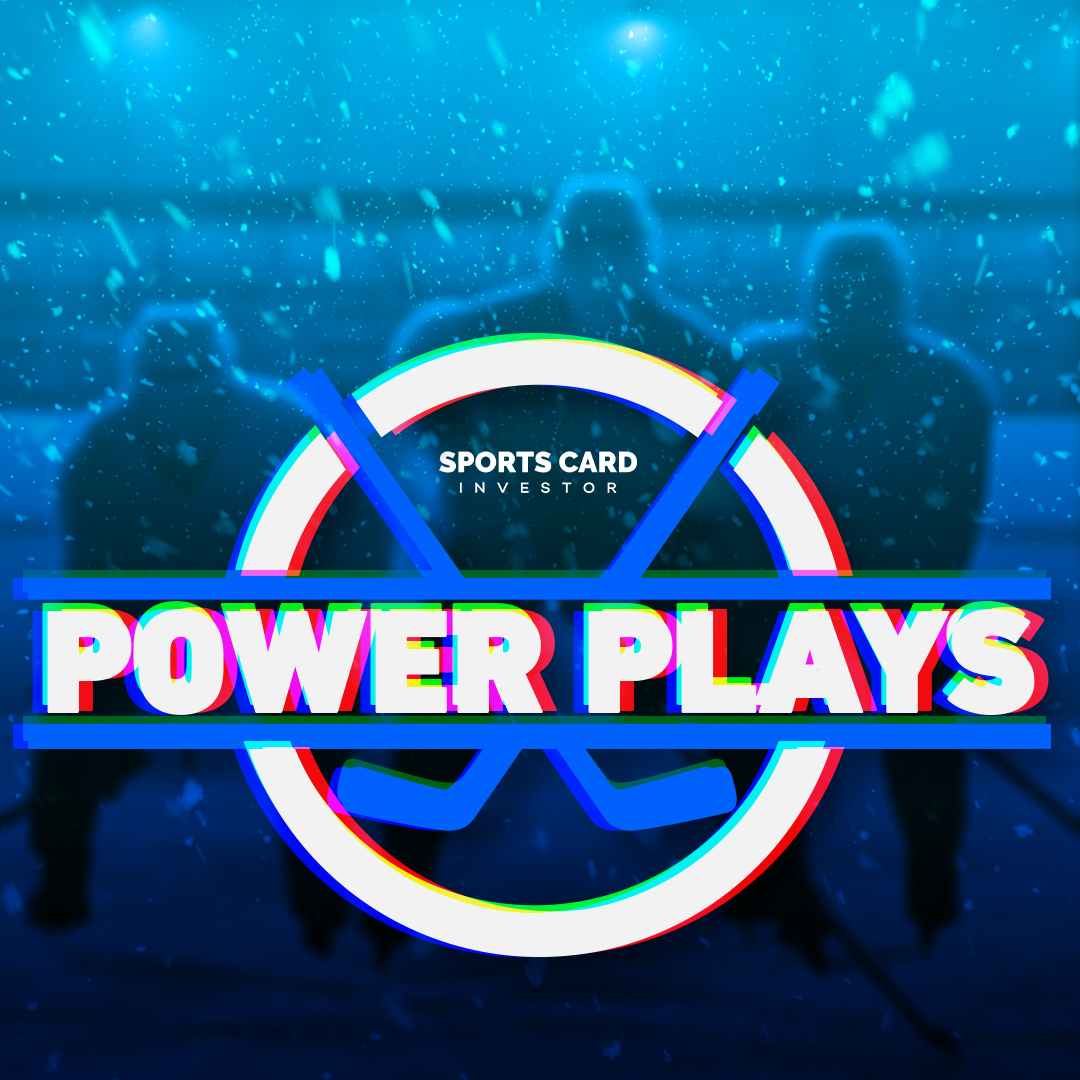 Several new players highlight this week's edition of Power Plays, as we take a closer look at some of the stars propelling the Florida Panthers to Stanley Cup contention, as well as a few players that may have been forgotten by the dynamic nature of the hobby market.
Power Plays focuses on a premier list of players and their Young Guns during the NHL season. The list will feature different players as the season progresses depending on performance and any transactions/moves that may impact their existing value. 
Aaron Ekblad — Defense — Florida Panthers (New Addition)
After a spirited opening round playoff series against the eventual champion Tampa Bay Lightning informed the hockey world of the Panthers ability to roll with the league's best, the elephant in the room was that Florida played that series without their best defenseman. Ekblad isn't just the best defenseman for the Panthers, he's one of the best in the league. A large, physical, and offensively-savvy workhorse capable of eating up 30 minutes a game, Ekblad and Mackenzie Weager make opposing players anxious the night before games in South Florida. When Ekblad is healthy, the Panthers possess one of the deepest lineups in all of professional hockey. Without Ekblad in the lineup, they are beatable. Also relatively low pop, his 2014 Young Guns PSA 10 has seen a nice 8% gain over the last two weeks. A lot depends on his Panthers team taking full advantage of their all-time lineup and winning something. If this happens, the ceiling for his value grows into that of an established future Hall of Fame defenseman.
Jonathan Huberdeau — Left Wing — Florida Panthers
The Panthers convert more sports writers and casual fans to their Cup front runner consensus every week. While it's Sasha Barkov and Aaron Ekblad keeping them competitive, Huberdeau is the Mike Bossy to their Bryan Trottier and Dennis Potvin. Simply put, Huberdeau scores an obscene amount of points. A tremendously gifted winger that has now entrenched himself in the scoring race's top 5, Huberdeau stands to gain the most, both in hobby value and overall publicity, with a deep Panthers playoff run. His still-low pop 2013 Young Guns PSA 10 is up 98% in the past 14 days.
Roman Josi — Defense — Nashville Predators (New Addition)
Not many defensemen in the league can claim to be scoring at a point-per-game pace. Josi is one of the league's top two-way d-men. His tremendous physical presence combined with his natural athleticism and offensive prowess make him a consistent Norris Trophy candidate every year. He's also one of the only defenseman that leads his own team in scoring. With the potential for a 70-point season, the ceiling for Josi isn't the highest with the location factor of Nashville, and he does play defense, but there's still security in the low pop 2011 Young Guns class, and his Raw has also increased 17% over the last 30 days.
Kirill Kaprizov — Wing — Minnesota Wild
Perhaps the most comforting aspect of the excitement Kaprizov generates in the hobby is the reminder that hockey investors are still mostly just fans, at the end of the day. As a fan of hockey, it's almost impossible to watch Kaprizov play and not become excited by the way he plays. Kaprizov comes from the familiar school of gifted Russian wingers, but with a much more updated approach. In today's high-speed NHL, with fewer designated tough guys, players of his ability often need to protect themselves and even potentially instigate aggressive play. The expectation for everyone on the ice to contribute leaves the previously finesse-only players to have to play in every situation, and Kaprizov has managed to both acclimate to the North American game, but remain every bit as electrifying as he was in Europe. Injuries can always be a concern for high-level scoring players, but Kaprizov has proven he can bounce back relatively quickly during this still small career sample.
Cale Makar — Defense — Colorado Avalanche 
Up across the board in almost every category, both Makar and his 2019 Young Guns are flying high. Makar combines a rare ability to score goals from anywhere on the ice with blazing speed. The wheels of Paul Coffey, the hands of Ray Bourque, and the ice vision of Sergei Zubov. Cale Makar is a generational defenseman. By most accounts, the best defenseman of the modern era is former Detroit blue liner, Nicklas Lidstrom. Lidstrom garnered this title with hard work and the desire to be perfect in every way. If Makar wants to get to Lidstrom's level (and win four Stanley Cups), he will need to adopt that same level of attention to detail in his own zone, or like Coffey and Zubov, will become exposed for being a one-dimensional player. The expectation is that he will continue to tighten up the facets of his game that need work and become the torch bearer of the league.
Timo Meier — Right Wing — San Jose Sharks (New Addition)
Only 43 players in NHL history have scored five or more goals in a single game. This statistic is further misleading, due to the wide open and non-goaltender friendly era in which most eclipsed this milestone. Since Daryl Sittler in the 1970s, nobody has scored more than five in a game, making this the modern benchmark. Timo Meier has joined an elite club in doing so, but he's hardly what anyone that has followed the league closely would call an "outlier". At eight in NHL scoring, the Swiss winger has been one of the few bright spots on a San Jose Sharks team marred by a cancerous Evander Kane saga and a lack of depth. While San Jose isn't the most desirable destination for many investors, Meier has raised his profile with his legendary performance. After the five goals and All-Star game nod, Meier's 2016 Young Guns PSA 10 is up 33%.
Tim Stutzle — Left Wing — Ottawa Senators 
Without a lot of positivity in Ottawa and a slow start to his sophomore season, Tim Stutzle dropped off the radar of many collectors. Fortunately, Stutzle has doubled his production during the month of January and helped rekindle some of the hope both in Ottawa and in the hearts and minds of investors. Initially, Stutzle's work ethic had been considered one of his strongest suits, but when the entire young Senators team is going through the ups and mostly downs of their 2021-2022 season, it's hard to come to the rink every day with the same energy one might bring to training camp. The skillset has never been questioned, so he just needs to keep putting up points and showing effort, when it may seem utterly meaningless. While gains remain minimal, keep an eye out for his 2020 Young Guns. The lowest point, likely, has been reached.
Vladimir Tarasenko — Right Wing — St. Lous Blues (New Addition)
It's been a long two years for Tarasenko. A noticeable dip in his production after repeated shoulder injuries led to tension between the mercurial Russian winger and the organization, ultimately resulting in a very well publicized trade request. Head Coach Craig Berube soon afterwards reported that he absolutely expected to see Tarasenko in training camp and that there were zero hard feelings between himself and the talented forward. Many in St.Louis were worried the player had passed his prime and without a trade in place, was a potential buyout candidate this upcoming off-season. However, Tarasenko and the Blues have temporarily mended the fence and his production has reverted to similar scoring trends from the first half of his career. Barring injury, he'll finish the season back in the much more familiar 70-point range and the Blues will coast into a top-4 seed in the Western Conference playoffs. Investors are looking at the relative stability as a time to sell, and we have seen a significant dip for his 2013 Young Guns PSA 10. A higher-than-usual pop count doesn't help the card's prospects. There may be an opportunity to buy at a new low and hope that Tarasenko gets a second go for an Original Six team, but there are much better choices out there.
Brady Tkachuk — Left Wing — Ottawa Senators (New Addition)
I don't think anyone questioned Tkachuk was ready to commit to the Senators on a long-term basis, but anyone willing to take on that project should at least make sure they're being compensated fairly. With the contract situation sorted, Tkachuk's season has progressed as well as it could for a player who missed all of training camp. The Senators Captain and son of Blues and Coyotes winger Keith "Big Walt" Tkachuk, Brady brings much of his father's spirited play to a game sorely lacking in the histrionics of the 1990s. Tkachuk loves to fight, hit, and generally aggravate opposing players. When he isn't throwing his big frame around, he's scoring goals and setting up other young Senators like Josh Norris and Drake Bratherson. The core of the Senators remains strong, but the losing needs to end before it becomes a permanent fixture of Ottawa culture. Many already argue that this is already the case. As with Kaprizov, Tkachuk's style of play will continue to attract investors with a passion for hockey.
Mika Zibanejad — Center — New York Rangers (New Addition)
With the uncertainty of injuries and the expected petri dish of the All-Star Game looming, Zibanejad politely declined participation in this year's gala. Often overlooked in favor of flashy teammate Artemi Panarin, Zibanejad has been the glue holding together the Rangers since being acquired from the Senators in what has become one of the more lopsided trades in recent years. Zibanejad brings an exceptional two-way game and top-tier playmaking ability to the ice with maximum effort, and the Rangers resurgence can look to his season as the measuring stick for top-6 blueshirts for the foreseeable future. Zibanejad's 2011 Young Guns has a notoriously low pop count, so look out for any 9 or 10's, as the growth potential for a top tier player in his prime is strong.
Track your collection and maximize your profit with Market Movers, the hobby's most powerful sports card pricing platform! Learn more here.
Note to readers: If you purchase something through one of our affiliates, we may earn a commission.