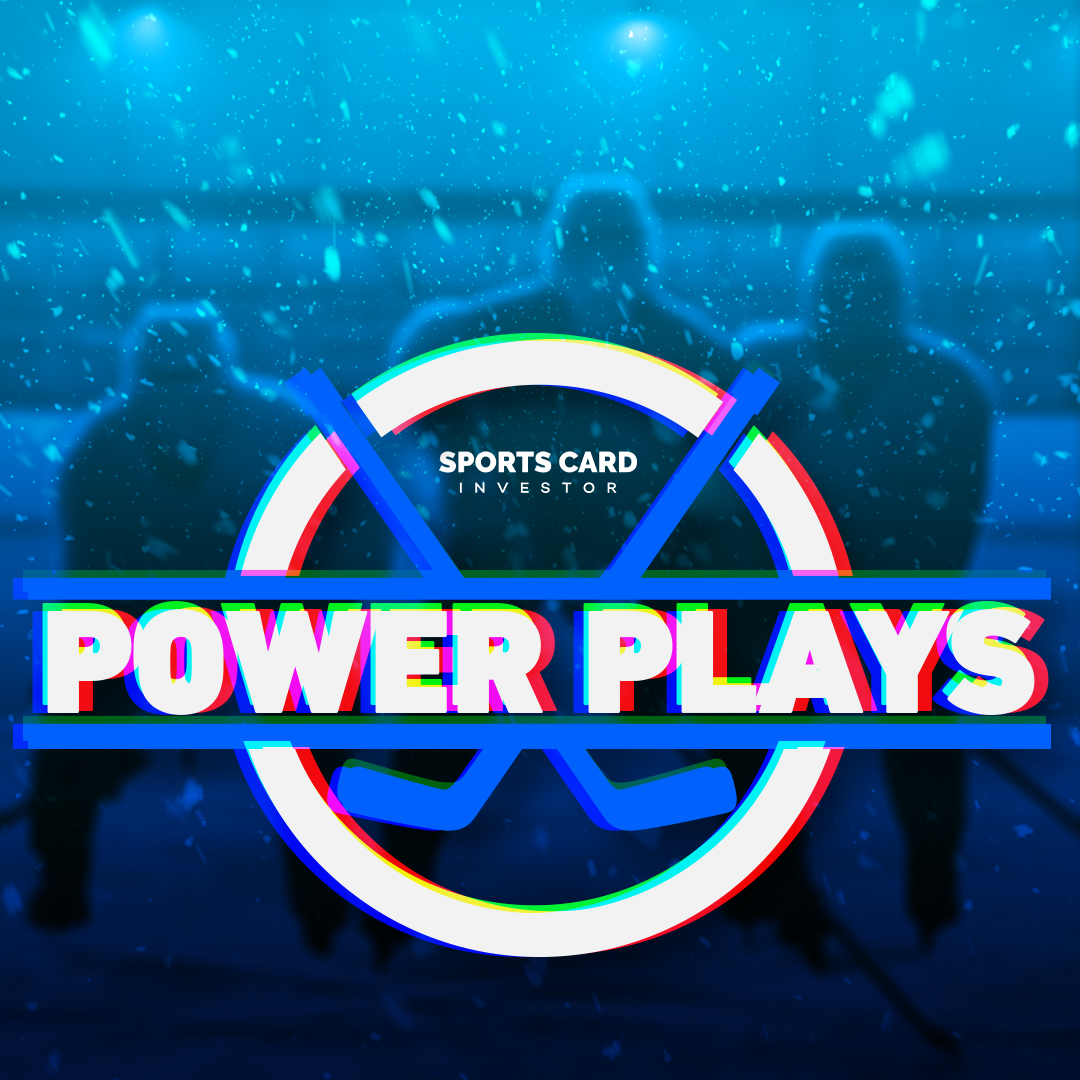 As expected, a hot start from Oilers star Connor McDavid has his key 2015 Upper Deck Young Guns PSA 10 rookie up about 15% week-over-week. Read about McDavid and other key Young Guns in this week's Power Plays.
Power Plays focuses on a premier list of players and their Young Guns during the NHL season. The list will feature different players as the season progresses depending on performance and any transactions/moves that may impact their existing value.
Top Stars
Connor McDavid – Center – Edmonton Oilers
The last McDavid PSA 10 YG sold for $3500, showing an increase of roughly 15% from last week. It must have something to do with McDavid's 5 points in his first two games. The internet hockey community already has people theorizing if 200 points is still feasible in today's NHL. While McDavid flirts with a mark only previously thought possible by the likes of Gretzky and Lemieux, expect his card to accurately grow with his production.
Auston Matthews – Left Wing – Toronto Maple Leafs
As Maple Leafs fans debate if Matthews can score 60 this year, it's important to note that he has only appeared in one game thus far, due to injury. Collectors don't seem deterred, as his raw Young Guns has surged 68% this week. His PSA 10 YG remains afloat with a modest 3% increase. Count on Matthews to go up once he starts finding the back of the net.
Newer/Recent Stars
Kirill Kaprizov – Left Wing – Minnesota Wild
While I don't think anyone is concerned about Kaprizov continuing his scoring pace from last year, he still has yet to score a goal this season. Fortunately, the Wild look solid and seem to offer a much more dynamic viewership experience. The knock on the team in the past has always been the boring defensive style they play. Unfortunately, there does appear to be some seller nervousness, as his raw YG in particular, seems to be sagging below the $100 mark.
Mitch Marner – Right Wing – Toronto Maple Leafs
Mitch Marner's situation seems to be drawing the concern of many collectors. With only 1 point in his team's first four games, it looks like he has picked up from his ice cold playoff pace. While coach Sheldon Keefe doesn't appear to be concerned, his raw YG is down over 20%.
Quinn Hughes – Defense – Vancouver Canucks
While Hughes' offensive ability is top tier, he struggles covering the point with minimal forechecking and his presence in his own zone is minimal at best. While I can see him continuing to score points, I can see his lapses giving coach Travis Green major headaches. His card value seems to reflect his inconsistent play, with peaks and valleys that you'd come to expect from a young defenseman. Wait for Hughes to drop to the high $30 range and avoid the temptation to purchase his raw YG in the high 50s or 60s.
New Stars Who are Still Rising
Jack Hughes – Center – New Jersey Devils
While the hockey world buzzed about the quality of Jack Hughes' game-winning goal in a season-opening victory, the collectors stood pat with arms folded. Hughes doesn't seem to be impressing people with his cards, as nervous collectors sold at a 4% loss this week. Perhaps the fact that most of Hughes' goal scoring comes from the unsustainable outer edges of the goal crease has purists expecting a plateauing of his production. While this remains to be seen, Devils fans are excited about their team's immediate future.
Tyler Bertuzzi – Left WIng – Detroit Red Wings (New addition)
If you missed the Red Wings spirited home opener loss to the defending champion Tampa Bay Lightning, Tyler Bertuzzi scored four goals, in one of the standout performances of the opening week. Making headlines earlier in training camp for losing his Canadian travel privileges due vaccine refusal, Bertuzzi is another new addition to our list, as he's seen a massive bump in his latest YG PSA 10 sale. The card's incredibly low pop of 54 instantly makes this one of the hottest Young Guns in existence if Bertuzzi can even somewhat maintain his pace this year. The consensus is that he won't, but 20-plus goals isn't considered an unrealistic expectation at all.
Kaapo Kakko – Right Wing – New York Rangers
If you were hoping to purchase Kaapo Kakko, this week might feel like a whirlwind of emotions. After a fantastic start that had Rangers faithful hoping for a return to the postseason, what looked like a borderline injury has since become a trip to the Injured Reserve. With prices for his raw YG reaching unprecedented personal heights, expect a correction, depending on the severity of the injury. If you don't already own any Kakko, now is not the time to buy.
Great Players with Cheaper Cards
Steven Stamkos – Center – Tampa Bay Lightning (New addition)
While Tampa hasn't always been a hotspot for the hobby, certain players have managed to cement themselves on the overall radar of hobbyists. While Stamkos has never left the radar, injury concerns in the past have made collectors wonder what could have been. Off to a fantastic start to the season, and expected to carry more of the scoring load with (another) Kucherov injury, Stamkos has seen a 40% increase to his PSA 10's value in the past week.
Off-the-Radar
Michael Bunting – Left Wing – Toronto Maple Leafs
Bunting is off to the tremendous start many close to the Maple Leafs had expected. Up a dramatic 430% since July, expect Bunting to continue to skyrocket if his production can keep pace. Consequently, if his production brickwalls, expect a massive dump of all things Bunting. I doubt we will ever see his card go back to the dollar bin, but certainly back into single digits.
Track your collection and maximize your profit with Market Movers, the hobby's most powerful sports card pricing platform! Learn more here.
Note to readers: If you purchase something through one of our affiliates, we may earn a commission.