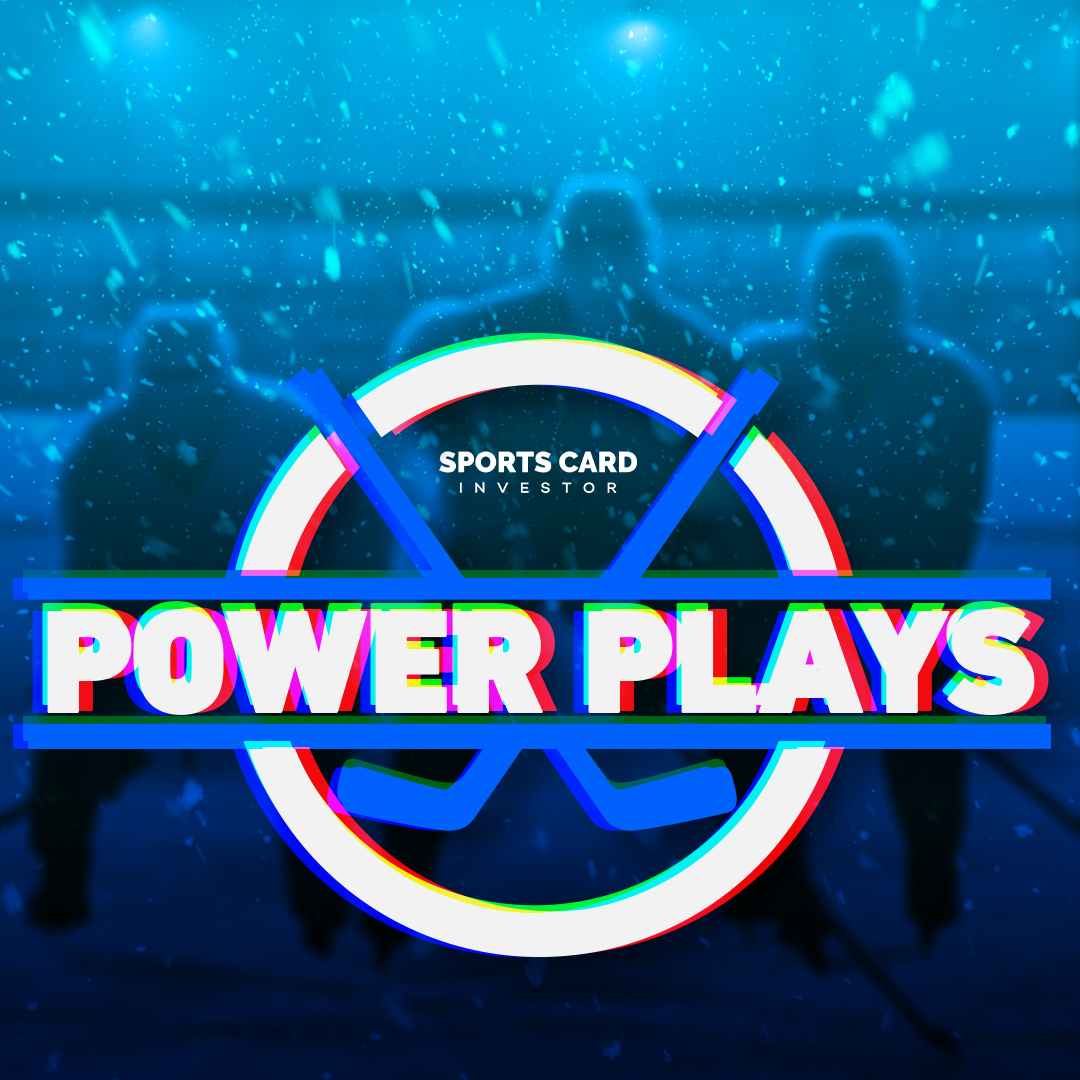 With our sixth edition of Power Plays, The Draisaitl & McDavid Express continues its dominance in Edmonton. East of Alberta, however, the Winnipeg Jets' Kyle Conner has become one of the top young stars in the league. The Colorado Avalanche are back on the right side of .500, which can only spell good things for their young stars and their respective hobby values. 
TOP STARS
Connor McDavid & Leon Draisaitl – Center/Wing – Edmonton Oilers
Combining for 58 points so far this season, this dynamic duo has more points than the entire New York Islanders roster. Draisaitl's 2014 PSA 10 Young Guns went up a modest 5% this past week, while now presently seeing an astonishing 118% gain over the last 30 days. It's becoming clearer that Leon had more to gain this season to catch up to his linemate, and hobbyists are determined to make the argument that Draisaitl deserves an equal amount of hobby shine, given that he currently has four more points than McDavid at the time of writing this article. While investors flock to Draisaitl to cash in on this narrowing margin, McDavid has seen his 2015 PSA 10 Young Guns increase 15% over the last 30 days.
Auston Matthews – Center – Toronto Maple Leafs
Auston Matthews is a lock to be talked about in the same sentence as any other top player in the league. A rare combination of skill and marketability that the NHL has sorely missed, Matthews has cemented himself as the poster boy for the league for the foreseeable future. While McDavid is the better player, Matthews is the more interesting person, and many in the hobby will argue that personality is just as important as scoring accolades. To get the big picture of how much Matthews has grown in overall popularity, you have to look a year back in his valuation. In that span, his 2016 PSA 10 Young Guns has seen an incredible 184% cumulative increase. Matthews is in Toronto for the long haul, so the visibility of the top market in hockey will only continue to bode well for this superstar. To classify Matthews as a secure investment would be an understatement.
Nathan MacKinnon – Center/Wing – Colorado Avalanche
Nathan MacKinnon has not played since November 6th, after sustaining a lower-body injury. Despite his absence, the Avalanche have managed to get rolling, powered by the play of Cale Makar, Bowen Byram, and Mikko Rantanen. As such, his value has stayed put. As of the time of writing this article, one purchase of his 2013 Raw Young Guns has shot the card's value up 40%. Despite this potential outlier sale, it's a good sign that MacKinnon's value has not decreased noticeably during his injury, as it further validates the hobby's commitment to this exceptional Avalanche forward. The expectation is that MacKinnon will not miss a considerable amount of time, so expect his value to return to a slow gain once he rejoins his team.
ALL-STARS
Cale Makar – Defense – Colorado Avalanche
When it comes to positive and negative value trends, the importance of winning games cannot be understated. While this may seem to be a polarizing topic for fans of the Toronto Maple Leafs and Montreal Canadiens, it can't be any clearer in the case of Cale Makar and his Colorado Avalanche. After getting back on the winning track and improving to 6-5-1 for the season, Makar has seen his value climb back up almost 10% in the past week for his 2019 PSA 10 Young Guns. The unfair expectations levied against this team to win every night shouldn't be held against Makar's overall potential. There is meat on the bone for this player's value. Just as long as he can remain a vital and productive cog in Colorado's winning machine. If they can't find consistent success this season, you may want to wait for the bottom before buying.
Kyle Connor – Left Wing – Winnipeg Jets
Kyle Connor has steadily improved his play over the past five NHL seasons. Today, he sits at sixth in scoring, and has provided plenty of excitement for fans of the Jets. Since the start of the season, Connor has seen his 2016 PSA 10 Young Guns increase in value by 42%. After observing his value trends over the last year, Connor exhibits a lot of the season-long volatility common with productive players on Canadian teams. That being said, the general trend remains positive to the tune of nearly 200% in the last calendar year. While this can't be considered a reasonable expectation for each year, there should still be a significant amount of growth for Connor until he starts to slow down. At the tender age of 24, you shouldn't expect that any time soon, though. In spite of the frigid Manitoba capital's smaller media market, this Winnipeg wonder joins our list this week with his standout play and massive gains.
Jack Eichel – Center – Las Vegas Golden Knights
Recognizing the mistaken classification of Jack Eichel as a Rising Star, when he's very much an established 'New Star,' solace can be taken in the assertion that Eichel still had more room at the bottom, especially after news of his successful disc replacement. His 2016 PSA 10 Young Guns is down 12% this week, and could potentially see more of a drop as it becomes apparent that we are a least 3-4 months away from seeing Eichel on the ice with his new Golden Knights teammates.
Quinn Hughes – Defense – Vancouver Canucks
As the Canucks continue to struggle, Quinn Hughes has shown a considerable improvement in his own zone, as well as adding a chippiness to his game that has frustrated many Pacific Division forwards. That being said, his value has shown some signs of bottoming out. His 2019 Raw Young Guns, previously well over the $50 marker, is now showing the potential for sales in the $30s. For a player of Hughes' caliber, especially given his age, a raw play in that price range should be considered a lock to purchase. Even at $40, the room for growth for Hughes when his team eventually improves should be significant. 
RISING STARS
Anthony Cirelli – Center – Tampa Bay Lightning
Cirelli sees his debut on Power Plays after an excellent start to the month of November. Often considered a clutch playoff performer, this two-time Stanley Cup champion combines exceptional defensive-forward play with a knack for putting himself in scoring opportunities. Anthony has been on many hockey fans' radars in the past and now his play has him on hobbyists' minds, seeing his 2018 Raw Young Guns gain 140% in the last week. While this number can be misleading when a player's raw card sells for such a relatively low price, the biggest takeaway should be that there's a tremendous grading opportunity, with a pop count of 96 for his 2018 PSA 10 Young Guns. Consider Cirelli a safe play for investors looking to accumulate cheaper raws with excellent growth potential.
Kaapo Kakko – Right WIng – New York Rangers
It's been several weeks since we've highlighted Kakko on this list, but his recent goal scoring and overall assertiveness with the puck has investors finally easing up on the star prospect. Kakko has shown a streakiness, but his goals routinely make the highlight reels when they do find the back of the net. Investors and Rangers fans that went hard on Kakko and teammate Alexis Lafreniere can take solace in knowing that, at the very least, their dynamic Finnish forward is showing signs of becoming the player the Rangers had hoped when they drafted him. Reflecting some of his recent scoring exploits, Kakko's 2019 Raw Young Guns has shot up 60% in the past week. In spite of the expected peaks and valleys, the general trends for Kakko should continue to grow positively, assuming he can keep producing and garnering more ice time in Manhattan.
Troy Terry – Right Wing – Anaheim Ducks
Troy Terry continues his absolute assault on the Pacific Division this year, with an astonishing 21 points after his first 16 games. With an incredible 28% shooting percentage, Terry will inevitably level off some with his scoring, but the hobby is buzzing over the Denver native's breakout season. A 98% gain in the past week for his 2018 Raw Young Guns along with an unprecedented 1500% increase since the start of the season just shows that predicting established players' valuation should always allow room for off-the-radar players like Terry to turn the hobby on its head like he has this season.
Track your collection and maximize your profit with Market Movers, the hobby's most powerful sports card pricing platform! Learn more here.
Note to readers: If you purchase something through one of our affiliates, we may earn a commission.