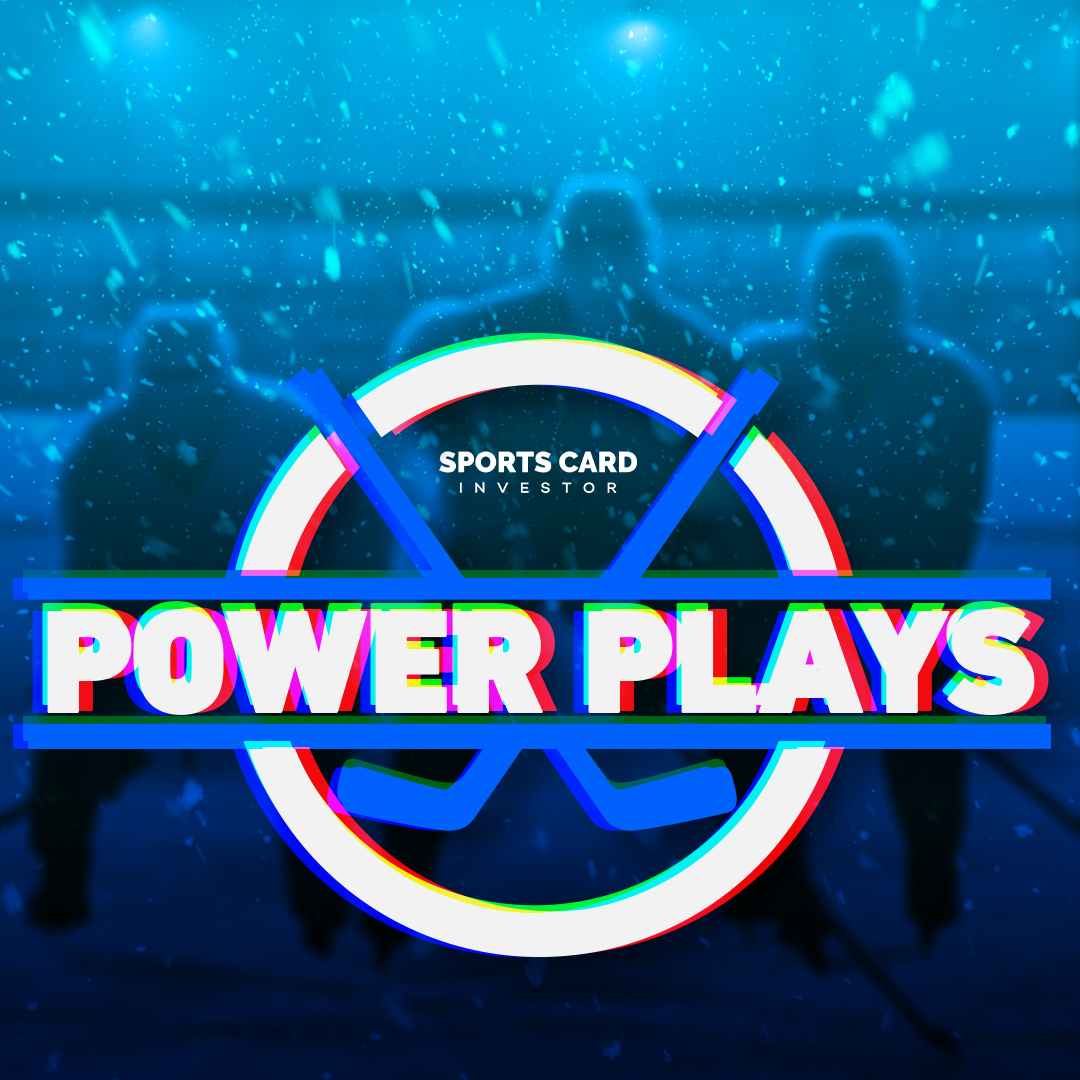 As we continue to roll through the season, divisional races are taking shape. Some players are clearly exceeding expectations, while others have been major disappointments. This week, we'll discuss a few of the torch bearers, as well as some that have over- and under-performed.
Power Plays focuses on a premier list of players and their Young Guns during the NHL season. The list will feature different players as the season progresses depending on performance and any transactions/moves that may impact their existing value. 
Top Stars
Connor McDavid & Leon Draisaitl – Center/Wing – Edmonton Oilers
Nothing significant to report for the Oilers duo. Both continue to be 1-2 for scoring lead. No change for Draisaitl's 2014 Young Guns Raw, though his BGS 9.5 did see a lower sale in the past week due to an auction closing 31% lower from the last completed sale. The 1.2% dip for McDavid's 2015 Young Guns PSA 10 shouldn't be considered anything more than a correctional blip.
Alexander Ovechkin – Left Wing – Washington Capitals
The superlatives aimed at Ovechkin, particularly the season he is having, are becoming redundant. With 19 goals after his first 23 games, the 36-year-old is absolutely crushing age expectations and is proving that he takes the challenge of passing Gretzky's goal record very seriously. With all of this positive attention, it's surprising that Ovie's 2005 Young Guns have corrected across the board at 15%. Presumably, this is just part of the standard ebb and flow for a player of Ovechkin's stature, and shouldn't be looked at with any investment quality hesitation.
Rising Stars
Adam Fox – Defense – New York Rangers (New addition)
It's not often that a recent Norris Trophy winner and one of the young faces of the modern NHL Blueline hasn't been featured in an article tracking recent stars until two months into the season, but this simply illustrates how many talented players are being bought and sold these days. Fox is the anchor of the Rangers' rebuilding defensive core, and his statistics continue to follow in the footsteps of legendary players to wear the Blue shirt, such as Brian Leetch and Sergei Zubov. Unfortunately for people married to his hobby value, Fox plays a position that has traditionally been seen as less lucrative for investors. The idea has always been that offensive and higher-scoring players dictate the market, followed by defenseman, and then goalies. However, the recent shift towards scoring defense has blurred the lines of value. Fox's 2019 Young Guns Raw is up 14% since the start of the season. His PSA 10 has been a bit more volatile and should only be looked at as a long term investment if you're able to buy in at a new low.  
Alexis Lafreniere – Left Wing -New York Rangers
Collectors are admittedly hesitant to move on from a player taken first overall in the NHL Draft, especially one with as much product featuring them as Alexis Lafreniere. Lafreniere has fans and investors alike wondering if the player is a bust, or if he is even destined to succeed in a Rangers uniform. With the production he has provided thus far, coupled with the bottom-tier ice time, one would think Lafreniere would be better served getting 1st line minutes playing for the Rangers' AHL affiliate. However, Gerard Gallant and Rangers management have decided to keep him up and toiling on lower lines. Until he gets enough ice time to make a difference, we will have to patiently wait for the random goals, or in last week's case, fights that may attract even the slightest modicum of positive attention to the player. His 2020 Young Guns PSA 10 is down 28% this week.
Andrew Mangiapane — Left Wing — Calgary Flames
If you didn't feel compelled to buy Mangiapane last week, don't worry — the young left wing has been ice cold over his last three games, and has subsequently seen his value plummet 50% on his 2017 Young Guns Raw. This should be looked at as a tremendous opportunity to buy into a player that still has 40-goal potential. Mangiapane has also been brought up in recent Canadian Olympics discussions, which could even further elevate his value. Don't let the cold feet of fair-weather investors dissuade you from buying this talented young goal scorer.
Nick Suzuki – Center – Montreal Canadiens
When the Canadiens are as unequivocally bad as they've been this season, everyone involved can be expected to see their value suffer. Suzuki has seen both his value and his stats decline over recent weeks. His 2019 Young Guns Raw has dropped 25% over the last two weeks, with graded cards seeing a similar drop. Coincidentally, Suzuki has one point over the last nine games. There's a lot of fun options in the league to follow, so nobody should feel shackled to a player of Suzuki's hype (and geography). That being said, you would be doing yourself a disservice not to monitor how much more his value drops, as there may be an opportunity there to play the long game. 
Troy Terry — Center — Anaheim Ducks – Rising Stars
Whenever a player comes off the radar from a smaller market club to take the hobby by storm, as Troy Terry has this season, there is always an inevitable bubble that has to burst. It finally did this past week, and Terry's 2018 Young Guns Raw has seen a 30% decrease. Though Troy has continued to score, his point streak did end, and the Ducks have fallen into poor performances. The expectation is still high for Terry to put up impressive point totals, but the reality of playing in Anaheim has begun to set in. If you're patient, Terry can be had for less, but don't expect his floor to be much lower.
Value Picks
Michael Bunting — Left Wing — Toronto Maple Leafs
One can only assume Bunting reads this column, as he has put up nine points in the 5 games since last week's edition when the advice to move on was given. Because of his recent scoring heroics, Bunting now sees his 2020 Young Guns Raw back up over the $10 plane with a 94% increase in the last seven days. The peaks and valleys of a younger player on a high-profile team might be too much for some investors, but the quality of hockey Bunting has been providing the Leafs, especially given the cap-friendly nature of his contract, is a blessing for a cap crunched team with endless pressure to win now. 
Track your collection and maximize your profit with Market Movers, the hobby's most powerful sports card pricing platform! Learn more here.
Note to readers: If you purchase something through one of our affiliates, we may earn a commission.