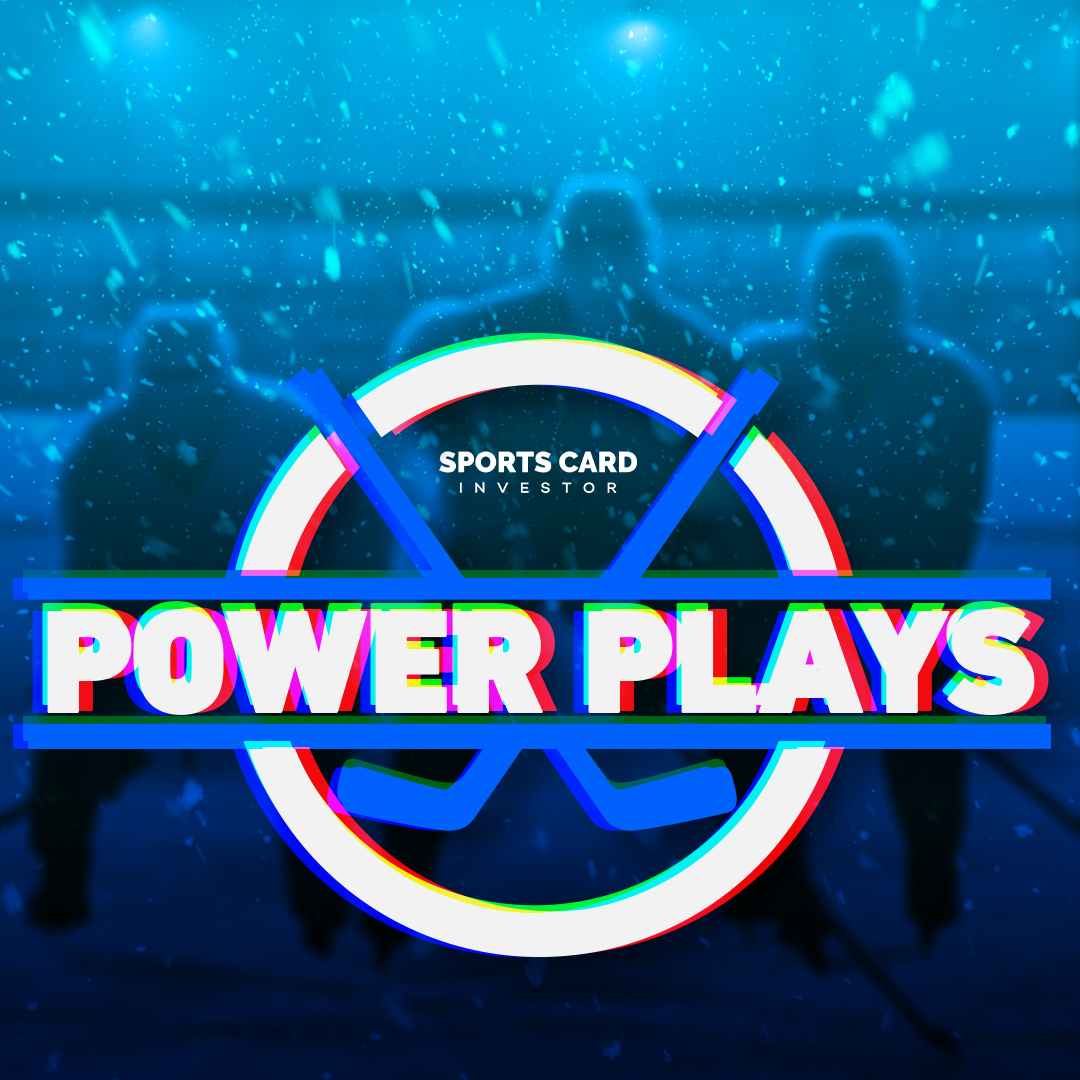 Santa has been rewarding the Maple Leafs with wins in their stockings for much of December, and investors are realizing that the good form stretches far beyond the usual suspects of Mitch Marner and Auston Matthews.
Power Plays focuses on a premier list of players and their Young Guns during the NHL season. The list will feature different players as the season progresses depending on performance and any transactions/moves that may impact their existing value.
Top Stars
Leon Draisaitl — Center/Wing — Edmonton Oilers
It never hurts to ask. In the instance of a best offer accepted on the 7th, someone was able to secure Leon's 2014 Young Guns Raw for 22% under its recent market value. Auctions seem to remain on the higher end. It's still early enough to securely invest in Draisaitl, but eventually he will further close the gap with his star teammate. Don't expect any sort of equal footing in valuation with McDavid, but one can't deny Draisaitl's continued foothold on the scoring lead.
Alexander Ovechkin — Left Wing — Washington Capitals
It's time for everyone to very comfortably and unequivocally say, "Alex Ovechkin is the greatest goal scorer in modern NHL history." Regardless of if Ovechkin were to irrationally retire out of the blue tomorrow, the players remaining in front of him both deserve asterisks compared to his ridiculous consistency. Gordie Howe played for 26 years during a period of offensive explosion. Wayne Gretzky is universally considered more of a playmaker, despite his goal record. Additionally, goaltending highlights from the 1980s could probably be accompanied now with Benny Hill theme music, due to their being much less of a standardized approach to the position which we see today. Not to mention, the pads and equipment goalies used in the 1980s wouldn't even stop pucks in a senior league today. As hype has a tendency to do in any sport these days, expect Ovechkin's to continue to swell as we inch closer to the goal record. His 2005 Young Guns Raw is up a staggering 64% over the last 30 days.
All-Stars
Sebastian Aho — Right Wing — Carolina Hurricanes
Sebastian Aho is an absolute stud playing on a Hurricanes team that has to be considered one of the wagons of the Eastern Conference. Brimming with confidence after a recent three-game stretch with seven points, Aho's 2016 Young Guns PSA 10 and PSA 9 are up 33% cumulatively this past week. With moderate pop counts and a non-traditional hockey market, Aho has to continue to let his play and stats speak out when media coverage of the Canes can sometimes be lacking. A deep playoff run or Stanley Cup championship could further increase Aho's hobby footprint.
Jack Campbell — Goalie — Toronto Maple Leafs (New addition)
What began as a heartwarming story of redemption has blossomed into a bonafide career-defining stretch for the Leafs goalie. Toronto continues to play its best hockey during the Sheldon Keefe era, and none of this would be possible without the standout play of Campbell. The Leafs are not a deep defensive-minded team, so the fact that Campbell is currently maintaining a 94% save percentage puts him in the Vezina conversation. His tremendous start to the season coupled with the heightened hobby interest of playing in Toronto has seen his 2013 Young Guns Raw grow by 98% since the start of the season. If you've already made your money on Campbell, then congratulations are in order. However, always remember the goalie factor when deciding to buy/sell. The position is prone to 'feast or famine' frenzy periods, but often leaves you with a much shorter ceiling.
Claude Giroux — Center/Wing — Philadelphia Flyers (New addition)
The Philadelphia Flyers have unofficially announced their rebuild, after Alain Vigneault was relieved from duty following a 7-1 drubbing at the hands of the Tampa Bay Lightning. With an interim coach tasked with righting the ship on a team playing with unprecedented apathy, the decision on Giroux must first be made. While the salary cap concerns of the cap crunch era make a player of Giroux's magnitude a difficult acquisition for many of the league's franchises, the future of his value greatly depends on where the talented player ends up playing. If the rumors of a rebuilding team like Arizona are true, then expect Giroux to plummet. If he does end up going to a resurgent rival like the New York Rangers, we could see a worthwhile bump for Giroux's 2008 Young Guns.
Kirill Kaprizov — Left Wing — Minnesota Wild
While his 2020 Young Guns Raw remains stagnant and marred with peaks and valleys, Kaprizov's fantastic play this season has helped his PSA 10 hold a strong 6% increase over the last month. More and more, the Wild seem like a legitimate playoff threat. Kaprizov will need to continue to improve some of the nuances of his game that could be exploited in the postseason, and injuries are always a possibility for a player with less tire tread wear. The pop count of is low enough to encourage growth and comfortable entry, but realize the bulk of recent PSA submissions for hockey likely included plenty of this card, so this could change as the company gets caught up with submissions.
Brayden Point — Center — Tampa Bay Lightning
If some collectors want to continue to undervalue one of the best offensive players in the league, this shouldn't impact a savvy investor looking to play the long game on a player still very much in the earlier stage of their career prime. While Point remains on the injured reserve after a suspected broken clavicle, the injury is not expected to cause any lasting issue when he returns. He will be joining a Lightning team playing their best hockey of the year. Auctions and best offers remain a great opportunity to snag a raw or graded 2016 Young Guns.
Rising Stars
Martin Necas — Center — Carolina Hurricanes (New Addition)
Necas is a fascinating player. When the Hurricanes are flying, he is often the most noticeable player on an ice surface already featuring Sebastian Aho and Andrei Svechnikov. In the six games that the Canes have lost, Necas has one point. He's also on pace for significantly fewer Power Play points compared to last year. The fact remains that the upside of Necas is still too strong for most collectors to ignore. A current point streak punctuated with OT winners has Necas' gaining hobby traction. Martin's 2018 Young Guns Raw is up 27% over the last week. Auctions remain a great opportunity for a player that seems to rise every month.
William Nylander — Center — Toronto Maple Leafs (New addition)
Another new addition from the high-flying Maple Leafs, Nylander had been part of the scorn many of Toronto fans had directed towards young Leafs GM Kyle Dubas. The size and length of Nylander's contract had been looked at as an irresponsible move, particularly after the player held out during training camp to get said deal. This year, William has done much to silence doubters, and has firmly been embraced as the third best player on the team. His 2016 Young Guns PSA 10 has a high pop count, but the location of Nylander's career given the length of the contract he signed bodes well for his value to steadily increase until he's at that MacKinnon level just below McDavid and company.
Tim Stutzle — Left Wing — Ottawa Senators
There is an opportunity to sneak in for Stutzle, if one already doesn't own anything of his. The player has had some difficulty taking his game to the next level of stardom many had projected. The unfortunate state of the Senators' record this season only further removes him from hobby radars. If the predicted coaching change in Ottawa does take place and the Senators improve, or if Stutzle's production increases, we could see a more imminent bump. As it stands, the forecast should expect further corrections to the 2020 Young Guns like the 3% drop we saw this past week. The talent is there, the character has never been questioned, it's just Ottawa.
Track your collection and maximize your profit with Market Movers, the hobby's most powerful sports card pricing platform! Learn more here.
Note to readers: If you purchase something through one of our affiliates, we may earn a commission.