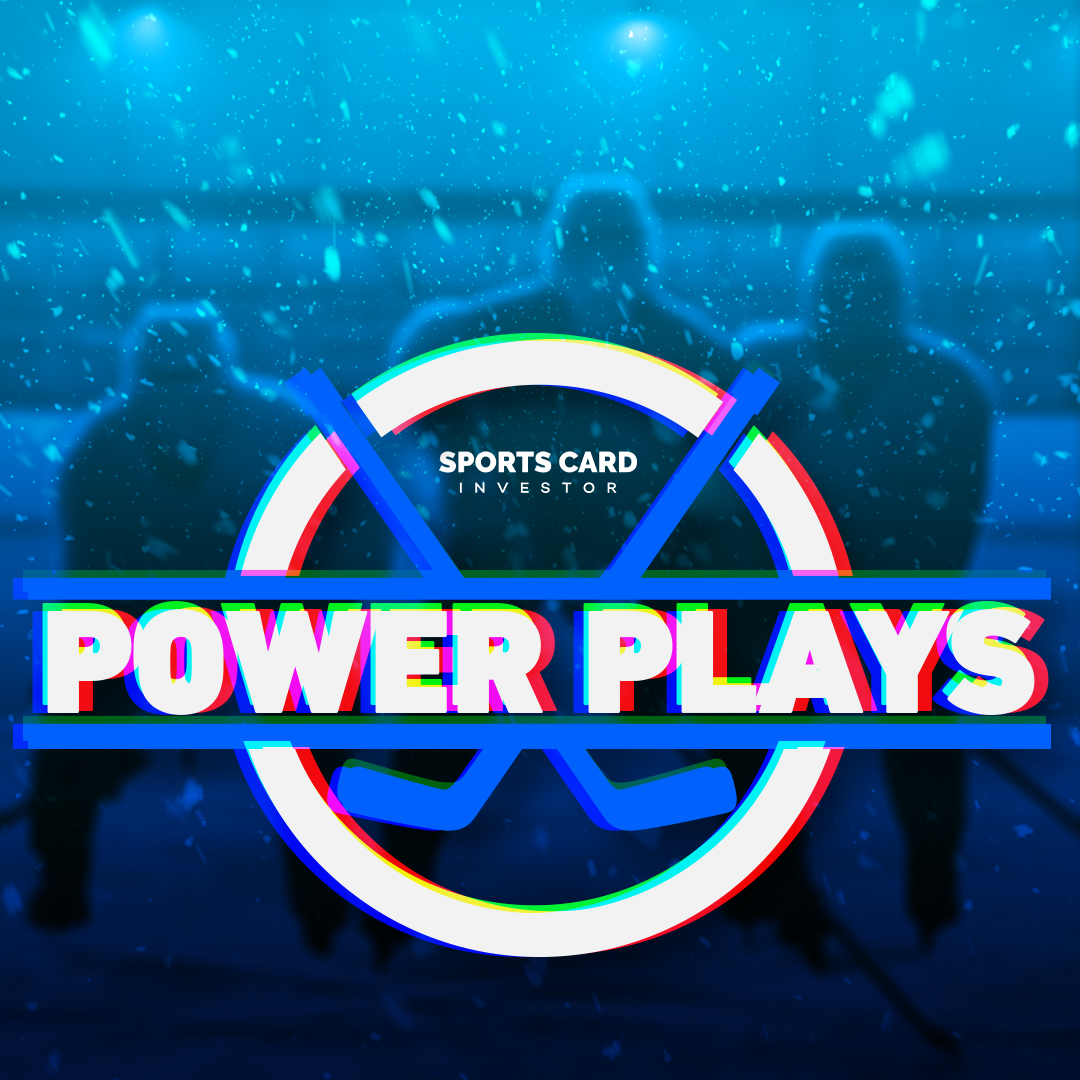 After a slow start to the season, some collectors appear ready to move on from Kirill Kaprizov based on significant price and volume dips to his key Young Guns PSA 10. Is it time to panic, or should investors wait out the dip? We cover that and more in this week's Power Plays.
Power Plays focuses on a premier list of players and their Young Guns during the NHL season. The list will feature different players as the season progresses depending on performance and any transactions/moves that may impact their existing value. 
Top Stars
Connor McDavid & Leon Draisaitl – Center/Wing – Edmonton Oilers
It's pretty satisfying when the subject of last week's headline for 'Power Plays' enters Week 4 tied for the league lead in scoring. As linemates, you can expect the two to remain 1-2 for scoring supremacy, barring major injury. McDavid is up across the board, while Draisaitl is experiencing a slight correction. As the two will continue to eat up exposure, accolades, and scoring titles, don't expect any further corrections for either investment.
Alexander Ovechkin – Wing – Washington Capitals
As the hockey world continues to debate the feasibility of Ovechkin catching Wayne Gretzky's all-time goal scoring record, Ovechkin continues to play well beyond the expectation relating to his age. Showing absolutely zero signs of slowing down, even after a pre-season injury scare, Ovechkin's Raw YG has shown a good amount of volatility over the last week, with sales as low as the $800 range and as high as $1300. My advice is to jump on anything with grade potential under $1,000, as his accolades will only continue to push his value higher, especially the closer he gets to Gretzky's goal scoring record.
Newer/Recent Stars
Quinn Hughes – Defense – Vancouver Canucks
It's not that Quinn Hughes is playing poorly. In fact, defensively, he's playing much better than in previous years. For a player like Hughes, you have to really pay attention to completed sales. His PSA 10 YG is down 22% in the last week. The Canucks need to win more games for his value to go anywhere consistently, otherwise, you will encounter peaks and valleys and opportunistic investors will be able to save up to $50 by playing their spots correctly.
Kirill Kaprizov – Left Wing – Minnesota Wild
After a slightly slower start to the season compared to last (but still very decent), it appears that some sellers were ready to move on. In doing so, we did see a 25% dip for his PSA 10 YG, as well as an overall sales volume decrease for Kaprizov of 40%. The second stat simply indicates a, most likely, temporary waning of interest in Kaprizov. I wouldn't read too far into this, as Kaprizov scored an electrifying OT winner Tuesday night, and will continue to hit the highlight reels. The Minnesota market didn't seem to hurt him last year, but the reality is that the league is incredibly deep, and collectors and investors alike have a lot of options for where they'd like to stack their assets.
Mitch Marner – Right Wing – Toronto Maple Leafs 
This may be the most hilarious and visible example of the Toronto effect that we've ever seen. Marner, as most had indicated, started the season relatively slowly. After some added minutes last week led to an awakening of production for the young forward, this culminated in a 3-point effort against Vegas. The next day, Marner's BGS 9.5 YG saw a 70% increase from its last sale price just six days prior. If this doesn't explain how fickle the Toronto hobby market can be, we're not sure anything will further illuminate this very real and absurd hobby factor. Marner is a good player that is dealing with high expectations related to signing a large contract so early into his career.
New Stars Who are Still Rising
Josh Norris – Center – Ottawa Senators (New addition)
After a surge from the Ottawa Senators at the end of last season, the young club has picked up where they left off. Surpassing the expectations from everyone excluding people that had followed the team, this young and speedy club has given the much-maligned Sens fanbase plenty to be excited about. Among the leaders of this charge has been center Josh Norris. His YG PSA 10 has seen a 30% increase since the start of the season. If the Canadian factor remains true, expect Norris and his hobby value to grow and potentially even mirror some of the other young stars in the league. Expect his production to continue to improve with each week.
Nick Suzuki – Center – Montreal Canadiens (New addition)
The Habs are off to one of their worst starts in franchise history. Nick Suzuki is now at a place where we can judge him by his individual production, versus the unnecessary inflation of a Habs team that doesn't even belong in the same breath as the word "playoffs." While his pop count isn't the lowest, it's impossible to ignore how good and productive Suzuki is shaping up to become. At this point, I think it's smart to get in before the Habs right the ship and their wins begin to launch Suzuki into 'Top Stars' territory.
Great Players with Cheaper Cards
Brad Marchand – Right Wing – Boston Bruins (New addition)
Nobody has ever questioned the talent of this antagonistic Bruins forward. However, his performance to start the season has been tremendous, and collectors are taking notice. Additionally, Marchand's PSA 10 YG has the benefit of an extremely low pop count. These two factors combine to see a 30% increase in value for his PSA 10 since the start of the season. Alternatively, a PSA 9 for a player most likely to end up in the Hall of Fame, playing in a high-visibility market, bodes well for a secure portfolio. Avoid Raws, as this set is notorious for QC issues, hence the incredibly low pop count for PSA 10.
Steven Stamkos – Center/Wing – Tampa Bay Lightning
As the season gets into its second month, Steven Stamkos is reminding fans that a healthy 'Stammer' still has a ton to offer. Currently tied for 5th in league scoring, and doing a fine job of helping to alleviate the hole left by Nikita Kucherov's surgery-requiring injury, collectors are begging to flock back to Stamkos, especially while his YG is still considered undervalued. However, look for Stamkos to potentially transition into "Top Stars" if his PSA 10 YG can break into the $800 range.
Off-the-Radar
Michael Bunting – Left Wing – Toronto Maple Leafs
Speaking of Leafs, I guess Michael Bunting is still a thing? While he continues to garner buys, I will continue to update this curiosity of a story. After a week that saw his Raw YG (still have yet to see any sales of graded Bunting rookies) dip beneath the $10 barrier, I am pleased to announce that yesterday saw a sale of $15. Bunting-Mania never has to end, folks. It can always survive in the hearts and souls of hockey hobbyists across the globe for as long as we allow.
Track your collection and maximize your profit with Market Movers, the hobby's most powerful sports card pricing platform! Learn more here.
Note to readers: If you purchase something through one of our affiliates, we may earn a commission.