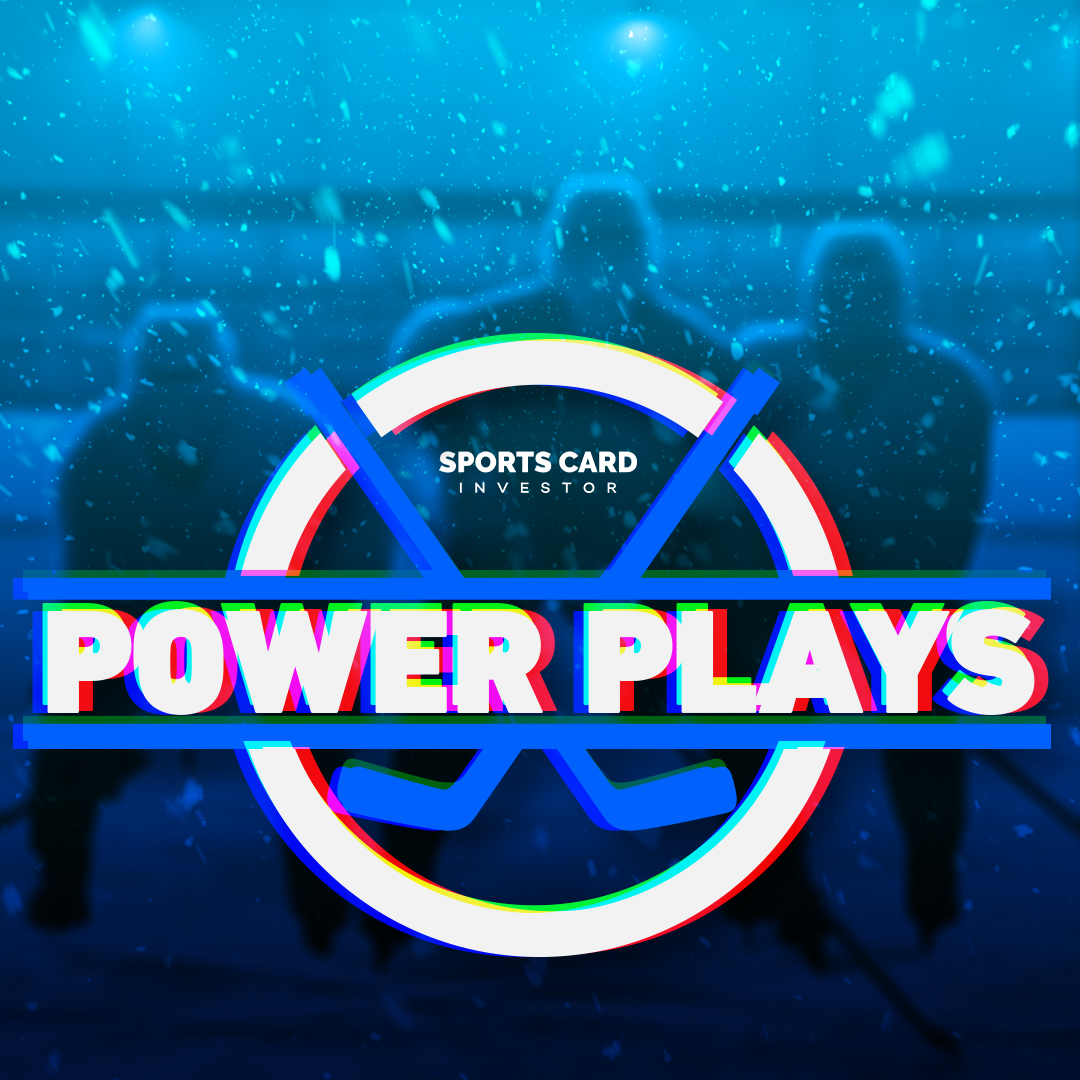 For those looking for another option to Nathan MacKinnon or Connor McDavid, Leon Draisaitl has emerged this season as a valuable choice. Playing alongside McDavid in Edmonton has certainly helped his hobby profile, though Draisaitl has helped boost McDavid a bit, too.
Read about Draisaitl and more of the game's top Young Guns cards in this week's Power Plays.
Power Plays focuses on a premier list of players and their Young Guns during the NHL season. The list will feature different players as the season progresses depending on performance and any transactions/moves that may impact their existing value.
Top Stars
Leon Draisaitl – Center/Wing – Edmonton Oilers – (New addition)
If you're looking for another secure investment and aren't interested in McDavid or MacKinnon, I highly recommend getting on the Leon Draisaitl train. Having the benefit of playing alongside McDavid in Edmonton would help most people's stats (just ask Pat Maroon), but Draisaitl has equally boosted McDavid's game in his own right. A larger, grittier, stronger player than McDavid, Draisaitl has shown first team All-Star production since entering the league and shows zero signs of slowing down. His raw YG is up a whopping 70% in the last year.
Nathan MacKinnon – Center/Wing – Colorado Avalanche
Monster Mack is a safe play raw, but an even smarter play in PSA 10, due to a lower pop count. I think everyone has finally realized that the dominance he possesses can only really be exceeded by one player in the league, while neither has managed to win in the postseason. Regardless of what happens in the playoffs, it's still October and we still have yet to see the Avs reach full stride. Once this happens, expect his stats to explode and his value to continue to slowly and securely gain.
Connor McDavid – Center – Edmonton Oilers
Barring catastrophic injury, McDavid is chasing history in the stat column. Not since Wayne Gretzky in 1985 has a player scored 200 or more points in a single season. While the game has changed significantly, the general feasibility of this task for McDavid is astonishing enough in its own right. Regardless of if it happens, his value will remain rock solid. We are already seeing some of the early benefits of ESPN's expanded coverage of the game. When you invest in McDavid, you're not investing in volatility. In terms of consistency, the security of the best player in the league, playing in the prime of his career, bodes well for any portfolio.
Newer/Recent Stars
Sebastian Aho & Andrei Svechnikov – Center/Wing – Carolina Hurricanes
The Hurricanes are arguably the best team in the East after the first two weeks of the season, and Aho and Svechnikov continue to be the focal point of this undefeated Carolina squad. While Svechnikov has remained around the $60 range for his Raw YG, a recent spike of Aho has shown him near the $50 marker, with the potential to eliminate any gap separating the tandem in value. They were solid plays before the season started, and will remain so. I feel like Aho especially is a great value given the quality of player he has been.
New Stars Who are Still Rising
Tyler Bertuzzi – Left WIng – Detroit Red Wings
Nephew Tyler's production has not slowed, though the Red Wings have had the ups and downs expected of a young lineup. Interestingly, his raw YG has seen a small decrease. In my opinion, his still incredibly low pop counts for anything 9 and up indicates that you would be wise to buy raw in hopes of grading well. A low pop count coupled with a breakout season could pay out exponentially. It helps that Bertuzzi plays an exciting, score-first of hockey. If you already bought a tad higher, don't be discouraged, and consider doubling up.
Kirby Dach – Center – Chicago Blackhawks
This hasn't been a fantastic season for the Blackhawks. Their lack of success on the ice now has to contend with a devastating sexual assault scandal that has already led to a GM vacany in Chicago. The market despises uncertainty. While Dach has remained one of the few bright spots on this rebuilding squad, do not expect prices to go anywhere while this incredibly dark cloud hangs over the 'Hawks organization.
Alexis Lafreniere – Left Wing – New York Rangers
The clock is ticking for Alexis in New York. With only 3 points in his first seven games, the former No. 1 overall pick must start performing better on the ice. While many collectors begin to panic, some closer to the team have seen more glimpses of the player he could become, while most skeptics seem to question what scouts even saw in the first place. The media in New York is not known for its patience, so he will need to do something very soon to quiet his detractors, or collectors will begin to dump as the "bust" label begins to come into play.
Ilya Sorokin & Igor Shesterkin – Goalie – New York Islanders/New York Rangers
What a great week to be a Russian goalie playing in the greater New York metropolitan area. Both goalies had dominating performances, culminating in shutout victories for their respective teams. Unfortunately, the goalie effect is a real thing for just about everyone in the league sans-Vasilevskiy. That being said, both goalies are still relatively new names and will absolutely accrue additional value as their career samples continue to grow. Shesterkin's YG is significantly harder to come by, as it's a rarer SP Update YG. Between the two, I recognize the higher value ceiling for Shesterkin, almost entirely based on the larger media market associated with the Rangers vs Long Island (sorry, not sorry, Frankie Borelli). Expect both goalies to stick around the league indefinitely.
Great Players with Cheaper Cards
Brayden Point – Center/Wing – Tampa Bay Lightning
The inexplicably low value of Brayden Point continues to astonish me. After a somewhat slow start to his season, we have seen raw YG sales as low as $24.This is absurd given the show Point has put on over the course of the last two Stanley Cup Playoffs. I would hope that his recent lows in value will soon turn around, as his production most likely will, but the fact that he's been so relatively undervalued in the first place remains one of the great mysteries to me in all of hockey collecting.
Anze Kopitar – Center – Los Angeles Kings (New addition)
Perhaps this only comes as a surprise to those who don't follow the Kings closely, but Anze Kopitar is off to an absolutely torrid start this season. One of the true superstars of the later 00s and early 10s, Kopitar has often been obscured by the Pacific time zone. The Slovenian centerman is currently tied for 5th in league scoring, but the Kings will likely start to level off as injuries begin to accumulate for an already-depleted squad. All things considered, Kopitar should be looked at as a safe play, as his production will only serve to further the legacy.
Off-the-Radar
Michael Bunting – Left Wing – Toronto Maple Leafs
A 3% correction in value certainly shouldn't be interpreted as cause for panic to those interested in Bunting. The hobby value reality for anyone in a Leafs uniform not bearing a #34 is that Toronto simply isn't that good. Unrealistic expectations for a team with the majority of their salary tied to three players will culminate in unmet goals. In the hockey capital of the world, this is unacceptable. If you're still considering buying Bunting, for whatever reason, I would absolutely wait. The media hasn't started dogpiling on Toronto quite yet, but it's imminent.
Track your collection and maximize your profit with Market Movers, the hobby's most powerful sports card pricing platform! Learn more here.
Note to readers: If you purchase something through one of our affiliates, we may earn a commission.