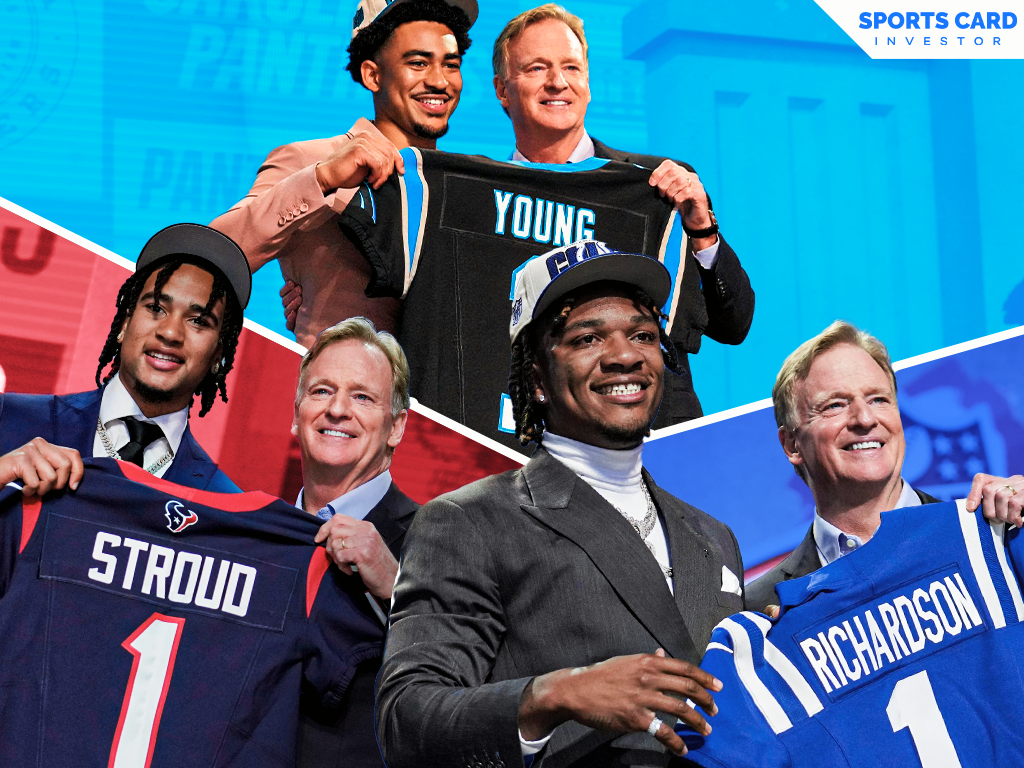 2023 NFL Draft: Way-Too-Early Rookie Cards to Watch
If the 2022 NFL Draft was a tad underwhelming for skill position stars and their cards (compared to 2020 and 2021 NFL Drafts), then 2023 brought us all right back, with three QBs going in the top four picks. The draft also had two first-class running backs in the top 12, and four straight WRs towards the end of the first round. Not to mention additional first-round talent signal callers "falling" to the 33rd overall pick in Will Levis and the 68th overall pick in Hendon Hooker.
But the purpose of this article is not to speculate on how good they'll all be throughout their careers, or even to make prognostications about how they'll help the card market, but rather to analyze their current cards, and identify opportunities to make plays and potentially profit from their early career hype.
A couple concepts apply to all of the cards below — First of all, the sales prices below reflect hype spikes immediately following the NFL Draft, so we'd recommend looking to purchase later this summer, when less attention is on the NFL, and the initial hype has died down. Being college cards, we'd look to sell them prior to the first pro uniform release, meaning you have a runway until around November 2023 to acquire and sell these cards if you're looking to flip for profit.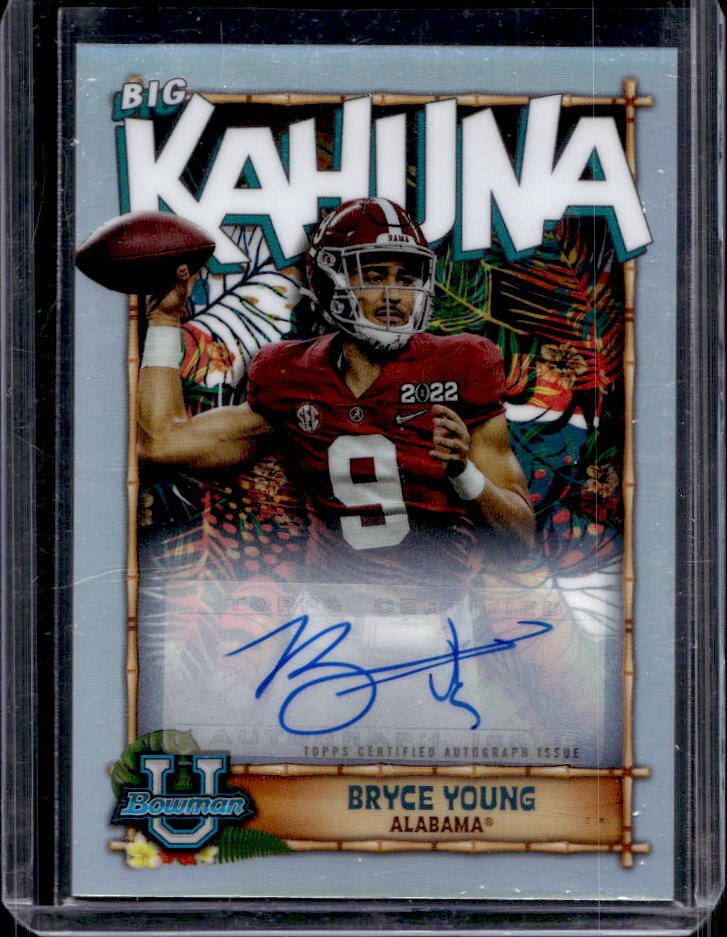 Bryce Young (Alabama), No. 1 overall, QB, Carolina Panthers
As I wrote in my breakdown of 2021 Bowman University Most Valuable, there are two Bowman U releases — a 2021 unlicensed release that features Bowman Chrome 1st Autos of Young, Stroud and Levis, but there's also a 2022 Bowman University licensed release that doesn't have the coveted "1st" icon, but features team logos and branding with non-airbrushed action shots. 
This is notable because many collectors will prefer these licensed cards, but others will point to them not having the "1st" icon, thus not being the true "rookie." All said, with Young being the top overall pick, there is some runway to make money on flipping his cards heading into the 2023 NFL Season. Typically there's an August hype spike, which makes a solid natural opportunity to flip for profit if you buy in now. But even if you wanted to wait until after the first few weeks of his career before listing for sale, you'd still beat the first pro uniform rookie release — thus potentially maximizing your returns. The risk there though is underperformance in the first few weeks of his career leading to a drop in price.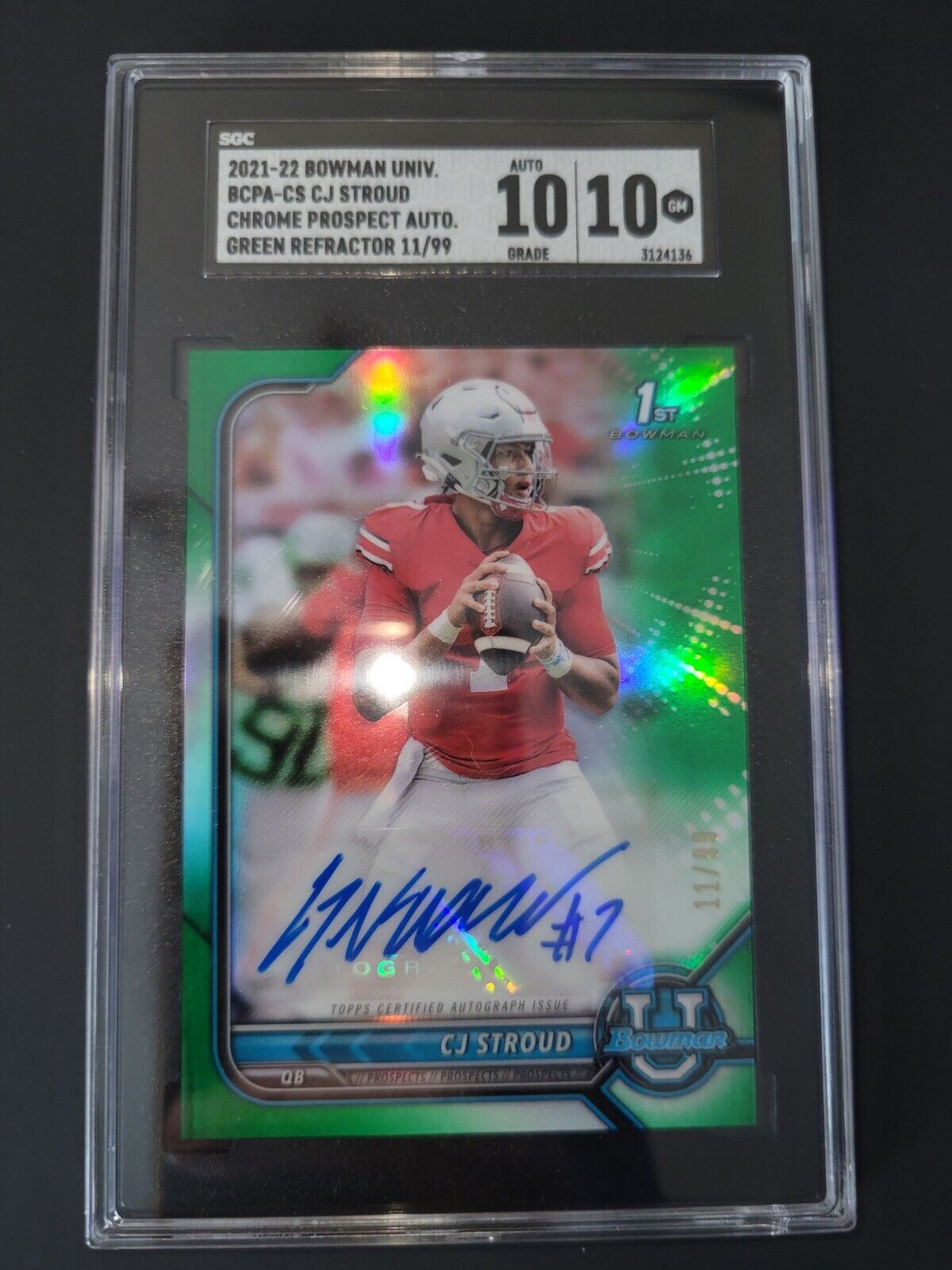 CJ Stroud (Ohio State), No. 2 overall, QB, Houston Texans
The analysis here for Stroud is almost the exact same as that of Young. He too is featured in the 2021 unlicensed release (with 1sts but no logos/branding) and the 2022 licensed release (without 1sts). As he takes the helm in Houston, there will be a ton of hype, along with Ohio State fans following his pro career. Selling the following cards in August makes the most sense, but again, waiting to see if he starts off with a bang before selling immediately before the first pro uniform release is a risk-reward play that could pay off as well.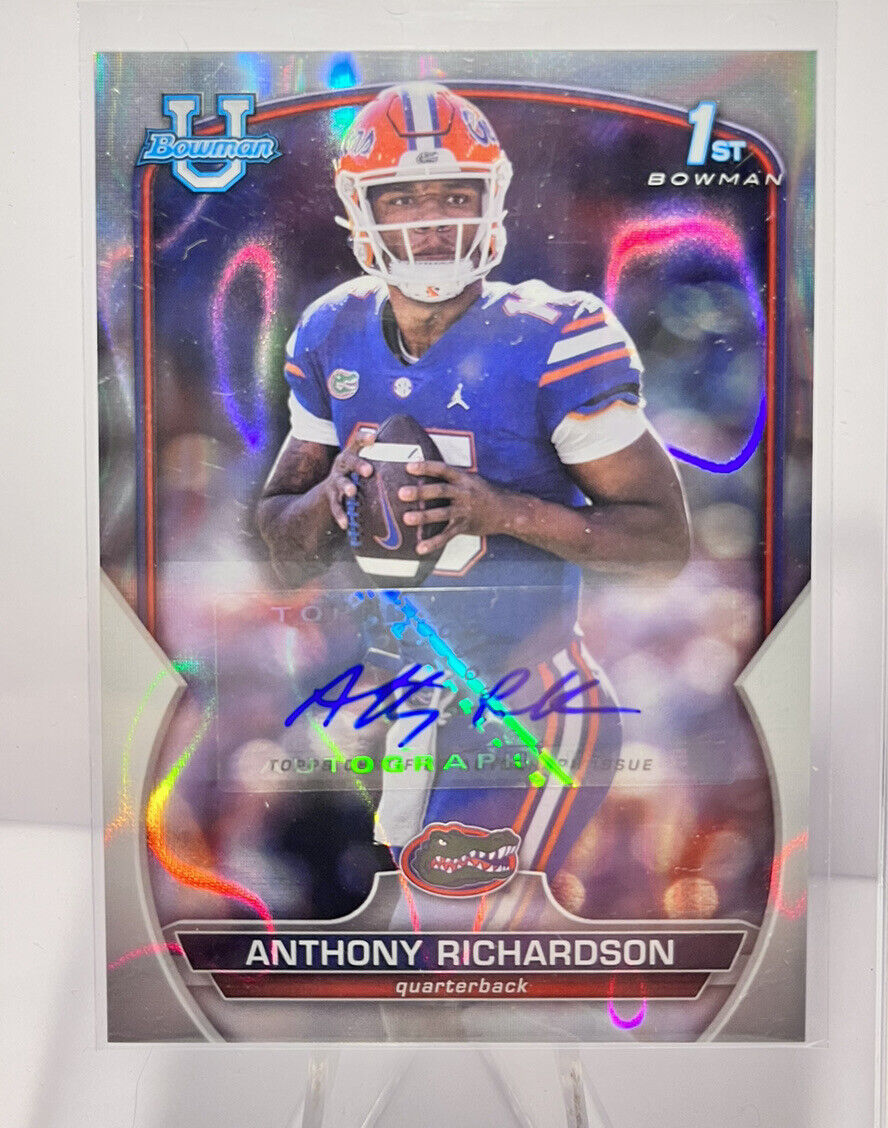 Anthony Richardson (Florida), No. 4 overall, QB, Indianapolis Colts
Richardson is unique among the top QBs, and not just because of his meteoric rise to the top five. He is the only top QB with his Bowman Chrome 1st to also be licensed, as he was not in the 2021 Bowman U release, but is featured in 2022. While his autos in 2022 Bowman aren't his first, they're really his only investable cards, as his first autos were signed for Leaf in 2021. 
Bijon Robinson (Texas), No. 8 overall, RB, Atlanta Falcons
The star RB from Texas became the highest overall RB selected since Saquon Barkley in 2018. His 2022 1st Bowman Chrome University Lava Refractor Auto /199 sold for $75 on March 10, prior to the draft, but more than doubled after being taken 8th overall. 
Jaxon Smith-Njigba (Ohio State), No. 20 overall, WR, Seattle Seahawks
Perhaps the most well-known WR in the 2023 NFL Draft after his amazing individual performances during the 2022 College Football Playoffs, and he was the first WR taken in the draft, expected to start in the slot in Seattle.
Will Levis (Kentucky), No. 33 overall, QB, Tennessee Titans
After reportedly telling family and friends he expected to be the No. 1 pick prior to the draft, and being projected to go in the top 10 picks, Levis fell to the 33rd overall pick, but lands in an interesting spot on a Titans team that doesn't have a clear answer at signal caller past this season.
Hendon Hooker (Tennessee), No. 68 overall, QB, Detroit Lions
Hooker was on track to be a potential first-rounder before tearing his ACL in November 2022. The Lions snagging him in the third round after a surprise season from Jared Goff is an amazing pick. He projects to potentially be the long-term answer in Detroit as Goff is in a contract year in 2023.
With the Sports Card Investor app, you can profit from the hobby you love by keeping up with trending cards, tracking real-time prices with Market Movers and buying items on eBay. Download the industry-leading app here for Apple or Android
Note to readers: If you purchase something through one of our affiliates, we may earn a commission.
Paul Hickey is a regular contributor to Sports Card Investor, the creator of the Sports Card Investment Report at NoOffseason.com, and the host of the Sports Card Strategy Show on Apple Podcasts, Spotify and YouTube. He can be found on Instagram at @sportscardstrategy and on Twitter @nooffseasoncard.