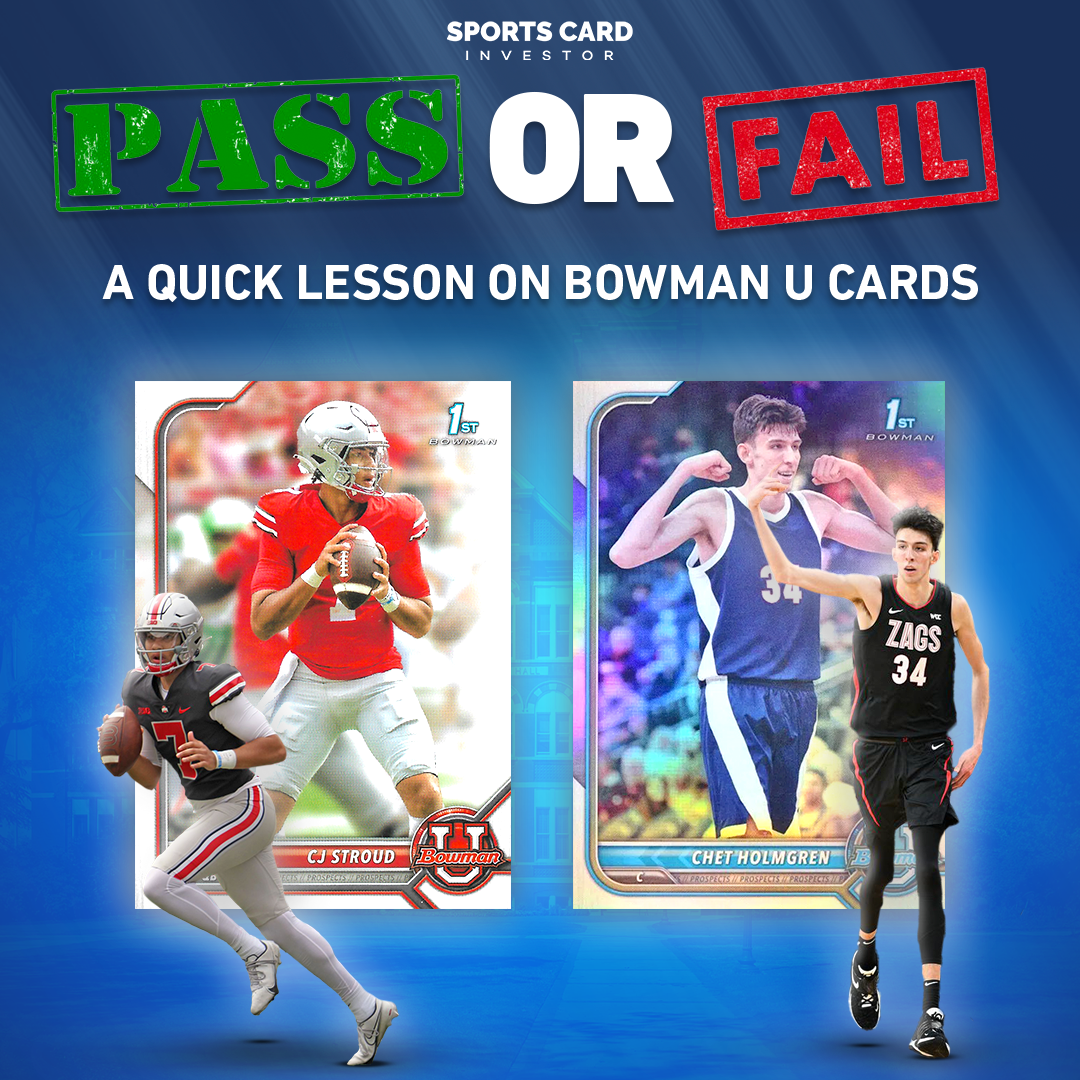 The hobby has relied on Bowman for players' first cards for decades. Bowman Baseball changed the hobby forever back in 1948 with a set that included iconic rookie cards for Stan Musial ($5,500 in a PSA 7) and Yogi Berra ($3,000+ in a PSA 7).
Of course, the brand also produced football cards. From the 1952 Bowman Paul Brown ($189 for a PSA 6) to the 2000 Bowman Tom Brady (between $7,000-8,000 in a PSA 10), the company has left an undeniable imprint in the industry.
And now, thanks to cards with its coveted "1st Bowman" stamp on it, the label has become the go-to option in baseball prospecting. These were essentially players' rookie cards as they worked their way up through their team's farm system.
One recent example of the company's impact was with Nolan Gorman. The 1st Bowman for the second baseman in the St. Louis organization was a big chase card back in 2018 due to the early buzz surrounding his power-hitting skills. When news of his potential call-up to the Majors started to swirl, his 1st Bowman Autographed Refractor /499 jumped from $510 to $876.
All of this scouting before a player puts on his first professional uniform is common practice in baseball. Now, when you think about football, the first "farm system" to come to mind is probably college. With basketball, you certainly have the NCAA, but you can also scout the G-League and international organizations. How excited are you that you can now prospect some of these basketball and football players through Bowman?  
Thanks to lucrative Name, Image and Likeness (NIL) deals, players can now sign card deals before turning pro. The set offering cards of top football and basketball players with the famous 1st Bowman logo is aptly called Bowman U. The April-released basketball and football sets feature buzzy names like former Iowa forward Keegan Murray and current Alabama sensation Bryce Young in standard base cards that can also be found in 18 parallels. There are Gold Shimmers (/50), Red Shimmers (/10), one-of-one Black Shimmers and beautiful (but super rare) Superfractors.
It's unfortunate that Bowman U's autographs are stickers, but seeing them in cool Lava (/199) and Gold Refractors (/50) makes up for it. You'll also want to keep an eye out for the case-hit Big Kahuna inserts. These can only be found approximately once every 288 packs.
One of the biggest names in the set is former Gonzaga star/Oklahoma City Thunder rookie Chet Holmgren. His 1st Bowman base refractor auto consistently sold around $300 during (and after) an impressive Summer League run. If that price proves too steep, Holmgren's Pink Refractor was hovering around $15-20 at last check on eBay.
Bowman U also has cards for gridiron giants like new Pittsburgh Steelers QB Kenny Pickett and Ohio State's C.J. Stroud, an electrifying quarterback who might be the top pick in next year's NFL draft. Stroud's base 1st Bowman isn't selling for much, but the numbered parallels have certainly earned the attention of investors and collectors. A Green parallel (/99) sold for $50 in mid-July and a Diamond (/150) went for $40 around the same time.
The major difference between Bowman U and MLB's 1st Bowman cards is that, with the latter, the players have already been drafted. They're already in their professional uniforms. Historically, the hobby has shown a lack of interest in cards where the players are in their college jerseys. But if marketed properly and done with sharp photos, Bowman U can be great for collectors. With me being a Buckeyes fan, I'd love to collect more OSU players while they're still in Columbus.
This first year is probably a test run, especially with the basketball players who are now in the NBA. Will Bowman U's early interest translate into more Prizm Draft Picks excitement? We're not sure, but we'll be keeping a close eye on these collegiate items when other cards start to release with players in their pro uniforms.
If it's forgotten, this means Bowman U will likely be just another college stopgap for people to only care about while they wait for Panini's slow printers to catch up with the sports calendar. However, if these 1st Bowman cards and colorful parallels can hold steady throughout the season, Bowman U could graduate to becoming a legit card set.
With the Sports Card Investor app, you can profit from the hobby you love by keeping up with trending cards, tracking real-time prices with Market Movers and buying items on eBay. Download the industry-leading app here for Apple or Android
Note to readers: If you purchase something through one of our affiliates, we may earn a commission.