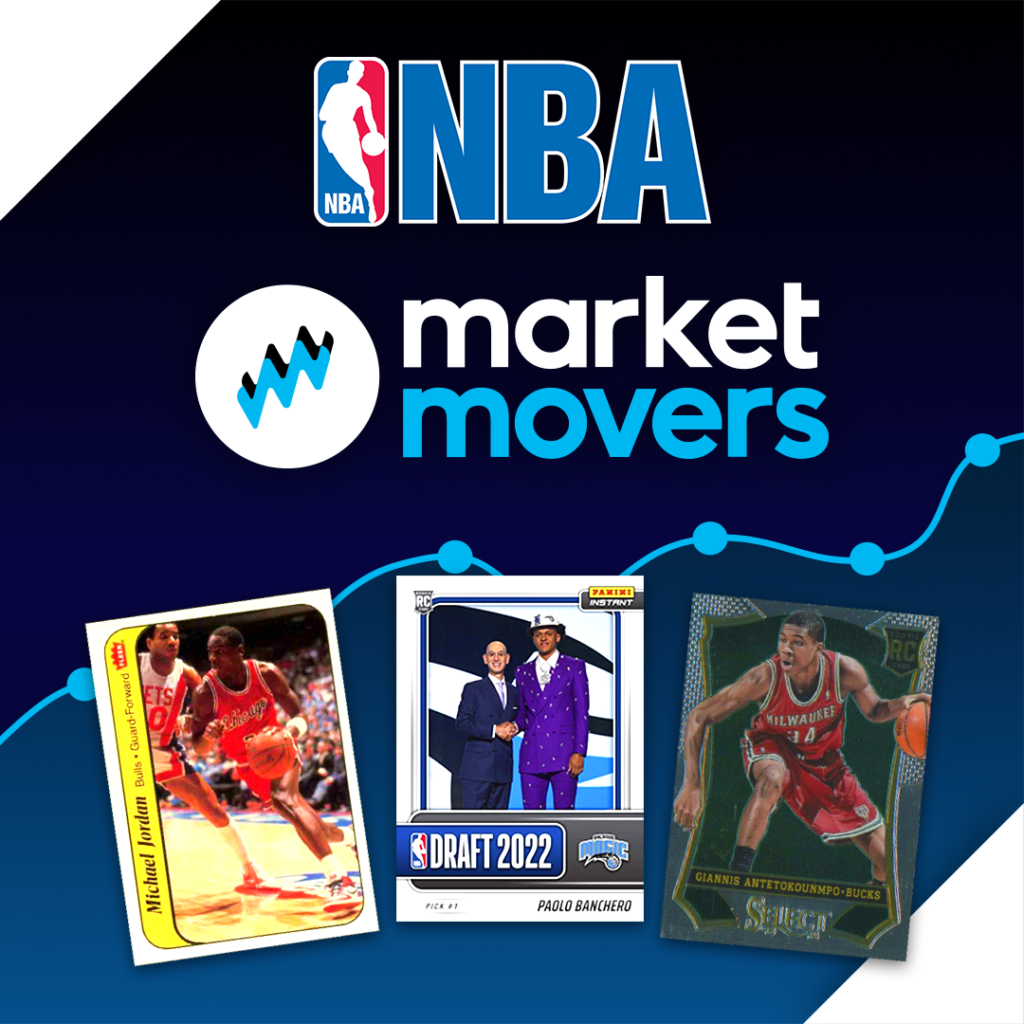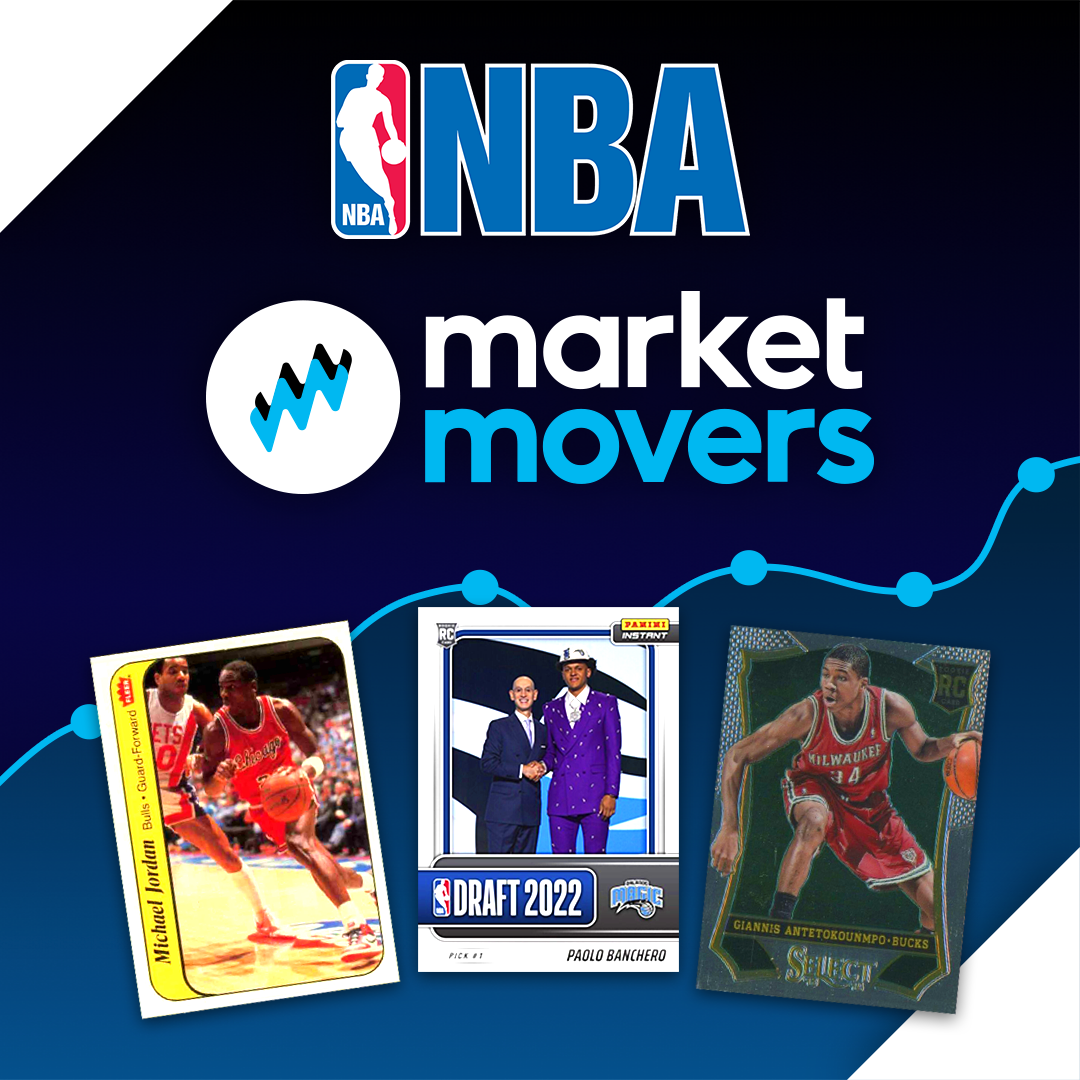 Paolo Banchero's Card Market Doesn't Need a Flagship Release (Yet)
While collegiate products typically carry the NBA card market's key players before flagship sets are released, Paolo Banchero and his 2022 Panini Instant Draft Night card have bucked that trend. On-demand, limited run cards like Panini Instant and Topps Now have grown in popularity in recent months, but the success of Banchero's is nothing short of shocking.
Read about Banchero and other popular cards in this week's NBA Market Movers.
Cards listed below are PSA 10s with a minimum average of $30 and 10 sales over the last 30 days.
PRICE GROWTH PERCENTAGE RISERS
1. Lauri Markkanen 2017 Prizm Base PSA 10 📈 169%
2. Lauri Markkanen 2017 Optic Base PSA 10 📈 143%
3. Paolo Banchero 2022 Panini Instant Draft Night Base PSA 10 📈 133%
4. Lauri Markkanen 2017 Optic Shock PSA 10 📈113%
5. Trae Young 2018 Prizm Emergent PSA 10 📈 98%
IS MARKKANEN'S MARKET FOR REAL? It's probably fair to assume that most collectors and investors would be a little surprised looking at the top five biggest risers in the NBA over the last month based on price percentage. Lauri Markkanen isn't much of a hobby standout, after all, but the reality is that he's having an incredible season and his card market has adjusted accordingly.
The No. 7 overall pick in 2017, Markkanen didn't really live up to his draft slot during his time in Chicago, but a breakout season in Cleveland changed things drastically as his game was unlocked in ultra-big lineups that also featured Jarrett Allen and Evan Mobley. An offseason trade to Utah as part of the Donovan Mitchell trade looked like it might end Markkanen's breakout, but it's actually just empowered it.
The 7-footer is averaging career-bests in minutes, points, rebounds, assists, blocks and shooting percentage, and appears on his way to his first All-Star appearance. The next step, however, is continued growth among his key rookies — Markkanen lands here because his popularity has spiked on cards with very low prices, and it's fair to wonder if his cards can survive in a Utah market that couldn't sustain stars like Mitchell and Rudy Gobert.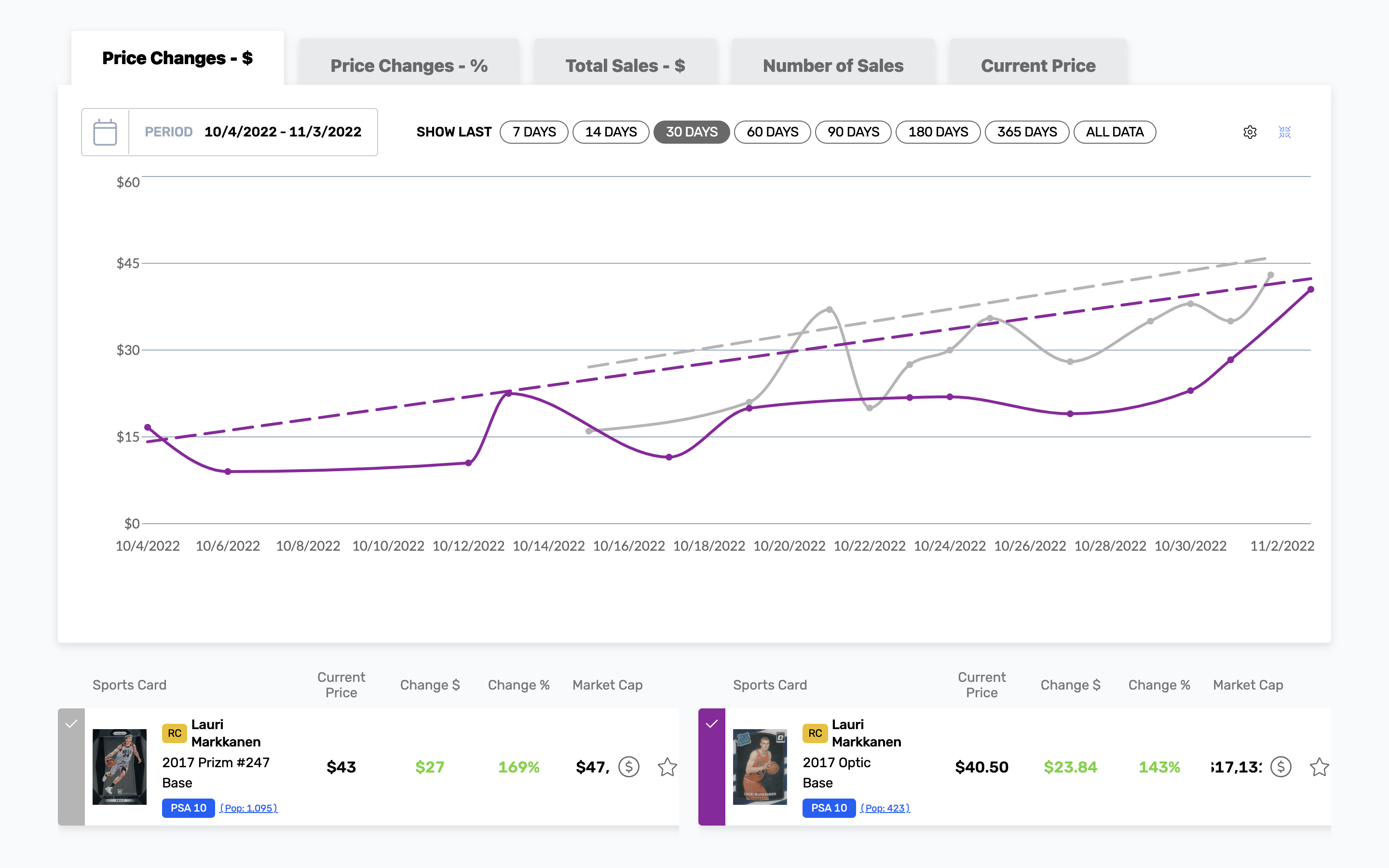 PRICE GROWTH PERCENTAGE DECLINERS
1. Patrick Williams 2020 Prizm Silver PSA 10 📉 75%
2. Scottie Barnes 2021 Prizm Base PSA 10 📉 71%
3. Tim Duncan 1997 Bowman's Best Base PSA 10 📉 61%
4. Zion Williamson 2019 Optic My House! Purple 📉 60%
5. Zion Williamson 2019 Prizm Draft Picks Red PSA 10 📉 60%
GROWING PAINS: Unfortunately for many young players, hobby popularity just doesn't pan out despite solid performances — that might be the case right now for Patrick Williams and Scottie Barnes. Now in his third season, Williams has had his career limited by injuries, but he's remained a favorite among many anticipating a massive breakout. His shooting stats have been solid to start 2022, but an average of just 24 minutes per game has left him hitting double-digit scoring in just four out of nine games.
The NBA's Rookie of the Year in 2021-2022, Barnes has actually improved his shooting in a big way and is averaging similar scoring stats despite fewer minutes. Unfortunately for Williams and Barnes, their key rookies are all down big over the last month. Williams' Bulls are just 5-4 while they battle through some injuries, and Barnes has taken a bit of a backseat to Pascal Siakam, who is having an MVP-level season in Toronto so far.
Key Prizm Base and Silver PSA 10 rookies for both Williams and Barnes are all down big over the last month, and collectively their PSA 10s tracked by Market Movers are down 45% and 27% over that same period. It's worth noting that relatively-low populations on graded cards from these two can result in some market volatility, but that doesn't change the fact that their key cards are trending in the wrong direction.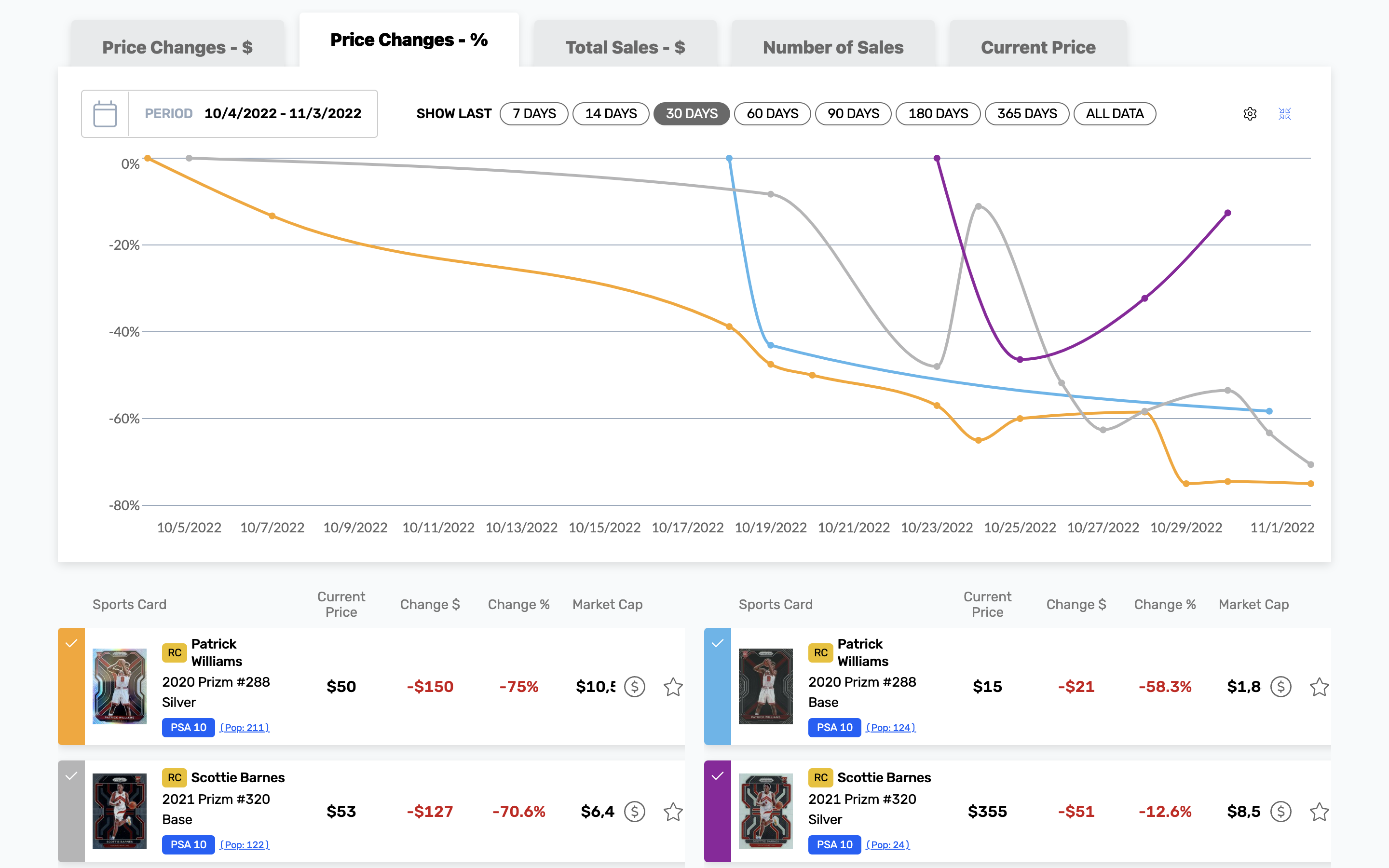 DOLLAR GROWTH RISERS
1. Michael Jordan 1989 Fleer Base PSA 10 📈 $340
2. Paolo Banchero 2022 Panini Instant Draft NIght Base PSA 10 📈 $200
3. Ja Morant 2019 Prizm Silver PSA 10 📈 $175
4. Giannis Antetokounmpo 2013 Select Base PSA 10 📈 $115
5. Anthony Edwards 2020 Prizm Silver PSA 10 📈 $113
WHO NEEDS FLAGSHIP CARDS? Apparently Paolo Banchero doesn't. In most years, some of Panini's collegiate products do relatively well leading up to a player getting their first card in an NBA jersey with the NBA Hoops release — Banchero's Hoops card isn't expected to drop until December 2022.
A surprising development over the last month, however, has been the popularity of Banchero's Panini Instant Draft Night card. Printed to-demand during a limited window, this Instant card has a print run of just under 1,700, and has seen its PSA 10 examples explode in value over the last 30 days. The No. 1 overall pick in the 2022 NBA Draft and an early favorite for Rookie of the Year, Banchero's hot start has resulted in this Instant card climbing to a $350 average, which is actually above Prizm Base PSA 10 rookies from Ja Morant and Cade Cunningham while closing in on Luka Doncic.
Extreme hype around Banchero and a low graded population have certainly had a major impact on this Instant card, but the market doesn't lie — collectors want Banchero and they are willing to pay relatively-high prices to get him. It's worth noting that cards printed on-demand like Topps Now and Panini Instant don't typically have strong long-term growth, and this specific card will almost certainly trend down once other products like Hoops and flagship releases like Donruss, Optic, Select and Prizm finally reach the market.
DOLLAR GROWTH DECLINERS
1. LeBron James 2003 Topps Chrome Base PSA 10 📉 $1,504
2. Kevin Durant 2007 Topps Chrome Base PSA 10 📉 $573
3. Zion Williamson 2019 Prizm Silver PSA 10 📉 $534
4. Zion Williamson 2019 Prizm Ruby Wave PSA 10 📉 $448
5. LeBron James 2003 Topps Base PSA 10 📉 $279
WHAT'S GOING ON WITH LEBRON? LeBron James' ability to take just about any team to the playoffs has pretty much run out at this point. The Lakers stink, there's no great solutions for that roster, and James' key rookies are dipping amid a 2-5 start. Long-term holders probably don't need to worry much, as James is still considered one of the safest holds in the sports card industry, but his immediate card market may get worse before it gets better.
James continues to play at a high level and is averaging 25-9-7 this season, but it might take a minor miracle for the Lakers to make the playoffs with uncertain futures for Anthony Davis and Russell Westbrook. Collectors may start to wonder too if fatigue from James' dominance has finally set in and the league is ready to completely turn itself over to young stars like Ja Morant, Luka Doncic and Trae Young. James' market will go back up once he hits retirement, but that doesn't necessarily make his current market dip sting any less.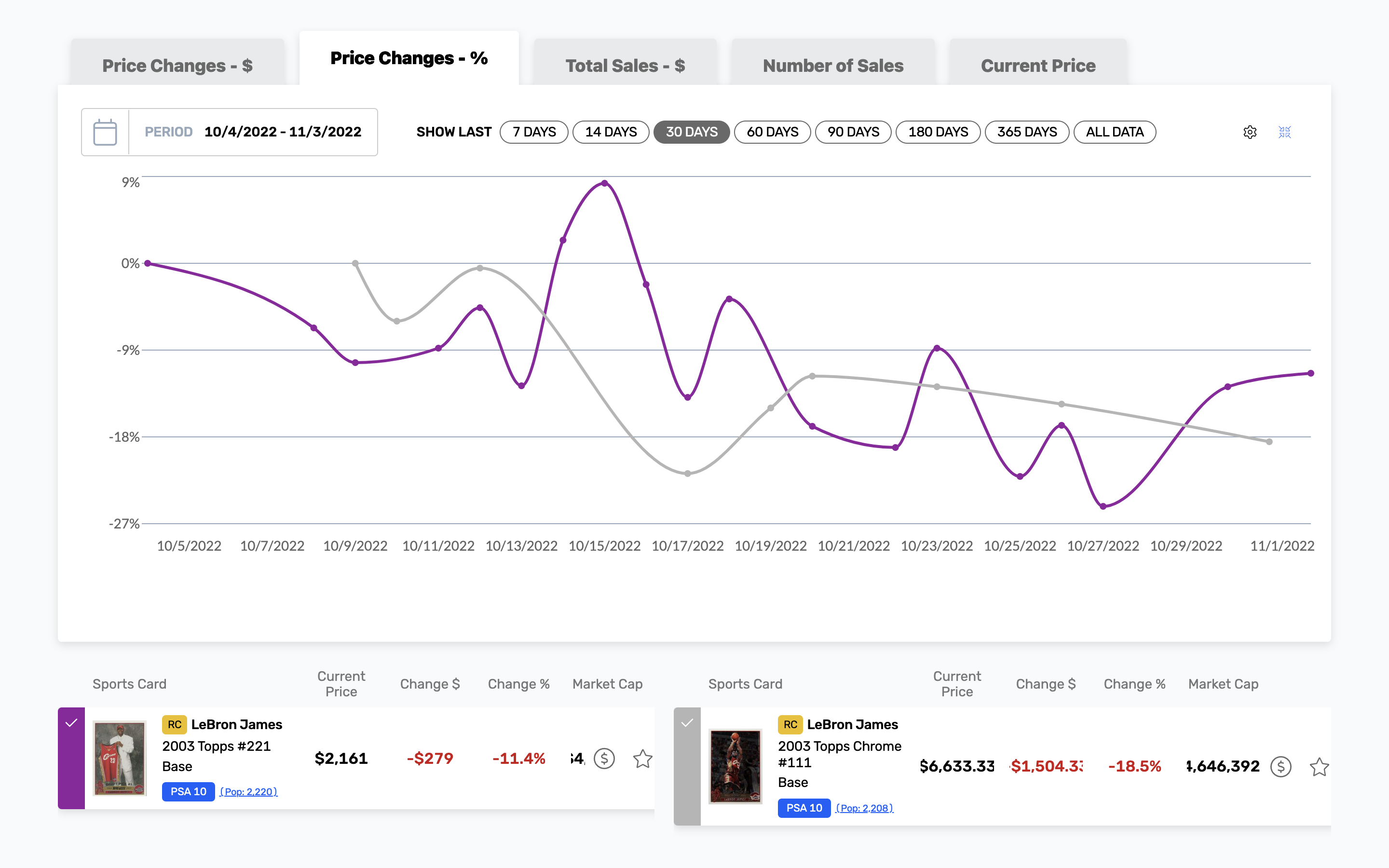 SALES VOLUME LEADERS OVER LAST 30 DAYS
1. Zion Williamson 2019 Prizm Base PSA 10 📈 197 sales
2. Ja Morant 2019 Prizm Base PSA 10 📈 166 sales
3. Anthony Edwards 2020 Prizm Base PSA 10 📈 141 sales
4. Luka Doncic 2018 Prizm Base PSA 10 📈 119 sales
5. Jordan Poole 2019 Prizm Base PSA 10 📈 109 sales
POPULAR SEALED WAX (HOBBY BOXES WITH MIN. 10 SALES OVER LAST 30 DAYS)
1. 2021 Select Basketball 📉 13%
2. 2021 Spectra Basketball 📉 11%
3. 2021 Optic Basketball 📈 5%
4. 2021 Chronicles Basketball 📉 15%
5. 2021 PhotoGenic Basketball 📈 3%
MARKET PULSE INDEXES OVER LAST 30 DAYS
Basketball 2018-2020: 📉 12%
Basketball 2010-2017: 📉 18%
Basketball 2000-2009: 📉 6%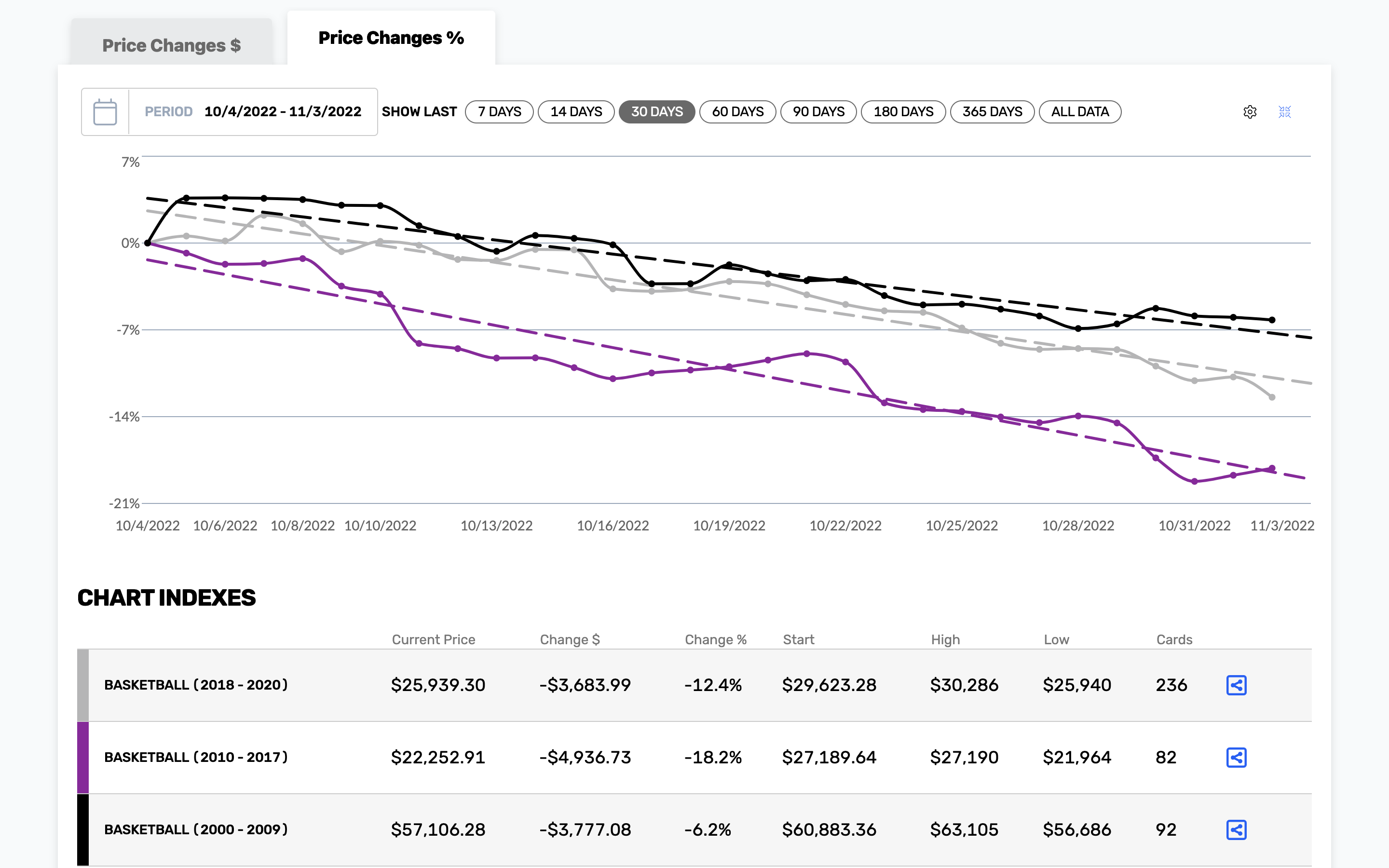 Basketball 1990-1999: 📉 9%
Basketball 1980-1989: 📉 4%
Basketball 1979 & Older: 📈 3%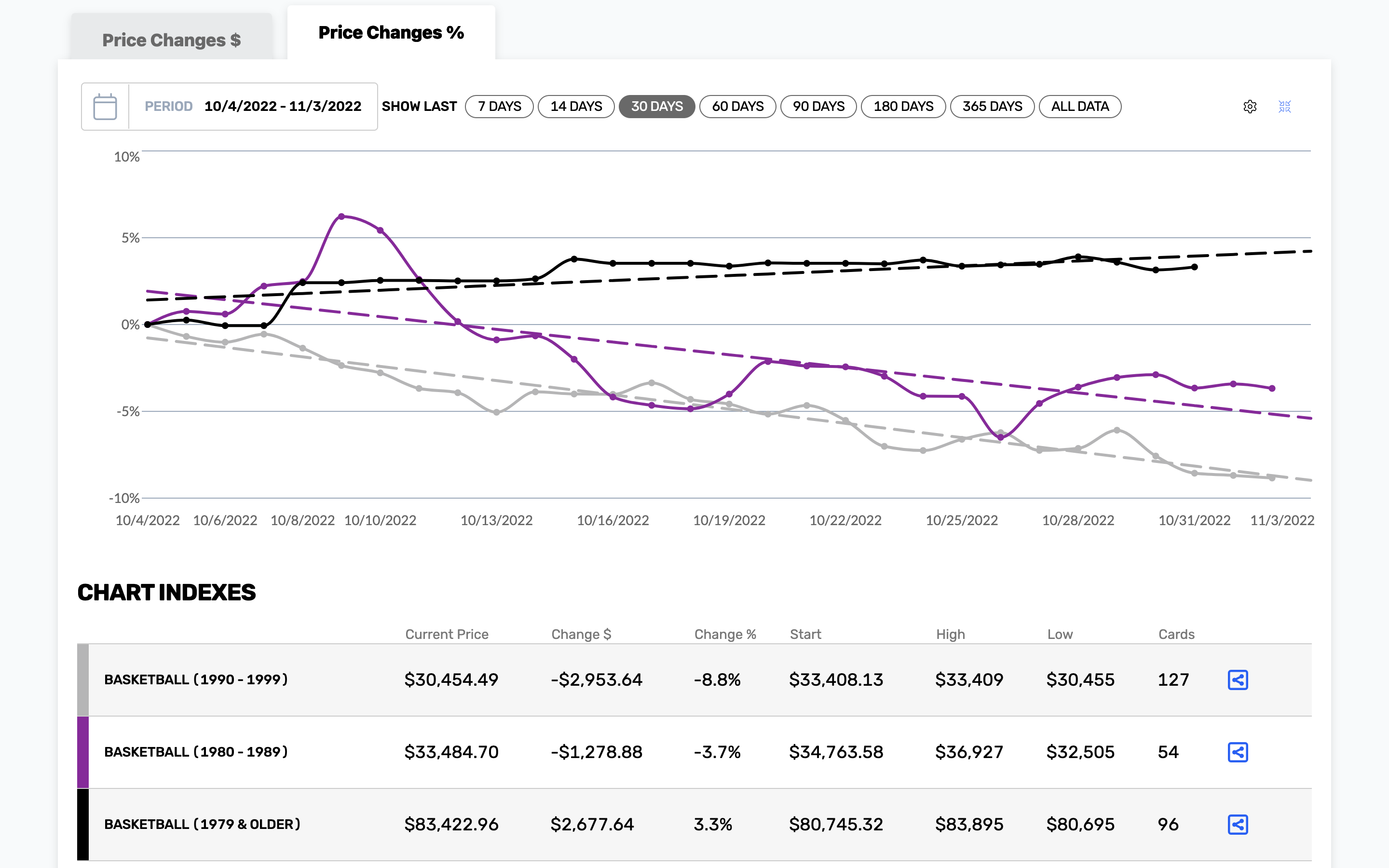 With the Sports Card Investor app, you can profit from the hobby you love by keeping up with trending cards, tracking real-time prices with Market Movers and buying items on eBay. Download the industry-leading app here for Apple or Android
Note to readers: If you purchase something through one of our affiliates, we may earn a commission.