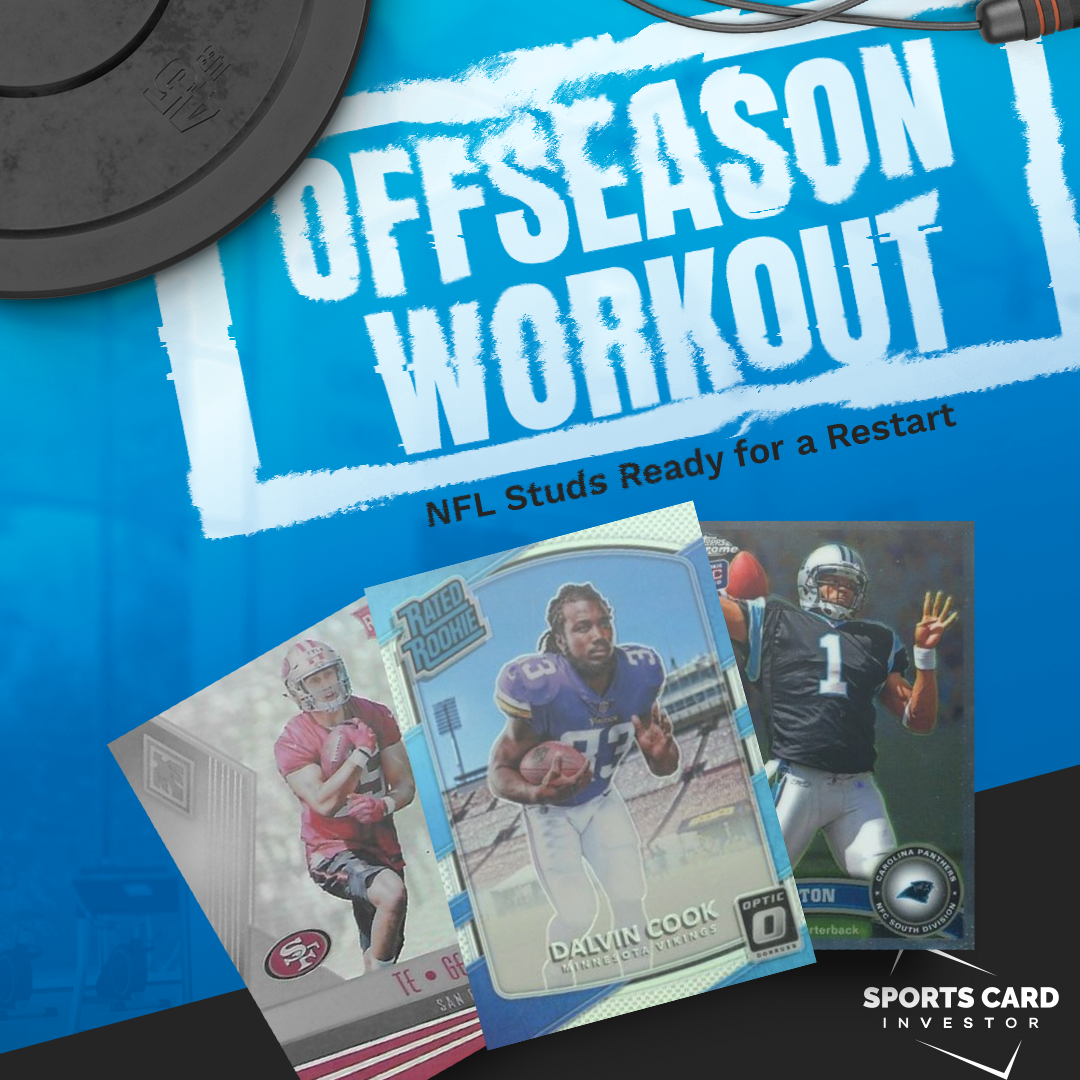 Merriam-Webster's Dictionary defines "redemption" as "the act of making something better or more acceptable." Right about now, the fan bases for the New England Patriots, San Francisco 49ers and Minnesota Vikings could all use a 64-ounce bottle of it. Their respected teams weren't terrible a year ago, but middling 6-10 and 7-9 marks aren't anything worth repeating, either.
If results are to change for the three clubs this coming season, a lot of the heavy lifting will fall on the shoulders of Cam Newton, George Kittle and Dalvin Cook. Sure, they've all been centerpieces of offenses before. This year is a little different, though. They'll need to shake off injury rust (Kittle), reclaim old luster (Newton) or, in the case of Cook, repeat what they've been doing. Either way, the following trio of talents is worth keeping an eye on over the next few weeks.
Cam Newton- 2011 Topps Chrome
There's a reason the Pats welcomed Newton back with open arms this past offseason. Because of recent injuries, the 32-year-old QB probably won't ever again be the all-world player he was back during his 2015 MVP season. He doesn't need to be. Newton still has a cannon attached to his shoulder and burners substituting as feet. And according to early practice chatter, he's putting in the necessary prep work and welcoming any potential challenges for his spot from the Patriots' No. 15 pick, Mac Jones.
As a collector, the one mistake you don't want to make with Cam is completely giving up on him. He's simply too talented for that. That said, this 2011 Topps Chrome is $200 right now, down 119% from its September high. If the Newton-led Patriots look pretty good the first month, this could be one of the steals of the season.
George Kittle- 2017 Phoenix
A foot issue kept Kittle off the field for a big chunk of last season. Thankfully for Niners fans, the injury looks healed. The San Francisco star is back in cleats, sharpening up his route running and conducting a "Tight End University" for other big receivers around the league. If Kittle can return close to his 2019 numbers (85 receptions, 1,053 yards), the Niners' air attack is going to be a problem all year.
Word must have gotten around the card industry about Kittle's pending return to glory because this 2017 Phoenix rookie card is up to nearly $300, when it started the year around $225. Let the Jimmy Garoppolo-George Kittle connection click like it did a few seasons ago and that current price might only be the start.
Dalvin Cook- 2017 Optic Holo
The Minnesota Vikings had a number of issues last season — most of them centering around the defense — but a running attack was not one of them. Cook was sensational in the backfield, rumbling for 1,557 yards and 16 TDs (both second best in the NFL). We don't know for sure if he'll repeat those numbers, but with talents like Adam Thielen and Justin Jefferson in the same huddle, the Vikings' offense probably won't be the reason they don't make the postseason.
But even with Cook's crazy stats, the Minnesota running back still might be underappreciated. Take this 2017 Optic Holo, for example. At press time, it was going for just $150. A top five back (and arguably the No. 1 on fantasy football draft boards), Cook's prices seem a little off. We're betting that after a few 100-yard, two-touchdown efforts this fall, the market will right itself.
Track your collection and maximize your profit with Market Movers, the hobby's most powerful sports card pricing platform! Learn more here.
Note to readers: If you purchase something through one of our affiliates we may earn a commission.