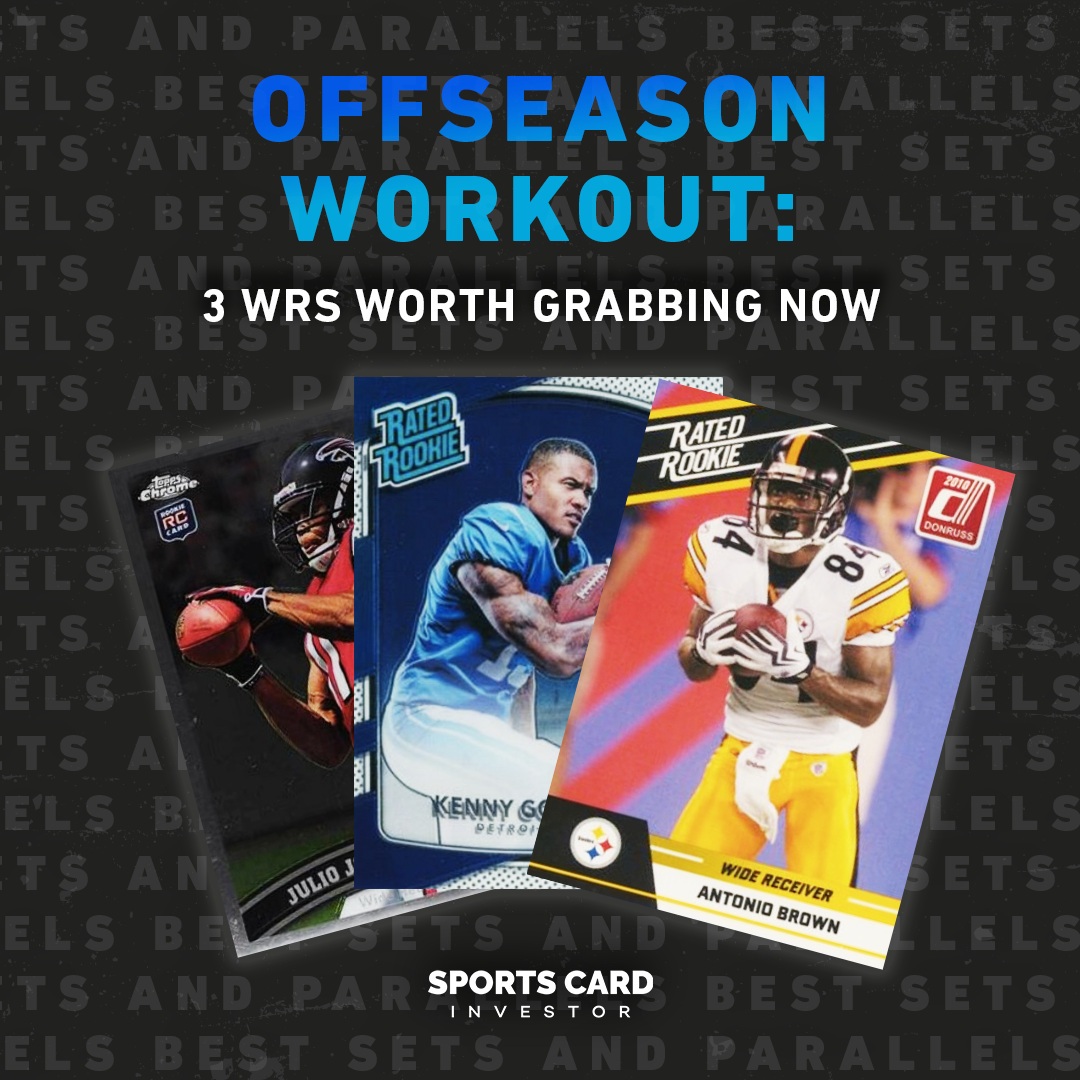 Now things are starting to get interesting in the NFL. With players being traded, some signing free-agent deals and others getting caught in the middle of spring rumors, investors looking to stay ahead need to have their Twitter notifications all the way up.
Over the past few weeks, a number of headlines seem to revolve around the wide receiver position. The loudest rumbles of late are centering around a perennial All-Pro receiver's place on his old team while other stories have discussed wideouts looking to play bigger roles on new squads.
Whatever the case, the three guys below have rookie cards that aren't necessarily getting the attention worthy of their talents. And for that reason alone, they're worth keeping an eye on before the new NFL season kicks off.
Julio Jones- 2011 Topps Chrome
When you look at the NFL's active receiving leaders, the Atlanta Falcons' Julio Jones is splattered near the top of every list that means something. Take a gander at the all-time receiving yards tally and Jones' 12,896 yards are right there in the midst with Cris Carter, Steve Largent and other greats. But all those impressive numbers come with a hefty price tag. Jones is owed $15.3 million in base salary in 2021, but the Falcons front office is frantically patting its chest and pockets, saying they simply don't have the money to keep him.
Teams like the Baltimore Ravens and San Francisco 49ers are shaping up as early candidates in a possible trade for the seven-time Pro Bowler. Wherever Jones ends up, one part of that franchise's fan base will see an aging, 32-year-old star who played only nine games a year ago while the other half will envision the sure-handed stud who averaged 100 catches the three seasons before last year's injury-plagued campaign.
Either way, hobbyists will be paying attention to this card. This 2011 Topps Chrome rookie is going for around $420 now, down more than $200 from where it sat near the start of last season. Jones' mere presence in a new jersey will create some buzz. If he couples that excitement with a healthy year of balling out (while still climbing the all-time charts), hold your helmets for this card's ride up.  
Kenny Golladay- 2017 Donruss Optic Holo
We like Kenny Golladay's game a lot. While some people might focus on an injury-filled 2020, we'd rather think about everything he did in a healthy 2019, like the NFL-leading 11 receiving TDs. Now healthy, Golladay has moved on to the New York Giants with a March '21 signing. Though Sterling Shepard and Darius Slayton are solid wideouts, we're already plugging Golladay in as the team's top receiver. On top of that, we're already hearing good things about his early chemistry with Giants QB Daniel Jones.
All of that said, we know this isn't the sexiest card from the 2017 Donruss Optic set. But investing isn't only about the big moves; less obvious ones like this also deserve a spot on your roster. At $90-100, this card is a reasonable one with real potential. It's been a few seasons since Giants fans had a receiver with flair, but if Golladay can get back to his 70-receptions, 1,000-yard marks, they'll possibly have their next elite WR and you'll have a card that doubles in value.
Antonio Brown- 2010 Donruss
Hear us out on this one: Antonio Brown isn't done yet. Yes, he's 32 and, okay, he only mustered 483 receiving yards for Tampa Bay a season ago. But he's also the same guy who had a solid playoff run (8 catches, 2 TDs) and just came back from a surgery to clear up some lingering knee issues. Oh, and there's also the fact that he's being welcomed back with open arms to an organization that has Tom Brady as its starting quarterback.
Scooping up this 2010 Donruss RC has all the makings of a smart, quiet play. Floating between $70 and $100, this card is a bargain for a player who's next to Julio Jones on most active receiving stat lists and someone who'll be a part of Hall of Fame deliberations in a few years. With a PSA 10 POP of 75, this card won't be a cakewalk to find, but should you come across one, grab it, stash it and hope Brown quietly falls into the role as Brady's second- or third-best option.
Track your collection and maximize your profit with Market Movers, the hobby's most powerful sports card pricing platform! Learn more here.