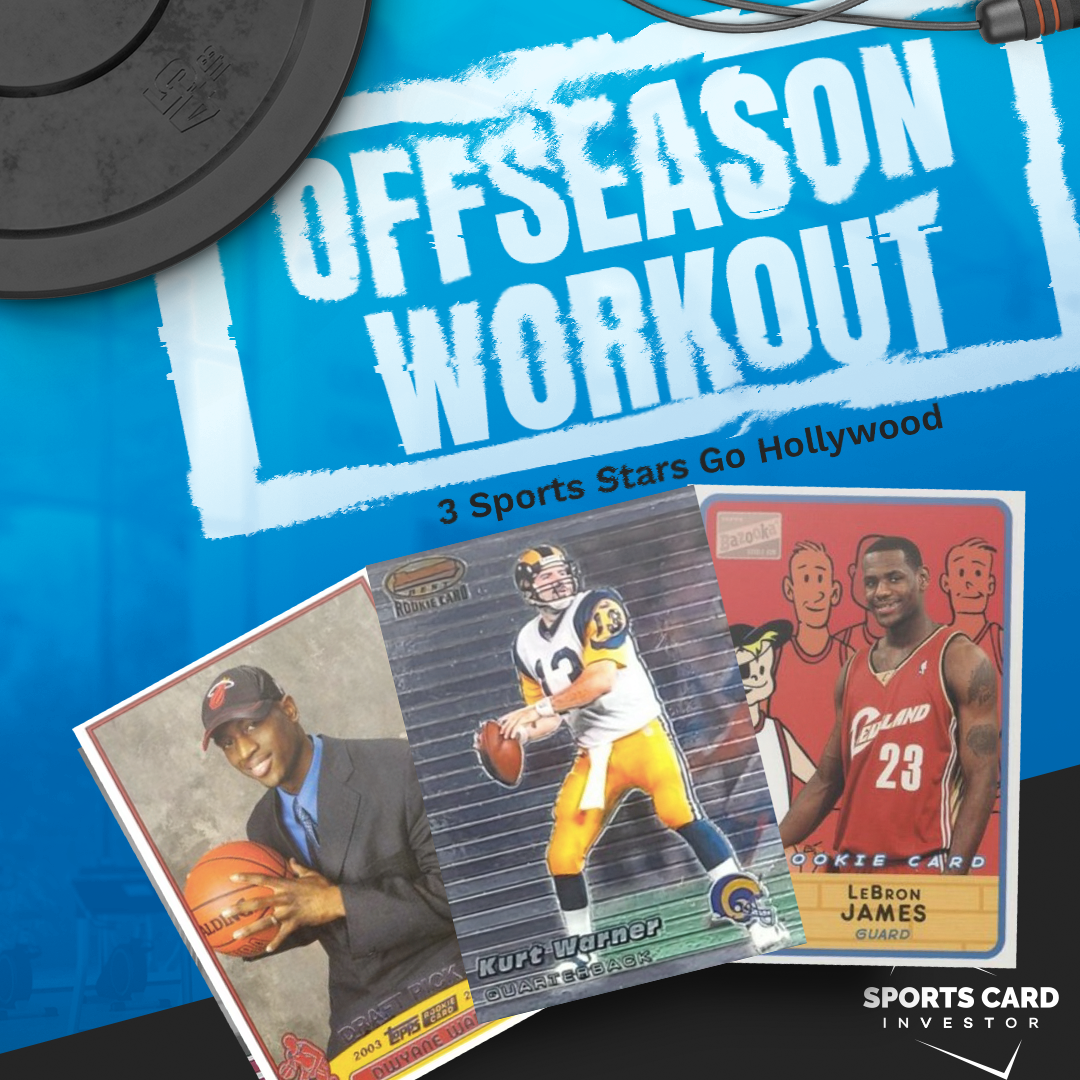 Athletes taking their talents to the screen is nothing new. Kareem Abdul-Jabbar, Jim Brown and Alex Karras did it quite well for years. More recently, guys like Shaquille O'Neal, Mike Tyson and Rick Fox haven't exactly stolen many scenes with their on-camera performances, but it's been fun watching them show another side to their jock personas. And you have to admit that former New York Giants linebacker Michael Strahan is doing a better job at hosting The $100,000 Pyramid than you ever imagined, right?
This latest cast of sports characters getting in on the Hollywood fun includes an NBA superstar in a sure-fire blockbuster, an NFL legend getting a feel-good flick based on his life and one future hall of famer who's decided to follow Strahan in the hosting world. While we don't know the exact extent that these players' cards will be impacted by all the exposure, we can't act like the hobby won't be taking notice.
LeBron James, 2003 Bazooka
Even if you don't consider the original Space Jam essential viewing, the Michael Jordan-starred movie's impact on popular culture can't be denied. Hell, many sneakerheads consider the Air Jordan 11 Space Jams to be the finest pair of tennis shoes ever released.
We aren't expecting Space Jam: A New Legacy, which stars LBJ, Anthony Davis and Damian Lillard, to break any new cinematic ground, but with Warner Brothers' deep pockets and an impressive creative team (director Malcolm D. Lee, producer Ryan Coogler), we aren't expecting an extended Saturday morning cartoon, either.
With A New Legacy, James not only gets two hours on the big screen (plus valuable time in homes with HBO Max streams), but his face will be plastered on cereal boxes, toys and McDonald's happy meals for months. One card that could see a push from all the publicity is James' 2003 Bazooka rookie. A somewhat reasonable RC option, this PSA 10 is an attractive buy now at $3,800, seeing as how it sold for more than $8,000 a couple of times just in May.
Kurt Warner, 1999 Bowman's Best
Kurt Warner trended on Twitter last week when the first footage of American Underdog: The Kurt Warner Story, the movie based on his supermarket-worker-turned-Super-Bowl-champ's life, was released. And while the blah trailer doesn't call for actor Zachary Levi to ready his Oscar speech, we can't ignore the attention that'll be coming the former Rams QB's way.
The best long-term play here is Warner's 1999 Bowman's Best rookie card. The PSA 10 has floated between $140 and $175 for the past month, but as more trailers drop prior to the movie's December 10 debut, some excitement could build for this card.
Dwyane Wade, 2003 Topps
The Cube is a new TBS show where contestants have to endure pressure-packed physical challenges — think you could put 25 balls in a hole in 20 seconds using just one hand? — while being confined in a box. If participants need an assist, show host Dwyane Wade can help out. It's not a terribly trying gig, but D-Wade adds just enough heart and humor to keep things moving along. Extremely comfortable in the position, Wade could easily use this as a jump-off point for bigger roles on TV and even movies in the future.
This '03 Topps is one of our favorite Wade rookies. Like almost every card, this one has taken quite the hit this year. This RC has been selling under $475 since mid-June, down from $800 in late April. But with The Cube taking the former Miami Heat star out of his basketball element, there's a chance that showing this new side could nudge the card back in the right direction.
Track your collection and maximize your profit with Market Movers, the hobby's most powerful sports card pricing platform! Learn more here.