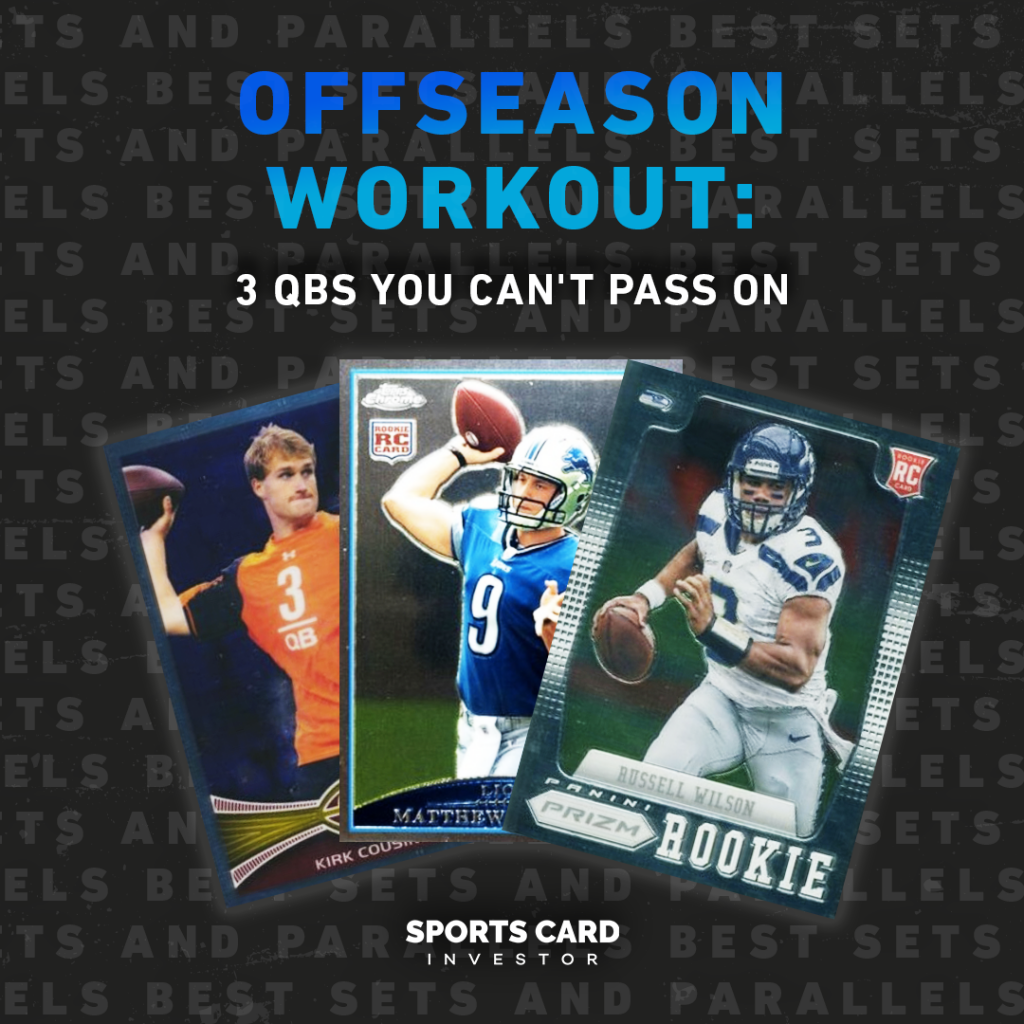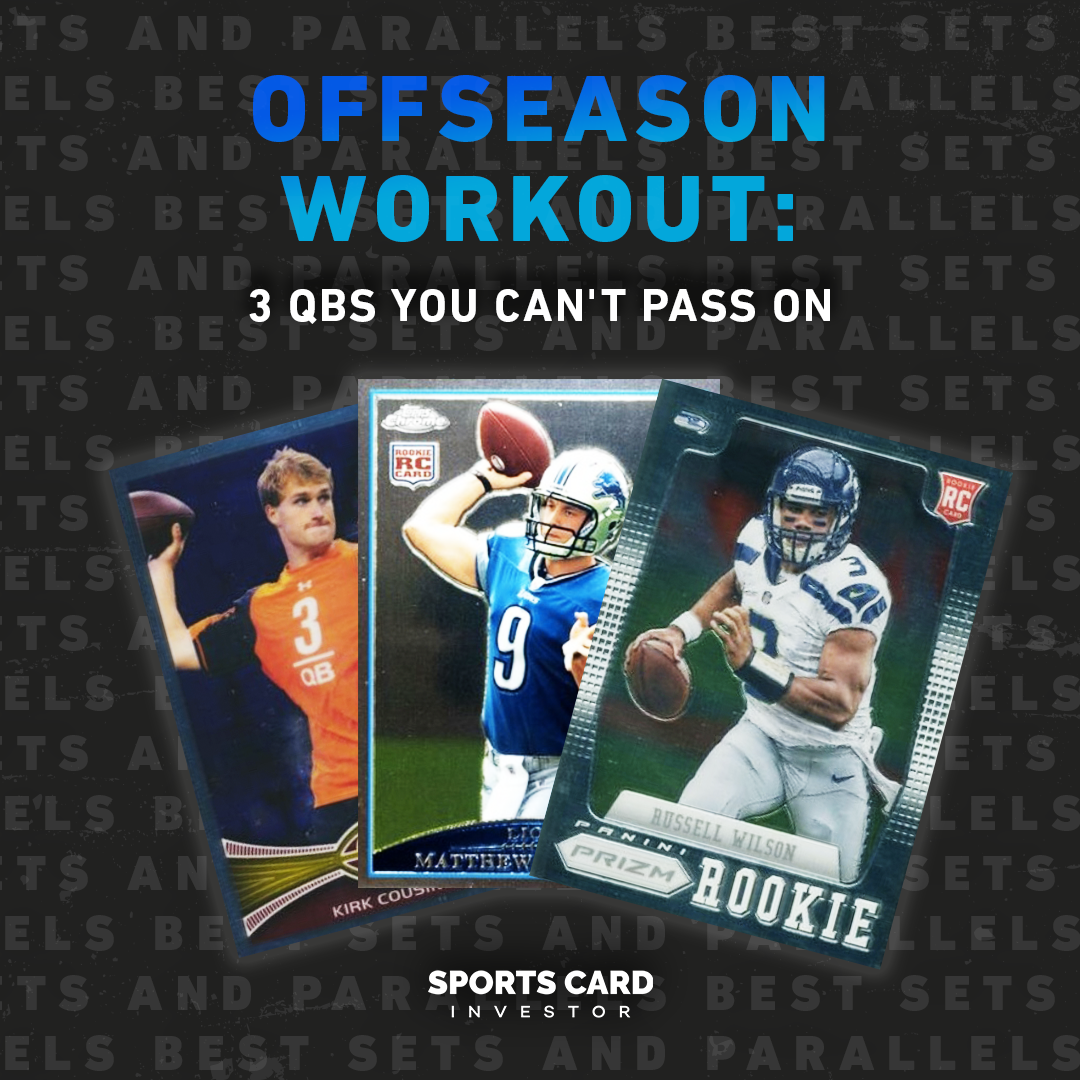 Offseason Workout: 3 QBs You Can't Pass On
The funny thing about card investing is that it's not always about who can discover the next breakout star first or who can predict the guy on the cusp of a career renaissance. Sometimes the best market moves are hiding in plain sight.
This week's "Offseason Workout" picks, for example, are three starting quarterbacks — two of which are heading in the general direction of Canton, Ohio once their playing careers are over — who consistently put up big numbers on the field but, for whatever reason, their rookie cards have taken a tumble recently. But that news shouldn't stop you from purchasing them now. If anything, the lower price tags on cards for signal callers you know will deliver this coming season is added motivation to make a deal.
Russell Wilson- 2012 Prizm PSA 10
Now that the "Russell Wilson might be leaving Seattle" murmurs have muted, we can focus on the important things, like how the Seahawks are going to get back to being an NFC force. The team extended wide receiver Tyler Lockett's contract for four years and made a few smart moves on the defensive side. That's a start. And if tape like this means anything, Wilson's other favorite target, DK Metcalf, already looks to be in great shape. That's scary. All of that should make the eight-time Pro Bowl QB somewhat content. And you know what a happy Russell Wilson probably means: lots of big numbers on game day.
Back in September/October, Wilson's 2012 Prizm rookie was soaring around $2,500. But, for some reason, in the midst of a 12-4 regular season, prices fell under $2,000, then to $1,500 and finally, after a disappointing Wild Card loss to the L.A. Rams on January 9, the card dropped all the way down to $800. It has since bounced back to over $1,000, and when Wilson has the Seahawks in the playoff hunt in November, it could be approaching the $2,000 mark again.
Kirk Cousins- 2012 Topps Chrome PSA 10
You might call Kirk Cousins' game methodical, but the man gets results. No. 8 simply goes about his business on Sundays, heads home to play with his two kids and does it all again the following week. But while you clamor for more excitement, Cousins is quietly No. 11 on the NFL's active passing yards list and leading his teams to winning records in four of the last six seasons.
The number of Cousins' 2012 Topps Chrome PSA-graded cards (94) pales in comparison to what other QBs from the 2012 class, like Wilson (2,342) and Andrew Luck (1,921), have on the market. Use that oversight to your advantage. Stash a few of the $70 cards away (if you can find'em) and when the stoic-but-steady Cousins has the Minnesota Vikings in the Wild Card hunt again, you'll be ready to make your move.
Matthew Stafford- 2009 Bowman Chrome PSA 10
Everyone knew it was time for a change for Matthew Stafford in Detroit. Twelve seasons in the D were filled with highlights, but the only stat that people seemed to care about was three—as in the number of playoff appearances the Lions have had with Stafford as the starting QB. Who knows if a move to Los Angeles will change all of that, but we do know that Rams receivers Robert Woods and Cooper Kupp are real talents and 73-degree November days in Southern California are tantalizing.
But if we're talking temperatures, Stafford's 2009 Bowman is lukewarm at best right now. When it was official that the gunslinger would be heading west, the $300 price the card was getting hopped over $450. They've since fallen back to around $300. But it's clear there's still excitement surrounding Stafford's name. Once folks see tape of him tossing balls in a Rams jersey, this card will likely spike again.
Track your collection and maximize your profit with Market Movers, the hobby's most powerful sports card pricing platform! Learn more here.