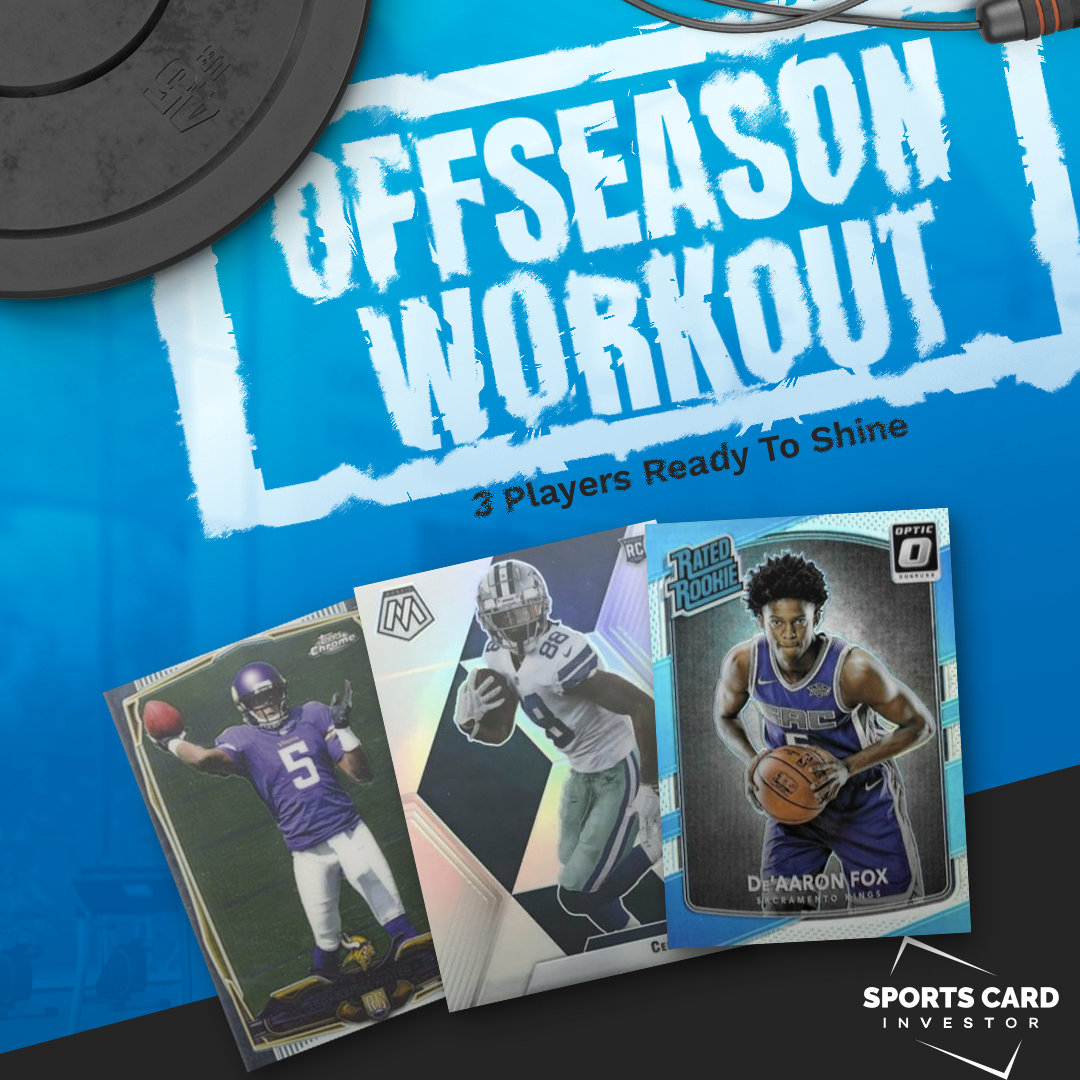 Football minicamps have commenced. Some guys have looked sharp. Others have seemed a little off. A few haven't even bothered to show up. Professional analysts have hopped on social media to give their opinions on all that they've seen. Fans have done the same thing. Welcome to June around the NFL.
One other thing these camps tend to hype are position battles. All around the league, we're hearing about rookies competing with vets, free agents facing off with already-established players and teammates fighting it out for better spots on the depth chart. It all makes for great chatter on Twitter.
Prospecting in the hobby is pretty good around this time, too. Which brings us to the following trio. All three guys (two in the NFL, one in the NBA) are in situations where they can potentially break out this upcoming season. Should that happen, these cards will reap the benefits.
CeeDee Lamb- 2020 Mosaic Silver
According to reports, Dak Prescott and his right ankle look great at Dallas Cowboys practices. It certainly can't hurt the healing process having weapons like Ezekiel Elliott, Amari Cooper and CeeDee Lamb in the same huddle. Unfortunately, we've also heard whispers that Cooper isn't 100%. Though the ankle pains aren't thought to be serious, the predicament might leave a window open for Lamb to take the unquestioned top receiver slot. The sure-handed receiver had 74 receptions and gained 935 yards a year ago. If Prescott looks his way even more, who knows what the 2021 numbers might look.
And speaking of numbers, this 2020 Mosaic Silver hasn't been moving much over the past few months. Prices are down 53% from late March to $175 at press time, but if Lamb can snatch a few training camp headlines and get an even better rapport with Prescott, any purchases you make now will look like a bargain come fall.
Teddy Bridgewater- 2014 Topps Chrome
Denver Broncos head coach Vic Fangio said the team's starting QB quandary is nowhere near a resolution. Seems like Drew Lock and Teddy Bridgewater will get an equal shake at the job this summer. That said, if we had to send a guy out there for Week 1 based on past performances, it would probably be Bridgewater. When healthy, the 28-year-old QB (3,733 yards and 15 TDs in 15 games in 2020) can get an offense downfield in a pretty efficient manner. We bet he'll prove that Fangio and Co. over the next few months.
Once the position news becomes official sometime over the next eight weeks or so, we probably won't see much immediate change in this rookie card's $30 sticker. But what if this experiment pans out? What if Bridgewater and the Broncos' Jerry Jeudy and Courtland Sutton start to really click? People will begin looking for his cards then. And guess what? You'll be waiting in the wings with this 2014 Topps Chrome, asking for at least double what you paid for it.
De'Aaron Fox- 2017 Donruss Optic Holo
Of course, collectors know the waiting game doesn't just apply to football. Though basketball season is currently still in full swing, NBA teams that didn't make the playoffs have plenty of interesting storylines. One perennially struggling squad that we simply can't ignore is the Sacramento Kings. De'Aaron Fox, who averaged 25 points and seven assists this past season, is the team's leader. With him, Tyrese Haliburton and Marvin Bagley Jr. on the roster, it's only a matter of time before it all comes together.
But we can't promise it'll happen next year, though. The West will again be ridiculously deep in '21-22. What we can promise card collectors is that Fox will come out ready to play next season. We're thinking this card will be ready, too. It hasn't had much movement since early spring, but if you can find a PSA 10 in the $350 range now, grab it. When the season restarts and this card approaches its past $500 high, you'll be glad you made the decision.
Track your collection and maximize your profit with Market Movers, the hobby's most powerful sports card pricing platform! Learn more here.