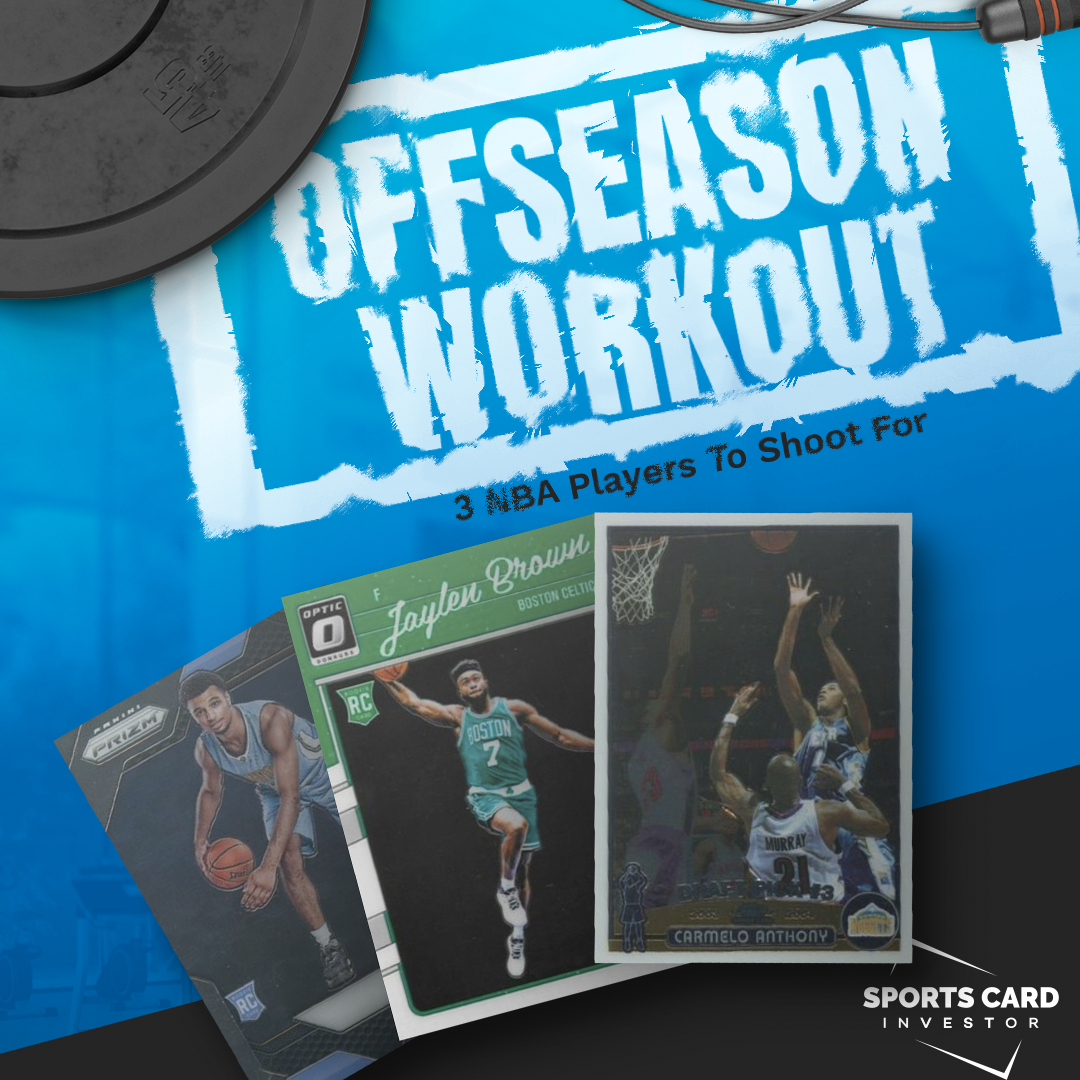 Though the past week around the NBA was filled with off-the-court headlines — head coaches have resigned, Zion Williamson is reportedly unhappy in New Orleans and Kemba Walker is heading to Oklahoma City in a trade — there's still lots of actual conference finals action left to be played.
The three players listed below would love to still be playing. Unfortunately, their teams' playoff dreams ended a lot sooner than they would have hoped. Boston's Jaylen Brown and Denver's Jamal Murray were injured during the postseason, so their fans have been playing the what-if game in their heads for some time now. Portland's Carmelo Anthony averaged 24 minutes per game in the playoffs, but it still wasn't enough to get his Trail Blazers out of the first round.
Because of these teams' unceremonious exits, card prices for these players took a hit. But these are temporary hiccups. These guys will be back — and yes, we're including Melo, who's already said that he wants to play a 19th NBA season — and they'll have vengeance on their minds. Makes sense then to capitalize off the current dips before they right their teams' ships next season.
Jamal Murray- 2016 Prizm Silver
Murray's showing during 2020's NBA bubble was incredible. He averaged 26.5 in 19 playoff games, including three straight games where he scored 50, 42 and 50. He started the '20-21 campaign with the same fire, dropping 30+ in three of Denver's first five games. But on April 12, 2021, Murray went down with an ankle injury that sidelined him for the remainder of the regular season and each of the Nuggets' 10 playoff games. The masses may have forgotten how good he really was, but best believe he'll be anxious to remind them all about it next season.
This RC was $2,000 in mid-December. After Murray's injury, the card immediately hobbled down under $900. While it has managed to rebound somewhat since the Nuggets were swept by the phenomenal Phoenix Suns, there's still room for an even bigger turnaround. When Murray returns to his bubble-balling ways next to reigning MVP Nikola Jokić, this card should get its bounce back.
Jaylen Brown- 2016 Optic Holo
Though Jayson Tatum had a virtuoso playoff performance, Jaylen Brown was the Celtics' missing piece. And it wasn't just Brown's 24 points and six rebounds that Boston could have used during its first-round loss to the Brooklyn Nets; it was his length, his defensive presence and overall energy on the floor that the squad was without. Brown's wrist surgery appears to have gone very well in May, so that's great news. Kemba Walker's exit to OKC is a blow, but a '21-22 Celtics roster with a healthy Brown and Tatum on it is a headache for the league.
And watch, as soon as No. 7 gets back out there, this rookie card will resurrect. We can't say for sure that the card will approach its $575 highs from April, but it certainly won't remain in the $270s like it is now, either.
Carmelo Anthony- 2003 Topps Chrome
It may not seem like it on most nights these days, but Portland's Anthony can still ball. Melo dropped 18+ in 20 regular season and playoff games this season. That ain't bad for any pro, especially one who was drafted back in 2003. And Anthony insists he isn't done yet. If he gets a new contract, you can bet he'll still be knocking down baseline 18-footers just like old times.
But even if Portland nor any other team grants his playing wish, Melo's story will have a happy ending. The 10-time all-star is a no-brainer selection for the Basketball Hall of Fame in five years. When that hall call finally comes, you know what this PSA 10 is going to do—rise from its present perch around $385 back over $900. So, it's no matter if this '03 Topps Chrome is a five-year hold or a five-month one, you'll profit from your patience.
Track your collection and maximize your profit with Market Movers, the hobby's most powerful sports card pricing platform! Learn more here.
Note to readers: If you purchase something through one of our affiliates we may earn a commission.