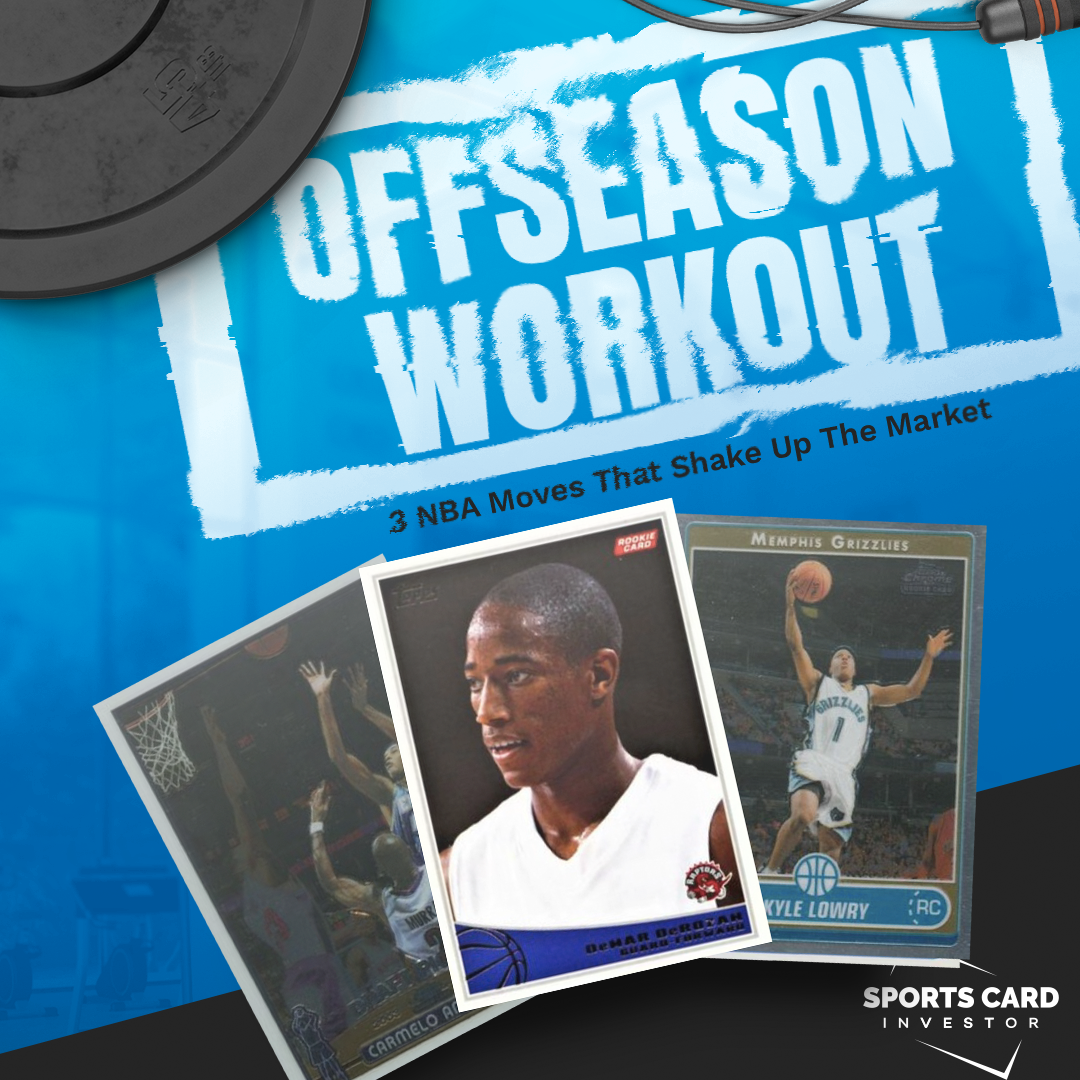 The past week of NBA free agency has been an absolute madhouse. Stars have changed addresses. Big names have re-signed for long-term deals. A few solid starters are still waiting on their agents to call them back with news of their next assignment.
DeMar DeRozan, Kyle Lowry and Carmelo Anthony had made hundreds of millions in the NBA. By the time deals with their new teams come to an end, the three former all-stars will have earned another $170 million-plus between them. Needless to say, money is not their issue. They're in it to win now. And each guy believes his new squad has a long playoff run in them. While we may not necessarily share their optimistic sentiment about the standings, we do know that all of these moves are potentially big wins in the hobby.
DeMar DeRozan, Chicago Bulls
Things never quite worked out with DeRozan in San Antonio. Yeah, he averaged 21.6 points in 206 starts with the Spurs, but it all felt like empty calories. Bulls fans are hoping his move to Chicago proves a bit more filling. We know that DeRozan and the Bulls' Zach LaVine basically play the same position, but we trust the two (with the newly-acquired Lonzo Ball assisting where he can, of course) will learn to eat together.
LaVine averaged over 27 points a year ago. DeRozan didn't have anywhere close to that kind of support last year in Texas. With the added help, the 12-year vet could be in for a big year. And you can only imagine what that would mean for his cards. His 2009 Topps RC has an extremely low pop of 31, but should one come available in the $200-250 range, it might be a good move because $400 sales were the norm back in March.
Kyle Lowry, Miami Heat
Lowry means so much to the Toronto organization that, even though the 6'0" guard has signed a multi-year deal with Miami, the Raptors have already announced that they'll honor his stellar nine-year stint by retiring Lowry's jersey when his career ends.
That last paragraph is great news on two fronts. For starters, playing alongside Jimmy Butler and Victor Oladipo sounds like the making of some fun fast breaks for a Heat squad that was embarrassed in a four-game playoff sweep. Second, with word of Lowry's jersey going up in the rafters, we have ourselves a long-term play. Might be the perfect time to stash away a few Lowry cards, like his 2006 Topps Chrome RC. Though it's only fetching about $400 now, it has seen $1,500 days.
Carmelo Anthony, LA Lakers
The only time Melo and LeBron James have ever played together has been on Team USA. That all changes this coming season, of course, when the two 2003 NBA Draft classmates join forces in Staples Center.
Anthony certainly had a few moments last year (six games of 20-plus points after March 1), and if he can replicate that in L.A., the Lakers will have their fourth scoring option (after James, Anthony Davis and the newly-signed Russell Westbrook) down the stretch.
Just imagine what a lengthy postseason ride can do for Anthony's stock in the hobby. His 2003 Topps Chrome is currently going for $500-600, a far cry from the $900 it commanded just in May. While the first-ballot hall of famer's best days are over, it'll only take a few good showings in primetime regular-season games and a solid playoff night or three to get Melo back on hobbyists' minds.
Track your collection and maximize your profit with Market Movers, the hobby's most powerful sports card pricing platform! Learn more here.
Note to readers: If you purchase something through one of our affiliates, we may earn a commission.