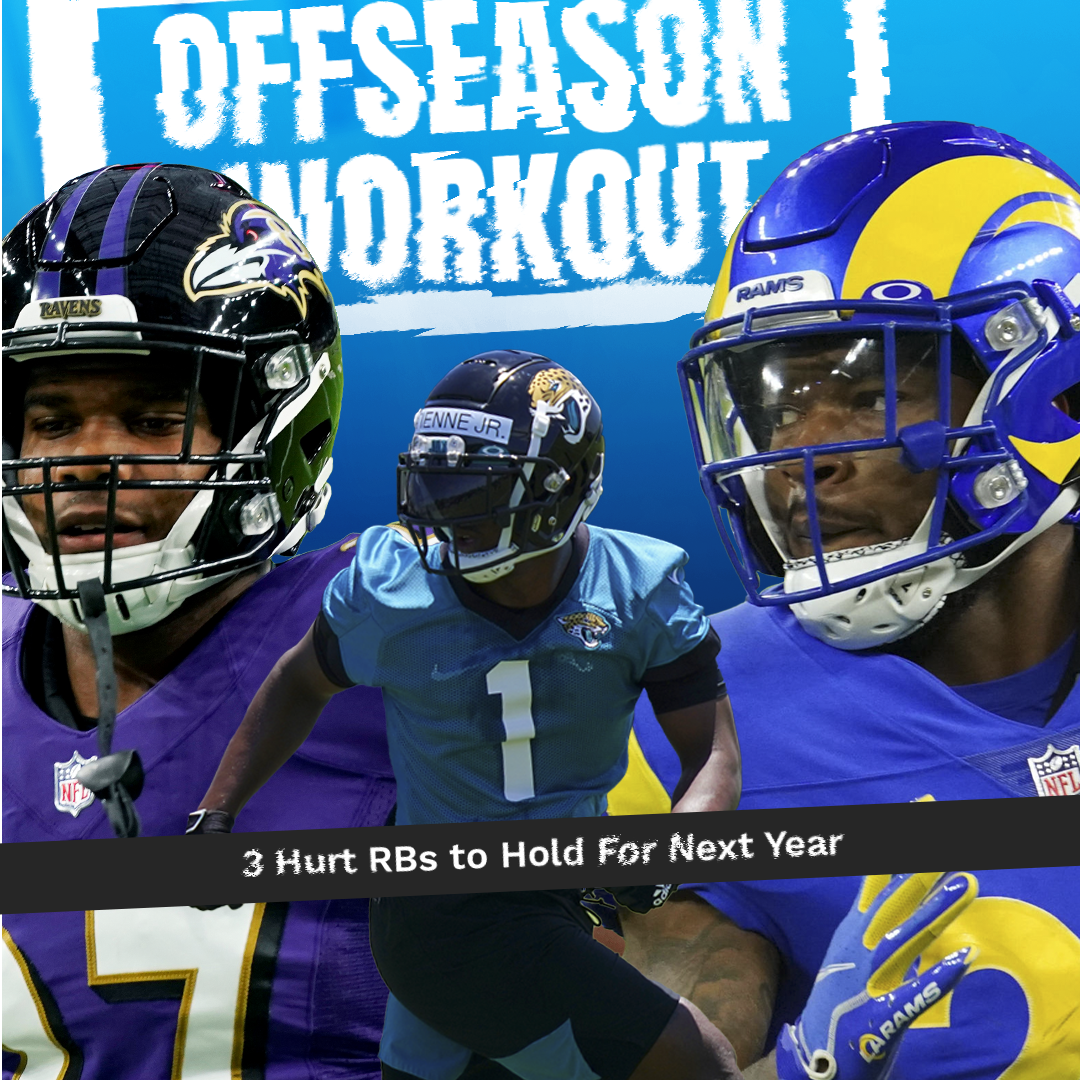 To preseason or not to preseason, that is the question. If you're an NFL fan, you're probably pretty passionate about one side of the argument or the other. Yes, players need to get out on the field and experience some action at a true game speed. But no, you don't want to put your players in any unnecessary situations for risk of injury.
On August 29, most Baltimore fans probably joined the growing "preseason sucks" contingent when the team's promising young running back, J.K. Dobbins, went down with a season-ending ACL injury in the first half of the Ravens' preseason tilt with Washington. The news was a heartbreaking headline for the 22-year-old Dobbins and the franchise.
But if the Ravens were looking for any sympathy from the L.A. Rams or Jacksonville Jaguars, they weren't going to find it. As you'll read below, those teams are dealing with their own big blows in the backfield. But while spirits might be down in the locker rooms, there is a pinch of optimism—these three running backs all have a great work ethic and the determination to get back out there. And when they do, you'll have their rookie cards at the ready to feed off the return hype.
Cam Akers, 2020 Mosaic Silver PSA 10
This injury happened back in late-July yet it still hurts. Akers, a shifty runner with good hands, was coming off an impressive debut season where he rushed for over 600 yards in parts of 13 games. With the rifle-armed Matthew Stafford now under center for the Rams, the offense had hopes of opening up and Akers going wild between the tackles. But alas, he's down with a ruptured Achilles while Darrell Henderson and newly acquired Sony Michel tussle for carries.
Running backs don't have the greatest history with returns from a ruptured Achilles, though. We can't ignore that fact. Still, the glimmer of greatness you saw in Akers a year ago, hopefully, hasn't been lost forever. So, with that said, it makes sense to put a few 2020 Mosaic Silver PSA 10s aside. While prices might be around $100 today, if he can show his legs are back sometime next season, the card's value could sprint well past that mark.
J.K. Dobbins, 2020 Mosaic Silver PSA 10
A season ago, Dobbins shared much of the Ravens' rushing workload with Gus Edwards. It seemed as if Dobbins was taking the lead in the running-back-by-committee approach for Baltimore. He has a hard-running style and doesn't try to get too cute out there. He had the makings of a star. He just needed the coaching staff to let go of the regular-season reins a little.
The preseason injury most definitely stings. Dobbins is a chiseled specimen who hasn't had to deal with much in the training room, so it's going to be interesting to see how he responds. The same goes for his card market. With his 2020 Mosaic Silver PSA 10 dropping to $89 on August 29 (down from $100 on August 17), the next couple of weeks may be a good time to put one aside and see how Dobbins returns in '22.
Travis Etienne, 2021 Panini Elements
Trevor Lawrence, the all-everything QB at Clemson, had reunited with the Tigers' do-everything running back, Travis Etienne, at Jacksonville. A Hollywood screenwriter could not have penned it any better. But you know how those movie scripts go—full of heartache and plot twists. Just like on the big screen, this feel-good story hit a serious snag on August 23, when Etienne went down with a serious foot injury. Though he's likely done for the season, the Jaguars are optimistic about their young stud's '22 outlook.
And that's what we want to hear around the hobby. If Etienne, a guy who collected more than 3,500 yards from scrimmage at Clemson over the last two years, can get back to that kind of explosiveness, the raw Elements and Certified cards you're stashing away today will be really worth something in a year. It just takes a little patience. But hey, if Etienne and the others can endure 12 months of grueling rehab, the least you can do is put away a few cards for safe keeping.