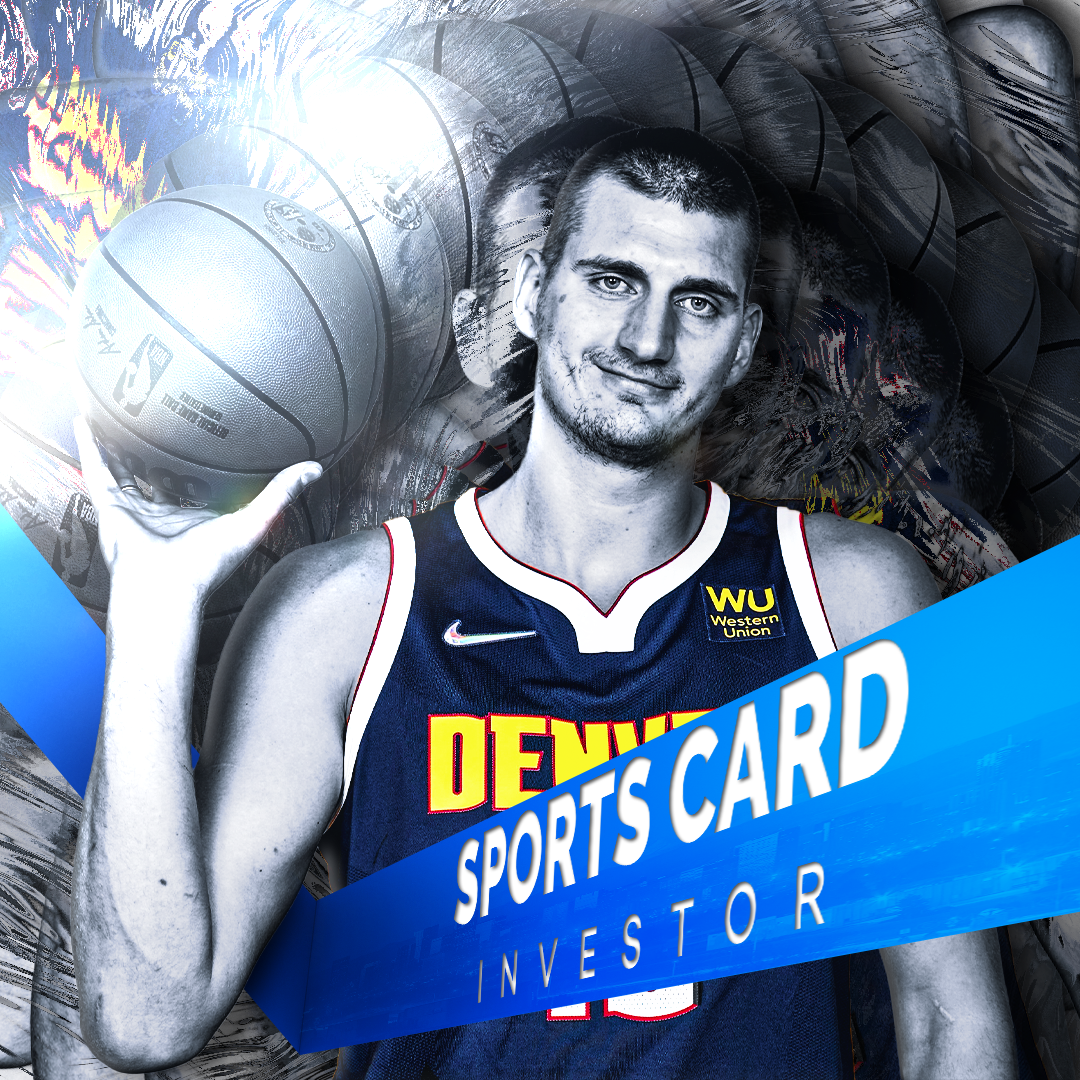 The Joker is a former second-round pick who has won two NBA MVP awards before the age of 27. As a center who essentially runs the Nuggets offense like a point guard, the 6-foot-11 beast has finally started to earn some well-deserved respect not only in NBA circles, but also in the hobby. Sports card investors are starting to pay attention to Jokic as a legit investment, especially with the Nuggets in contention in the Western Conference.
As he chases a third straight NBA MVP award, let's take a look at Jokic's best rookie card sets and parallels. But be advised, as a second-round pick back in 2015, the selection is limited compared to more recent rookie cards of first rounders. However, as we dive in, you'll still find some hidden gems that could change your collection in a significant way – just as Jokic himself has broken the mold in the NBA at the offensive end of the court.
VALUE ROOKIES:
The Value Tier includes cards with high print runs or lower-quality cardstock. A good fit for new collectors or those on a limited budget.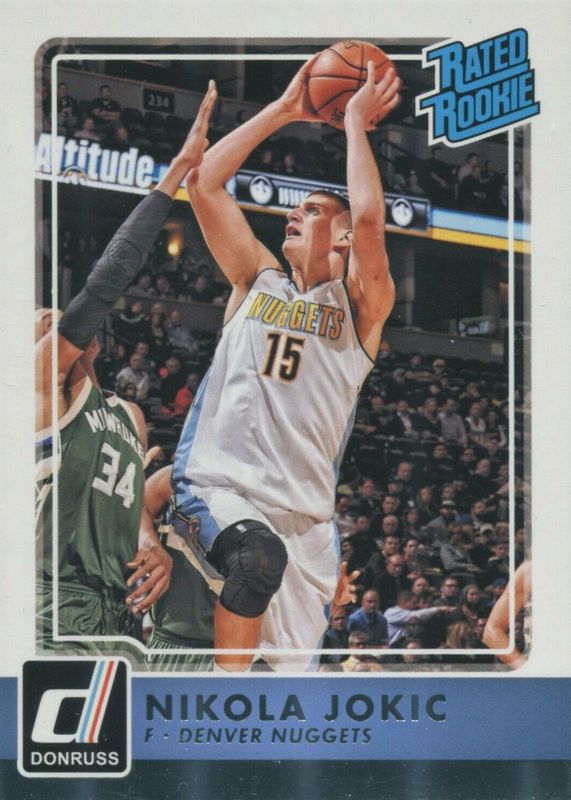 2015 Panini Donruss Base – The classic Donruss Rated Rookie that we've all been familiar with since the mid-1980s baseball card sets. An updated look on the classic throwback, the Joker is nailing a fadeaway jumper from the paint against who else but fellow two-time NBA MVP Giannis Antetokounmpo. This card has a PSA 10 population of just more than 300, and is selling for just under $350, making it a solid value for such a recognizable design.
2015 Panini Excalibur Base – The second year of this brand release, Excalibur featured the Kaboom! insert in 2015. Jokic's base PSA 10 from this set sold for $260 in December 2022, and raw examples sell for about $60. Excalibur features a nice action shot, with a patterned background and the classic RC shield in the top left corner.
2015 Panini Revolution Base – Featuring a great action shot of Jokic nailing a jumpshot in his baby blue Denver Nuggets uni, the Revolution base has a blue, black and white patterned background with the Nuggets logo in the top right and the RC shield in the bottom left. Raw, it sells for just north of $40.
POPULAR ROOKIES:
This tier includes cards from the most popular sets across both retail and hobby formats. Typically easy to buy or sell when needed.
2015 Panini Prizm Base – The classic Prizm Base rookie has the Joker approaching the rim for a finger roll isolated by the Prizm backdrop that we've all come to know. In PSA 10, this card has continued to rise in value, and become the most liquid Joker rookie, selling for more than $600 recently. Variations include Silver, Green, Ruby Wave /350, Light Blue /199, Purple /99, Orange /65.
2015 Panini Select Premier Level – Another relatively low pop card in PSA 9 (163) and PSA 10 (93), the Select Premier Level is another liquid card raw and across all grades. With Jokic in his Nuggets baby blues popping out against the silver and gold Select backdrop shooting a free throw, this is another card with the RC shield that investors should take very seriously. There are rarer variations, such as Silver, Tri-Color, Blue Die-Cut /199, Purple Die-Cut /99, Tie-Dye Die-Cut /25 and Gold Die-Cut /10 (which last sold for nearly $5k in October).
MORE UNIQUE ROOKIES:
This tier includes cards with lower print runs, unique designs, or cards from hobby-only products. Usually higher-quality cards than the Value or Popular tiers, though not necessarily more popular or easier to buy or sell.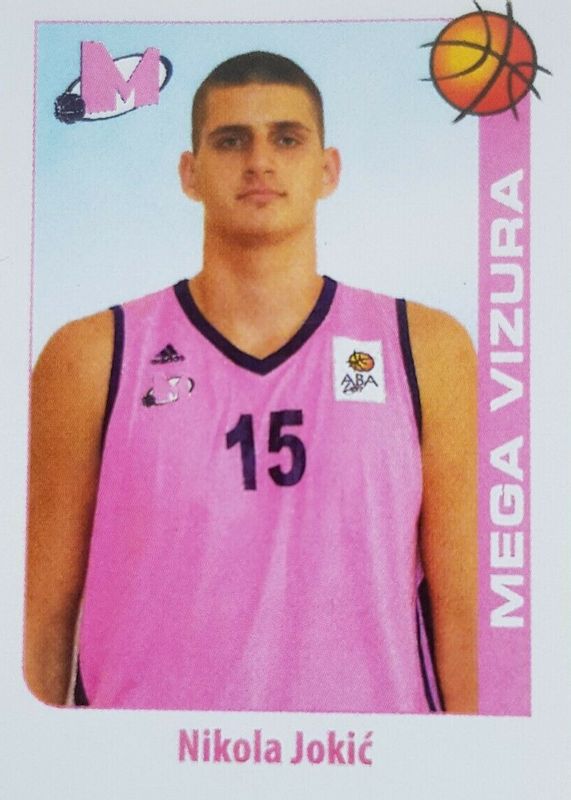 2014 School Shop ABA Liga Base – In the summer of 2012, Jokic signed a contract with Mega Vizura, and in the first season with the team he played for their junior team. But in 2014, he appeared in this sticker set as part of the ABA (Adriatic Basketball Association), making this technically his first professional card/sticker. Some call these "XRCs," but they essentially trade just like regular rookie cards. While this card sells raw for around $35, it's not widely accepted as an investment.
2015 Panini Prizm Silver – Mentioned above, the most liquid and popular short print of the king of all Panini brands, Prizm, sells quickly and easily for about 4x-5x the price of the Base Prizm in PSA 10 and currently holds a pop count less than 140.
RAREST AND MOST EXCLUSIVE:
This category may be out of reach for most collectors due to price, but they have the highest upside as investments heading into future International and World Cup Competitions and are still fun to look at. Don't worry if this tier is too pricey as there's a host of options in other categories that could be perfect for your collection.
2015 Panini Spectra Silver Jersey Auto – One of a few high-end Jokic rookie autos, the Spectra Silver features a jersey patch-relic and a sticker auto, the Spectra brand in the top right, the RC shield in the bottom left corner and the word "Prizm" on the back, denoting its silver SP variation.
2015 Panini Select Rookie Signatures /199 – A classic, clean design with an on-card auto and serial numbered to 199, the desirable rookie auto features the Joker posed staring at the camera with a basketball rested between his left hand and hip.
2015 Panini Limited Rookie Signatures /99 – Limited features Jokic in a Nuggets practice jersey against a black backdrop, and while at first glance, it looks kind of like a non-pro uni card, it in fact is part of an NBA licensed set, making it a very desirable card. The sticker auto leaves a bit to be desired, but since there are only 99 of these, it's a solid card.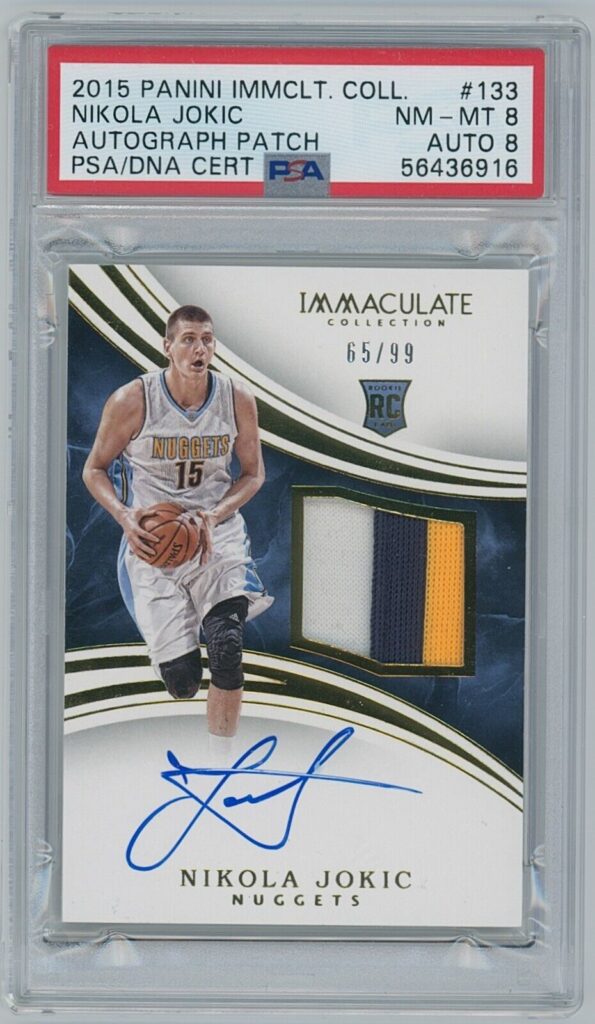 2015 Panini Immaculate Rookie Patch Auto /99 – The highest priced Joker autos, these feature the nicest patches – guaranteed player-worn – with on-card autos. This is the ultimate card for all Jokic collectors and investors to chase. Because it's rare, but not ultra rare, there's the perfect mix of desirability and liquidity.
2015 Panini Flawless Rookie Auto /25 – Rounding out the high-end Nikola Jokic rookie cards, the Flawless on-card rookie auto /25 will always have a ton of value. Featuring a great action shot of the offensive wizard bringing the ball up the floor, and perfectly centered design, the Flawless brand is etched on the top, with the RC shield, serial number and player and team name across the bottom.
With the Sports Card Investor app, you can profit from the hobby you love by keeping up with trending cards, tracking real-time prices with Market Movers and buying items on eBay. Download the industry-leading app here for Apple or Android
Note to readers: If you purchase something through one of our affiliates, we may earn a commission.
Paul Hickey is a regular contributor to Sports Card Investor, the creator of the Sports Card Investment Report at NoOffseason.com, and the host of the Sports Card Strategy Show on Apple Podcasts, Spotify and YouTube. He can be found on Instagram at @sportscardstrategy and on Twitter @nooffseasoncard.