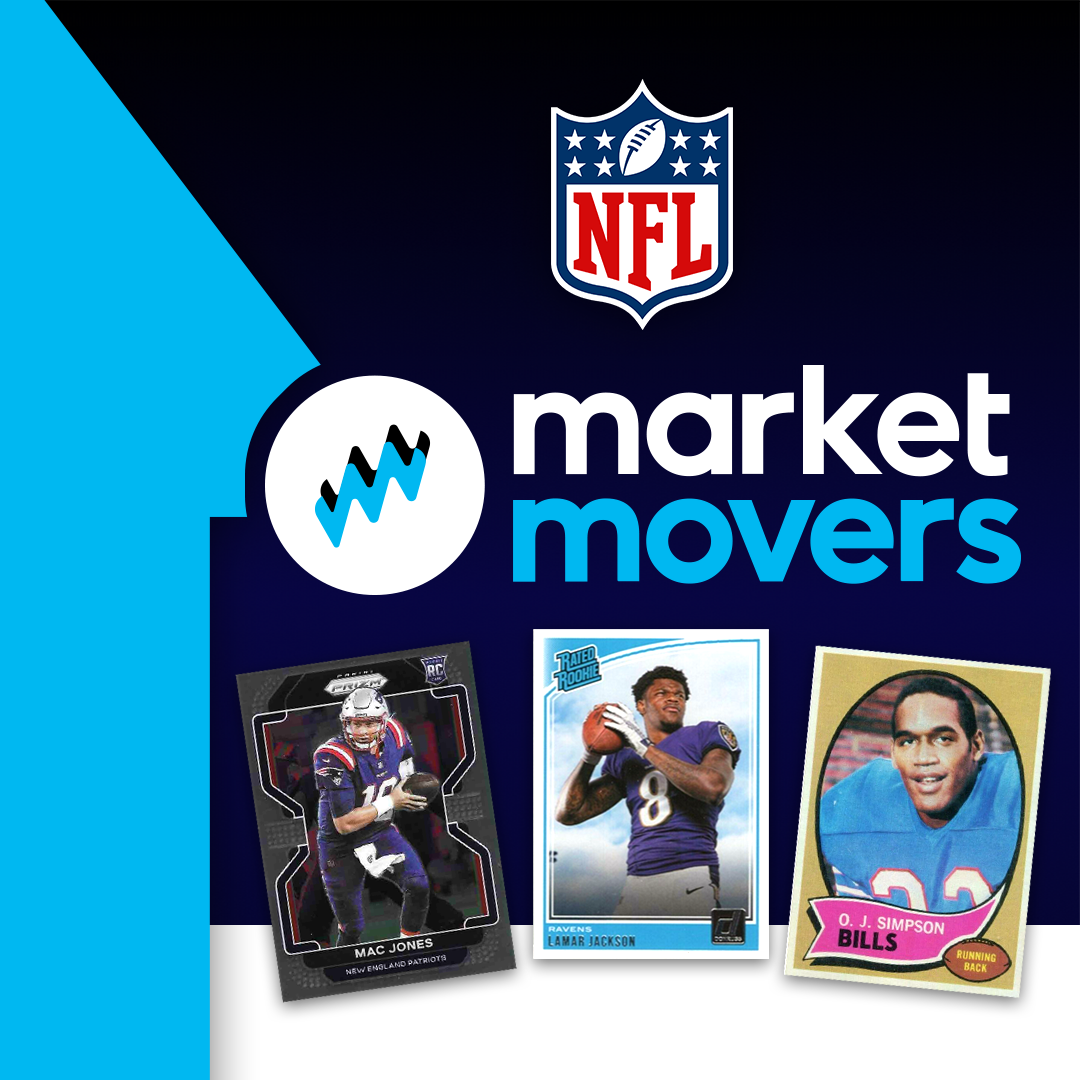 While players like Jalen Hurts and Tua Tagovailoa are having breakout seasons both on the field and in the hobby, several key QBs have had their worst weeks yet.
A high-ankle sprain has Mac Jones sidelined indefinitely and uneven play from Mitchell Trubisky could lead to a change at QB1 in Pittsburgh. Here's a look at those key QBs and other major risers and decliners, according to Market Movers.
Cards listed below are PSA 10s with a minimum of 10 sales over the last 30 days.
PRICE GROWTH PERCENTAGE RISERS
1. Tua Tagovailoa 2020 Score Base PSA 10 📈 247%
2. Jalen Hurts 2020 Illusions Base PSA 10 📈 186%
3. Stefon Diggs 2015 Prizm Base PSA 10 📈 175%
4. Patrick Mahomes 2017 Score Big Man on Campus PSA 10 📈 130%
5. Julio Jones 2011 Topps Base PSA 10 📈 119%
DIGGING IN: Buffalo Bills QB Josh Allen has seen his card prices soar in the hobby over the last year, but his No. 1 target is seeing similar love now, too. Wide receivers typically aren't considered great investments because it requires multiple things to go right — offensive line holding up for a QB to correctly deliver the ball — before they even get a chance to do anything. Diggs is worth a look if that's the path you're interested in taking, though.
It's not just this Prizm trending either — Diggs' PSA 10s tracked by Market Movers are up 38% collectively over the last 30 days across 45 sales.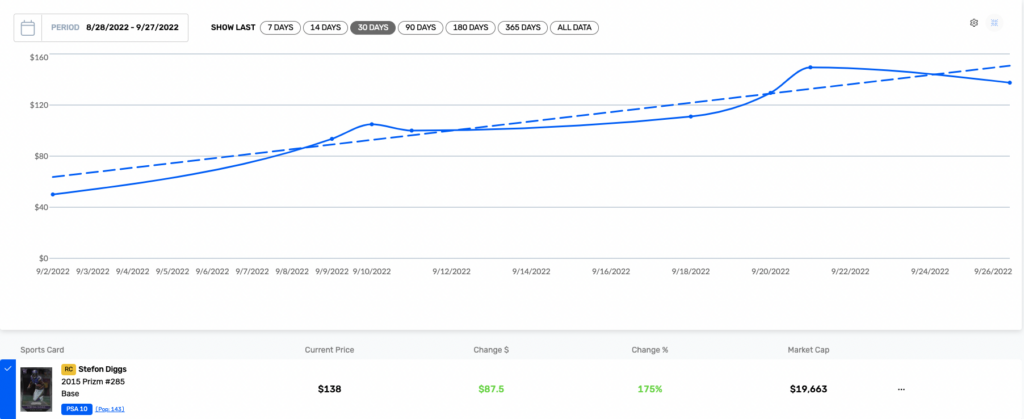 PRICE GROWTH PERCENTAGE DECLINERS
1. Trey Lance 2021 Donruss Base PSA 10 📉 75%
2. Mitchell Trubisky 2017 Prizm Silver PSA 10 📉 69%
3. Trey Lance 2021 Mosaic Reactive Orange PSA 10 📉 65%
4. Justin Fields 2021 Prizm Base PSA 10 📉 65%
5. Mac Jones 2021 Prizm Base PSA 10 📉 63%
MAC AND MITCH IN TROUBLE: Mac Jones' high-ankle sprain will certainly keep him out for a few weeks, but collectors holding the Patriots QB shouldn't be worried long-term. His cards will certainly dip during that time, but a rebound shouldn't be far behind his return.
The same can't be said for anyone holding Mitch Trubisky. It's hard to imagine many collectors viewing him as the long-term solution in Pittsburgh, but his time ahead of rookie Kenny Pickett may be ending sooner rather than later.
And as expected, Trey Lance lands on this list twice amid a season-ending injury. Things likely only get worse for Lance's cards before they get better.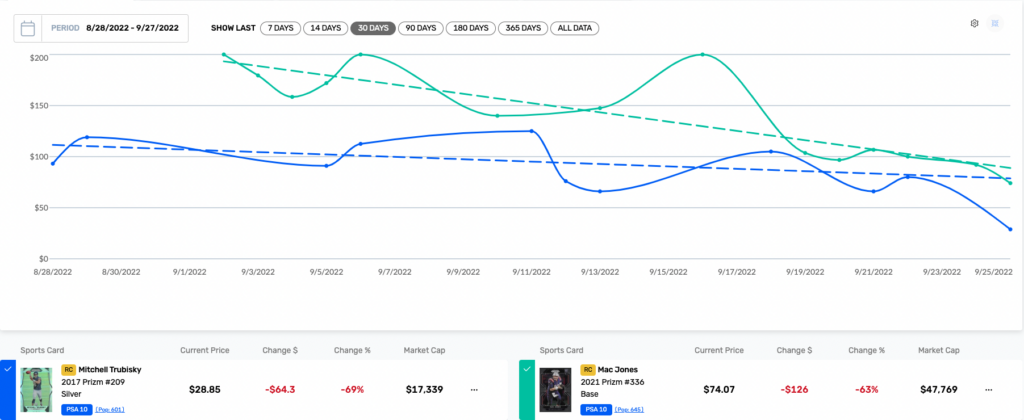 DOLLAR GROWTH RISERS
1. Tom Brady 2000 Skybox Dominion Rookies Pairs PSA 10 📈 $215
2. Jalen Hurts 2020 Select Field Level Silver PSA 10 📈 $205
3. Patrick Mahomes 2017 Prizm Silver PSA 10 📈 $193
4. Tua Tagovailoa 2020 Prizm Silver PSA 10 📈 $172
5. Tua Tagovailoa 2020 Prizm Red Ice PSA 10 📈 $126
TUA STAYS HOT: Few players in the NFL have seen their cards trending up more than Dolphins QB Tua Tagovailoa recently and that doesn't appear to be stopping soon. The third-year QB has tossed eight touchdowns to just two interceptions, and his 925 passing yards are second in the NFL to only Josh Allen's league-leading 1,014.
The addition of Tyreek Hill has completely transformed Miami's offense, and collectors holding Tagovailoa should be thrilled with the team's 3-0 start to 2022.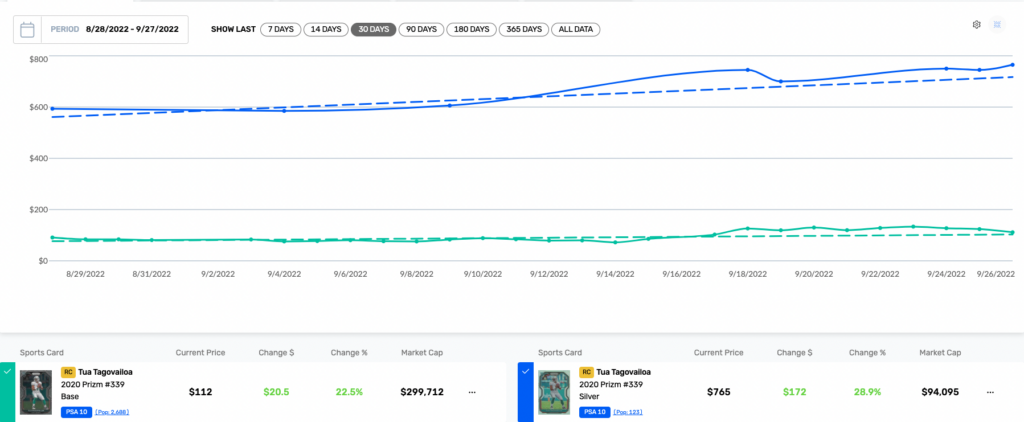 DOLLAR GROWTH DECLINERS
1. Justin Herbert 2020 Select Field Level Silver PSA 10 📉 $305
2. Joe Burrow 2020 Optic Holo PSA 10 📉 $243
3. Peyton Manning 1998 Bowman Chrome Base PSA 10 📉 $204
4. Deion Sanders 1989 Score Base PSA 10 📉 $195
5. Mac Jones 2021 Donruss Press Proof Premium PSA 10 📉 $159
HERBERT DIPS: A look at Justin Herbert's stats through three games doesn't exactly cause panic, but Chargers fans and Herbert collectors probably didn't love the franchise QB taking the field again late during a 38-10 loss when he didn't need to. Most reasonable fans would probably prefer to see Herbert head to the bench to nurse his fractured rib cartilage, but it's too late for that now unfortunately.
Expect to see some dips to Herbert's key rookies as he recovers, but pay especially close attention to some of the more mid-tier cards like his Select Field Level Silver PSA 10, which has dropped over $300 over the last month and could provide an opportunity to buy in relatively low.

SALES VOLUME LEADERS
1. Josh Allen 2018 Donruss Base PSA 10 📈 217 sales
2. Justin Herbert 2020 Donruss Base PSA 10 📈 153 sales
3. Tua Tagovailoa 2020 Prizm Base PSA 10 📈 150 sales
4. Lamar Jackson 2018 Donruss Base PSA 10 📈 137 sales
5. Justin Herbert 2020 Mosaic NFL Debut PSA 10 📈 132 sales
USUAL SUSPECTS: Outstanding QB play has kept the usual top targets among the sales leaders over the last month, and a big winner recently has been that Lamar Jackson Donruss Base PSA 10. That Donruss is now up to a $110 average and isn't far behind his 2018 Select Concourse PSA 10 at $124.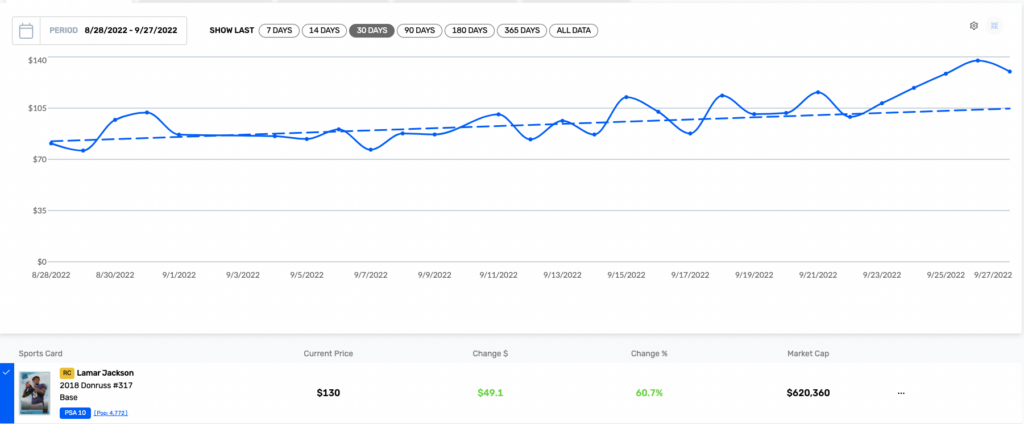 POPULAR SEALED WAX (HOBBY BOXES WITH MIN. 10 SALES OVER LAST 30 DAYS)
1. 2022 Elite Football 📉 21%
2. 2022 Legacy Football 📈📉 2%
3. 2021 Optic Football 📈 4%
4. 2021 One Football 📈📉 0%
5. 2021 Chronicles Football 📉 19%
MARKET PULSE INDEXES OVER LAST 30 DAYS
Football 2018-2020: 📉 0.3%
Football 2010-2017: 📉 3.8%
Football 2000-2009: 📉 6.7%
Football 1990-1999: 📉 12.3%
Football 1980-1989: 📈 1.2%
Football 1979 & Older: 📉 1.4%
TOPPS CHROME FLIP FLOP: Things have changed so quickly for Matt Ryan and Matthew Stafford. Both have key rookies from the late-2000 Topps Chrome sets, but the two have basically reversed roles over the last year as Stafford was rescued from Detroit to win a Super Bowl in Los Angeles and Ryan ended a strong run in Atlanta to be buried in Indianapolis.
Many would argue that Ryan had a more successful career than Stafford up until last season, but now Stafford's 2009 Topps Chrome Base PSA 10 costs 10 times more than Ryan's 2008 Topps Chrome Base PSA 10.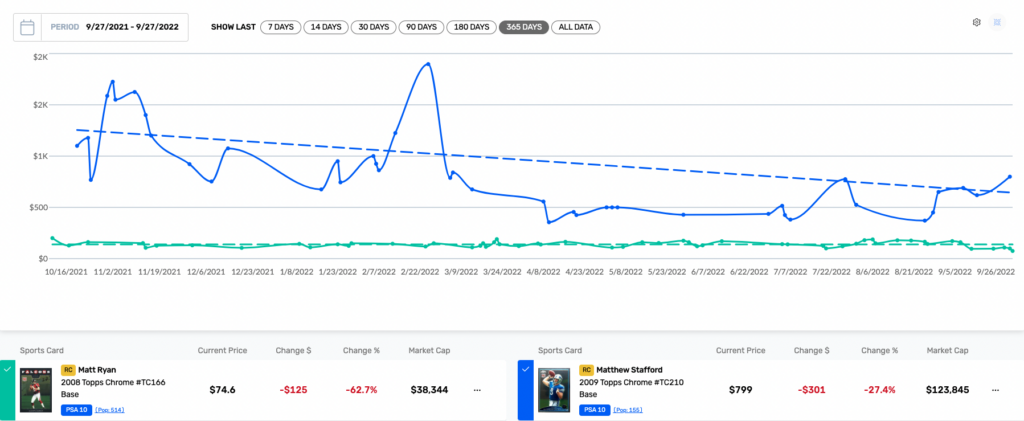 With the Sports Card Investor app, you can profit from the hobby you love by keeping up with trending cards, tracking real-time prices with Market Movers and buying items on eBay. Download the industry-leading app here for Apple or Android
Note to readers: If you purchase something through one of our affiliates, we may earn a commission.