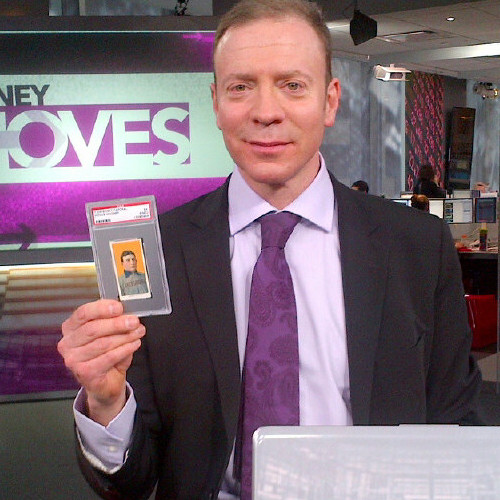 Already one of the biggest stars in the sports card hobby, Ken Goldin is about to get even bigger with a reality-tv show.
According to Bloomberg, "Pawn Stars" producer Brent Montgomery and former ESPN "30 for 30" producer Connor Schell will work on a project that will follow Goldin and the day-to-day workings of his sports memorabilia auction house, Goldin Auctions.
The sports card hobby has seen incredible growth during the COVID-19 pandemic, and Goldin says this show could be an opportunity to expand the hobby's reach.
"For me, this is a really big spotlight on the hobby," Goldin told Sports Card Investor. "Every time I do a TV appearance, whether it's on a business channel or sports channel or talk show, my No. 1 job is always to bring awareness to the public for the hobby to grow the pie. Obviously, I want to build Goldin Auctions' business, but it's not just going to be Goldin Auctions that gets built."
Much of the growth in the hobby over the last several years has revolved around buying or selling cards as investment opportunities. Collectors have prioritized young stars like Zion Williamson and Luka Doncic with the hopes that they'll turn into the next Michael Jordan or LeBron James — a rare, high-end James rookie card recently sold at Goldin Auctions for a record $1.72 million.
While many reality-tv shows feature their stars at work and at home, Goldin says this will focus strictly on his auction house.
"People can expect a day, or a couple days, in the life of Ken Goldin and Goldin Auctions, solely related to business," Goldin said. "A lot of these reality shows get into personal things — this is more of a transactional show."
"There's going to be a mix," Goldin added, "that includes high-value cards, negotiations with consigners, dealing with high-profile and well-known individuals who want me to curate a collection for them. It's really going to be all different aspects of everything that Goldin Auctions is involved in."
The different aspects of the business are what Goldin expects to be the most surprising for most viewers. Bringing high-ticket items to auction is a complicated and difficult process that many will see for the first time.
"The tremendous processes that go on at Goldin prior to an auction happening," Goldin says of the lesser-known moments. "From receiving initial calls or receiving an email to finding a deal or verifying authenticity. Or even — I don't know if this will come out because I'm not the editor — the high volume of stuff that we actually can't take for a variety of reasons."
Originally reported by Bloomberg, a source familiar with negotiations confirmed to Sports Card Investor that several streaming services and TV networks are interested in the project.
Track your collection and maximize your profit with Market Movers, the hobby's most powerful sports card pricing platform! Learn more here.