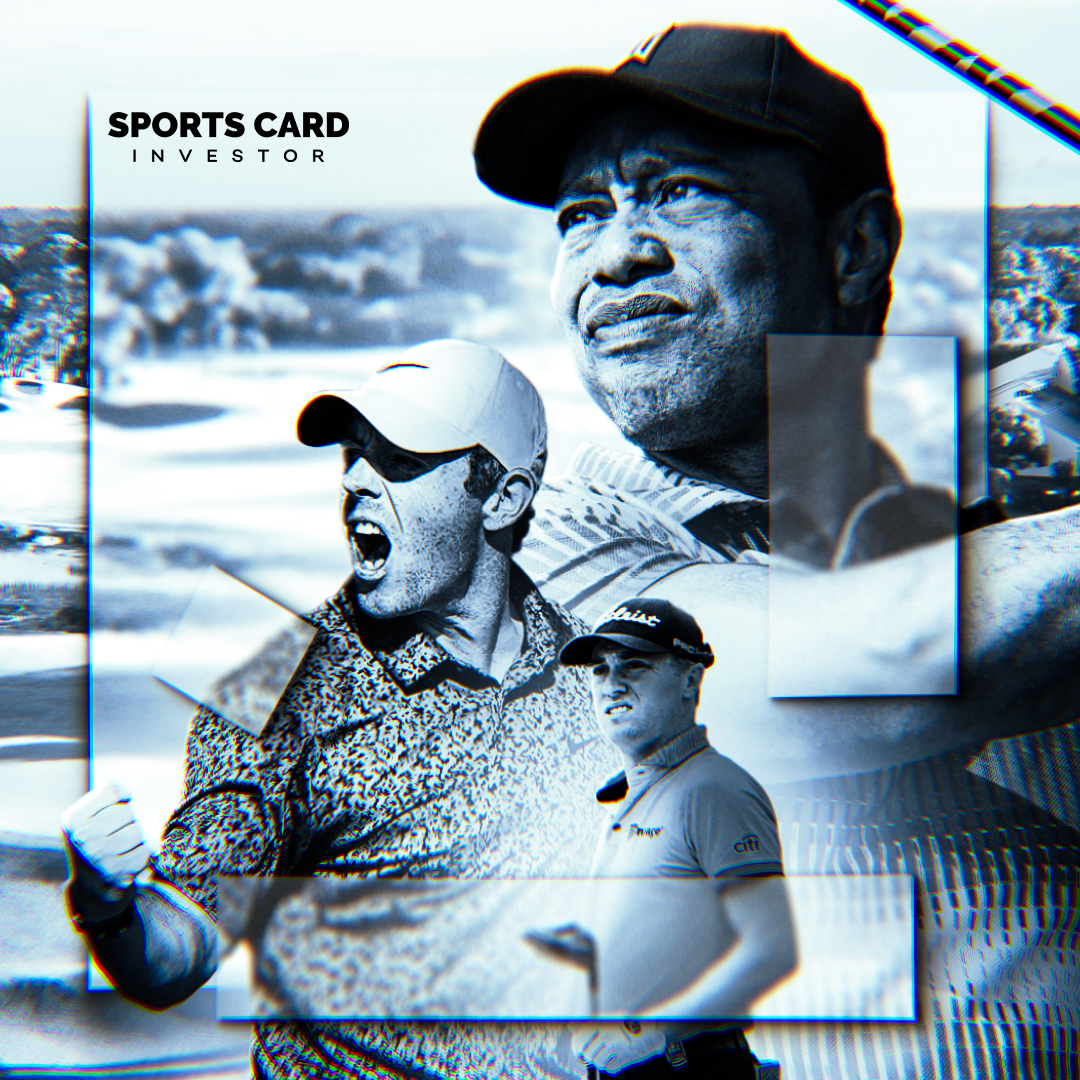 February typically isn't thought of as a hot month for golf, but the 2023 PGA Tour Season is underway, and Netflix's new series, Full Swing, has drawn rave reviews, as it features professional golfers Jordan Spieth, Justin Thomas, Collin Morikawa, Brooks Koepka, Scottie Scheffler, Ian Poulter, Rory McIlroy, Dustin Johnson, Tony Finau, Matt Fitzpatrick, Sahith Theegala, Joel Dahmen, Mito Pereira and Cameron Young. It also shows and mentions legends Tiger Woods, Jack Nicklaus, Phil Mickelson and others.
The series released on February 15, and in the subsequent week, we've seen a 15% or more increase in 10 different Tiger Woods and Jack Nicklaus cards, and more than 60 different golf cards have increased in value by 15% or more in the last 30 days – in anticipation of the series and the beginning of the golf season.
Tiger Woods cards are up 6%, with a 44% volume increase across 29 sales, and Collin Morikawa cards are up 8% over the last 30 days – but these stats may not indicate the real potential long-term impact of the Netflix series on the golf card market.
Drive To Survive, the series chronicling the F1 circuit, has been given tons of credit for the rapid growth of interest in the sport itself and the boom in the F1 card market. Season 5 of Drive to Survive releases February 24 , and if Full Swing gets to a Season 5, or even a Season 2, we should see enough growth in the interest of golf cards to hopefully strengthen the market and expand the amount of releases, and the number of golfers that collectors have interest in.
Keeping in mind that there have only been major golf card releases from Upper Deck in 2001, 2014 and 2021, and some Sports Illustrated for Kids cards sprinkled in every now and then, let's take a look at the Top 10 golfers with card sales over the last 365 days.
Note: Sales data is based on the last 365 days.
1. Tiger Woods: The largest golf card sale in the last 365 days was Tiger's 2001 SP Authentic #45 Auto /999 in BGS 9.5 for $26,400. That sale was on March 16, 2022 amid hype that he'd return from a near-fatal car crash and play in the 2022 Masters. The last sale of this card was on February 13 for $11,600. The same card sold in BGS 9 for $8,600. His iconic 2001 Upper Deck #1 sold for $11,000 in the prestigious and ultra rare BGS 10 Black Label grade, and what many consider to be his true rookie – the 1996 Sports Illustrated for Kids – sold in BGS 9.5 for $7,800. The PSA 10 pop count of the SI for Kids card is only 23, with the last recorded sale being in April of 2021 for $41,500.
2. Jack Nicklaus – The Golden Bear has 73 career PGA Tour victories and 117 total professional victories, including 18 major championship victories and 19 major runners-up. While he wasn't featured in Full Swing, he appeared in the b-roll, and that's good enough for us, especially since his 1981 Donruss Base card has become an extremely popular and recognizable golf card among the masses. Its top sale over the last 365 days was for $6,000 in PSA 10, where there is a pop 173.
3. Rory McIlroy – The current No. 3-ranked golfer is quickly becoming an important figure as the sport evolves, and this is well-documented in Full Swing. McIlroy's 2014 SP Authentic Rookie Auto /299 sold for $1,500 in BGS 9.5. As the face of the PGA Tour for years to come, expect to see a steady, growing interest in his cards. He seems like a great long term investment.
4. Collin Morikawa – While Morikawa is a bonafide young superstar, currently sitting at No. 10 in the World Golf Rankings and a threat to win every major, the risk with investing in him versus other golfers on this list is simply the sheer volume of cards that he has. It's a Joe Burrow vs. Tom Brady type of game in terms of numbers. However, he's extremely popular among golf card investors while his 2021 Upper Deck Artifacts Golf Rookie Auto /85 sells for around $300 and his 2021 Upper Deck SP Authentic Rookie Auto /299 sold for $599.99 raw on December 11, 2022. His 2021 Upper Deck Artifacts #53 Black /99 sold for $255 raw on April 13, 2022.
5. Phil Mickelson – Perhaps no legend has fallen faster than Lefty. After winning the 2021 PGA Championship, he was basically exiled from golf and almost completely canceled after joining LIV. With so much drama in 2022, it's hard to say what will happen to his long-term pricing, but his 2022 Upper Deck #41 Base PSA 10 sold for more than $200 in March 2022, and still sells consistently for more than $115.
6. Justin Thomas – JT won the 2022 PGA Championship and is the World's No. 9-ranked golfer. His 2021 Upper Deck Artifacts #80 Rookies – Black /99 sold in PSA 8 (pop 2) for $111 in September 2022.
7. Bryson DeChambeau – Briefly mentioned in Full Swing during segments related to the LIV Tour, his 2021 Upper Deck Artifacts #62 Rookies – Red /199 sold in SGC 9 for $100 on March 22, 2022. The eight-time PGA Tour winner and 2020 U.S. Open Champion is now a member of the LIV Tour, and now has a bit of a murky future in the golf card world, as we'll see him less as a member of LIV, and his once-promising PGA Tour future cannot materialize further. That's not to say that he won't enjoy success on LIV, which could potentially increase interest in his cards.
8. Jordan Spieth – This is where things start to get a little weird with golf cards. Spieth, despite being World No. 1 in 2015, doesn't have any Upper Deck cards. He really only has three cards, including a 2015 Sports Illustrated for Kids card, a 2015 Beckett Promo card from The National, and a 2016 Topps Flagship and Topps Chrome First Pitch Baseball Card. He's a top-20 ranked golfer in the world, capable of winning a major at any time, and if he does, his prices would skyrocket given his career resume. His 2015 SI for Kids card sold for $189.99 in BGS 9 on February 11, 2023, for $100 twice in early February in BGS 8.5, and for between $50 – $100 raw several times over the last month depending on condition. His 2016 Topps Chrome First Pitch Orange Refractor /25 sold for $750 in PSA 10 on February 20, 2023. The Base version raw has sold for between $5 – $25 frequently depending on condition.
9. Scottie Scheffler – Scheffler burst on the scene last year, becoming World No. 1 in a matter of weeks, but only has Sports Illustrated for Kids cards. His 2017 Sports Illustrated for Kids card sells frequently for between $10 and $100 Raw on eBay depending on condition. These cards are notoriously hard to find in near-mint condition, as centering is often completely off, and it's hard to tear them from the perforated sheets out of the magazine and submit them to a grading company to get a high grade. As such, they are often sold as part of an uncut full sheet out of the magazine itself. If and when you can find these cards with solid left-right and up-down centering, and no tears along the perforated lines, they're worth snagging and grading.
10. Tony Finau – He's risen to the World #12 ranking, with 57 top-10 finishes and five career wins, and is only 33 years old. The 6-foot-4 American could break out in 2023 as he looks for his first major championship, and his 2021 Upper Deck Artifacts Rookies are selling frequently, likely in anticipation of such a marker materializing soon. No earth shattering numbers here, but it's notable that his 2021 Upper Deck Artifacts #70 Rookies – Red /199 sold for $15 raw, Black /99 sold for $13.83 raw and /999 sold for $12.50 raw.
With the Sports Card Investor app, you can profit from the hobby you love by keeping up with trending cards, tracking real-time prices with Market Movers and buying items on eBay. Download the industry-leading app here for Apple or Android
Note to readers: If you purchase something through one of our affiliates, we may earn a commission.
Paul Hickey is a regular contributor to Sports Card Investor, the creator of the Sports Card Investment Report at NoOffseason.com, and the host of the Sports Card Strategy Show on Apple Podcasts, Spotify and YouTube. He can be found on Instagram at @sportscardstrategy and on Twitter @nooffseasoncard.