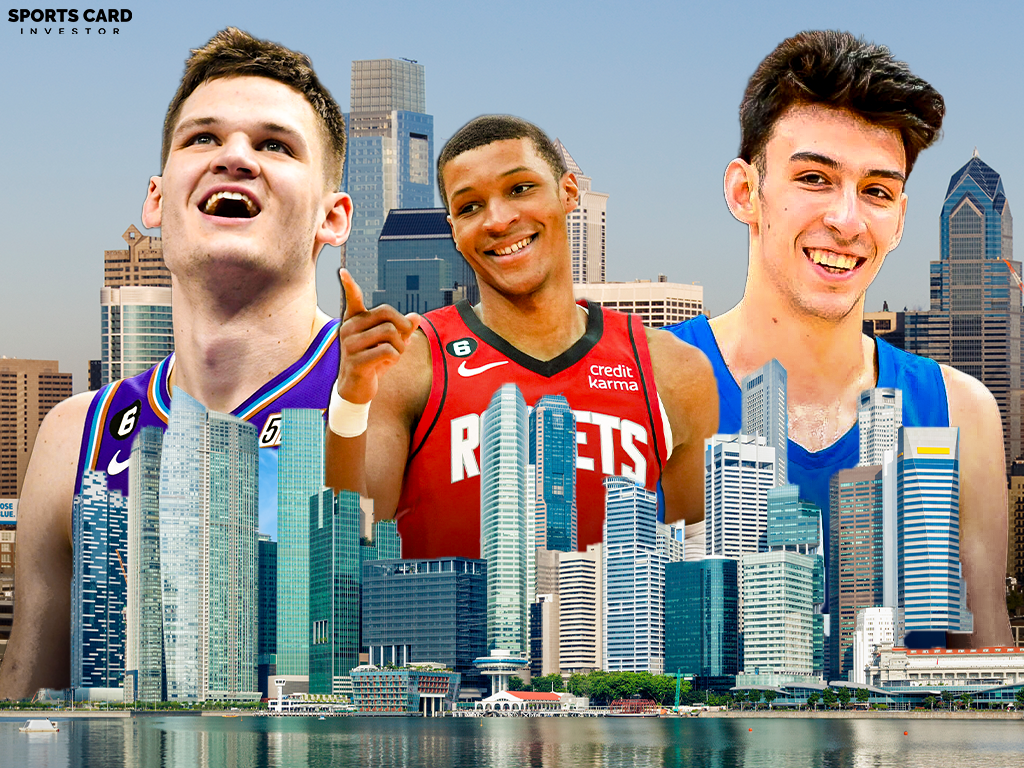 NBA Big Men That Are Still Worth Buying
While the upcoming NBA season is sure to be filled with sports card collectors looking for the next talented guard to explode into the scene, the big man often gets shorted in both today's league and card scene. This lack of attention actually puts several forwards and centers in strong buying opportunities. 
It's worth noting that this list features both forwards (specifically the power forward position) and centers that are trading above $15 in PSA 10 and have seen multiple trades over the last 90 days.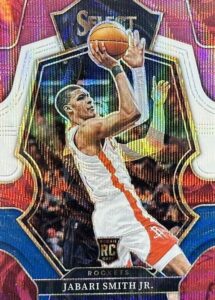 Jabari Smith Jr: 2022 Select Premier Level Tri-Color PSA 10
The Houston Rockets took Jabari Smith Jr. with the 3rd overall pick in the 2022 NBA Draft, and held high expectations for the 6-foot-11 forward. While his rookie season was filled with highs and lows, he's shown to have the skills to progress into a legitimate double-double threat on a nightly basis. With the Rockets signing two veteran players in Fred Van Fleet and Reggie Bullock, the Rockets may see jumps in maturity as well as competitiveness. 
Both of these things could leak into Smith Jr. progressing, and collectors could have several plays based on where his current card valuation is. One key card is his 2022 Select Premier Level Tri-Color. In PSA 10, this card is down 66% over the last 90 days, and most recently traded at just $21. Smith's game should develop nicely and potentially result in several key sell markers presenting themselves over the course of the season, such as the NBA In-Season Tournament that should see some of the lower tier teams competing at a higher level.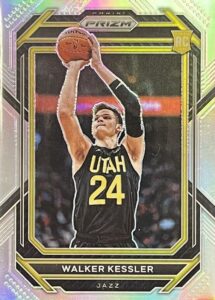 Walker Kessler: 2022 Prizm Silver PSA 10
Up next is Utah Jazz big Walker Kessler and his 2022 Prizm Silver. Kessler, selected 22nd overall in the 2022 NBA draft, put together a respectable rookie campaign that resulted in him finishing 3rd for the Rookie of the Year award. He averaged 9 points and 8 rebounds in just 23 minutes per game, while posting an immaculate field goal percentage of 72%. 
As the Jazz continue to find their identity without Donovan Mitchell and Rudy Gobert, we anticipate Kessler's strong fundamentals and efficiency to help him establish himself as a premier center. His 2022 Prizm Silver in PSA 10 is down 65% the last 90 days, and was last sold for less than $30. Finding a Prizm Silver PSA 10 this affordable for a player that produced at Kessler's level is extremely rare. For those looking to make quick flips, the In-Season Tournament will be another sell marker, but expect Kessler to progress at a high level throughout this season.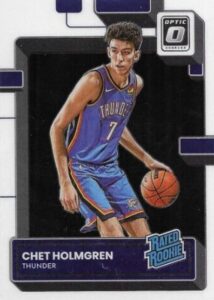 Chet Holmgren: 2022 Optic Base PSA 10
It's tough to make any list of high-upside big men in today's NBA without mentioning Chet Holmgren. While he missed (what would have been) his entire rookie campaign due to injury, offseason footage and NBA Summer League performances showed everyone watching that he's back healthy and ready to roll. 
While Holmgren may not post the same hype levels as Victor Wembanyama, the skill set is actually very similar. A 7-foot-1 big that can stretch the floor, rim protect, and possesses hints of guard skills simply provides too much excitement to leave undervalued cards of these guys out of your portfolios. Holmgren's 2022 Optic Base in PSA 10 is down 61% over the last 90 days, and was last sold at just $50, making it a solid budget-friendly play. It holds a desirable pop count of just 75, and also has proven to be able to spike well above the current valuation, selling for over $125 in July. Look for the Thunder to get off to a hot start this season behind Shai Gilgeous-Alexander and Holmgren.
Karl-Anthony-Towns: 2015 Select Courtside Silver PSA 10
Sitting cleanup in today's list is (one of) the Minnesota Timberwolves starting big men, Karl-Anthony Towns. While we're still strongly against the move to stack Rudy Gobert alongside a versatile stretch like KAT, his 2015 Select Courtside Silver is essentially at an all time low, and it packs a punch in regards to bang-for-your-buck. 
This card is down 59% over the last 90 days, a trend that has been rolling for this print for the last couple of years. Below you'll see the all-time trendline in pricing for this card showcasing the downward trajectory, as you can pick one up now for just over $100. 
Do we believe in KAT? Eh, not necessarily, but we do believe in Anthony Edwards. Edwards may be talented enough to legitimately carry the Wolves to a playoff appearance, and while KAT hasn't proven he's able to take the next step to become a top-3 big man in the NBA, he's had his fair share of freak performances over the last couple years. Expect a positive Wolves season that features Towns playing in a majority of the games to have a good output for this card and it's value.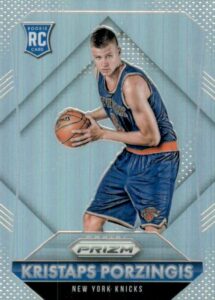 Kristaps Porzingis: 2015 Prizm Silver PSA 10
Rounding off our list is Kristaps Porzingis and his 2015 Prizm Silver PSA 10. Now, this may not be a popular pick considering his injury history as well as age, but hear us out. With Porzingis landing himself within a championship-focused organization, the stretch big may have more sell markers this year than the last several seasons of his career combined. The Celtics, who have been serious contenders the last couple of years, were able to re-sign Jaylen Brown, who alongside Jayson Tatum, gained another year of valuable playoff experience. They also just recently picked up a lockdown defender and all-time locker room presence in Jrue Holiday, who has championship experience. 
Porzingis now has the ability to settle into his role within an already-proven team that could heavily benefit from a 7-footer that provides both rim protection and outside shooting. His 2015 Prizm Silver PSA 10 was last sold for $155, and while not trading at a discount over the offseason like other cards on this list, this specific card has shown some serious spikes over the course of its timeline. Back in August of 2020 this card was traded for over $1,500  — do we think it will spike this high again? Unlikely. However, this card definitely could see some substantial growth if Porzingis stays healthy and provides strong output for a successful Celtics roster.
With the Sports Card Investor app, you can profit from the hobby you love by keeping up with trending cards, tracking real-time prices with Market Movers and buying items on eBay. 
Download the industry-leading app here for Apple or Android. Note to readers: If you purchase something through one of our affiliates, we may earn a commission.
Paul Hickey is a regular contributor to Sports Card Investor, the creator of the Sports Card School & Sports Card Investment Report at NoOffseason.com, and the host of the Sports Card Strategy Show on Apple Podcasts, Spotify and YouTube. He can be found on Instagram at @sportscardstrategy and on Twitter @nooffseasoncard.