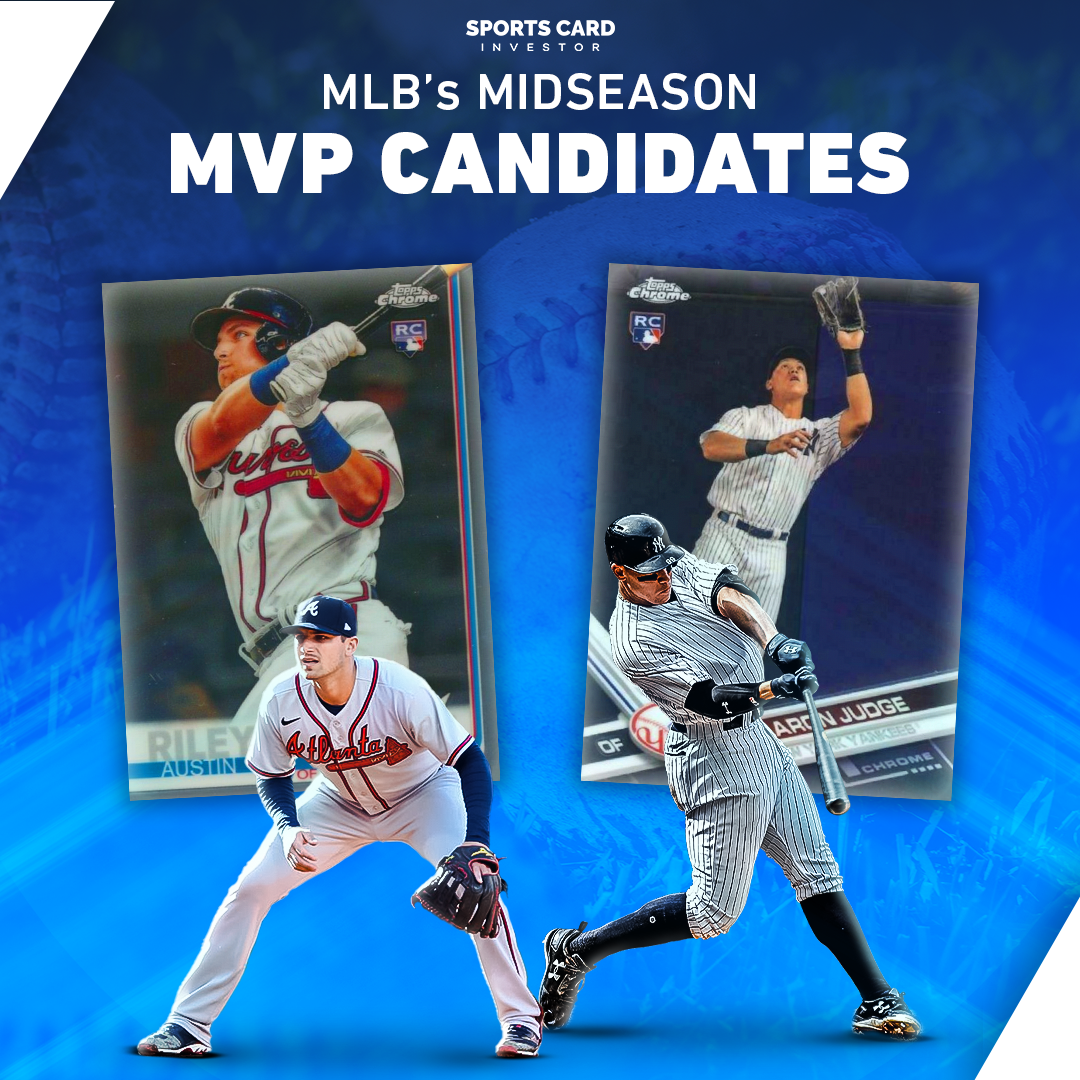 It feels like the season just started a week ago. But with the MLB All-Star Game, which included Julio Rodriguez's buzzworthy debut and Giancarlo Stanton's MVP-earning performance, in the back mirror, we have our sights squarely on the 2022 campaign's second half. Shohei Ohtani is back to dominating both ways for the Angels. Aaron Judge is raking his way to a gigantic contract in the Bronx. The resurgent Paul Goldschmidt and Nolan Arenado are helping the Cardinals claw their way into postseason position. Though all those studs are worthy MVP candidates, let's take a deeper dive into three players from each league who could hear their names called during awards season.
NATIONAL LEAGUE
Freddie Freeman, Los Angeles Dodgers
The top of the list starts with one of the best players on the best team in the NL. In his first year in a Dodger uniform, Freeman has not skipped a beat with his new team, putting up a fantastic .321/.397/.530 slash line with 15 HRs and 32 doubles. Looking at his stats, I did have a laugh at the seven stolen bases, which put him on pace to break his previous career high of 10. Can he really put on the burners and get his first 20-20 season? Only kind of joking.
I'm always surprised when I look at Freeman's 2011 Topps RC, as it remains very affordable. The softening of the market has made this even more so, as a PSA 10 of his flagship card can be had for under $125. If you're thinking higher end, consider a PSA 10 Topps Diamond Anniversary parallel ($450-500) with its low pop of 223. These are safer purchases as the slugging first baseman inches closer to 300 homers (14 away at publication), continues as a fan favorite on a contender and keeps being a solid bet as a future hall of famer.
Paul Goldschmidt, St. Louis Cardinals
Goldschmidt put together a scorcher of a first half (a .330/.414/.590 slash line), all of which led the National League at the break. He and Arenado have pretty much carried the Cardinals on their backs for the last few months, as everyone else on the team has been hitting poorly. Narrative could help his case here, but there's always the chance he ends up splitting votes with his deserving teammate at third base. But, if he can keep up his absurd offensive pace over the final stretches of the season, Goldy could find himself walking home with his first MVP award.
Another member of the 2011 Topps class, Goldschmidt can only be found in Topps Update. Unlike Freeman, whose value in being an MVP and top-tier player has been set for a few years now, Goldschmidt has found his prices inch up a decent amount lately due to this current career-best season. Since the start of the year, his Topps Update PSA 10 has grown more than 100%, from $60 to $185 at press time. For a more reasonable alternative, look at the extremely popular Cognac Diamond parallel, which has a very low PSA pop, and can be picked up for under $100 raw if you're patient.
Austin Riley, Atlanta Braves
Riley should become the poster boy for patience with prospects. A former first-round pick by the Braves in 2015, Riley mashed his way to a big-league debut in 2019 and put up solid-but-unspectacular numbers in his first two seasons. Finally given a full-time shot in 2021, the third baseman hit .303 with 33 homers and finished seventh in MVP voting as a 24-year-old. With 28 homers through 96 games, the first-time All-Star looks well on pace to beat previous season highs, all while retaining a good batting average at .294 and getting on base at an efficient .356 mark.
One of Riley's most coveted rookie cards can be found in 2019 Topps Update. The more desirable Chrome can be had for approximately $90 in a PSA 10. Personally, this kills me because I remember, prior to the 2021 season, this card was selling for well below $30. For a big-ticket purchase, you can pick up the always-desirable Topps Chrome Sapphire raw for the same price as a PSA 10 Chrome, while gem mint Chrome Sapphires has been hovering around the $300 mark.
AMERICAN LEAGUE
Aaron Judge, New York Yankees
Makes sense to start off the AL list with not only the best player in the league but in all of baseball. In Judge's contract year, the 30-year-old outfielder is putting up some monster numbers (37 homers and 81 RBI through 94 games). Being in the Big Apple certainly helps his MVP narrative as the high-profile Yankees look to crush recent postseason demons with a long playoff run.
With regard to his rookie cards, there's probably no better word combo in the hobby than "Yankee" and "MVP Candidate." Despite market conditions cooling a bit as they typically do mid-season, Judge's prices have only gone up. Since the start of the season, his 2017 Topps Chrome PSA 10 has gone from $80 to $125, which is not an easy thing to do with a high-pop, modern card these days. There's a whole year of 2017 Topps releases featuring Judge to take pick from, but my personal favorite would be from Topps High Tek, which has acetate cards and patterned parallels and can be had cheap relative to the outfielder's other RCs.
Rafael Devers, Boston Red Sox
How about a little Yanks-Sox rivalry atop the MVP standings? Boston's season hasn't gone great, but Devers has been a bright spot in the lineup. The Sox's third baseman has been lighting it up at the plate with a .324 average, 22 bombs and 29 doubles. And to think, the dude doesn't even turn 26 until late October. Boston's only three games back of the last wild card spot, which is certainly in reach—especially if Devers keeps going and Trevor Story can regain form.
Seems like Devers' name has been under the radar in the hobby for a while now, as his 2018 Topps Chrome PSA 10 has held steadily between $50 and $70 for almost a year. Surprisingly, his PSA 10 refractors from the same product have a pop under 500 and seem like a great deal in the $125-150 range.
Yordan Alvarez, Houston Astros
Prior to going down with hand inflammation prior to the all-star break, Alvarez was terrorizing the league with a .653 slugging % and 1.058 OPS to pair with 26 homers. Health will be the name of the game for Alvarez, which, sadly, has been a reoccurring theme over his young career. Despite splitting time between designated hitter and left field this season, Alvarez will likely finish the season as a DH, only to limit further injury that could hurt his MVP case or the Astros' playoff potential. There will be pressure to be a consistently prolific hitter in the eyes of the voters, but if the Cuban slugger can stick in the lineup physically, he can put up the numbers.
Despite high pops across the board, Alvarez has still seen an uptick in prices since the start of the season. His Topps Series 1 and Chrome rookies are both up roughly 8% in PSA 10s. If you're aiming to invest in the budding Houston star, look to make creative plays away from the base. His Series 1 short print has a great image and can be had around $50 raw or $200 in a PSA 10. The Topps Heritage Action Variation, which has a PSA 10 pop of 153, is another good-looking card ($125 gem mint, $30 raw) that proves a tough grade with its black borders.
With the Sports Card Investor app, you can profit from the hobby you love by keeping up with trending cards, tracking real-time prices with Market Movers and buying items on eBay. Download the industry-leading app here for Apple or Android
Note to readers: If you purchase something through one of our affiliates, we may earn a commission.