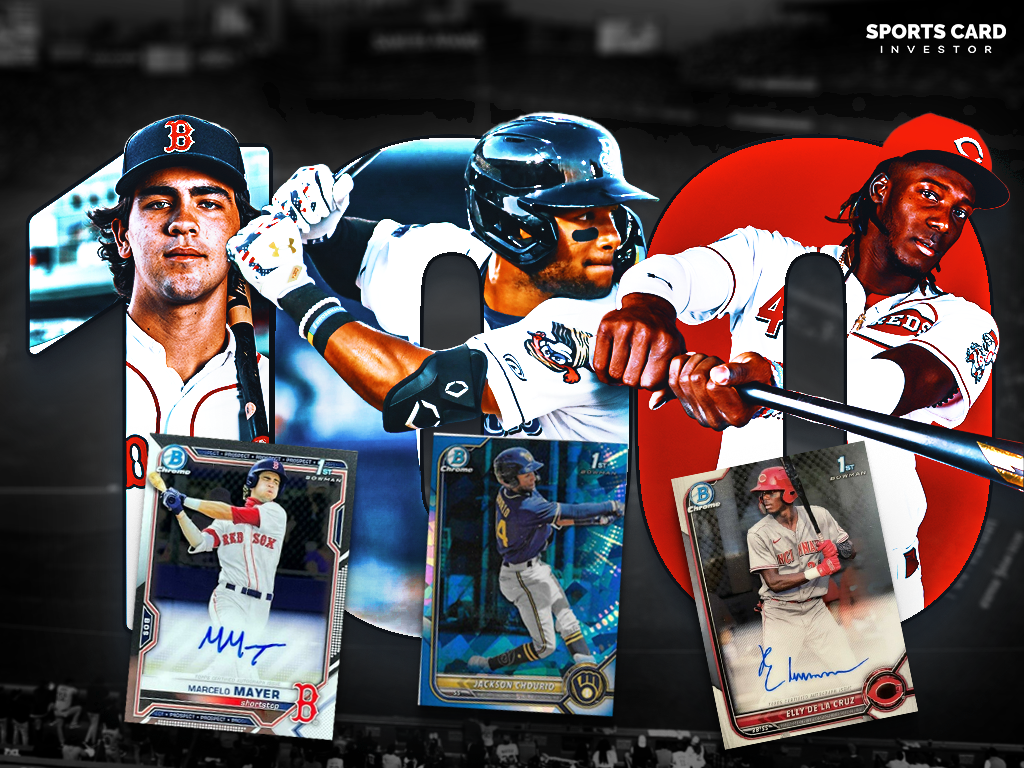 MLB Top 100 Prospects: New Names and Key Cards To Watch
Top prospects often see major increases to their market value when they get their first Major League call-up — particularly their 1st Bowman cards. And while the initial call-up only happens once per player, any movement upward on the Top 100 Prospects list at MLB.com is also very significant to current and future card value.
MLB.com recently updated its Top 100 list, not only to remove guys like Anthony Volpe, who has too many MLB at-bats to continue to be considered a prospect, but also to give the list a complete refresh and move up top performers that project to be MLB stars.
Let's get into the top targets, names to watch and deep sleepers.
Top Targets: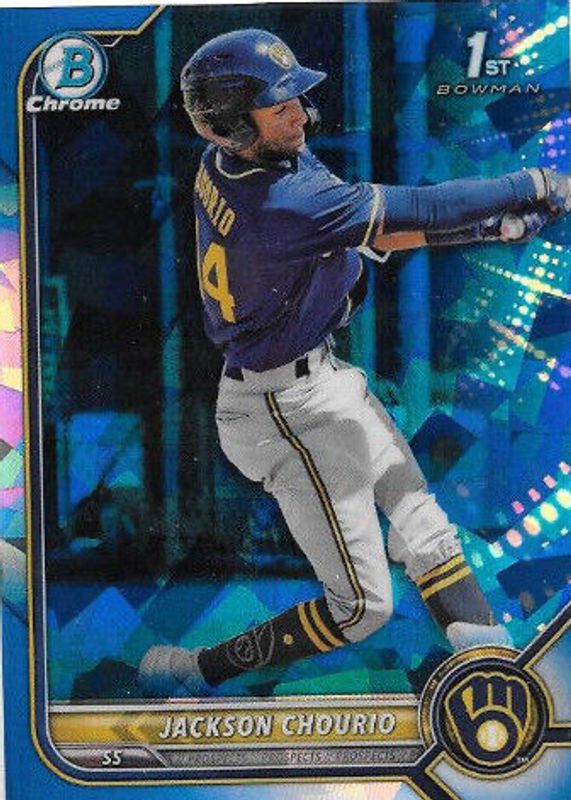 Jackson Chourio, Brewers OF Prospect – The 19-year-old moved up to No. 2 overall from No. 6 on the Top 100 list. He's hitting well in Double-A Biloxi, and projects to hit the big leagues in 2024, giving you plenty of time to acquire his cards before the price bump. However, you have to pick the right cards as many of his card prices are increasing rapidly. Solid targets include his 2022 1st Bowman Sapphire Edition #BCP-79 Chrome Prospects as it has dipped 36% in the last 30 days. The Orange /50 variation of the same card is down 66% in the last 30 days, and even though it's only pop 17, it has sold eight times during that time period. If you can somehow snag it for between $350 and $400, it could be a flippable option.
Elly De La Cruz, Reds SS/3B Prospect – The 21-year-old switch hitter moved up to No. 4 overall and is so good that many believe he should be No. 1 on this list. His exit velocity is equally sick on both sides of the plate and some were surprised that he didn't make the Opening Day roster after ripping up the baseball in Spring Training. It is not a question of if, but when De La Cruz gets the call-up this summer. His 2022 1st Bowman Paper 1st Edition #BPPF-50 PSA 10 is down 21% over the last 90 days and is only pop 522. It could be an interesting buy now to flip after the promotion, while his 2022 1st Bowman #CPA-ED Chrome Prospect Auto is trading at around $740 per PSA 10, and could be an amazing long-term hold as he looks like a future MLB All-Star.
Marcelo Mayer, Red Sox SS Prospect – The fourth overall pick in the 2021 MLB Draft moved up to No. 5 overall on the list. The sweet-swinging lefty is super expensive all over the board, so there's no sneaky play here other than to buy what you can afford of his Bowman 1st Chrome cards and watch as prices increase for the next 18 months in anticipation of a 2024 promotion.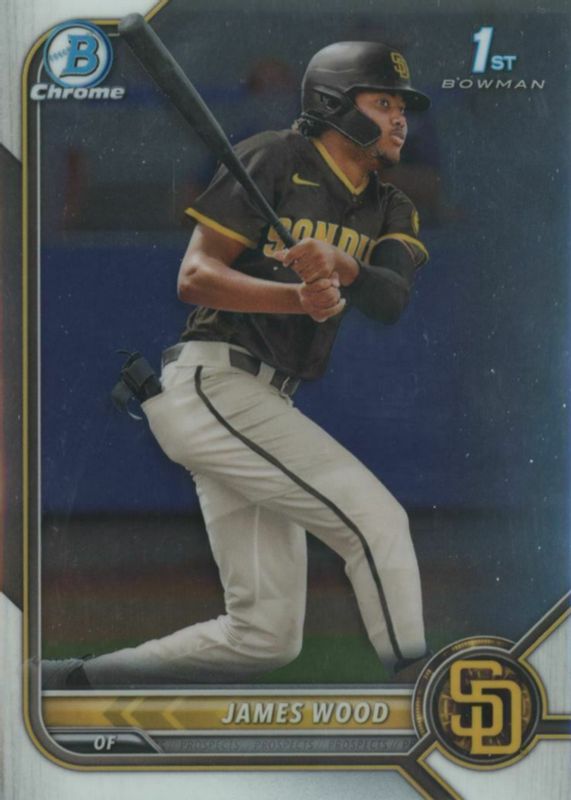 James Wood, Nationals OF Prospect – The centerpiece of the Juan Soto trade from the Nationals perspective is the 6-foot-6, 240-pound, 20-year-old slugging outfielder who moved up to No. 8 overall on the MLB.com top prospects list. Many of his most liquid PSA 10s have increased massively in value over the last 90 days, but he's not projected to hit the big leagues until 2025, which means you'll have to be patient for the big payoff. His top cards are extremely affordable in PSA 10 compared to the other prospects in the top 10. His 2022 1st Bowman Chrome Prospects PSA 10 trades at around $50. His PSA 10 1st Bowman Chrome Sapphire Base Auto Refractor trades for $750, but is super low pop so it won't be easy to find. His 2022 1st Bowman Chrome Sapphire Edition Base PSA 10, which trades at just over $70, is also a good target.
Names to Watch:
Jackson Holliday, Orioles SS Prospect – The No. 1 overall pick in the 2022 MLB Draft moved up to No. 3 overall. Pump the brakes, though, as he's only 19 and playing in High-A. He's a projected 2025 call-up, which means based on the hype he's currently generating, it's super risky to buy in now. Monitor him and only buy in if his prices dip a bit in the next couple of years. His 2022 1st Bowman Draft #CDA-JH Chrome DP Auto – Refractor /499 raw is up 41% in the last 30 days while trading at around $660.
Junior Caminero, Rays 3B/2B Prospect – Only 19, he's already crushing the ball at High-A, and is the biggest riser +36 (96 to 60). He'll continue to climb this list rapidly, making him one of the top prospects to watch and possibly start to invest in. His first autos just came out in Bowman 2023, so wait until they calm down before jumping in. That said, whatever you're able to snag of his could definitely pay off in a few years when he gets the MLB call-up.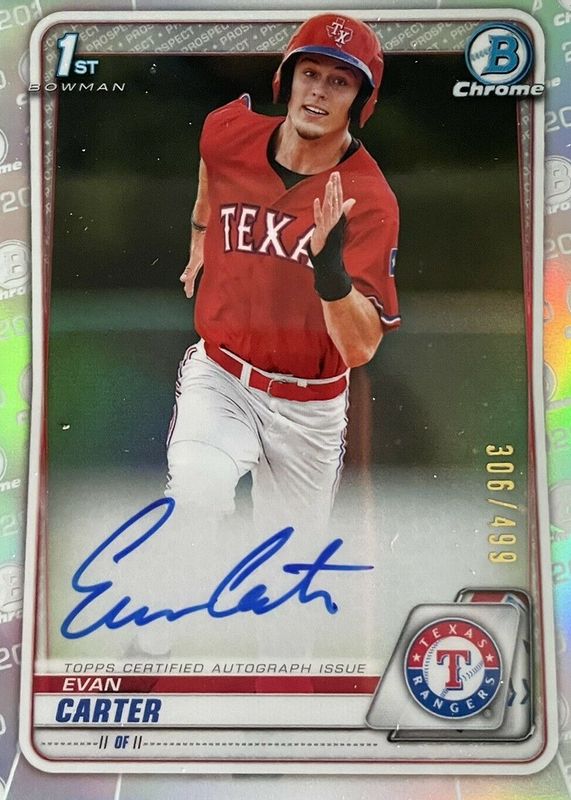 Evan Carter, Rangers OF Prospect – The 6-foot-2 outfield prospect is the fifth biggest riser +24 (33 to 9), and is projected to be a big leaguer by 2024. He's considered a five-tool prospect and should not go overlooked in your portfolio. His 2020 1st Bowman Chrome Base Auto trades for around $450 in PSA 10, and his 2020 1st Bowman Chrome Refractor Auto /499 goes for around $650 in PSA 10.
Kyle Manzardo, Rays 1B Prospect –  Manzardo has hit well in Triple-A Durham this season and projects to be called up at any point this season. He's the 12th biggest riser +15 (63 to 48) on the list, and sports card investors should be ready to sell soon after call-up. If you're looking for a quick flip, his 2021 1st Bowman Draft Chrome DP Auto – Refractor #CDA-KM in PSA 10 currently sells for around $300.
Deep(er) Sleepers:
Brooks Lee, Twins SS Prospect – Lee is one of the top guys to look for in 2022 Bowman Draft, but many of his autos are redemptions. The No. 23 overall prospect on MLB.com was the 8th overall pick in 2022 and projects to hit the bigs sometime next season.
Heston Kjerstad, Orioles OF Prospect – The 6-foot-3, 24-year-old prospect is the 10th biggest riser +18 (69 to 51). The second overall pick in 2020 out of Arkansas seems ready to climb the ranks and projects to hit the MLB in 2024. His 2020 1st Bowman Draft Chrome DP Auto – Refractor #CDA-HK goes for around $100 raw, $550 in PSA 10 and $150 in PSA 9, making it an interesting grade and flip.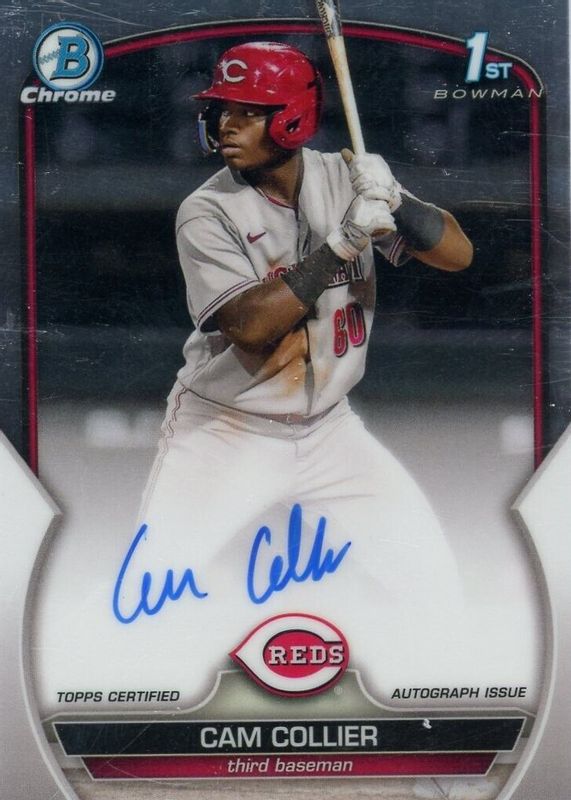 Cam Collier, Reds 3B Prospect – The 18th overall pick in the 2022 MLB Draft, he's only 18 years old after finishing high school early. He's No. 54 overall on MLB.com's Top 100, and is one of the top chases in 2023 Bowman. Prices look to be settling from that release, and Collier looks like a buy. Even though he doesn't project to get to the bigs until 2025, the pricing on his 2023 1st Bowman Chrome Prospects Auto may be too good to pass up at less than $100 (down 35% in the last 30 days).
Colt Keith, Tigers 3B/2B Prospect – Keith seems to have a ton going against him. He's a former fifth round pick, and is in a dismal Tigers organization. He's the No. 85 overall prospect, barely sniffing the Top 100. But he's 6-foot-3 and projects to get to Detroit in 2024 and has hit very well in his minor league career so far. At $205, his 2020 Bowman Draft Chrome DP Auto – Refractor #CDA-KC in PSA 10 could yield solid returns next year. 
With the Sports Card Investor app, you can profit from the hobby you love by keeping up with trending cards, tracking real-time prices with Market Movers and buying items on eBay. Download the industry-leading app here for Apple or Android
Note to readers: If you purchase something through one of our affiliates, we may earn a commission.
Paul Hickey is a regular contributor to Sports Card Investor, the creator of the Sports Card Investment Report at NoOffseason.com, and the host of the Sports Card Strategy Show on Apple Podcasts, Spotify and YouTube. He can be found on Instagram at @sportscardstrategy and on Twitter @nooffseasoncard.