It's been about a month since the Fall Classic wrapped up and the Houston Astros won their second World Series in the last six years. While pitchers and catchers don't report to Spring Training until mid-February, 2023 should be an exciting year for Major League Baseball with superstars like reigning MVP Aaron Judge, former World Series Champion Trea Turner, and three-time Cy Young winner Justin Verlander all free agents.
And while fans around the country sit idly in anticipation, hoping their favorite team lands one of these big-name players, 2023 is also slated to be a memorable year for rookies. Here's a look at several top prospects card collectors and investors should be watching for this offseason.
Corbin Carroll, Arizona Diamondbacks
Standing at 5-foot-10 and 165 pounds, Corbin Carroll may not immediately appear on your radar. Don't let his size fool you. Carroll is currently ranked No, 3 on MLB's top 100 prospects.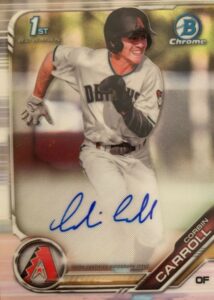 After being selected 16th overall in the 2019 draft, Carroll made his major league debut in August 2022. In 104 at-bats the lefty outfielder boasted a .260 slash line with nine doubles, two triples, and four home runs. The one blemish? Carroll struck out in nearly 30% of his at-bats in the big leagues.
As of now, Carroll is definitely much more of a pure athlete than a baseball player. But at just 22 years old with a clear ability to hit for extra bases, plate discipline is something that can be learned. As far as upside is concerned, it's tough to bet against a star like Carroll.
Just like any major league baseball prospect, the place to look is Bowman. One of the relatively-low pop cards currently in the marketplace is Carroll's 2019 Bowman Draft Sapphire Edition. Around the time of his debut, this card in PSA 9 examples nearly doubled from $50 to $100 on average. Now that the season is over, it's not surprising to see prices falling – it's currently selling for around $30.
Given that Carroll has not even played a full season in the majors, coupled with the fact that we know this card has sold for a ceiling of $100, this seems to be a prime buying opportunity. While tripling your investment is not guaranteed, there is actually a chance that this card is worth over $100 if Carroll performs as expected or exceeds expectations and becomes more of a regular name in MLB.
Anthony Volpe, New York Yankees
Another stud from the 2019 draft is Yankees shortstop Anthony Volpe. Volpe is currently the No. 5 overall prospect in MLB.
Over the last two years, Volpe has rocketed from A to AAA. However, it's important to take a close look at his analytics. In 2021, the shortstop hit just over .300 in nearly 200 at-bats and worked the count another 50 times in A ball. Those stats were more than enough to advance to AA. In 2022, Volpe played 132 games in AA and hit roughly .250 in 500 at-bats. While he nearly doubled his home run total from A ball, he nearly tripled his strikeout rate.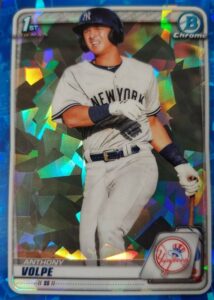 Still, the Yankees front office was impressed enough to see how Volpe would perform in AAA toward the end of the season. In nearly 100 at-bats Volpe only hit .236 with barely any extra base hits.
The theme here is that as Volpe has advanced through the minors his statistics have been mixed at best. From an investment perspective, Volpe may fall into the category of a speculative buy. This means that while the upside is huge, he is by no means a sure thing. And while he most likely will make it to the big leagues in 2023, there is no guarantee he will find himself on the Opening Day roster in the Bronx.
The thing to keep in mind here is that Yankees prospects tend to carry a premium. Because the Yankees are one of the most beloved and legendary franchises their prospects are often hyped. We can see this looking at one of Volpe's least rare Bowman autographs in raw condition. While the overall average for this card is about $250, we can see it has sold for more than $1,000 on several occasions. This kind of price difference clearly illustrates the potential upside, and more importantly, downside, of a prospect like Volpe.
If you have been following the Yankees and firmly believe that Volpe is the next great shortstop for the Bronx Bombers, you may want to apply an invest and hold strategy. Otherwise, given the decline in value and inherent risk associated with prospects in general, a decent hedge play may be to buy and flip once spring training begins and Volpe's name undoubtedly dominates the headlines.
Elly De La Cruz, Cincinnati Reds
Perhaps the most exciting prospect to analyze is the No. 14 overall prospect: Elly De La Cruz, a switch-hitting infielder for the Cincinnati Reds . At just 20 years old, De La Cruz is a staggering 6-foot-5 and 200 pounds.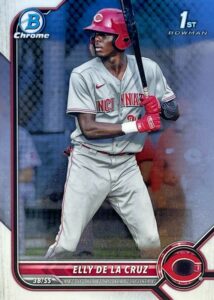 And while his statistics are limited, there are early signs to believe he can absolutely rake. While he has not yet played in AAA, he has consistently hit over .300 and crushed homers in A and AA.
The anticipation for De La Cruz is high. One of his most rare cards has already sold for over $4,000. But don't let that deter you.
There are tons of PSA 9 and 10 Bowman Paper Base rookies floating around in the marketplace ranging from $30-$60. Should De La Cruz make his MLB debut in 2023 and perform well, these cards could easily become $100-$200 on average.
Overview
The players above all have varying catalysts going for them. In Carroll's case, he has already had a taste of a major league curveball. Should the young outfielder develop some discipline at the plate he could quickly become a rising star who can hit for extra bases.
For Volpe, the allure of wearing Yankee pinstripes can't be understated. However, it's clear that he needs some re-tooling at the plate before he gets the call to the bigs.
And perhaps the "safest" investment is De La Cruz. He is the youngest of the bunch, plays multiple positions, can switch hit, and hit for power. For the Reds, it's most likely not a matter of "if" but rather "when" De La Cruz gets his chance to shine in Cincinnati.
With the Sports Card Investor app, you can profit from the hobby you love by keeping up with trending cards, tracking real-time prices with Market Movers and buying items on eBay. Download the industry-leading app here for Apple or Android
Note to readers: If you purchase something through one of our affiliates, we may earn a commission.