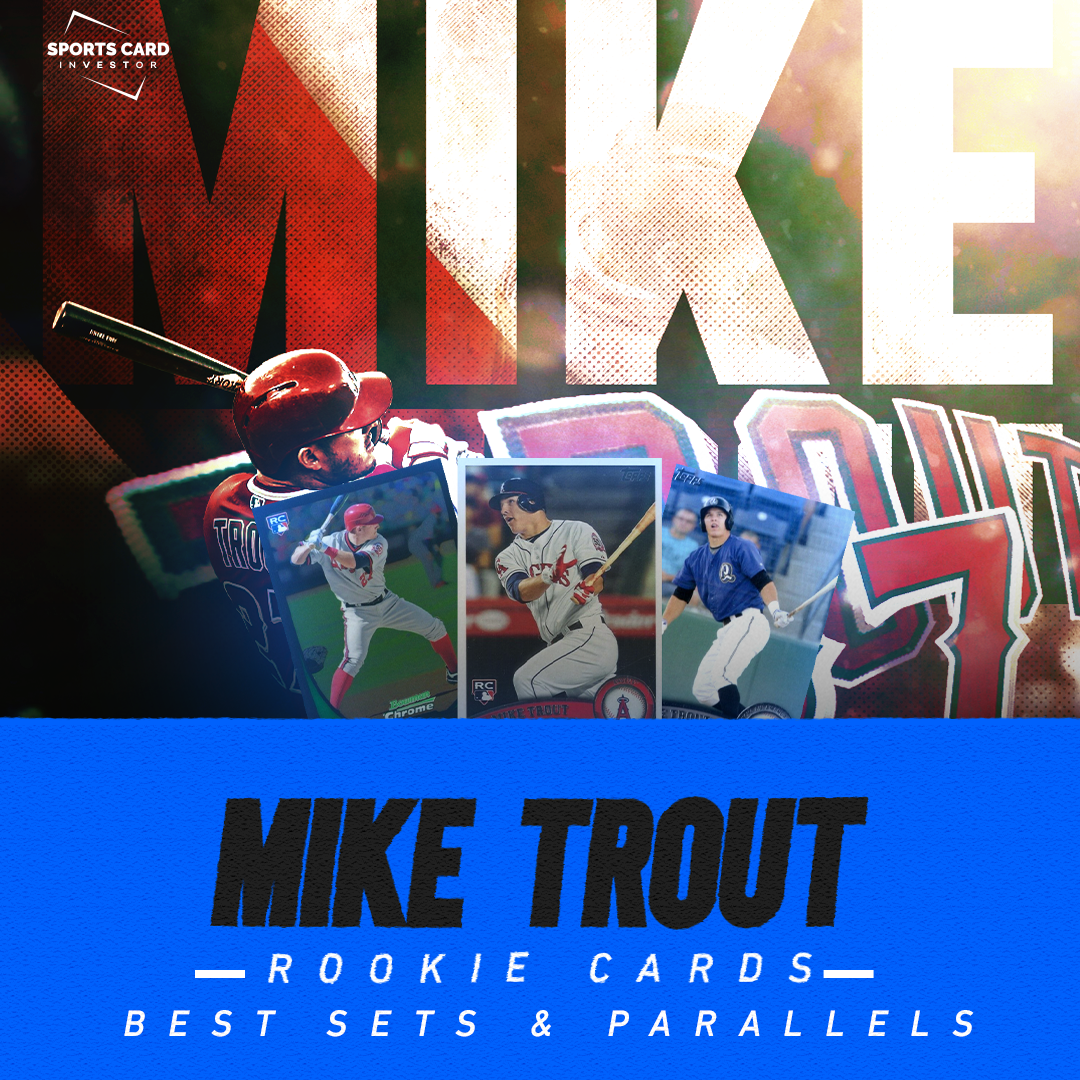 Between 2012 and 2020, L.A. Angels superstar Mike Trout finished in the top five for MVP voting every season. That's as much a statement on the outfielder's overall brilliance as it is a testament to his ridiculous consistency. Not since Barry Bonds was playing in the late '90s/early '00s have we witnessed such sustained dominance at the plate. But knowing Trout, he'll likely add a few more top-10 MVP finishes, eclipse the 500-homer mark and then quietly retire from the game.
And that's been one of the biggest knocks on Trout—he's just too subdued. The nine-time All-Star doesn't endorse enough products, they say. The eight-time Silver Slugger winner doesn't appear in nearly enough commercials, they insist. If he did, who knows what that would mean for his catalog of cards, right? But even without the mainstream limelight, Trout's coveted rookies in PSA 10s still command thousands of dollars, and they'll only go up as the Angels outfielder gets closer to Cooperstown.
Trout has a number of rookie cards from 2011, so use this Sports Card Investor guide to see which ones we think you should focus on. Cards are broken down into tiers, ranging from the most affordable and more popular options to the most unique, expensive and rare.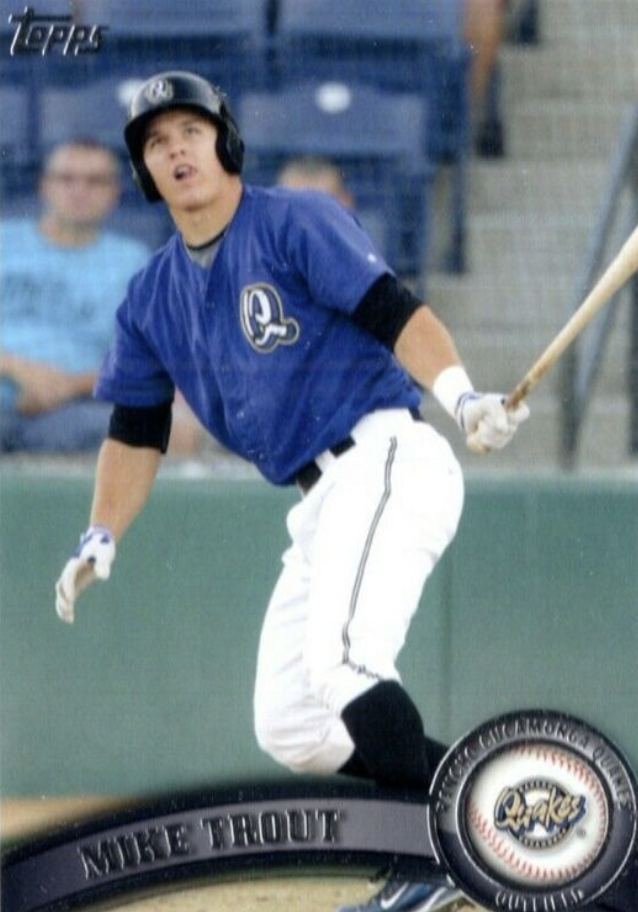 VALUE ROOKIES:
The Value Tier includes cards with high print runs or lower-quality cardstock. A good fit for new collectors or those on a limited budget.
Topps Pro Debut #263: Who knew that the 18-year-old kid pictured here in a Rancho Cucamonga Quakers uniform would blossom into arguably the finest MLB player of the 21st century? We're guessing anyone who held on to this card in gem mint condition.
Bowman's Best #BBPA: Still relatively affordable for a generational talent's rookie card ($500-550), this one shows Trout donning his Angels red while seemingly high-tailing it to first base.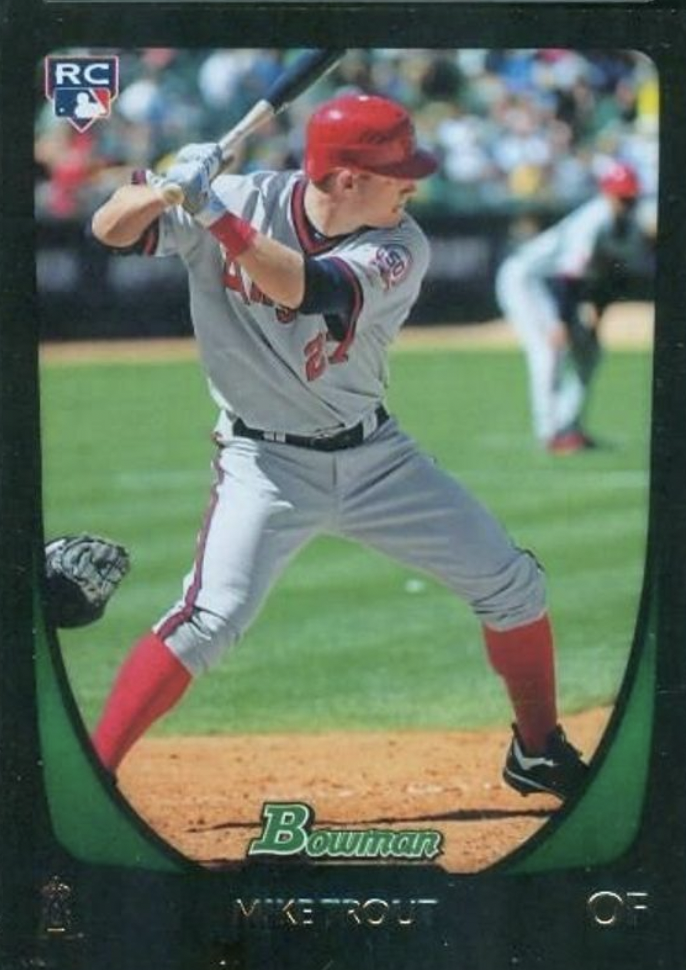 POPULAR ROOKIES:
This tier includes cards from the most popular sets across both retail and hobby formats. Typically easy to buy or sell when needed.
Bowman Draft Chrome #101: With more than 1,200 of these out there in a PSA 10, it makes sense that one would move on eBay every other day. The refractor is found much less frequently, of course, but it comes with a $3,000+ price tag.
Topps Update #US175: When you think about Mike Trout RCs, this is the one that most collectors visualize. Base cards in a 10 sell between $3,000-4,000, while precious parallels such as the Diamond Anniversary can easily fetch more than $12,000.
Bowman Chrome #94: Every week or so, one of these raw cards moves on the secondary market. If your objective is having a highly-graded slab, the gamble could prove worthwhile because PSA 10s have garnered $3,500-4,000 and BGS 9.5s have commanded $1,500-1,700.
MORE UNIQUE ROOKIES:
This tier includes cards with lower print runs, unique designs, or cards from hobby-only products. Usually higher-quality cards than the Value or Popular tiers, though not necessarily more popular or easier to buy or sell.
Bowman Sterling #22: So much of the discussion about Trout centers around his bat, but as some stats (an AL-leading 1.000 fielding percentage in 2018) and this card capturing the superstar in the outfield illustrate, Mike looks groovy with the glove, too.
eTopps #35/999: If you somehow got your hands on one of these cards in great condition, you'd have yourself quite the find. Between mid-April '21 and mid-April '22, there were no PSA 10 transactions and just one PSA 9 moved of the elusive card.
Topps Finest #94: With the streaming-line design behind Trout, it almost looks like rays of sunshine arching behind the outfielder. Seems fitting, seeing as how No. 27 has brought so much light to Southern California over the past decade.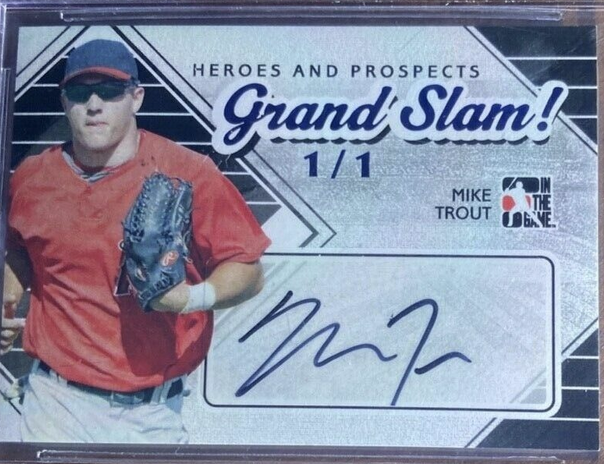 RAREST AND MOST EXCLUSIVE:
We won't spend much time here because this category is likely out of reach for most collectors due to price, but they are still fun to look at.

Sets like ITG typically feature visually stunning designs and low-numbered cards.
This is also where you'll find the most impressive patches paired with high-quality, on-card autographs. Don't worry if this tier is too pricey as there's a host of options in other categories that could be perfect for your collection.
Track your collection and maximize your profit with Market Movers, the hobby's most powerful sports card pricing platform! Learn more here.
Note to readers: If you purchase something through one of our affiliates, we may earn a commission.