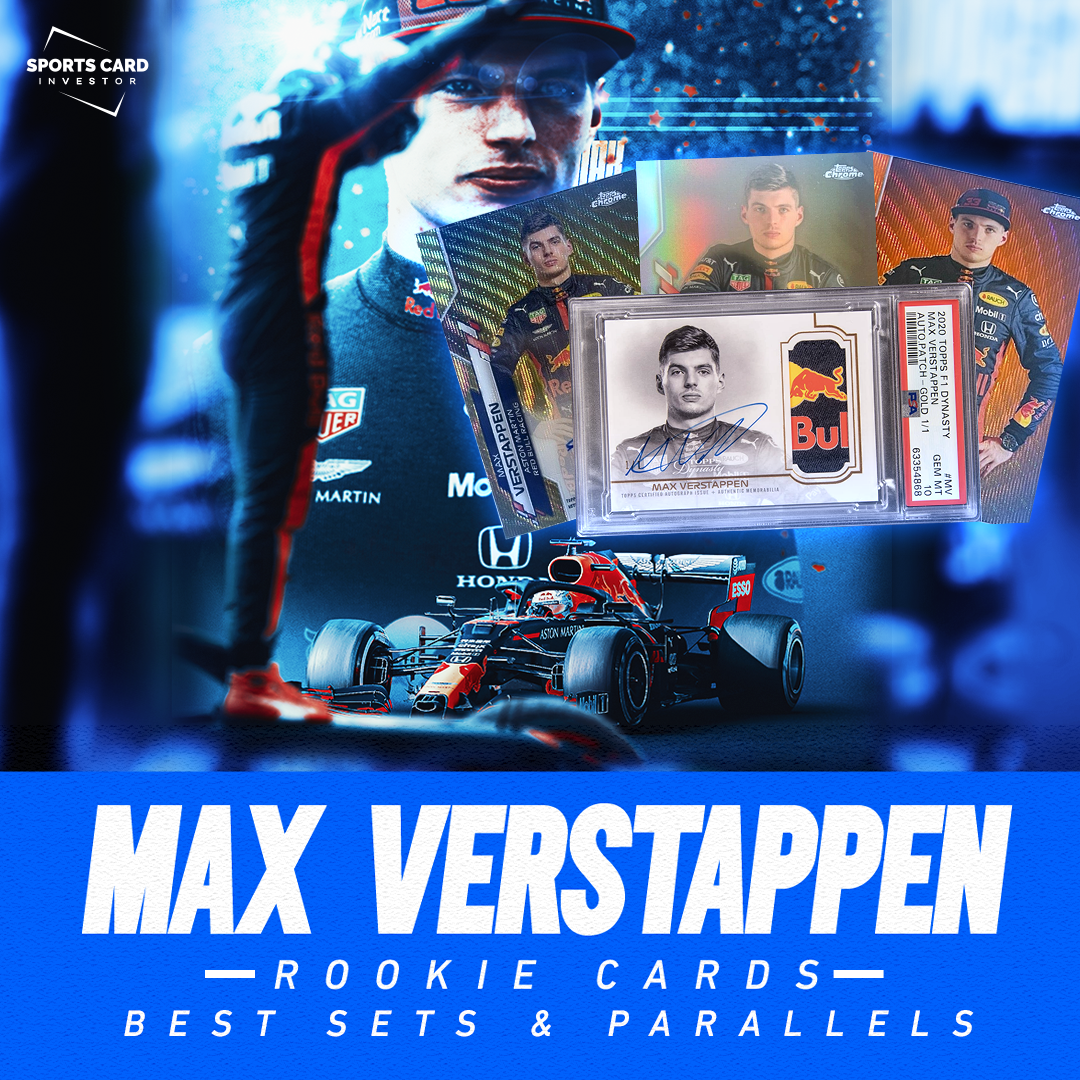 It's no secret that the Netflix Series "Formula 1: Drive To Survive" has introduced the bulk of baseball, basketball and football card investors to F1, along with the release of 2020 Topps Chrome a few years ago.
Sports can be a great soap opera, and F1 is the perfect example of that. And while every good soap opera has to have a villain, 25-year old Max Verstappen has played that role perfectly on the F1 circuit.
Combined with the fact that he dominated the track in 2022 and sealed the deal on his second straight Driver's Championship, his persona has many intrigued about whether he'll go from "heel" to "hero" and how it could potentially affect the value of his cards moving forward.
Having said that, regardless of his attitude and persona, there's no denying his domination, and because he's only 25 years old, there's a great case for investing in him for the long term.
Before we jump into his rookie cards, there are some interesting items to consider:
1. There is no RC logo on any of his rookie cards because he's been driving in F1 since 2015
2. He's basically the same age as Charles Leclerc (25), George Russell (24) and Lando Norris (23), three guys that many folks regard as "the next great driver in F1."
3. Even though he's the villain in the soap opera that is F1 now, will he always be the villain? Is he really a bad guy, and if so, does it negatively affect his card value?
Let's take a look.
VALUE ROOKIES:
The Value Tier includes cards with high print runs or lower-quality cardstock. A good fit for new collectors or those on a limited budget.
2020 Topps Chrome Formula 1 Base – The classic base portrait card from Topps Chrome has the lowest barrier to entry from a cost standpoint while still holding value as an investment. While it's mass produced and not short-printed, it only has a PSA 10 population of 909, making it an interesting acquisition for collectors and investors.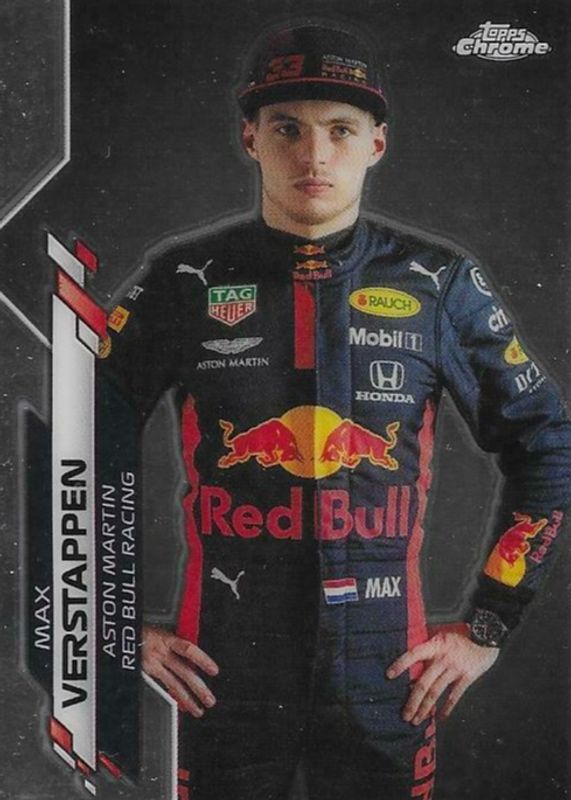 2020 Topps Chrome Formula 1 Track Tags – Track Tags inserts come one in every six packs, and feature a graffiti-style artwork backdrop of the driver's nickname. Not nearly as rare as a Downtown or a Kaboom!, Track Tags are actually pretty common and easy to find. But in PSA 10, there's only 406 of Max's "Max-imum Attack" Track Tags insert, making it a decent value find at a very achievable price.
2020 Topps Now Formula 1 Base – The print-on-demand Topps Now Series captured Verstappen after his win in the Abu Dhabi Grand Prix in 2020, a few months before the release of the 2020 Topps Chrome product, making this technically a rookie card, and one of the most affordable of all Verstappen rookies. He's featured wearing a mask, hoisting a trophy on the podium.
POPULAR ROOKIES:
This tier includes cards from the most popular sets across both retail and hobby formats. Typically easy to buy or sell when needed.
2020 Topps Chrome Formula 1 Sapphire Edition Base – Topps 582 Montgomery Club Members who snagged this release at $9 per box look super smart now, as hobby boxes go for north of $2,000. It's this exclusivity that makes even a base card so desirable. This card in PSA 10 sells on eBay nearly daily on average, proving that it's one of the more popular Verstappen rookies.
2020 Topps Chrome Formula 1 Refractor – One refractor appeared in every three packs of this release, and if you were fortunate enough to pull Verstappen, you got some great value, as this card raw sells for around $250, and nearly $800 in PSA 10. In PSA 8, 9 and 10 combined, there are less than 400, making it very valuable in a top three grade in spite of the mass production.
2020 Topps Chrome Formula 1 Purple Refractor – Purple is /399 in this set, and doesn't sell often, but when it does, it goes for between $2,500 and $3,000 in PSA 10 and for around $450 raw. As desirability and achievability intersect, this one is near the top of the list for Verstappen investors.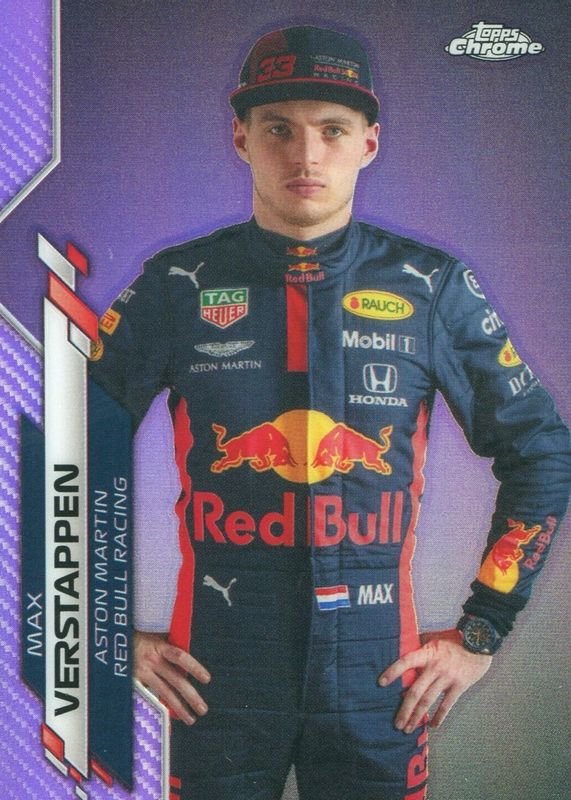 2020 Topps Chrome Formula 1 70th Anniversary Gold – One 70th Anniversary Gold card came in every 30 packs, so this is a short print, but achievable and popular Verstappen rookie. It is the same portrait as the base, and the other refractors, but features a gold shine and a 70 logo mark in the top left corner.
MORE UNIQUE ROOKIES:
This tier includes cards with lower print runs, unique designs, or cards from hobby-only products. Usually higher-quality cards than the Value or Popular tiers, though not necessarily more popular or easier to buy or sell.
2020 Topps Chrome Formula 1 Orange Wave Refractor – There's only 25 of these total, and these cards grade notoriously hard due to some production issues. As such, there's a pop count of eight on the PSA 7, with only six graded higher.
2020 Topps Chrome Formula 1 Sapphire Edition Orange – Another Verstappen rookie with only 25 copies floating around, the Sapphire Edition Orange is the same portrait as the non-Sapphire release, but with the "cracked ice" look featured by Topps Chrome Sapphire. The orange stands out from the blue finish on the base cards.
2020 Topps Chrome Formula 1 SP Variation – It's unclear how rare the image variations are, but they sell for about 20 times what the base PSA 10 sells for. The photo features a portrait of Verstappen sitting, with his elbow on his helmet.
2020 Topps Chrome Formula 1 Sapphire Edition SP Variation – The same photo variation used in Topps Chrome sells for about half the price in PSA 10 Sapphire Edition. A phenomenally clean Verstappen rookie card, it's another solid intersection of achievability and rarity.
2016 Top Trumps Grand Prix Base – Straight out of a trading card game called F1 Grand Prix Heroes, Verstappen's first card technically is a rookie, and only 85 have been graded by PSA. Much like Panini's Adrenalyn and Topps' "Attax" series, the design of Grand Prix Heroes are dominated by stats, scores and rankings of which players use to play the card game.
RAREST AND MOST EXCLUSIVE:
This category may be out of reach for most collectors due to price, but they have the highest upside as investments heading into future International and World Cup Competitions and are still fun to look at. Don't worry if this tier is too pricey as there's a host of options in other categories that could be perfect for your collection.
2020 Topps Chrome Superfractor 1/1 – A beautiful card, the 1/1 of Verstappen's Driver of the Day Hungary Grand Prix has been graded a PSA 8, and listed on eBay for nearly $39,000 or best offer.
2020 Topps Chrome Formula 1 Red Wave Refractor /5 – The Red Wave Refractor /5 features the same image as the base card, but with a red gloss shimmer finish. It's the rarity of this card that makes it so spectacular, and because it's an /5 refractor of the iconic base portrait, it's perhaps more desirable than the Superfractor 1/1 above.
2020 Topps Chrome Formula 1 Auto /52 – A base refractor with a sticker auto, there are 52 of these in circulation, all serial numbered on the back. In PSA 8, there's a pop five with only one graded higher.
2020 Topps Chrome Formula 1 Gold Wave Auto /50 – The Gold Wave version of the above sticker auto, there are only two less in circulation than the auto mentioned above. Three have been graded authentic, and 10 graded higher (which means really any PSA grade).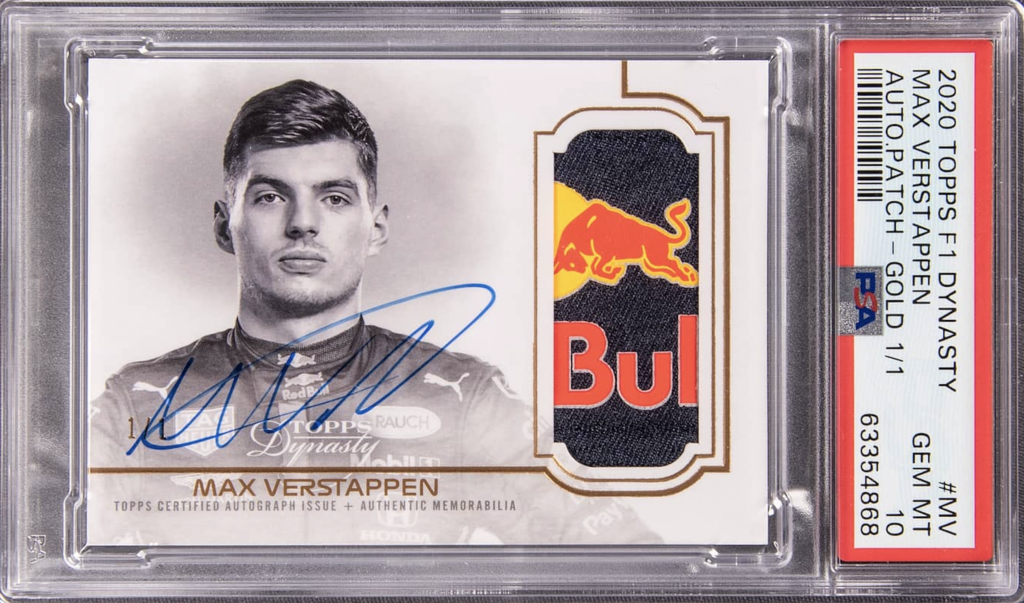 2020 Topps F1 Dynasty Auto Red Bull Patch Gold 1/1 – The largest sale of a Verstappen card thus far came from 2020 Topps Dynasty, and it was this Gold 1/1 Red Bull Patch Auto in PSA 10. A brilliant on-card auto over a solid portrait of Verstappen next to a nice looking relic, but not used in a race or even driver worn.
With the Sports Card Investor app, you can profit from the hobby you love by keeping up with trending cards, tracking real-time prices with Market Movers and buying items on eBay. Download the industry-leading app here for Apple or Android
Note to readers: If you purchase something through one of our affiliates, we may earn a commission.
Paul Hickey is a regular contributor to Sports Card Investor, the creator of the Sports Card Investment Report at NoOffseason.com, and the host of the Sports Card Strategy Show on Apple Podcasts, Spotify and YouTube. He can be found on Instagram at @sportscardstrategy and on Twitter @nooffseasoncard.