From his Texas high school to UGA and even his first NFL stop in Detroit, Matthew Stafford has had little problem putting up big individual numbers. After all, the gunslinger is the fastest player in league history to 20,000, 30,000 and 40,000 career passing yards. It's been the postseason woes — Stafford amassed an 0-3 playoff record over 12 rocky seasons with the Lions — that have kept him from being consistently considered a top-tier quarterback.
But a move from Motown to Malibu has sparked fresh results. Coming into the 2021 season, Stafford's Los Angeles Rams were considered one of the favorites in the NFC West. After another stat-stuffing campaign (4,886 yards, 41 TDs), Stafford slayed his playoff demons and led the Rams to a Super Bowl LVI triumph. Now that he has the ultimate prize, the 13-year vet may finally be placed in the upper echelon of QBs.
Stafford has a number of rookie cards from 2009, so use this Sports Card Investor guide to see which ones we think you should focus on. Cards are broken down into tiers, ranging from the most affordable and more popular options to the most unique, expensive and rare.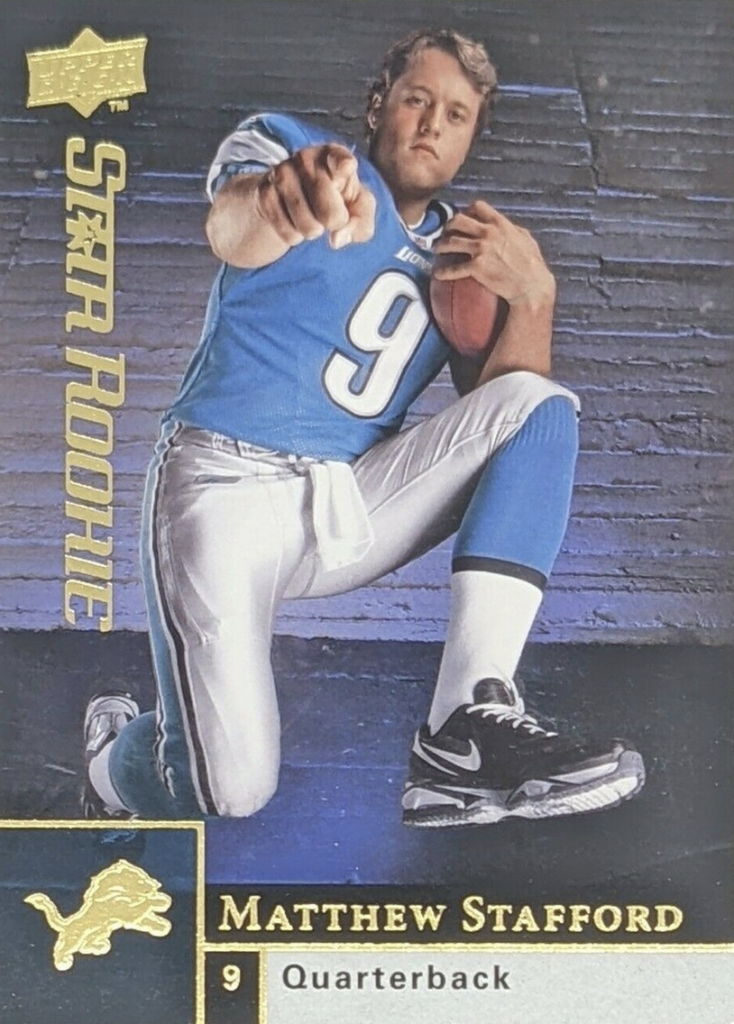 VALUE ROOKIES:
The Value Tier includes cards with high print runs or lower-quality cardstock. A good fit for new collectors or those on a limited budget.
Upper Deck "Star Rookie" #305: Yes, Stafford's mid-air pointing is a little silly, but all things considered, this isn't a bad-looking card. Maybe it's the "Star Rookie" written in gold leaf. Might be the mood-setting purple lighting behind him. Something just works.
Score #371: Though the paint-splash effect feels a tad pedestrian, this card in a PSA 10 can still go for around $250, making it an affordable way to add a gem mint Stafford rookie to your shelf.
Topps #430: Because of his late-season heroics, Stafford's card has gone from around $210 at Christmas to $445 on Super Bowl Week. Should the Rams star lift the Lombardi Trophy, this one won't be a "value" much longer.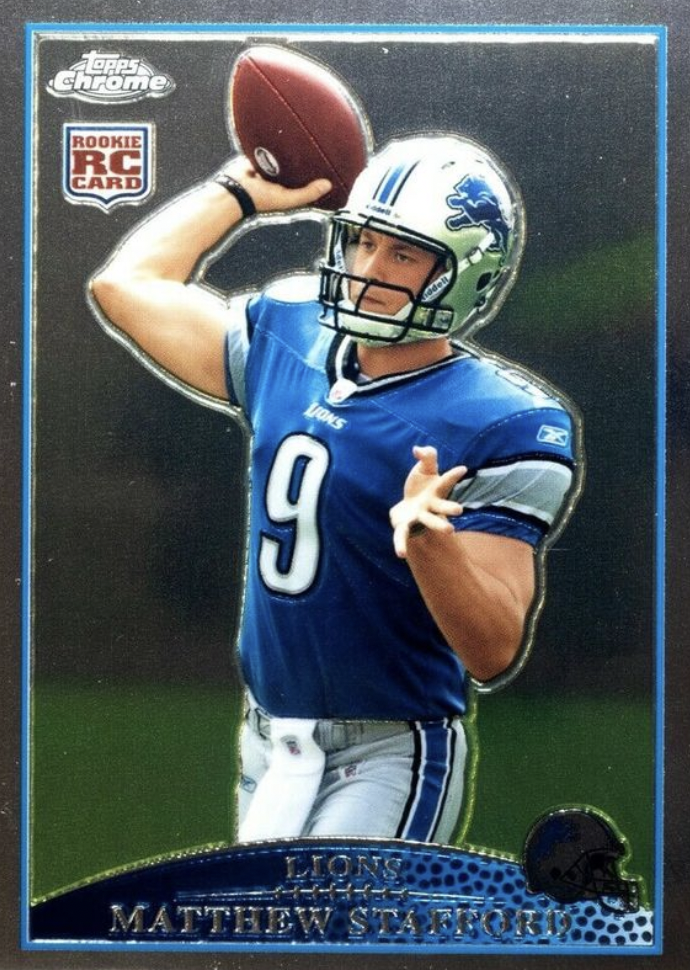 POPULAR ROOKIES:
This tier includes cards from the most popular sets across both retail and hobby formats. Typically easy to buy or sell when needed.
Topps Finest #100: The chromium football field that subtly complements the Lions silver is a cool touch in the background. How the RC has jumped some 68% in value from November '21 to January '22 is even cooler.
Topps Chrome #TC210: Almost everything about this card is an exact match to its Topps counterpart—well, everything but the reflective coating and the nearly $1,000 sticker price.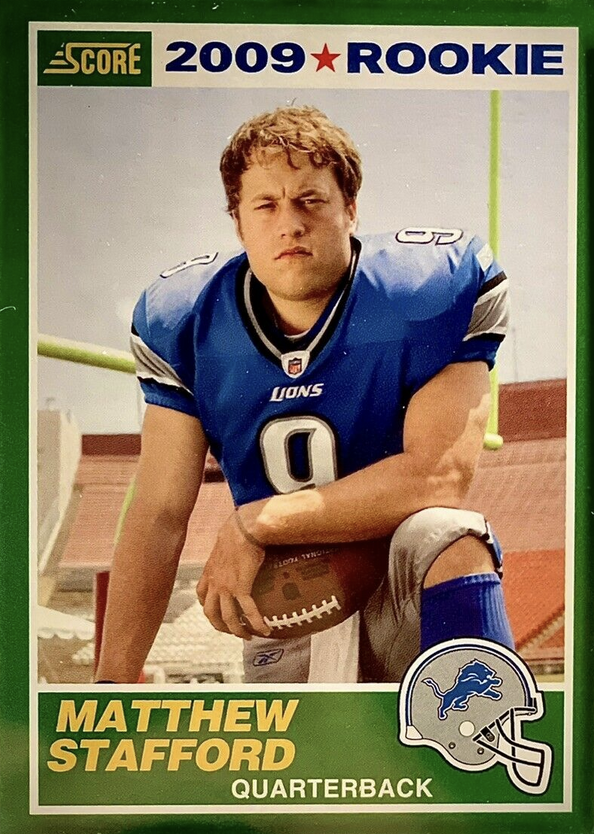 MORE UNIQUE ROOKIES:
This tier includes cards with lower print runs, unique designs, or cards from hobby-only products. Usually higher-quality cards than the Value or Popular tiers, though not necessarily more popular or easier to buy or sell.
Bowman Chrome #111: Surface scratches and smears make this one a tough sell. In fact, only 100 have ever earned PSA 10s. Should you find a flawless one, expect it to set you back between $500 and $600.
Score Retro 1989 Design #1: A nod to the green-bordered '89 Score set made famous by Barry Sanders and Troy Aikman rookie cards, this retro insert adds something out of the ordinary to your Stafford stash.
eTopps #3: An online-only release, this shiny RC had a limited print run of 999 cards. Though graded options have been very tough to find, raws are routinely selling for $150-200.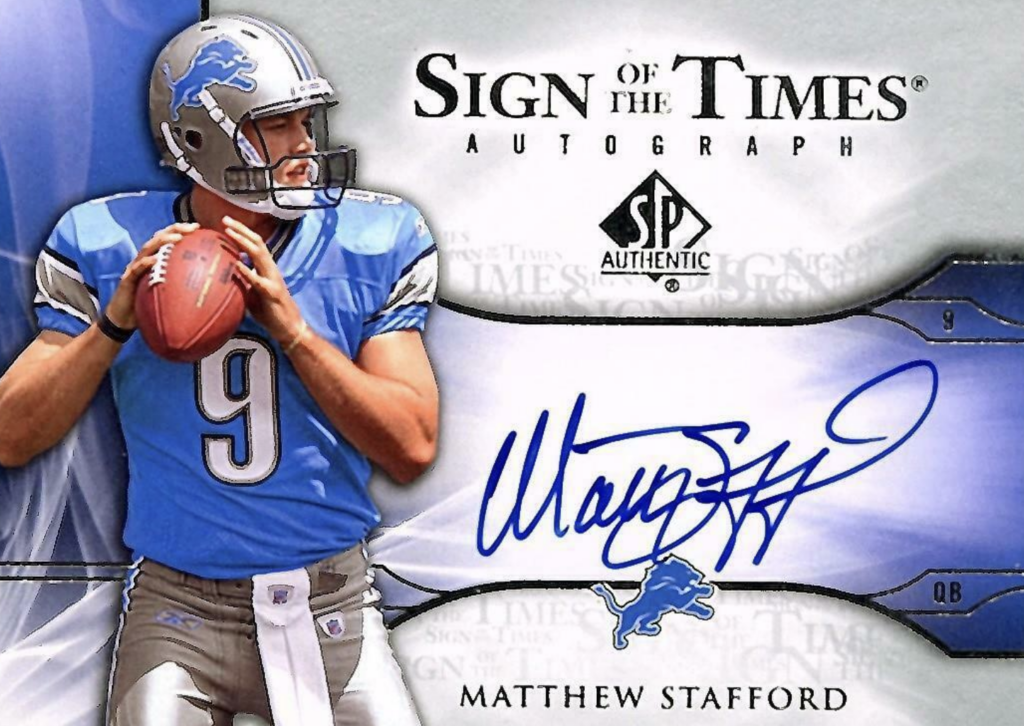 RAREST AND MOST EXCLUSIVE:
We won't spend much time here because this category is likely out of reach for most collectors due to price, but they are still fun to look at.
Sets like SP Authentic typically feature visually stunning designs and low-numbered cards.
This is also where you'll find the most impressive patches paired with high-quality, on-card autographs. Don't worry if this tier is too pricey as there's a host of options in other categories that could be perfect for your collection.
Track your collection and maximize your profit with Market Movers, the hobby's most powerful sports card pricing platform! Learn more here.
Note to readers: If you purchase something through one of our affiliates, we may earn a commission.