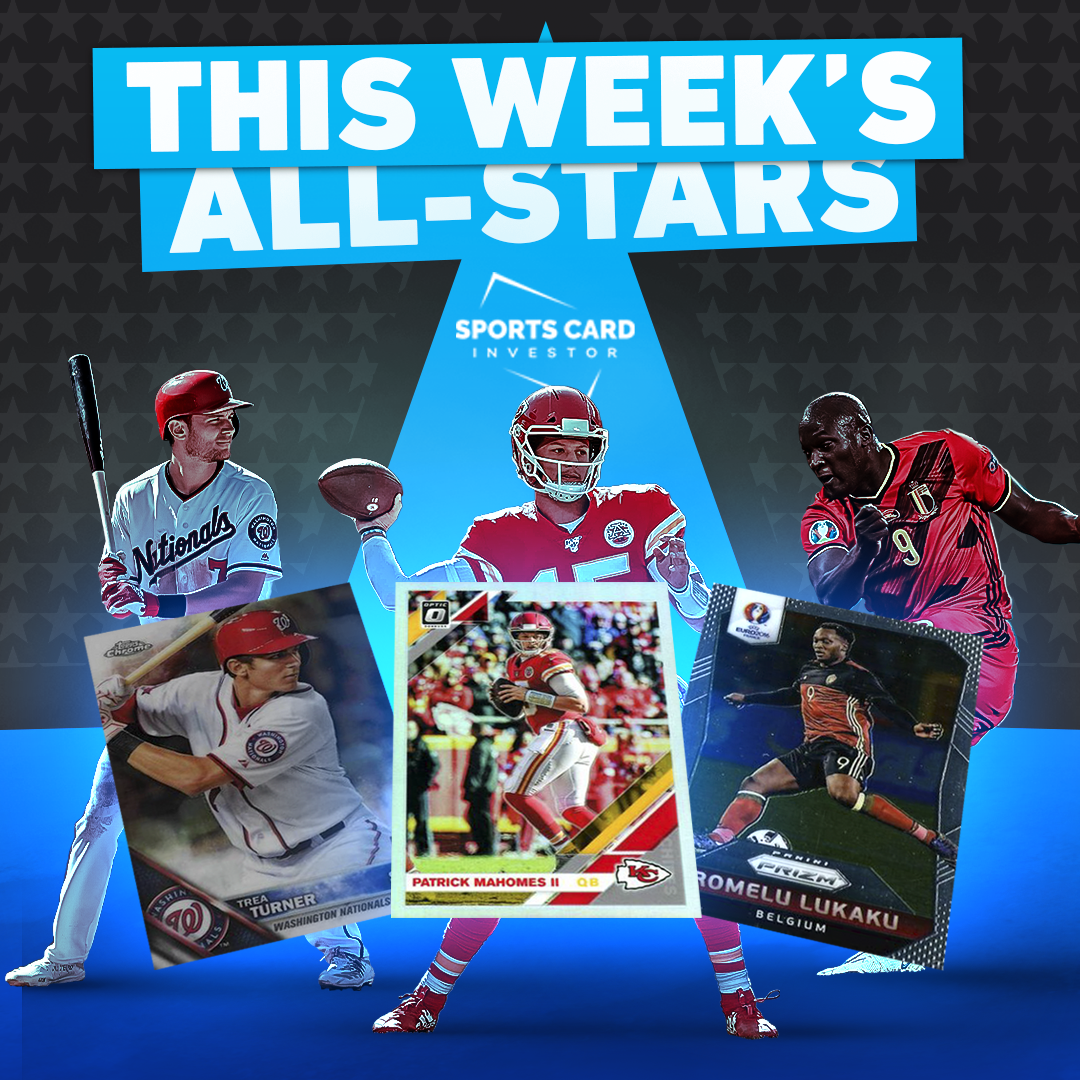 Should being a Madden cover athlete have any effect on a player's card prices? We'll find out soon as Patrick Mahomes will be joined by Tom Brady on the cover of Madden 22.
Here's a look at Sports Card Investor's impact players from across the major leagues:
Patrick Mahomes II, Kansas City Quarterback
You know about the Madden Curse, but with EA Sports' recent announcement that Tom Brady and Patrick Mahomes II would be the cover stars of the famed football game's latest installment, we're hoping for a Madden Burst, a spike in industry excitement surrounding Mahomes' cards.
While we're always interested in the young G.O.A.T.'s rookie cards, we're keeping tabs on later parallels, too.
His 2019 Donruss Optic Holo was $152 in early May, but it's steadily risen to $225. Who knows where it's headed with the QB's face plastered on game covers around the globe? — DeMarco Williams
Romelu Lukaku, Inter Milan and Belgium National Team Striker
In what may be the biggest game of Group B in the 2020 UEFA Euro Cup, Belgium faced Russia without one of the world's best midfielders in Kevin De Bruyne and without winger Eden Hazard. Romelu Lukaku didn't just pick up the slack, he dominated the game and scored two of Belgiums' three goals in a big 3-0 win.
During his club season, Lukaku led Inter Milan to a Serie A title while finishing second in the league in both goals and assists. He will be a favorite to win the Golden Boot in the 2020 Euro Cup and will be a major transfer target over the summer.
Lukaku's 2016 Prizm Euro Base Raw is down 17% over the last 365 days, but we expect that to go up if he snags some of that Euro Cup glory. — Doug Huskey
Trea Turner, Washington Nationals Shortstop
Although the Washington Nationals have had a rough start to the first half of their season, Trea Turner has been a shining star to say the least. Turner is currently Top-5 in hits (80) and stolen bases (13). The 27-year-old has been one of the best players at his position over the last few seasons, and the Nationals will have to make a hard decision on the future of Turner soon.
If Turner and the Nationals can't reach an extension, he could be traded for a younger crop of prospects. Turner's 2016 Topps Chrome Base PSA 10 is one of his most popular cards in Market Movers, and is up 23% over the last 180 days. — Tyler Holzhammer
Paul George, Los Angeles Clippers Forward
With Kawhi Leonard out indefinitely, the Clippers had to get a big game from George on the road in Utah. Playoff P poured in 37 points with 16 rebounds in Wednesday's 119-111 win over the Jazz, putting the Clippers up 3-2 in the series.
George hasn't shot the ball exceptionally well against Utah, but he's been able to get to the free throw line regularly and has 30-plus in three straight games. Despite the strong play, George still can't get much traction within the hobby.
His 2010 Donruss Base PSA 10 is up big over the last two months, but doesn't have enough sales for us to consider it valuable data. His 2012 Prizm Base PSA 10 has become more popular, however, and is up 41% over the last seven days. — Ben Burrows
Track your collection and maximize your profit with Market Movers, the hobby's most powerful sports card pricing platform! Learn more here.
Note to readers: If you purchase something through one of our affiliates we may earn a commission.