Considered by some to be one of the best card releases regardless of category last year, 2021 Topps Chrome Star Wars Galaxy had a major impact on the non-sports card market. Reviving one of the most important Star Wars brands with a chrome finish, the 2021 release featured stunning artwork that ranged from all-new designs to modern takes on older cards, and a stunning lineup of refractors like Atomic, Mojo and even the 1/1 Superfractor.
I recently teamed up with Market Movers for my own Star Wars Market Pulse Index, which will track the prices of my favorite cards from across a variety of Star Wars products, just in time for the release of the much-anticipated 2022 Topps Chrome Star Wars Galaxy.
So with 2022 Chrome Galaxy finally dropping, here's a look back at my favorite cards from the 2021 release: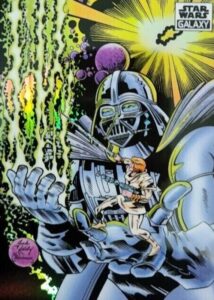 The significance of this card is the artwork by legendary comic book artist Jack Kirby. Nicknamed "The King" by comic fans, Kirby had a massive impact on the industry as one of its most iconic innovators and influencers.
Kirby's decades-long career saw him help create some of the most recognizable superheroes ever, including Captain America, The Fantastic Four, Thor and Black Panther.
Kirby's work spanned both the Marvel and DC universes before he finally added the Star Wars franchise to his portfolio with work in the 1994 Star Wars Galaxy Series 2 release. While several artists have multiple cards in the 2021 Chrome release, Larger Than Life is the only card from Kirby.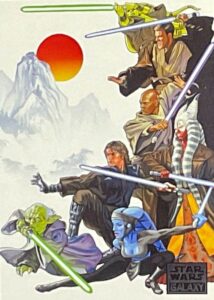 This card pays homage to the classic Seven Samurai movie by renowned director Akira Kurosawa. Considered by some to be one of the best foreign-language films ever made, the 1954 release follows a group of Ronin who defend a village from bandits — a story many fans believe is similar to the Jedi.
The franchise has made many references to samurai culture over the years, and this card captured the attention of the Star Wars community and helped spark a movement for card collecting.
The artist, Randy Martinez, is also a well-known illustrator with several Star Wars pieces as well as a variety of work with the Marvel, Jaws, Jurassic Park and Harry Potter franchises.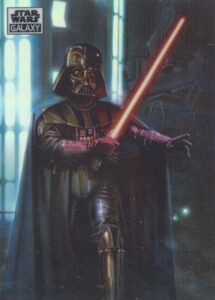 This image represents Darth Vader during his iconic battle with Jedi Obi-Wan Kenobi. Years after losing their duel on Mustafar, Darth Vader got his revenge against Obi-Wan in their final battle on the Death Star in one of the franchise's most important moments.
The artist, Brian Rood, is another well-known illustrator in the Star Wars community with several published pieces in the series.
Rood's work has appeared in multiple Star Wars Galaxy releases over the years — including three cards in the 2021 product. Rood also made the cover art for the Star Wars: 40 Years of the Force Time Magazine Special Edition.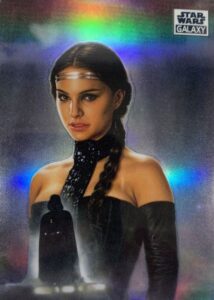 This beautiful card captures a beloved character with Padme Amidala hovering over Darth Vader — symbolizing hidden danger.
The artist, Jerry Vanderstelt, may be the most famous current artist contributing to this series. Vanderstelt has six total cards in the 2021 Galaxy release, including artwork of Luke Skywalker, Leia Organa and Han Solo to go along with this card of Amidala.
In addition to his Star Wars work, Vanderstelt has created artwork featuring The Lord of the Rings, The Hobbit, and Indiana Jones franchises.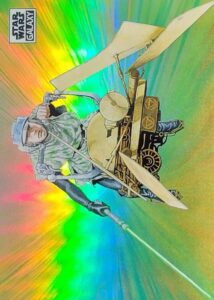 5. Endor Chase
This card is striking with its green background to match Luke's lightsaber — it just looks like it's going fast when you're holding it.
Much like Vader's Revenge, this Endor Chase card features one of the more iconic scenes from the Star Wars franchise, this time with artwork from popular illustrator Steve McNiven — his only card in 2021 Chrome Galaxy.
McNiven is best known for his work with Marvel where he's drawn Captain America, the Guardians of the Galaxy and Wolverine.
With the Sports Card Investor app, you can profit from the hobby you love by keeping up with trending cards, tracking real-time prices with Market Movers and buying items on eBay. Download the industry-leading app here for Apple or Android
Note to readers: If you purchase something through one of our affiliates, we may earn a commission.