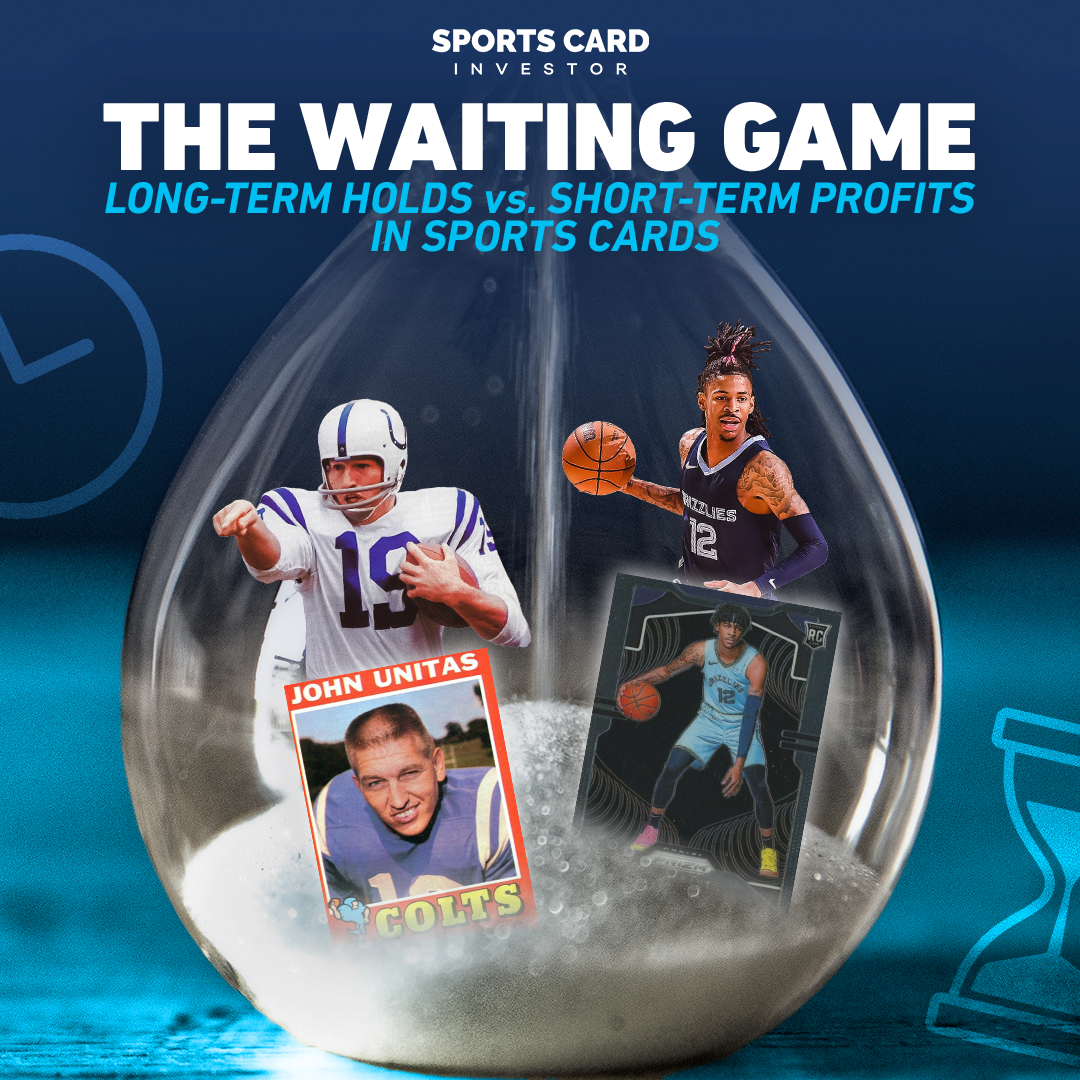 A lot of people who entered the sports card hobby in 2020 or 2021 realized the immediacy of the flipping game. They could pick up an ultra-modern card one day and then move it for 10 times the original cost just a few days later.
But it wasn't only the new stuff being grabbed at such a break-neck pace. In the vintage world, people were also selling superstars for thousands.
Warren Buffett often advises investors to hold onto stocks of proven companies for the long term due to the stability they've shown over 20+ years compared to the volatility of a short-term commodity. A perfect example would be having IBM stock during the dot.com bubble of the late '90s instead of jumping onto the hottest new technology stock, only to see it tank dramatically a year later. Sports cards should be treated in a similar manner.  
If you invested in Atlanta Braves pitcher Steve Avery in the early '90s, for instance, that would be like putting your money into a stock like Pets.com (big upside but risky with little proven value) rather than going with a proven brand such as Nolan Ryan or George Brett. Ask the guy sitting on those 50 '89 Bowman Avery rookies if he made the right call.
Typically speaking, vintage cards are less risk, thanks to them not being influenced by the hype cycle. But in a lot of cases, people consider them boring investments. These old-school cards are the hare to the ultra-modern tortoise. There is far more risk in buzzy names like Ja'Marr Chase or even Deshaun Watson than somebody like a Don Hutson or Johnny Unitas, whose cards aren't reliant on breaking news to alter their market.
Of course, another gamble with speculating market demand is picking the right player and still losing. Take the PSA 10 2018 Prizm Trae Young, which has dropped from $260 at the start of the 2021-22 NBA season down to $130 by the end of March—and that's with Young putting up virtually identical numbers from his breakout 2019-20 campaign. Yet a 1969 Topps PSA 6 John Havlicek has stayed relatively stable between $200 and $240 over that same time frame.
The flippers who are moving cards quickly, taking advantage of hype to buoy card prices, are also at the greatest risk of their card prices plummeting if something unforeseen happens. Slumps and injuries immediately come to mind. And then there are the more dramatic market disruptors.
During the '94-'95 MLB strike, fans were turned off from the game and card collecting, partly due to overprinting but also because of their collective anger towards baseball front offices. That stigma remains to this day for rookie cards of players from that era like Larry Walker and Matt Williams selling for 50 cents. Without the work stoppage, it's possible those cards would be carrying much higher values today, especially if Walker's Expos had won the World Series or Williams would have made a legitimate run at Babe Ruth's home run record.
The recent growth of most sports cards started around May 2020. The market peak seems to commonly be cited as February 2021, as that's when we saw the highest prices for most vintage and modern superstars. That stretch was only nine months long.
During that span, we also saw prices plummet on some cards by as much as 90%. But that's yet another risk when trying to work the short-term profit angle. It's very easy to mistime the market or even recognize how short the selling window may be. If you miss the sale, you're either stuck holding a card you thought would move or you bite the bullet and sell for a loss. If you're lucky, you break even.
As an investor, you have to understand the financial implications when targeting short-term profits over long-term gains. If you truly believe that a player is transcendent, be patient with their cards. Try not to sell your Ja Morant or Patrick Mahomes RPAs too early. Other players can take up to a decade to establish themselves as Hall-of-Fame-level talents.
On the flip side, though, you can have guys such as slugger Juan Gonzalez or running back Shaun Alexander, who look like sure things for a few seasons but ultimately fail to earn enshrinement. Like with stocks, there's always a risk.
But whether you take Mr. Buffett's advice to go with a proven name or not, just do your homework because we'd hate for you to be the one stuck with a stack of 2021 Donruss singles nobody wants in a couple years.
Track your collection and maximize your profit with Market Movers, the hobby's most powerful sports card pricing platform! Learn more here.
Note to readers: If you purchase something through one of our affiliates, we may earn a commission.