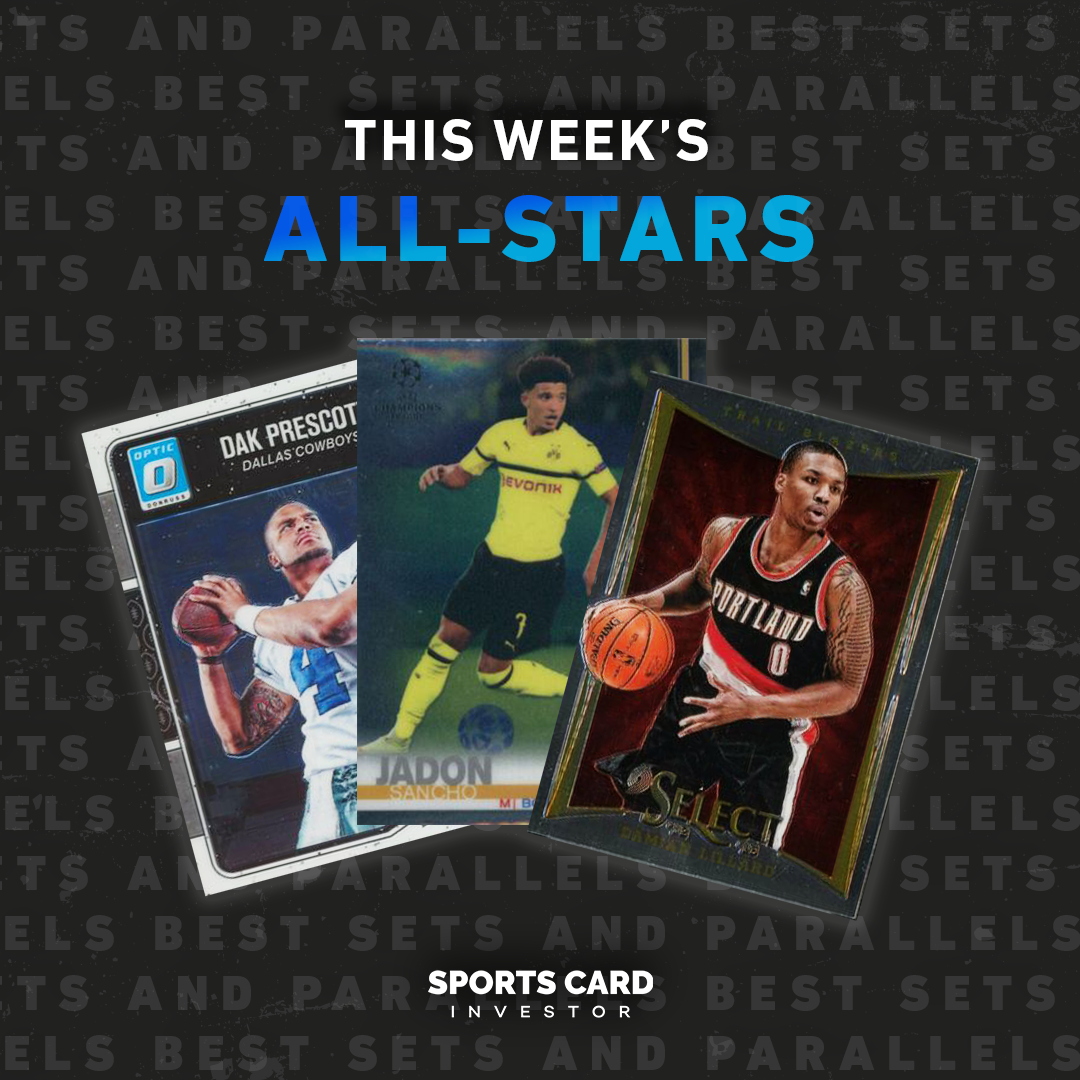 This week's hobby All-Stars are led by Damian Lillard's red-hot shooting and Jadon Sancho's stellar play over the last two matches.
With his Blazers currently battling the Dallas Mavericks for playoff seeding, Lillard has been averaging over 30 points per game and shooting nearly 50% from 3-point range.
In soccer, Dortmund's Sancho came up big with star Erling Haaland sidelined on Saturday and then again in Thursday's German Cup win.
Here's a look at some of the top players from across baseball, basketball, football and soccer over the past week:
Damian Lillard, Portland Trail Blazers Guard
Lillard's cards in Market Movers have been down over 15% over the last 30 days, but that's probably about to change with the next Blazers playoff series. Lillard is currently 4th in the NBA in scoring at 28.7 PPG, and over the last week he's averaging 33 PPG while shooting 47% from 3-point range.
Lillard is one of the NBA's best players in big moments, so a few huge performances soon can be expected. His 2012 Select Base PSA 10 is down over 6% over the last 30 days while his 2012 Prizm Base PSA 10 is down over 23% over that same period. It might be a good time to buy some Lillard before he takes over in the playoffs.
Giancarlo Stanton, New York Yankees DH
Some fans would say Stanton hasn't been worth the 13-year, $325 million contract the Yankees took over when trading for the slugger in 2018, but early production in 2021 has Stanton back in MVP form.
Currently batting .283 with nine homers and 24 RBI, Stanton's cards have been up big over the last 30 days. His most popular card in Market Movers, a 2010 Topps Update Base PSA 10, is up a massive 110% over the last 30 days.
His second-most sold, a 2010 Topps Chrome Refractor PSA 10, is up 20% over that same period.
Dak Prescott, Dallas Cowboys Quarterback
The Cowboys open the 2021 NFL season against the Tampa Bay Buccaneers on September 9, and all eyes could actually be on Dak Prescott instead of Tom Brady. Prescott will be playing in his first game since suffering a season-ending ankle injury in Week 5 of last year, so a good storyline could help get Prescott back into the hobby spotlight.
Prescott's 2016 Donruss Base PSA 10 is currently selling for less than $200, according to Market Movers, and is down from the $400 it was going for near the beginning of last season. His 2016 Optic Base PSA 10 is averaging around $360 over the last 30 days, which is way down from the $750 it saw last August.
Jadon Sancho, Borussia Dortmund Winger
After scoring twice in a 3-2 win over RB Leipzig on Saturday to keep Dortmund in Champions League contention, Sancho followed up with another two-goal game Thursday to secure Dortmund its fifth German Cup.
Despite the strong play and the potential for a transfer, Sancho's cards in Market Movers are actually down nearly 6% collectively over the last 30 days
His most popular card, a Donruss Base PSA 10, is down 11% over the last 30 days while the second-most popular, his 2018 Topps Chrome UEFA Base PSA 10, is up 7% over the same period.
Track your collection and maximize your profit with Market Movers, the hobby's most powerful sports card pricing platform! Learn more here.