Of the 60 young men who were drafted in the 2020 NBA Draft, only one has been named an all-star—LaMelo Ball. It's the 20-year-old Charlotte Hornets sensation's unique combination of court vision, offensive ingenuity and defensive awareness that his peers love so much. But at the same time, it's the 2021 NBA Rookie of the Year's highlight reel-worthy passes, electric dribbling displays and off-the-charts swag that fans can't get enough of. Combine all of that into one 6'7" point guard and you have yourself a player who card collectors envision being a star in the league for the next decade.
Ball has a number of rookie cards from 2020, so use this Sports Card Investor guide to see which ones we think you should focus on. Cards are broken down into tiers, ranging from the most affordable and more popular options to the most unique, expensive and rare.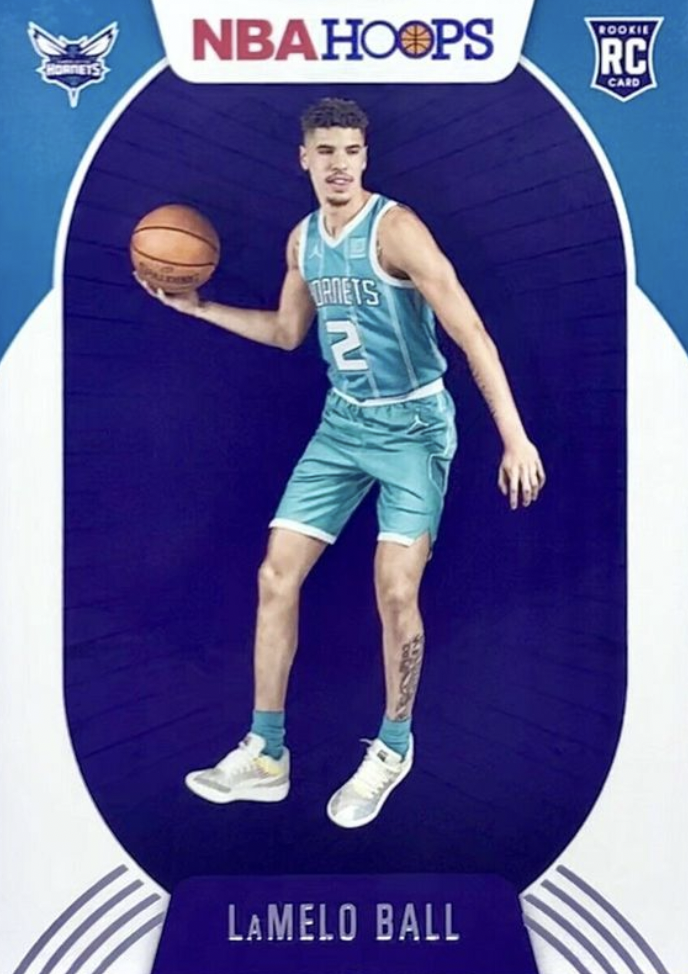 VALUE ROOKIES:
The Value Tier includes cards with high print runs or lower-quality cardstock. A good fit for new collectors or those on a limited budget.
Donruss #202: While grading totals for 2020 releases are still trickling in because of the PSA backlog, Ball's impact on the industry is already clear. This reasonably priced Donruss was nearing 240 PSA 10s at press time. For comparison's sake, fellow '20 rookie Anthony Edwards had just 33 gem mints in the system.
Hoops #223: One of the first opportunities for collectors to see Lonzo Ball's lil' bro in his Hornets jersey, this Hoops card was approaching 1,000 PSA 10s at last look. With a price hovering around $100-120, expect this one to remain one of the most active cards in the set.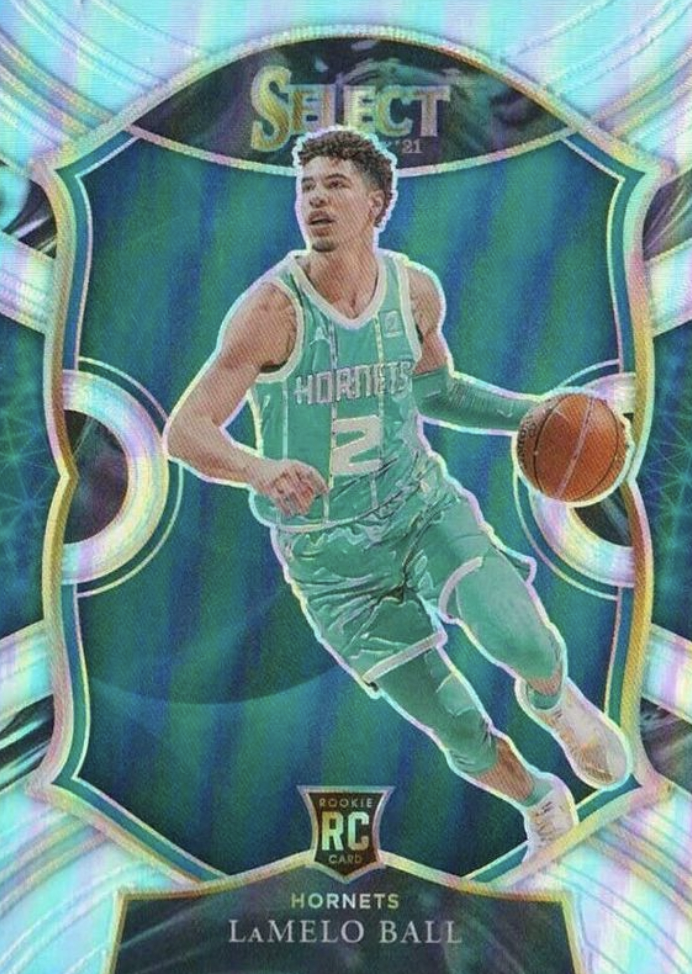 POPULAR ROOKIES:
This tier includes cards from the most popular sets across both retail and hobby formats. Typically easy to buy or sell when needed.
Prizm #278: Want to know exactly how popular LaMelo's Silver Prizm is? You don't even have to search for PSA 10s. Just look at the excitement surrounding the PSA 9. Sales generally hang around $350 while transactions happen 3-4 times a week.
Optic #153: While this Optic Base in a PSA 10 shows up less frequently than the Prizm (83 to 547), it still costs roughly 50% less, making it a solid investment for those who believe LaMelo will be ballin' for the foreseeable future.
Mosaic #202: There aren't many graded figures for this one just yet, but it's a safe bet that color-matching parallels like Reactive Blue, Fast Break and Blue will capture collectors' attention for years to come.
Select Concourse #63: Though there are a truckload of color varieties in the 2020 Select Concourse set, call us traditionalists for leaning towards the classic Silver. The way the light bounces off the Hornets teal is lovely and the $400 sticker speaks our language.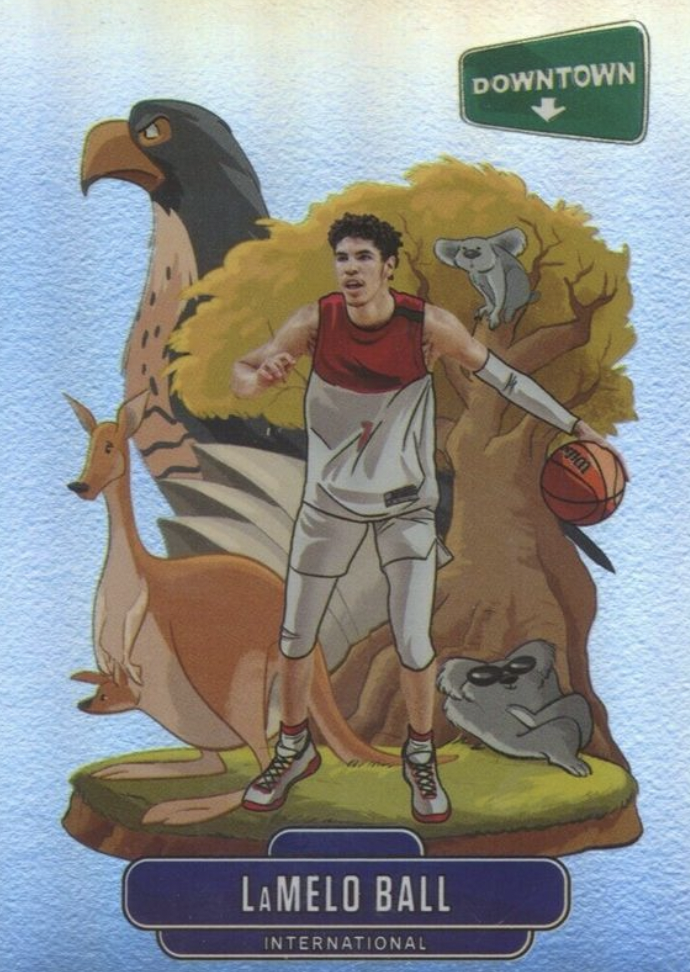 MORE UNIQUE ROOKIES:
This tier includes cards with lower print runs, unique designs, or cards from hobby-only products. Usually higher-quality cards than the Value or Popular tiers, though not necessarily more popular or easier to buy or sell.
Crown Royale Kaboom #23: Even though the generic shot of Ball with a Spalding in his left hand isn't terribly exciting, this card's festive fireworks background and explosive price (a $9,500 sale on Christmas Day 2021) make it a must-have for serious collectors.
Prizm Draft Picks #D2 Downtown: Ball didn't go the usual college route; instead, he played pro ball in Australia. This hard-to-nab Downtown reflects the young man's time Down Under by showcasing koalas, kangaroos and LaMelo in his Illawarra Hawks colors.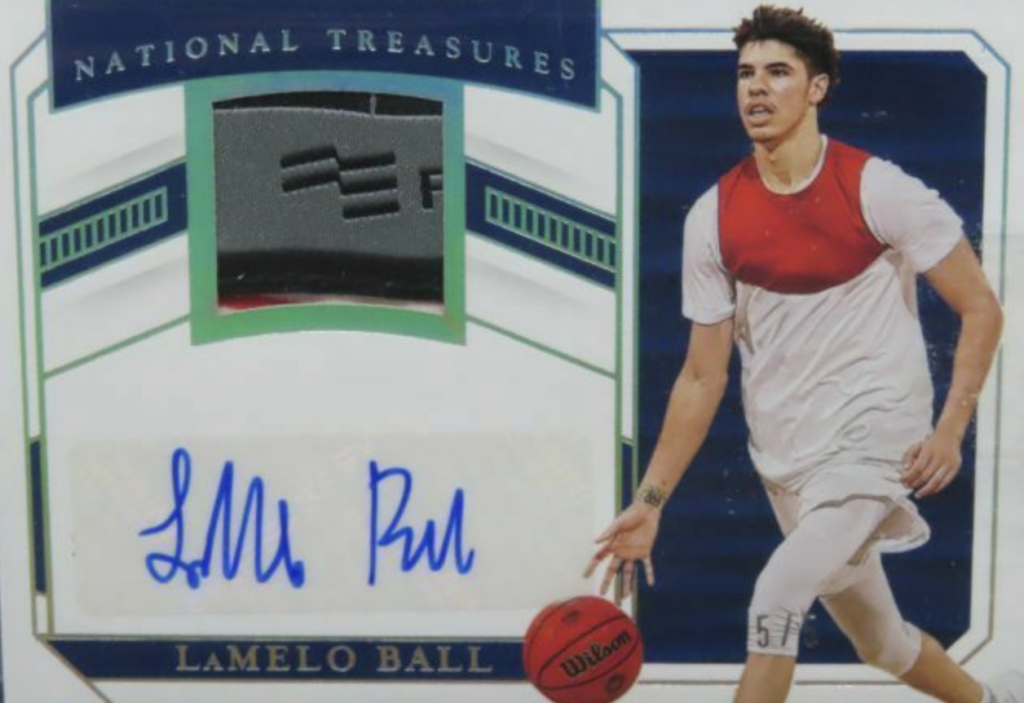 RAREST AND MOST EXCLUSIVE:
We won't spend much time here because this category is likely out of reach for most collectors due to price, but they are still fun to look at.
Sets like National Treasure typically feature visually stunning designs and low-numbered cards.
This is also where you'll find the most impressive patches paired with high-quality, on-card autographs. Don't worry if this tier is too pricey as there's a host of options in other categories that could be perfect for your collection.
Track your collection and maximize your profit with Market Movers, the hobby's most powerful sports card pricing platform! Learn more here.
Note to readers: If you purchase something through one of our affiliates, we may earn a commission.