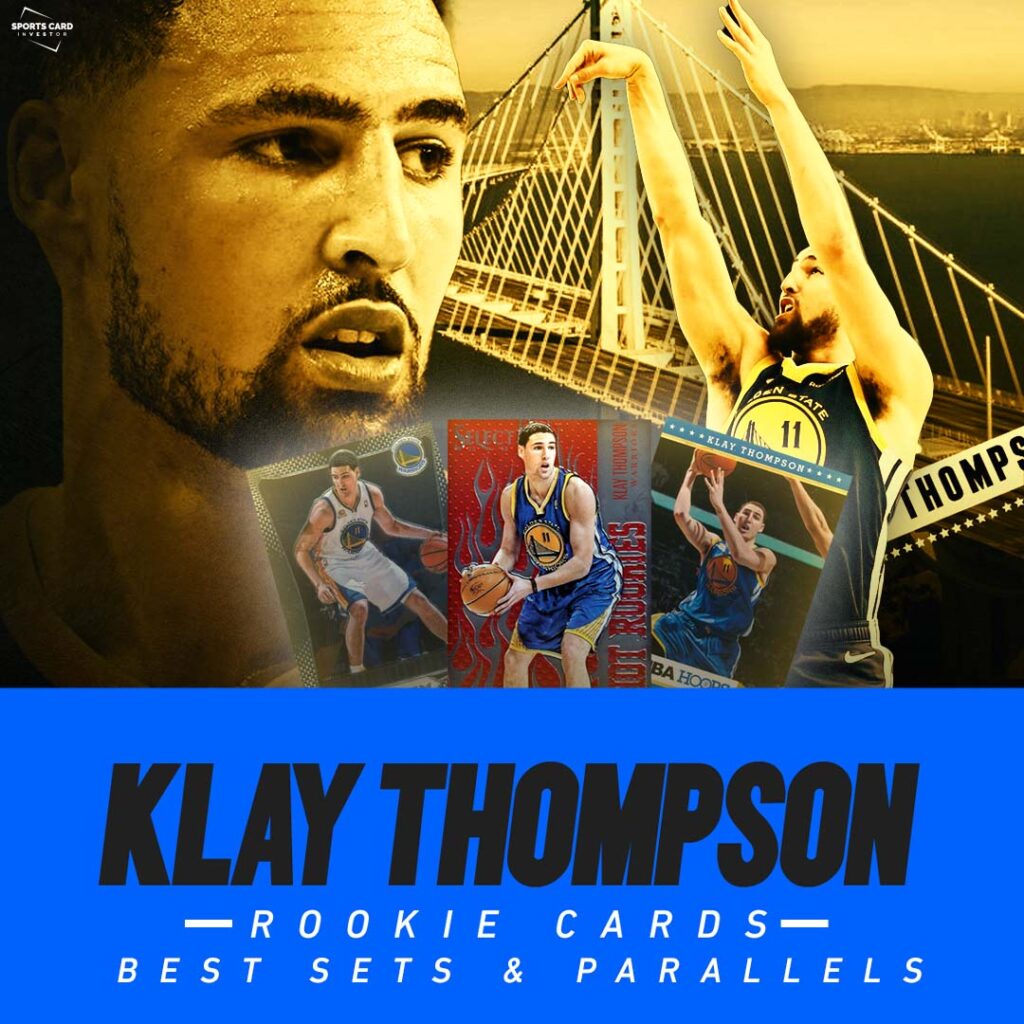 Klay Thompson Rookie Cards: Best Sets and Parallels
January 23, 2015 may not ring a bell to you, but for Golden State's Klay Thompson, it was a night he'll never forget. On that evening, Thompson had what many consider the greatest quarter in NBA history—37 points in the 12-minute span. The 6-6 sharpshooter scored in the paint, at the rim and from deep. It was a net-burning performance reminiscent of something from a video game.
Between 2011 and 2019, Thompson, the Robin to Stephen Curry's Batman, won a three-point contest, got three NBA titles and made five All-Star appearances. Sadly, horrendous back-to-back leg injuries shut the Warriors star down for 940 days at the height of all this excitement.
When Thompson finally made his return in early 2022, hoops fans immediately saw glimmers of the guard's former greatness. But basketball lovers understand that they may never see another night quite like the magical one from January 2015. And that's fine because Klay's place among the all-time shooting greats is unquestioned.
Thompson has a host of rookie cards from 2011-12, so use this Sports Card Investor guide to see which ones we think you should focus on. Cards are broken down into tiers, ranging from the most affordable and more popular options to the most unique, expensive and rare.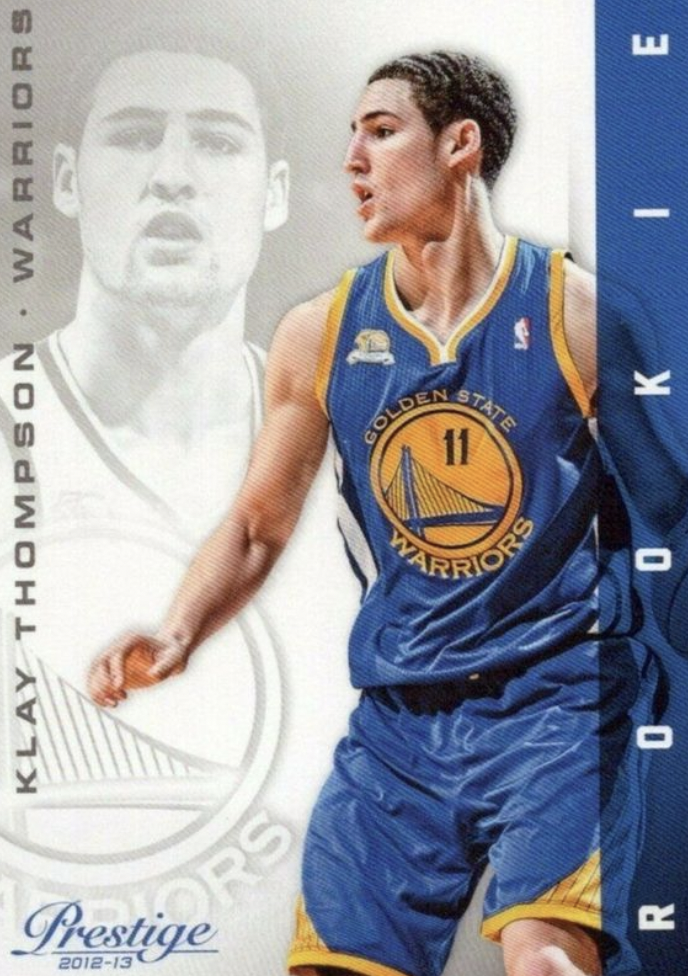 VALUE ROOKIES:
The Value Tier includes cards with high print runs or lower-quality cardstock. A good fit for new collectors or those on a limited budget.
2012 Brilliance #271: A nice, inexpensive entry (around $155 at press time for a PSA 10) into the world of Klay Thompson, this card is a solid action shot and has enough scarcity (only 59 gem mints) that, when you see one on the secondary market, it's worth grabbing.
2012 Prestige #155: Though even more of an anomaly than the Brilliance, this Prestige can be found for roughly $50-75 in a PSA 9. Tens are rarer than an off-shooting night from the Warriors star.
2012 Hoops #232: A few recent $200 sales put this rookie card at the top of our "value" ladder. But this card has had $300+ days before, so it makes for a solid long-term play.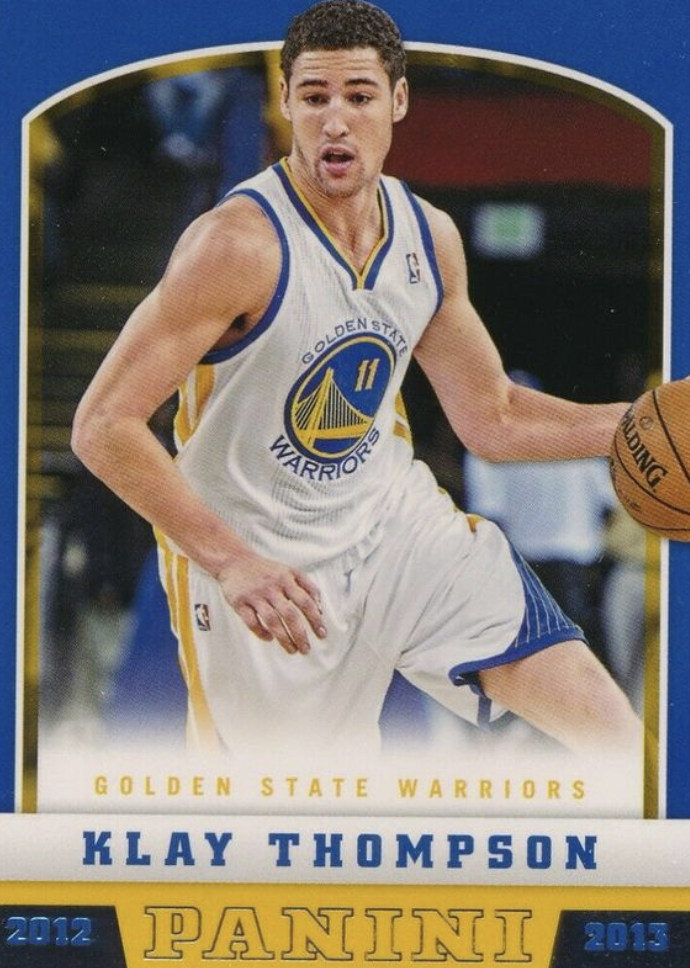 POPULAR ROOKIES:
This tier includes cards from the most popular sets across both retail and hobby formats. Typically easy to buy or sell when needed.
2012 Panini #207: Another winner in the $150-200 range, this Panini captures Thompson on what appears to be a drive to the paint. That cool shot, coupled with the blue-and-gold frame, make for a good-looking option.
2012 Prizm #203: Easily the most popular item on this guide, this rookie card had been graded a whopping 1,627 times by this story's publishing. With a sticker price between $750-1,000, you understand why.
2012 Panini Marquee #473: While this base card's white background and "Rookie" acetate label give it a clean, simple look, the Swirlorama parallel is a fun, festive alternative that will undoubtedly turn heads.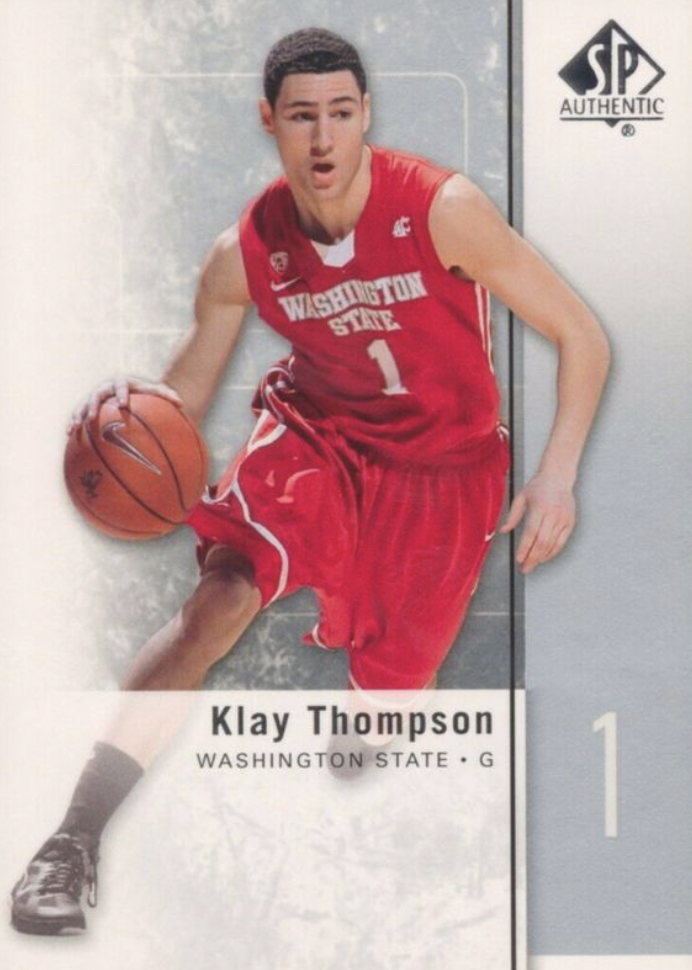 MORE UNIQUE ROOKIES:
This tier includes cards with lower print runs, unique designs, or cards from hobby-only products. Usually higher-quality cards than the Value or Popular tiers, though not necessarily more popular or easier to buy or sell.
2011 SP Authentic #23: Though most of the rookie cards here are 2012 releases, this one from 2011 shows Thompson in a uniform from Washington State, the school where he was a first-team All-Pac-10 performer for two seasons.
2012 Select Hot Rookies: The red backdrop may clash with the Golden State uniform, but this "Hot Rookies" card is still a cool insert. Because there are only 24 PSA 10s, though, you may not ever be able to see it for yourself.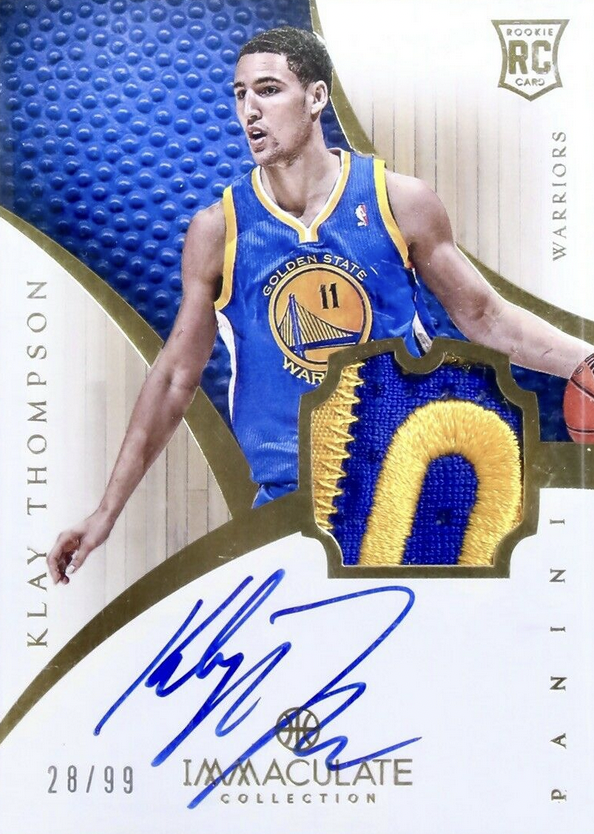 RAREST AND MOST EXCLUSIVE:
We won't spend much time here because this category is likely out of reach for most collectors due to price, but they are still fun to look at.
Sets like Immaculate typically feature visually stunning designs and low-numbered cards.
This is also where you'll find the most impressive patches paired with high-quality, on-card autographs. Don't worry if this tier is too pricey as there's a host of options in other categories that could be perfect for your collection.
Track your collection and maximize your profit with Market Movers, the hobby's most powerful sports card pricing platform! Learn more here.
Note to readers: If you purchase something through one of our affiliates, we may earn a commission.