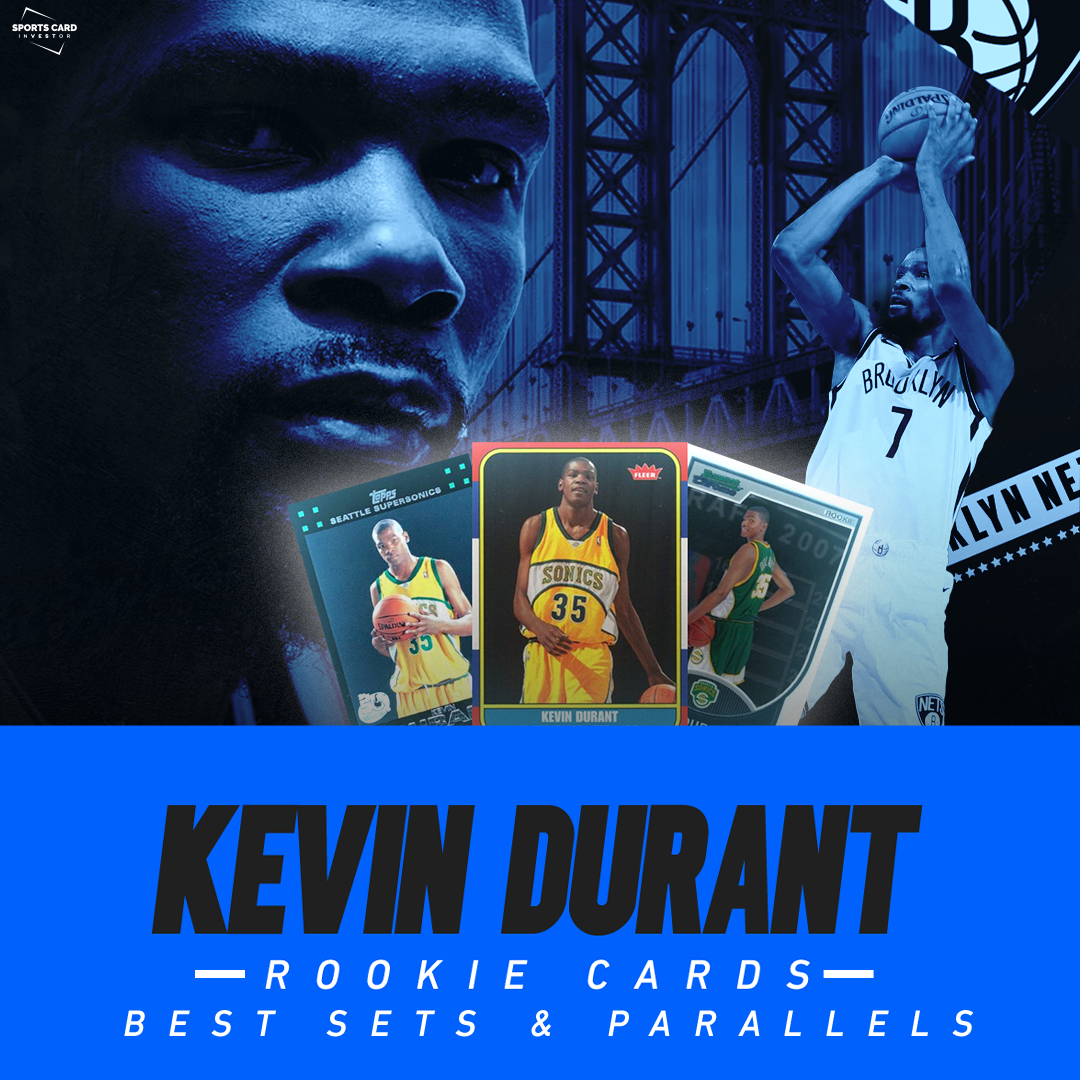 When the NBA announced its 75th Anniversary Team in Fall 2021, only 11 active players made the roster. Of course, Kevin Durant, one of the most dangerous offensive weapons the league has ever seen, was on the list. The Brooklyn Nets forward's resumé includes four scoring titles, 11 all-star game appearances and more than 24,000 career points, so you won't find many basketball fans who'd disagree with the selection. Card collectors have worked up a similar fondness for the guy over the years, with many of Durant's first-year cards and rare parallels fetching big bucks today.
Durant has dozens of rookie cards from 2007, so use this Sports Card Investor guide to see which ones we think you should focus on. Cards are broken down into tiers, ranging from the most affordable and more popular options to the most unique, expensive and rare.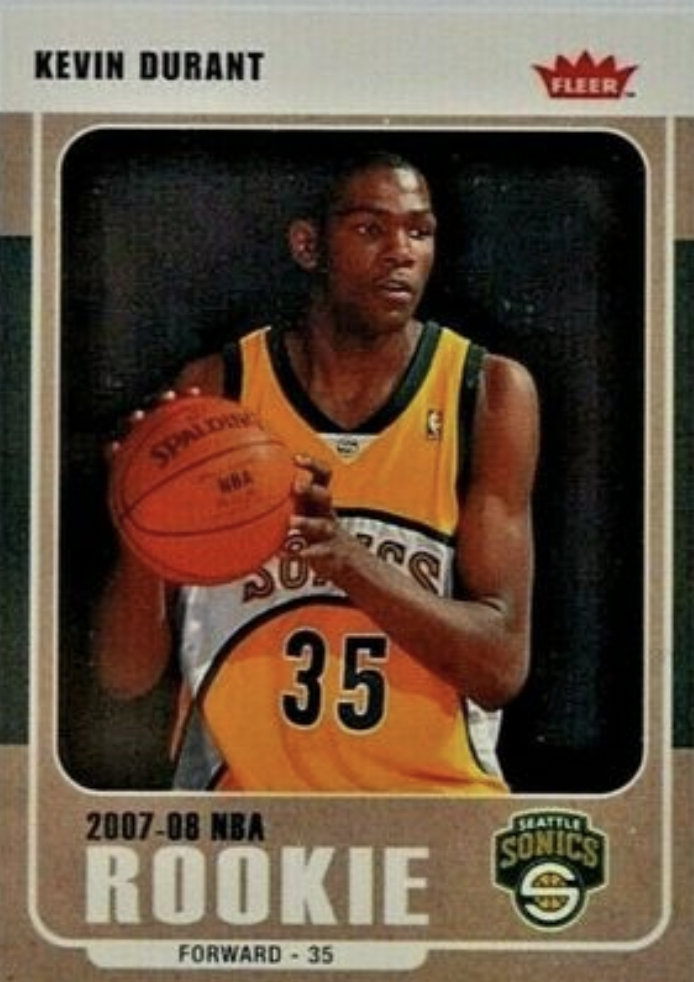 VALUE ROOKIES:
The Value Tier includes cards with high print runs or lower-quality cardstock. A good fit for new collectors or those on a limited budget.
2007 Fleer #212: Don't you just love the sense of nostalgia you get seeing Durant in a yellow Sonics jersey? What collectors aren't liking right now is how this card's value has dropped more than 118% from April 2021 to November 2021.
2007 SP Authentic Profiles #13: If you're looking to get your hands on a KD rookie card, this one might make the most financial sense. At press time, PSA 10s were selling under $200.
2007 Upper Deck Star Rookies #126: Durant's holding his draft-night jersey on this one. Kinda ironic that the priceless personal moment immortalized on this card can be yours for right around $400.
POPULAR ROOKIES:
This tier includes cards from the most popular sets across both retail and hobby formats. Typically easy to buy or sell when needed.
2007 Topps #130: Easily one of the most recognizable RCs for KD. This Topps winner ebbs and flows like everything else in the market, yet somehow it always seems to retain most of its value.
2007 Topps Chrome #131: A gorgeous image of KD taking a jumpshot, this card works on an aesthetics level and on a purely economic one. PSA 10s haven't sold for anything under $3,300 in forever.
2007 Bowman Chrome #236: With a pop right at 100 for gem mints, this card is well known amongst hoops card enthusiasts. Still, its numbers are small enough to warrant a big price tag.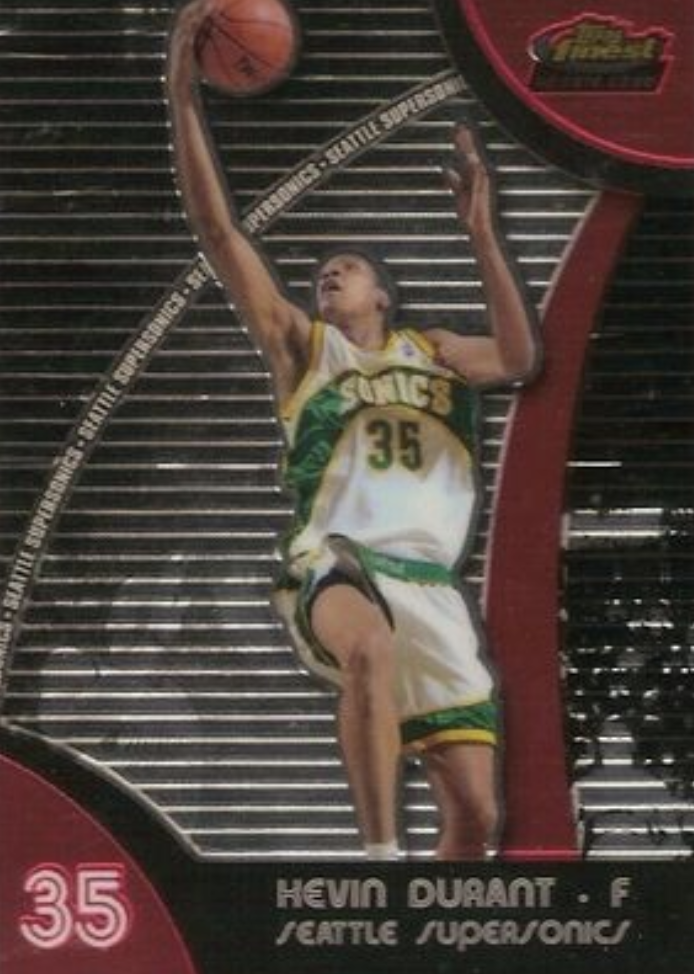 MORE UNIQUE ROOKIES:
This tier includes cards with lower print runs, unique designs, or cards from hobby-only products. Usually higher-quality cards than the Value or Popular tiers, though not necessarily more popular or easier to buy or sell.
2007 Topps Finest #71: The card has a throwback look ('70s-era font) and photo (George Gervin-like finger roll), but there's nothing terribly retro about the $500 prices.
2007 Topps #2 (Orange Variation): As the pop 30 count suggests, it was quite the challenge getting your hand on this factory set-only release. Those who did luck into one have been handsomely rewarded with a $7,500-9,000 payday.
2007 Fleer '86 Retro Rookies: This card earns a spot here strictly for being a cool nod to the most iconic basketball set of all time. That a PSA 10 also goes for $1,500-2,000 these days makes it even more appealing.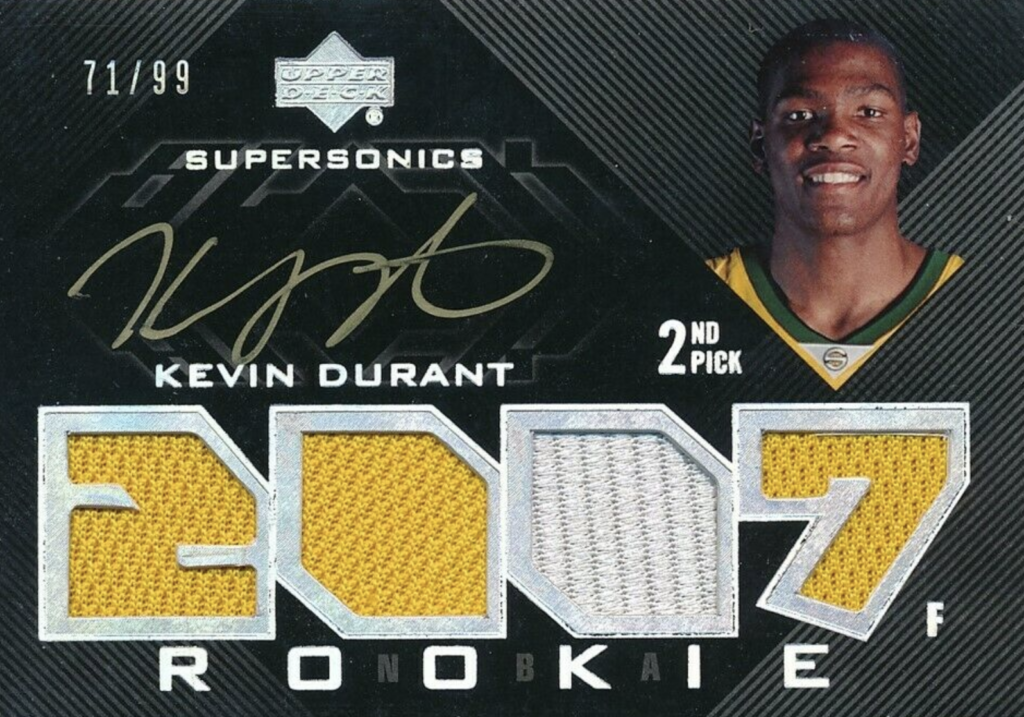 RAREST AND MOST EXCLUSIVE:
We won't spend much time here because this category is likely out of reach for most collectors due to price, but they are still fun to look at.

Sets like UD Black typically feature visually stunning designs and low-numbered cards.
This is also where you'll find the most impressive patches paired with high-quality, on-card autographs. Don't worry if this tier is too pricey as there's a host of options in other categories that could be perfect for your collection.
Track your collection and maximize your profit with Market Movers, the hobby's most powerful sports card pricing platform! Learn more here.
Note to readers: If you purchase something through one of our affiliates, we may earn a commission.