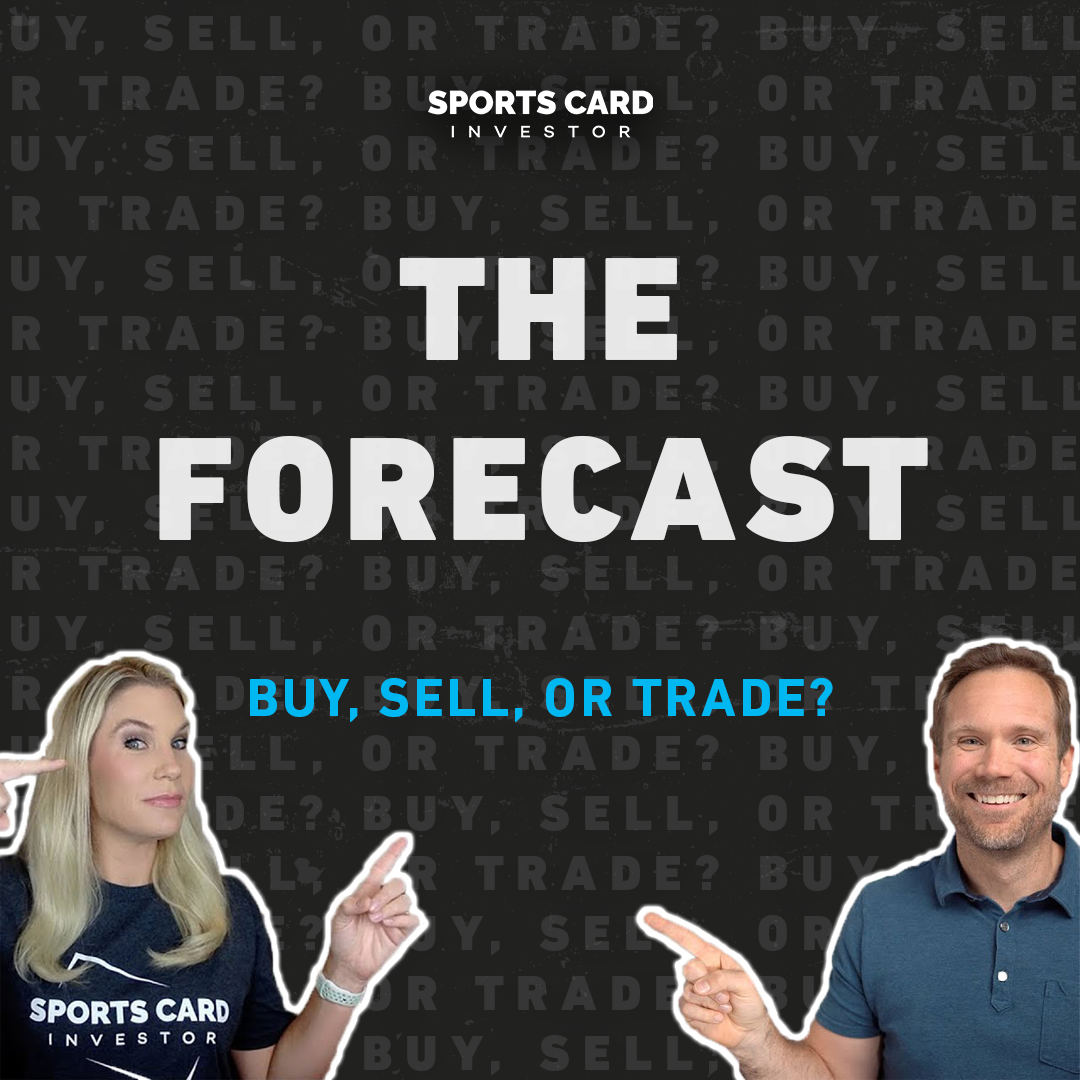 The Chicago Bears won't be rolling with rookie Justin Fields to start the season, but that hasn't stopped collectors from picking up his rookies when they can. With few cards in an NFL uniform, are Fields' Draft Picks sets worth buying?
We cover that and other community submissions in this week's Forecast:
Jameis Winston
Recently named New Orleans' starting QB, Winston has been a regular topic in the card community. He's been among the hottest cards in the industry, but his future as a hobby star is certainly in question.
Week 1 will be Winston's first start since leaving Tampa Bay, and the first time in 16 years that the Saints will enter the season without Drew Brees. Winston isn't widely popular in the hobby, but collectors always look at starting QBs, and he at least checks that box for now.
His 2015 Topps Chrome PSA 10 has a pop of 586 and is up 58% over the last 14 days.
Geoff's pick: Buy/Sell on your Saints outlook this season
Justin Fields
Fans and collectors alike were disappointed to hear that the Bears would likely be moving forward with Andy Dalton as the starting QB to begin the season. Even with Dalton there, it's clear Fields is the long-term solution in Chicago, and his cards have been ramping up in popularity as the season gets closer.
Collegiate sets aren't typically the best for investing purposes, but that hasn't stopped people from scooping up his 2021 Prizm Draft Picks. Fields has several cards out there in his Bears uniform — they are mostly hobby-only products — though it's that 2021 Prizm Draft Picks Base Raw that is up 79% over the last 30 days.
Geoff's pick: If you believe in Fields, wait for sets like Prizm or Select with NFL uniforms
Anthony Edwards
One of the stars of the 2020 NBA Draft, Edwards had a fantastic rookie season for the struggling Minnesota Timberwolves. The explosive guard averaged 19 PPG as a rookie, but really needs to improve his shooting to round out his game.
It hasn't mattered much so far, but don't be surprised if Minnesota's poor records eventually impact Edwards' standing in the hobby. Karl-Anthony Towns' future with the T-Wolves is uncertain, too, so the team could be in for some rough seasons ahead.
Edwards doesn't have much of a graded population, so collectors are picking up his 2020 Prizm Base Raw and 2020 Select Concourse Raw in volume. His Prizm is down 20% over the last 30 days while that Select is down 81% over the same period.
Geoff's pick: With few graded cards, buy high-end or good-condition raw for the future
Cody Bellinger
It's easy to forget Bellinger was the NL MVP back in 2019 based on 2021's results. The Dodgers star has been slumping badly this season while slashing just .171/.247/.319 with nine homers and 32 RBI.
Los Angeles recently announced he won't be starting against lefties, which brings into question how quickly he gets back to MVP form. Bellinger's 2017 Topps Update Base PSA 10 is up 4% over the last 30 days while his 2017 Topps Chrome Update Base PSA 10 is down 1% over the same period.
Geoff's pick: Buy
Jacob deGrom
The Mets ace has been out with forearm tightness since July 7, which pretty much ends his chances at an MVP award. He's started throwing recently, though, so that's good news for New York fans.
Before the injury, deGrom was almost unhittable, with 1.08 ERA and 146 strikeouts in just 92 IP. Pitchers are rarely sports card stars, but deGrom has been a popular purchase for many. His 2014 Topps Update Base PSA 10 is down 43% over the last 30 days.
Geoff's pick: Buy
Track your collection and maximize your profit with Market Movers, the hobby's most powerful sports card pricing platform! Learn more here.
Note to readers: If you purchase something through one of our affiliates we may earn a commission.