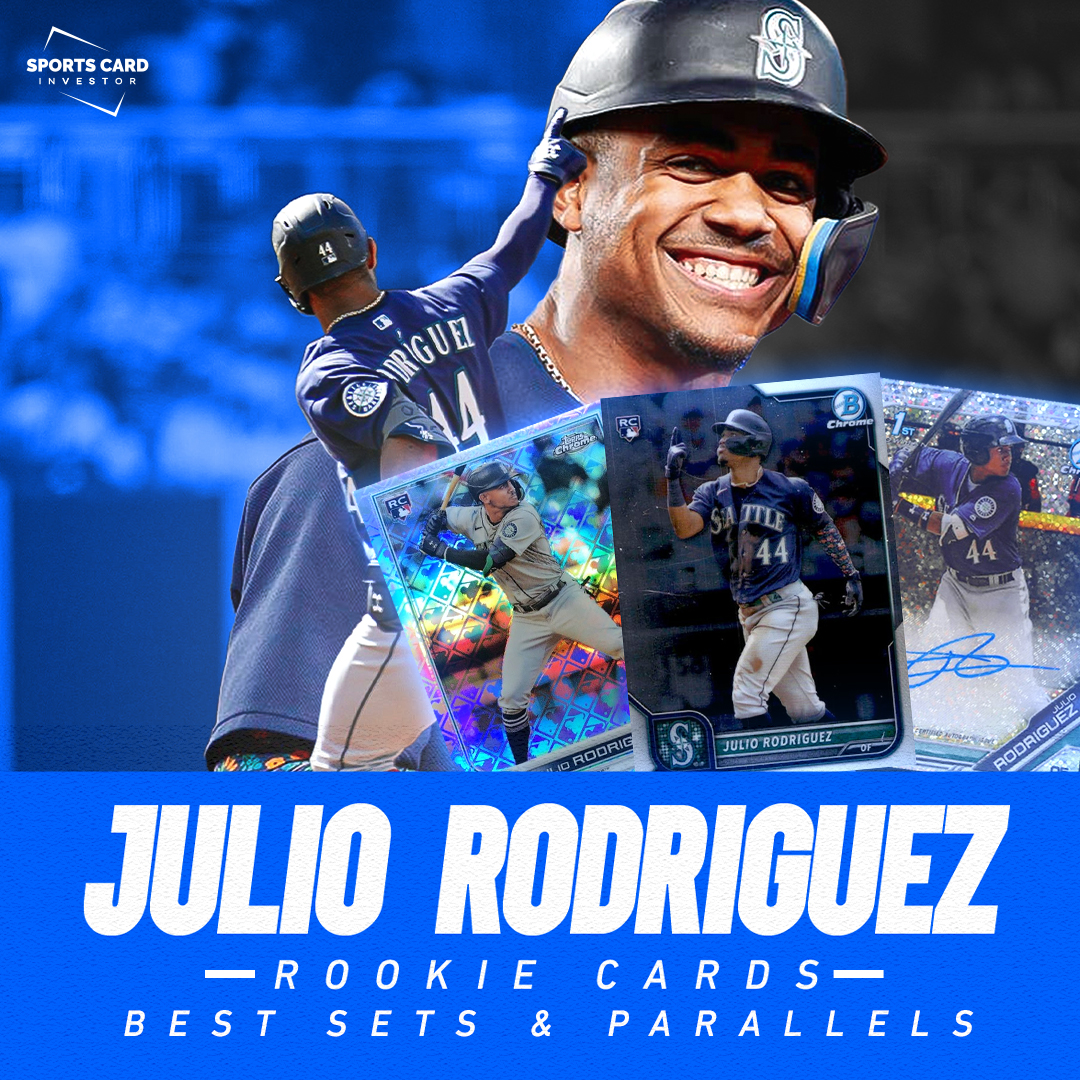 Julio Rodriguez Rookie Cards: Best Sets and Parallels
After lighting it up with a .332 batting average, 25 HR and 126 RBI in his 246-game Minor League Career spanning five different squads, Julio Rodriguez continued his hot hitting in the big leagues in 2022, batting .284 with 28 dingers and 75 RBI, winning AL Rookie of the Year and representing the Seattle Mariners in the MLB All-Star Game at the age of 21.
Not only is J-Rod legit, but the fact that he's the same height and position as a former Mariners Hall of Famer named Ken Griffey, Jr. only adds to the appeal.
Entering the sports card world with the release of 2019 Bowman Baseball, J-Rod's first prospect cards and first prospect autos are truly important. And as any baseball card investor will tell you – even though they're not technically "rookie cards," Bowman 1st Prospect cards are the ones to own, especially in Bowman Chrome.
With the release of 2022 Bowman Baseball and 2022 Topps Flagship, Topps Chrome and other Topps Baseball releases, his true "rookie cards" with the RC designation hit the market.
VALUE ROOKIES:
The Value Tier includes cards with high print runs or lower-quality cardstock. A good fit for new collectors or those on a limited budget.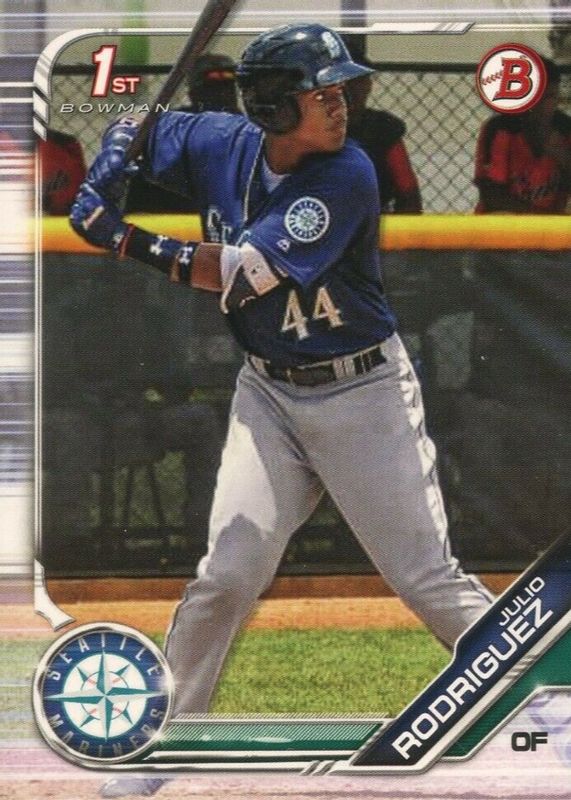 2019 Bowman Paper Prospects: The entry-level 1st Bowman is the Paper Prospects, selling for around $50 in PSA 10, and features the young phenom at the plate in his Seattle Mariners uniform and wearing his current jersey No. 44. The key is the "1st Bowman" logo in the top left corner. If you don't have the budget for the refractors, variations or autos, the paper prospects is the next best place to start your collection or investment. Paper prospects also have sky blue (/499), purple (/250), blue (/150), green (/99), gold (/50), orange (/25), red (/5) and platinum (1/1) serial numbered short prints – each increasing in value the lower the serial number.
2022 Topps Update Rookie Debut (US-97 RD): A paper release, Topps Update Series comes out after flagship, and features players in their new uniforms after early season trades, free agent signings and adds rookies in the mix that weren't included in flagship. J-Rod's Rookie Debut Card features him at the plate with the date of his first big league game printed on the card: 4/8/2022. While he went 0-4 that day starting in centerfield, the card still sells for a solid $50-plus in PSA 10. Variations of this card include Mother's Day Hot Pink, Rainbow Foil, Green Foil, Gold, Gold Foil and Red Foil.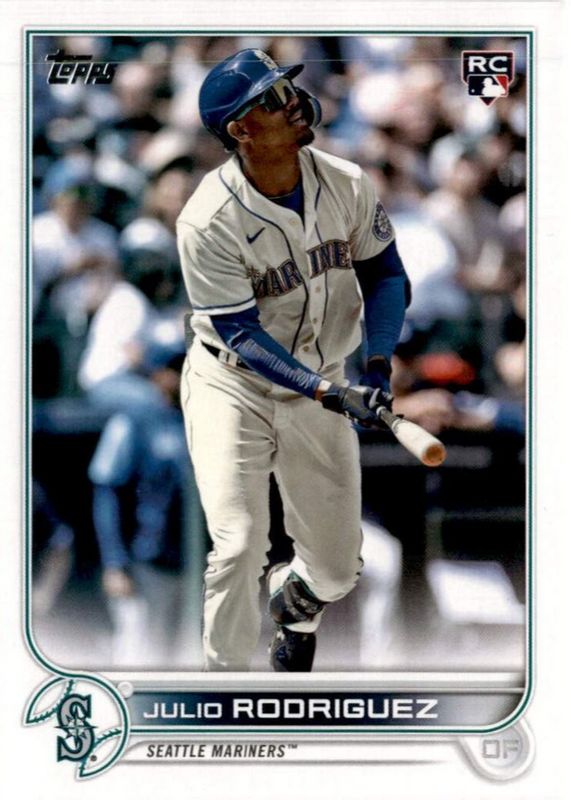 2022 Topps Update Base (US44): The paper base version of J-Rod's 2022 MLB rookie card came out in the same release, Topps Update. It sells for about the same price in PSA 10 as the 1st Paper Prospects card above, but features the classic RC logo in the top right corner. Like the others, it comes in more valuable short prints including: Royal Blue, Rainbow Foil, Green Foil, Gold, Gold Foil and Red Foil.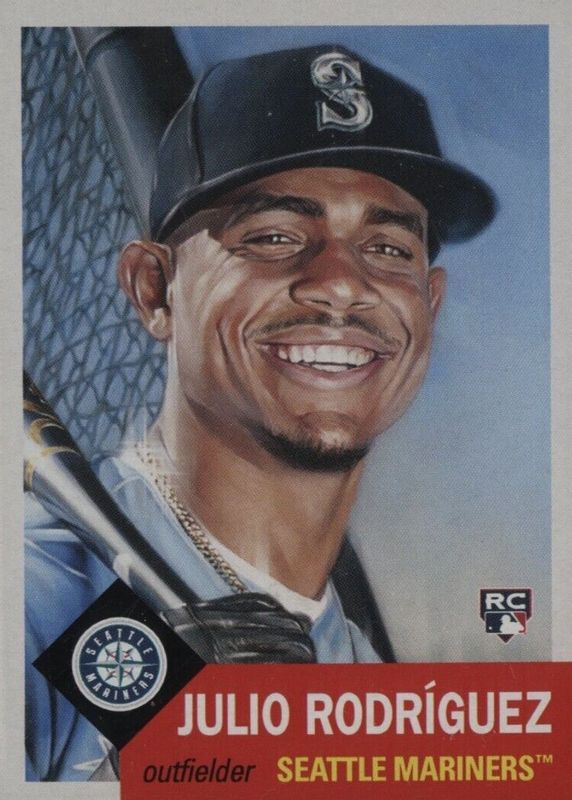 2022 Topps Living Base: Going for right around $100 in PSA 10, the Topps Living RC features a clean sketch of J-Rod based on a headshot of him in uniform, holding his bat on his right shoulder in a classic old-school baseball pose. A sparkling chain around his neck highlights the happiness seen in his smile as he looks into the camera as if to say, "I'm here, and I'm ready to hit for power and average." Living is printed on paper cardstock like the others in his list.
POPULAR ROOKIES:
This tier includes cards from the most popular sets across both retail and hobby formats. Typically easy to buy or sell when needed.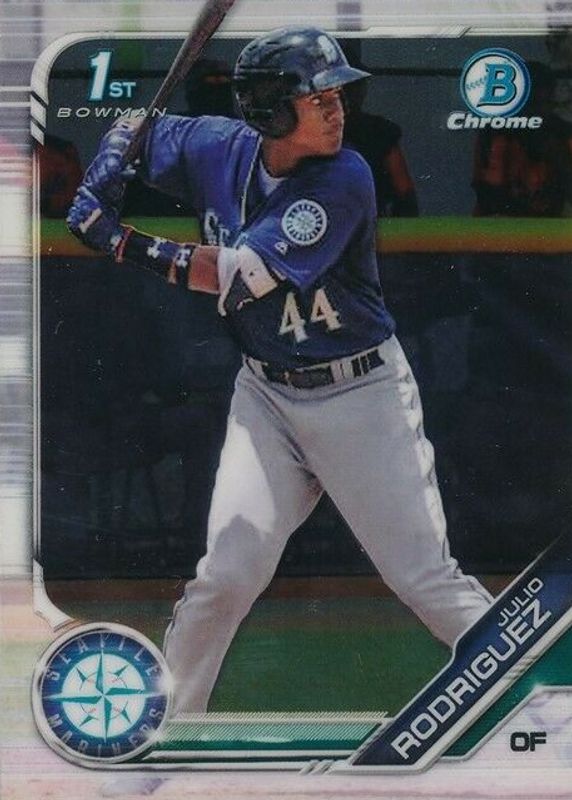 2019 Bowman Chrome Prospects: Looking at this and its paper cousin online, the only difference is the word "Chrome" under the Bowman "B" logo in the top right corner. But if you've ever ripped a pack of Bowman and held the actual paper cards and Chrome cards in your hands, then you really know the difference in quality. This version sells for about double the paper prospects above in PSA 10. If you have a little more budget, grabbing a base refractor (/499) or even a speckle refractor (/299) would make a ton of sense. There are also the following short print serial numbered refractor versions of this card, each gaining value the lower the serial number: Purple /250, Blue /150, Blue Shimmer /150, Aqua /125 (Hobby/Jumbo), Aqua Shimmer /125 (Hobby/Jumbo), Green /99 (Retail), Green Shimmer /99 (Retail), Yellow /75, Gold /50, Gold Shimmer /50, Orange /25 (Hobby), Orange Shimmer /25 (Hobby), Red /5, Red Shimmer /5, Superfractor 1/1 (Hobby/Jumbo) and Printing Plates 1/1. Then, there's the Mega Box Mojo Refractor as well.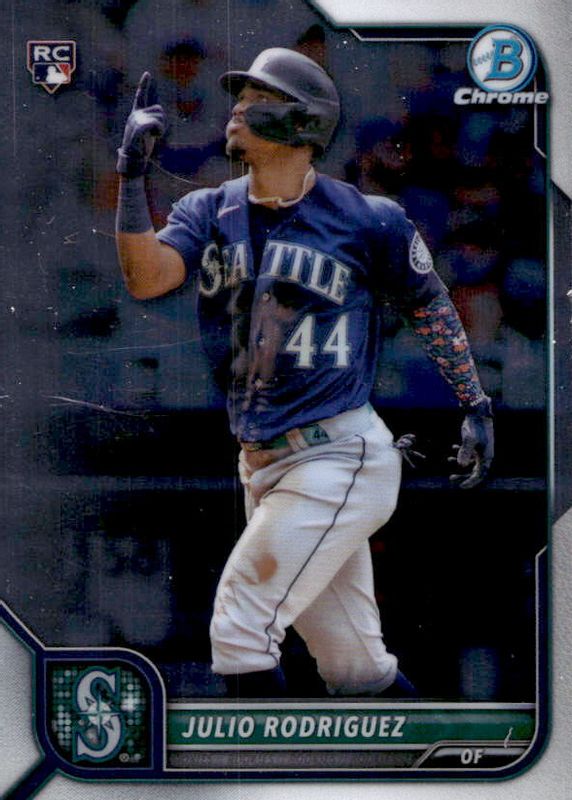 2022 Bowman Chrome Base: While this may seem a bit confusing, 2022 Bowman Baseball featured prospect cards and rookie cards. The prospect cards are his third (2019, 2021 and 2022) and don't really have much significance. But his 2022 Bowman Rookie Cards are different, and have meaning due to the RC logo in the top left corner. The Bowman Chrome Base RC is a popular card and features a great action shot of J-Rod trotting to the plate after hitting a home run, pointing into the sky with his right index finger.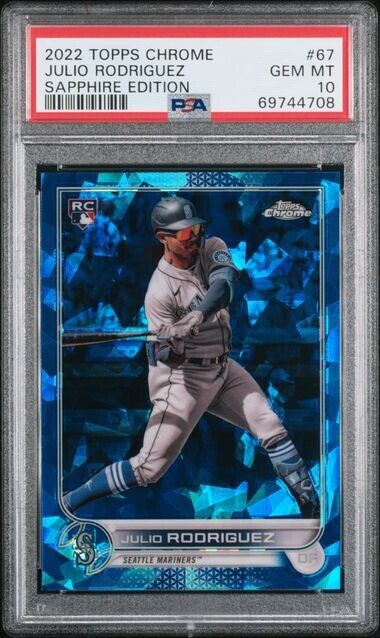 2022 Topps Chrome Sapphire Edition Base: Not cheap, the Topps Chrome Sapphire Edition Base is selling for just under $2,000 in PSA 10. As a base card though, it shouldn't be considered rare, but it is definitely beautiful, especially if you're a fan of Topps Chrome Sapphire Edition. The action shot features the righty slugger mid-swing with shades on, looking to crush with high exit velocity.
MORE UNIQUE ROOKIES:
This tier includes cards with lower print runs, unique designs, or cards from hobby-only products. Usually higher-quality cards than the Value or Popular tiers, though not necessarily more popular or easier to buy or sell.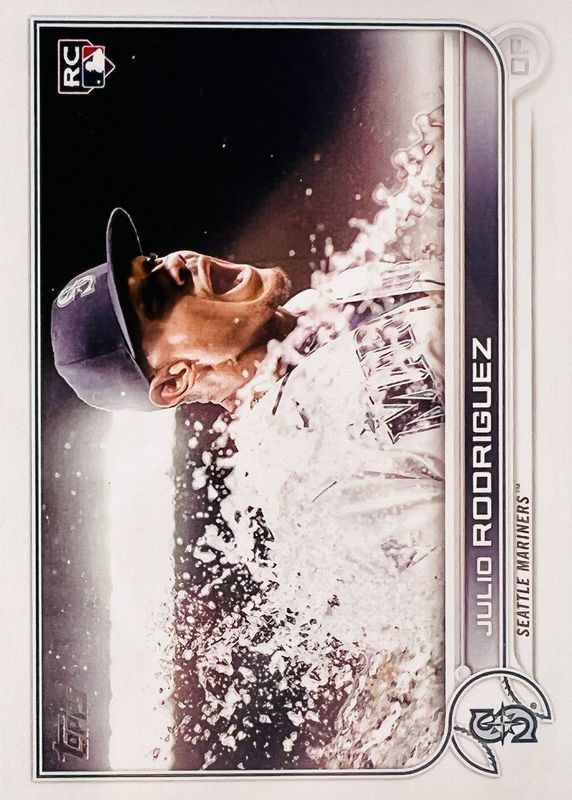 2022 Topps Update SP Variation: In this short print photo variation from Topps Update, Rodriguez is being doused with a Gatorade-like liquid in a celebratory fashion. This card sells for right around $600 in PSA 10 and has the makings of a potential classic, as traditionally collectors have gravitated towards photos of players not necessarily in game action.
2022 Topps SP Variation: This one is a simple photo variation from 2022 Topps Flagship, but it goes for nearly $500 in PSA 10 due to its unique element. Rodriguez is pictured in the Mariners' baby blue jersey gazing at a ball while finishing his swing – left arm extended.
RAREST AND MOST EXCLUSIVE:
This category may be out of reach for most collectors due to price, but they have the highest upside as investments heading into future International and World Cup Competitions and are still fun to look at. Don't worry if this tier is too pricey as there's a host of options in other categories that could be perfect for your collection.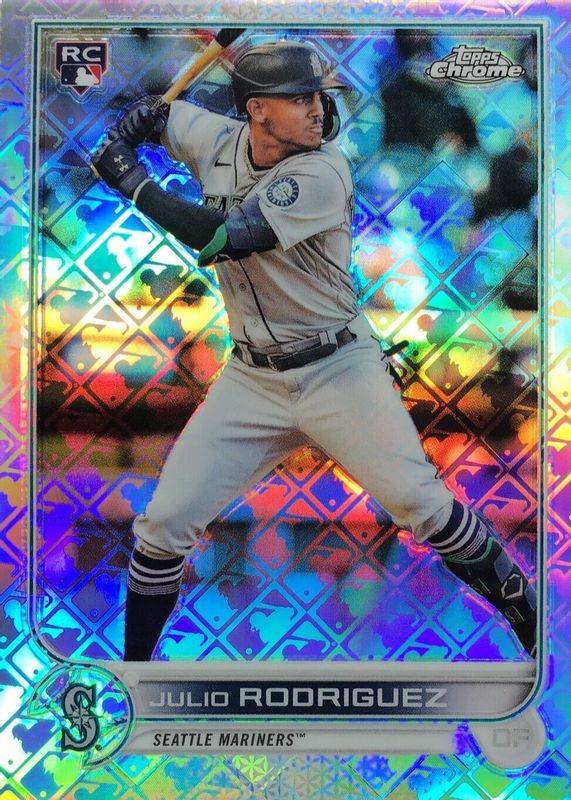 2022 Topps Chrome Logofractor Edition SP Variation: Topps Chrome is the top non-Bowman release that baseball card investors look forward to each year, and J-Rod's gorgeous Logofractor Edition short print variation recently sold for $2,000 in PSA 10, making it one of the top true rookie cards in value. From a rarity standpoint, it's not going to be easy to find these, especially in Gem Mint condition.
2022 Topps Chrome Rookie Auto – Orange Refractor: There are many unique things about this card, in which J-Rod wears jersey #85. The on-card auto in short print orange refractor sold on New Year's Day 2023 for $4,500.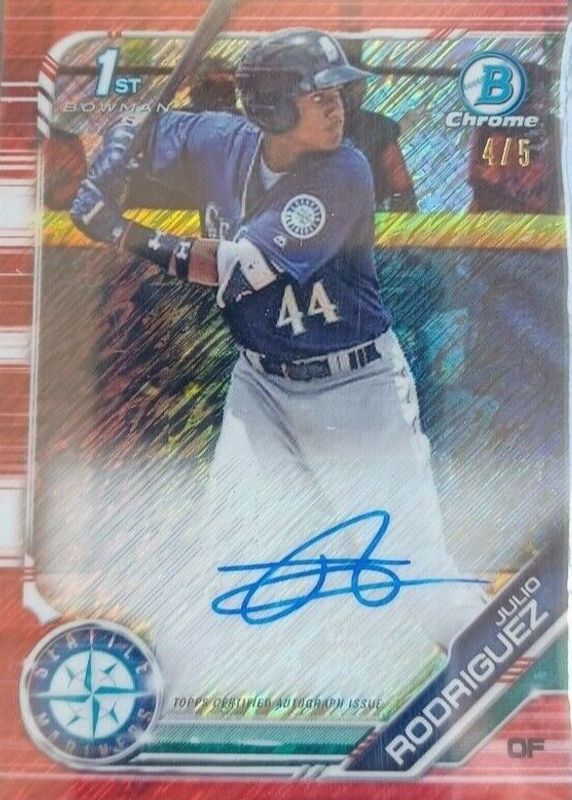 2019 Bowman Chrome Prospect Autos: We're talking about the Speckle Refractor Auto /299, the Atomic Refractor Auto / 100, the Gold Refractor Auto /50, the Orange Refractor Auto /25 and the Red Shimmer Refractor Auto /5. These are all on-card auto variations of the base prospect auto and refractor auto /499. True baseball card investors will seek these cards first, especially in high grades, as they represent his rarest first prospect autos.
With the Sports Card Investor app, you can profit from the hobby you love by keeping up with trending cards, tracking real-time prices with Market Movers and buying items on eBay. Download the industry-leading app here for Apple or Android
Note to readers: If you purchase something through one of our affiliates, we may earn a commission.
Paul Hickey is a regular contributor to Sports Card Investor, the creator of the Sports Card Investment Report at NoOffseason.com, and the host of the Sports Card Strategy Show on Apple Podcasts, Spotify and YouTube. He can be found on Instagram at @sportscardstrategy and on Twitter @nooffseasoncard.