Jimmy Butler's been doubted his whole career. A physical, hard-working slasher out of a Texas junior college, Butler didn't exactly storm onto the basketball scene with a ton of hype. Even after three solid seasons as a Marquette transfer, many questions remained about his professional outlook. Still, the Chicago Bulls drafted Butler with the 30th selection in the 2011 NBA Draft. As a show of thanks, he rewarded them with two All-Star seasons over a six-year span. But rumors of him being a locker-room disruption surfaced. In fact, between November '18 and July '19, Butler found himself in three different jerseys (Minnesota, Philly and Miami). The questions continued.
Then the Bubble happened. Butler had a transcendent '20 postseason, putting up big numbers (26/8/9.8 average in the NBA Finals) while shutting down the haters. His '20-21 saw more of the same brilliance (All-NBA third team; league leader in steals) and his '21-22 season sparked a sixth All-Star Game appearance and another Eastern Conference Finals appearance. Jimmy Buckets has finally silenced the critics.
Butler has a number of rookie cards from '12, so use this Sports Card Investor guide to see which ones we think you should focus on. Cards are broken down into tiers, ranging from the most affordable and more popular options to the most unique, expensive and rare.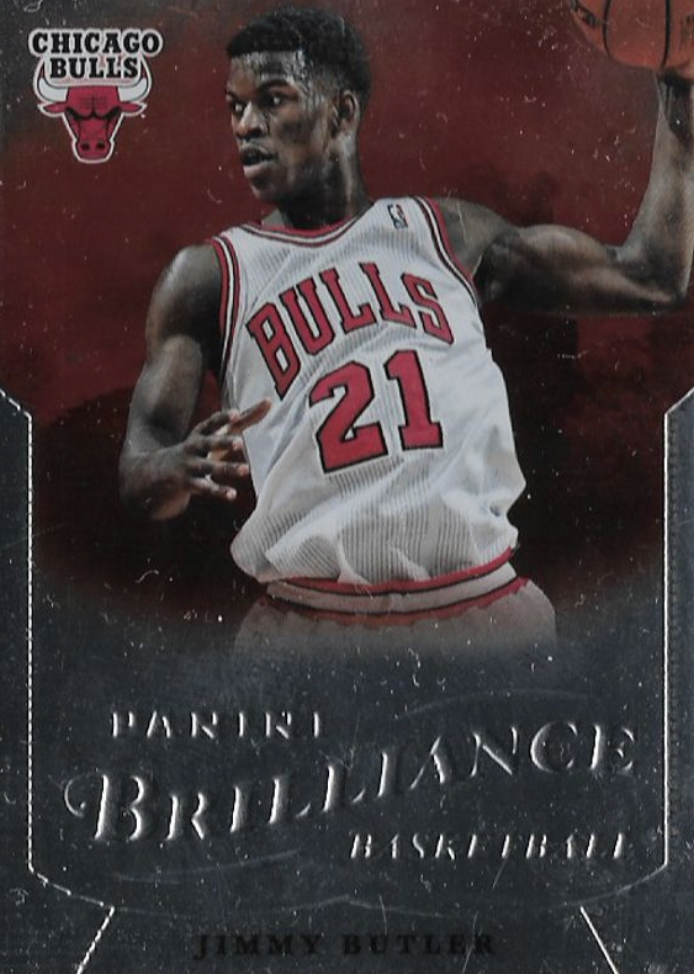 VALUE ROOKIES:
The Value Tier includes cards with high print runs or lower-quality cardstock. A good fit for new collectors or those on a limited budget.
2012 Brilliance #199: If you're just trying to get your foot in the "Jimmy Butler Rookie Card" door, this might be the one you use to prop it open. Low pop, relatively low $60-80 asking price.
2012 Past & Present #214: With a name like Past & Present, you expect the product to pay some sort of homage to a forgotten time. And with its faded color scheme and portrait-like artwork, that's exactly what you get here.
2012 Totally Certified #256: Butler's giving the cameraman a stern, hurry-this-up look on this one. Ironically, collectors have taken their time getting this one graded. Just 34 of these base cards have ever been sent to PSA.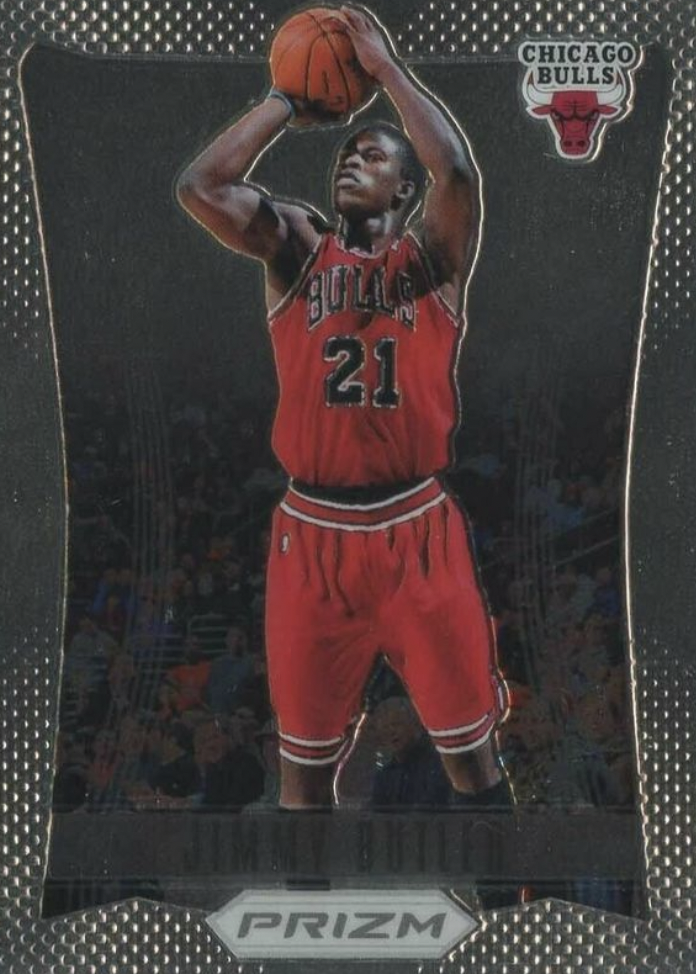 POPULAR ROOKIES:
This tier includes cards from the most popular sets across both retail and hobby formats. Typically easy to buy or sell when needed.
2012 Prestige #199: Though this card feels a little like a yearbook photo — Okay, Mr. Butler, raise the ball just a pinch closer to your chin — Prestige is a solid brand that always releases a decent product.
2012 Prizm #205: The signature Butler rookie, this polished base card goes for $175 to $275 in a gem mint. Silver parallels are extremely rare, but they command $3,000 when they do ultimately surface in a PSA 10.
2012 Hoops #249: You may not recognize a young Jimmy Butler with the short haircut, but rest assured that's him on a Hoops RC that routinely jumps around from $30 to $70 to $100.
MORE UNIQUE ROOKIES:
This tier includes cards with lower print runs, unique designs, or cards from hobby-only products. Usually higher-quality cards than the Value or Popular tiers, though not necessarily more popular or easier to buy or sell.
2012 Marquee #188 Swirlorama: This set was ahead of its time with the fun variations. While Butler's card can be found in White Leather and Black Holoboard, it's the funky Swirlorama that has proven most memorable. And as a 67% uptick in sale prices from early to late May hints, collectors are taking notice.
2012 Crusade #46: Arguably the most stylish card in this round-up, Butler is dribbling atop a multi-colored crest with mirroring mythical creatures on it. The green/gold is out of 25. The purple/gold is numbered to 49. The Bulls jersey-matching red/gold is out of 99.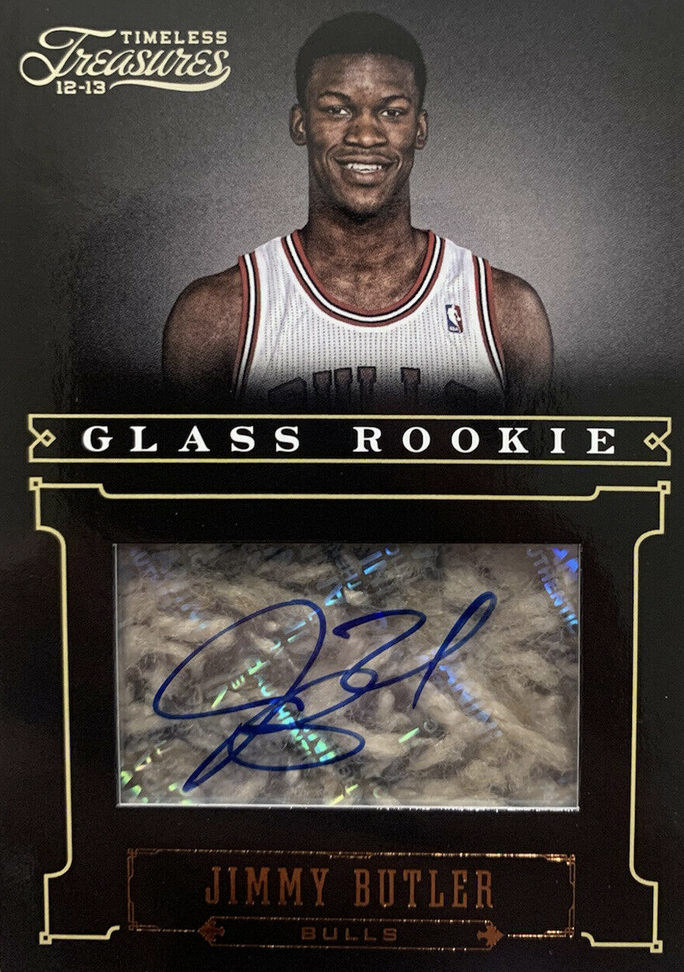 RAREST AND MOST EXCLUSIVE:
We won't spend much time here because this category is likely out of reach for most collectors due to price, but they are still fun to look at.

Sets like Timeless Treasures typically feature visually stunning designs and low-numbered cards.
This is also where you'll find the most impressive patches paired with high-quality, on-card autographs. Don't worry if this tier is too pricey as there's a host of options in other categories that could be perfect for your collection.
Track your collection and maximize your profit with Market Movers, the hobby's most powerful sports card pricing platform! Learn more here.
Note to readers: If you purchase something through one of our affiliates, we may earn a commission.