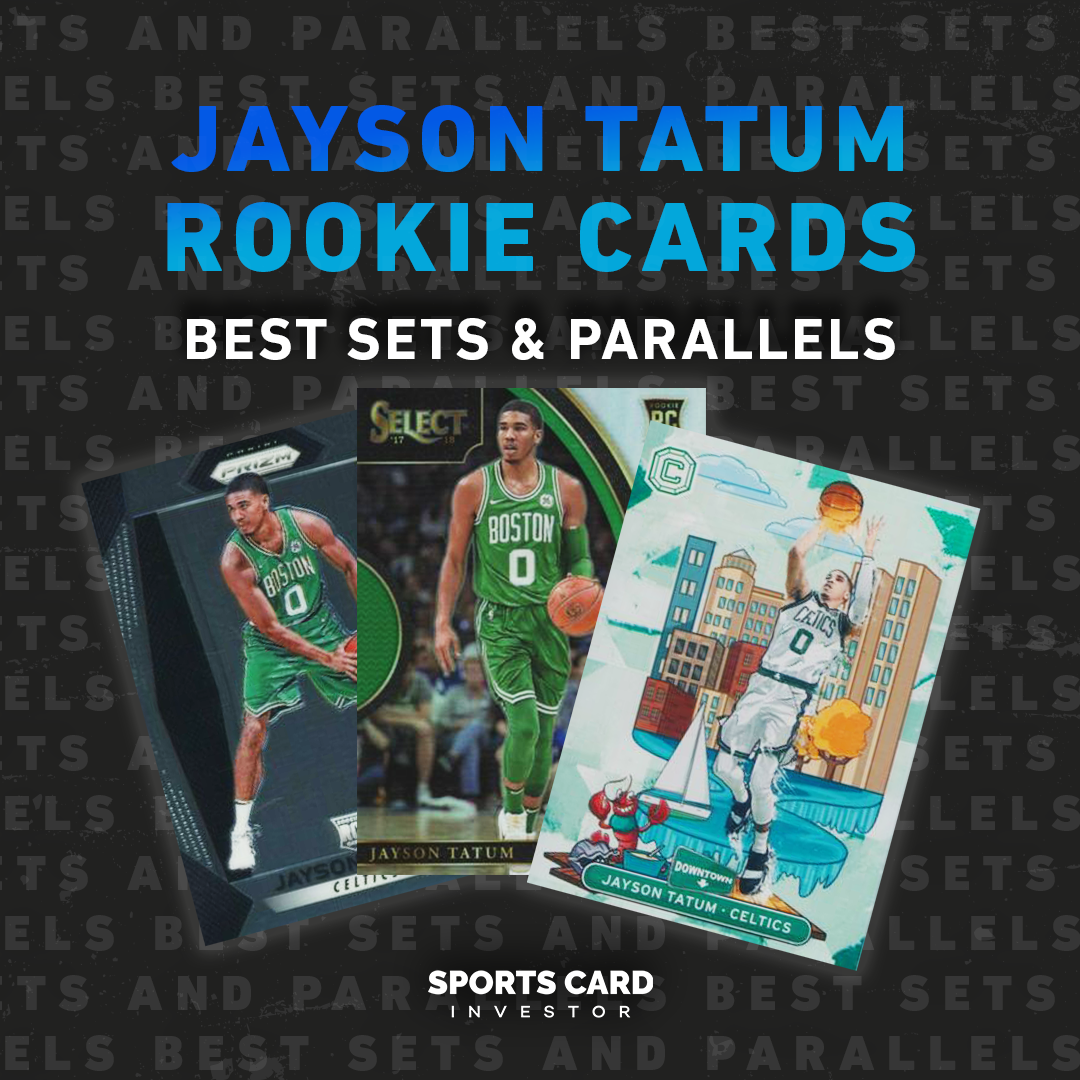 The likely No. 1 pick if Philadelphia could have a do-over in the 2017 NBA Draft, Jayson Tatum has thrived with the Boston Celtics under head coach Brad Stevens. A 6-foot-8 forward that handles the ball like a guard, Tatum's versatile scoring has turned him into one of the most lethal offensive options in the NBA.
With dozens of Tatum rookie cards from across the 2017 season, use the Sports Card Investor guide below to see the key cards we think you should be targeting. The guide is broken into tiers ranging from lower-end value options to high-end and the rarest and most expensive sets.
VALUE ROOKIES:
The Value Tier Includes cards with high print runs or lower-quality cardstock. A good fit for new collectors or those on a limited budget.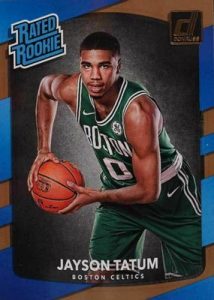 Donruss #198: Typically one of the most popular value sets, this year's Donruss isn't exactly loved in the hobby because of it's blue and brown borders. Laser parallels are great buys if you can get past the odd color choices. Shop now >
Essentials #129: A standalone product for just one year, Essentials didn't last long but had a unique look with both hobby and retail configurations. A glossy finish with slick parallels and inserts make this value option one worth checking out. Shop now >
Hoops #253: Our first look at Tatum in his NBA jersey, Hoops is always a fan-favorite among value products because of strong inserts and an impressive lineup of autographs. Shop now >
Status #128: A wacky design with beautiful parallels has made Status a little more popular in 2020 than it was when released. Hobby-only in 2017, Status has a great lineup of parallels to chase while Pursuit die-cuts have incredible secondary market value. Shop now >
POPULAR ROOKIES:
This tier includes cards from the most popular sets across both retail and hobby formats. Typically easy to buy or sell when needed. Parallels like Prizm Silver and Optic Holo are among the most popular variations.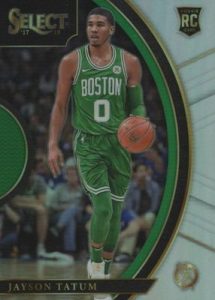 Mosaic #20: Not a standalone product until 2020, Mosaic still featured its signature "Mosaic" parallel backgrounds that have made the set popular today. A lineup of color-based parallels make this a good option for most collectors. Shop now >
Optic #198: The second-most popular set behind Prizm, Optic has a clean design like Donruss but ditches the odd color choices. Borders on this release are slick while the Holo parallel is one of the best in Panini's lineup. Shop now >
Prizm #16: Rookies in Prizm often carry a premium over other sets, though the design can make spotting centering issues much easier. An impressive rainbow of parallels provide a fun chase while the Prizm Silver is the most popular in the hobby. Shop now >
Select #93: Despite lacking the mainstream popularity of Optic and Prizm, Select has grown in recent years thanks to low population counts, strong parallels, impressive die-cuts, and three levels of rookies to chase. Shop now >
MORE UNIQUE ROOKIES:
This tier Includes cards with lower print runs and cards from hobby-only products. Usually higher-quality cards than the Value or Popular Tiers, though not necessarily more popular or easier to buy or sell.
Cornerstones #153: One of the more premium sets from 2017, Cornerstones builds off what used to be Grand Reserve and features quad-patch autographs and the incredible Downtown insert. With just six total cards per box, this set is both expensive and unique. Shop now >
Dominion #120: Originally a high-end hockey set, Dominion made its debut in basketball in 2017 and featured unique designs and high-quality patches and autos. Metal rookies numbered to 199 are strong choices here. Shop now >
Noir #99: Dark designs really make this black-and-white vintage set pop when paired with bright patches and gold- or silver-ink autographs. One of Panini's most beautiful sets, you can hunt for rookies numbered to just 79 with Home and Away image variations. Shop now >
RAREST AND MOST EXCLUSIVE: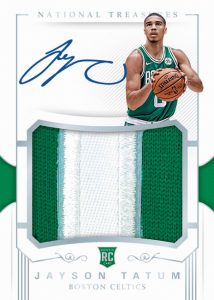 We won't spend much time here because this category is likely out of reach for most collectors due to price, but they are still fun to look at.
Sets like Flawless, Immaculate, Impeccable and National Treasures typically feature visually stunning artwork and low-numbered cards.
This is also where you'll find Panini's most impressive patches paired with high-quality on-card autographs. Don't worry if this tier is too pricey as there's plenty of options in other categories that could be perfect for your collection.
Track your collection and maximize your profit with Market Movers, the hobby's most powerful sports card pricing platform! Learn more here.
Note to readers: If you purchase something through one of our affiliates we may earn a commission.